An aerial view of the Khalifa International Stadium in Doha (Photo: Getty Images)
IS IT NASA'S MISSION CONTROL IN HOUSTON, Texas, wondered a UK daily about the Aspire Command and Control Center in Doha. Indeed, comparisons are un­avoidable considering the high, extra-large LED screens and resplendent PCs on display here. Except, the purpose is not to launch manned or unmanned satellites into space but to ensure a great football viewing experience.
If the temperature in any of the stadiums in Qatar that will host the FIFA World Cup this month rises or falls below 22 degrees Celsius, the Aspire Command and Control Center— which monitors all eight stadiums and manages the IT infrastruc­ture at these venues from a huge hall that resembles a NASA cen­tre from a Hollywood movie—will immediately and remotely fix the state-of-the-art air-conditioning system in place for the football extravaganza.
Those working at this centre located near the multi-purpose Khalifa International Stadium, one of the World Cup venues in capital Doha, can also gauge using artificial intelligence (AI)— and thanks to 20,000 cameras inside these stadiums—that a certain entry gate or an area inside a stadium may experience crowding 30 minutes or so in advance. This helps them mobilise volunteers much in advance to avoid any crowd surge—some of which have the potential to kill people in large numbers, as we saw recently in Seoul, South Korea.
A large screen inside the hall in this centre can zoom in on more than 120,000 fans seated across eight football venues on one large screen to identify and report any act of hooliganism or abnormal human behaviour. This highly advanced surveillance using powerful AI technologies covers even the basement park­ing, besides monitoring water supply, queues, food and beverages outlets, and so on.
"We don't call our cameras the CCTV network. We call them our eyes on the ground," says Niyas Abdulrahiman, executive director (ICT), Supreme Committee for Delivery and Legacy, the government-run entity responsible for delivering all infrastruc­ture required for the FIFA World Cup in Qatar. He goes on to talk about the idea of connected stadiums and "compact tournament" that is clearly unique in the history of the soccer World Cup that started way back in 1930.
150 of the 200 IT specialists at the command and control room who manage all the eight stadiums are Indians
Close proximity of the venues means that Qatar got the opportunity to experiment with managing this tournament in a completely different way compared to previous World Cups, says a Qatari official. Without doubt, it will be the first FIFA World Cup in a long time where there will be no inter-city travel involved. As Qatar expects, this "compact FIFA World Cup" will inspire other sporting nations to replicate this model elsewhere, says Abdul­rahiman, who stresses the "futuristic" nature of holding sporting events, and in this case, the biggest of its kind on planet Earth.
Meanwhile, FIFA officials that Open spoke to say that the Qatari model may spawn a revolution of sorts, especially if the visiting dignitaries from various countries as well as sport ar­chitects return impressed by the remote handling of this World Cup that starts on November 20 and ends on December 18, as opposed to the usual June-July season because of the scorching heat in the Gulf nation.
ABDULRAHIMAN, WHO WAS BORN IN ALAPPUZHA, Kerala, was picked by the Supreme Committee for Delivery and Legacy to steer the IT infra for this mega tournament. An alumnus of Sainik School in Kerala and the Royal Melbourne Institute of Technology, Australia, he is also the chief technol­ogy officer of Qatar's Aspire Zone Foundation, a sport training organisation that is a big name in the global sporting industry. It is a government-funded entity that trains athletes and offers them education. He tells Open that the command-and-control centre under his watch plays three key functions in this World Cup. "That includes facility management [which is all about engineering and maintenance], security and safety [inside the stadiums while law enforcement agencies are in charge outside of them] and IT," says the 50-year-old. "There is absolute synergy between these three arms to ensure that the fans have a great time in Qatar," he adds, emphasising that "we [Qatar] have changed the way sporting events are held" by using the most advanced AI tech­nologies available now in the world. The country is now home to some of the most stunning modern stadiums—Al Bayt Stadium (which resembles a large Bedouin's tent), Khalifa International Stadium, Al Thumama Stadium, Ahmed bin Ali Stadium, Lusail Iconic Stadium, Stadium 974, Education City Stadium, and Al Janoub Stadium. They had hosted the Asian Games as early as 2006, and are looking to organise another in 2030.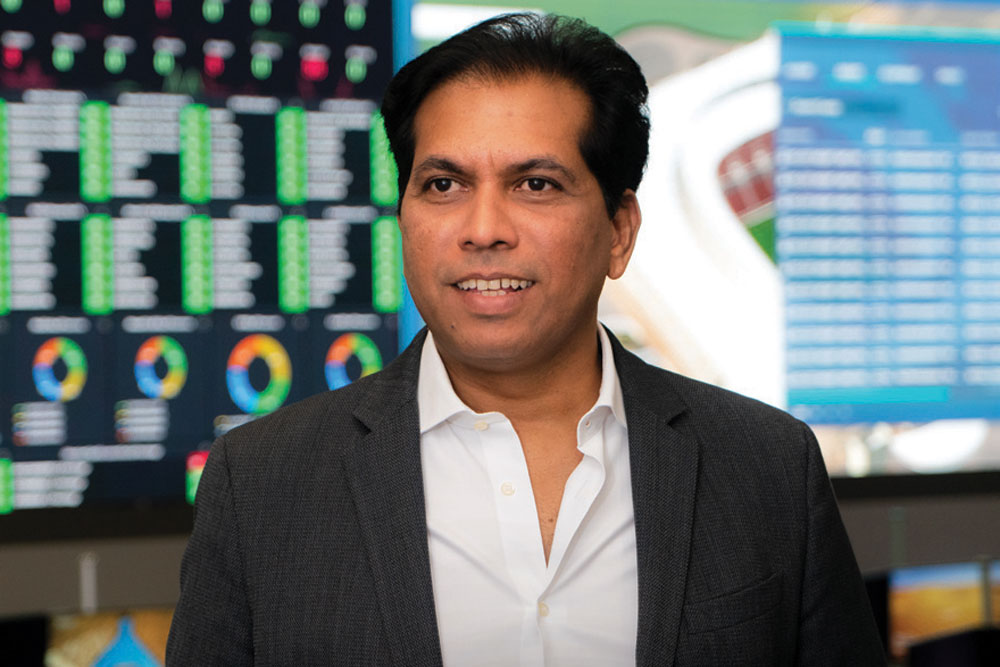 By hosting this World Cup, especially, Qatar's aim is not only to build sport facilities and academies alone but also to leave a sport­ing legacy that attracts and trains sportsmen and women from all over the world. Qatar has earned praise from FIFA for making the most of its existing international stadiums and sport centres. In an earlier interview, a Qatari official had told Open, "Our sporting legacy is rich because we don't let any sport centre go underused or disused…. We follow the strategy of making champions out of our trainees. We help them gain endurance and stamina and acquire great skills that together help them become champions," he had said referring to empty stadiums built for World Cups in other nations.
20,000 cameras have been installed across the stadiums in Doha to monitor the tournament, and to enable services, including temperature control
For his part, Abdulrahiman takes enormous pride in disclos­ing that he has a multinational team in place to assist him, includ­ing several locals at the Aspire Center. Those working here can recognise faces as well as zoom in on each seat in the stadiums, but this key official of the Supreme Committee for Delivery and Legacy says that what is more important to his team is not the identity of the fan but the smooth running of the event. "We look at a person only as a fan. We are not interested in knowing who the guy is. For us, all the fans are the same but what we are keen on is maintaining safety and a smooth football viewing experience. What you see in our centre is the future," he declares, indicating that all the surveillance involved is less about Big Brother-like control of individuals and more about safety and security of the event as a whole.
Of the total 200 people employed in his team, 150 are of Indian-origin, and several others from the subcontinent and from Qatar itself.
1.2 million fans are expected to land in Qatar from elsewhere for the tournament; FIFA estimates 5 billion people will watch the World Cup
Hamad Al-Mohannadi, director at this centre and a local, is upbeat that the innovations behind their operations are fully conceptualised at home and handled by a "multinational expert workforce". He hastens to add that Indians form an "integral part of this journey". The experts, all of them young, include the likes of Partha Gogoi, whose designation is "manager, venue technology" and belongs to Assam. Gogoi is a BTech in Electrical Engineering from NERIST in Arunachal Pradesh. Another person, Kamran Shah, is from Jammu and Kashmir. A Bachelor's of Information Technology from Jamia Hamdard, he did his MSc in Information Technology from Amity University, New Delhi. He focuses largely on cyber security and thinks that this assignment has been the highlight of his career so far. Madhuri Varigala, senior consultant, business sys­tems, Aspire Command and Control Cen­ter, hails from Visakhapatnam, Andhra Pradesh. "There is great diversity in our team," Abdulrahiman avers, adding that other members in the team are from the Philippines, Sri Lanka, Brazil, Lebanon, and so on.
Football stadiums, like similar sport­ing venues, are entirely different kinds of spaces to ensure security and safety. Com­pared to the rest of the highly secured of­fices, for instance, like the ministry of defence, where there are always entry restrictions for many people, stadiums must accommodate all kinds of people, including the fans, the media, VVIPs, and others. It is thus a multi-threat landscape, making the task of surveillance crucial. If there is any unpleasant development in the stadium, it is first handled by volunteers. Only if things go out of con­trol will law enforcement agencies enter the scene.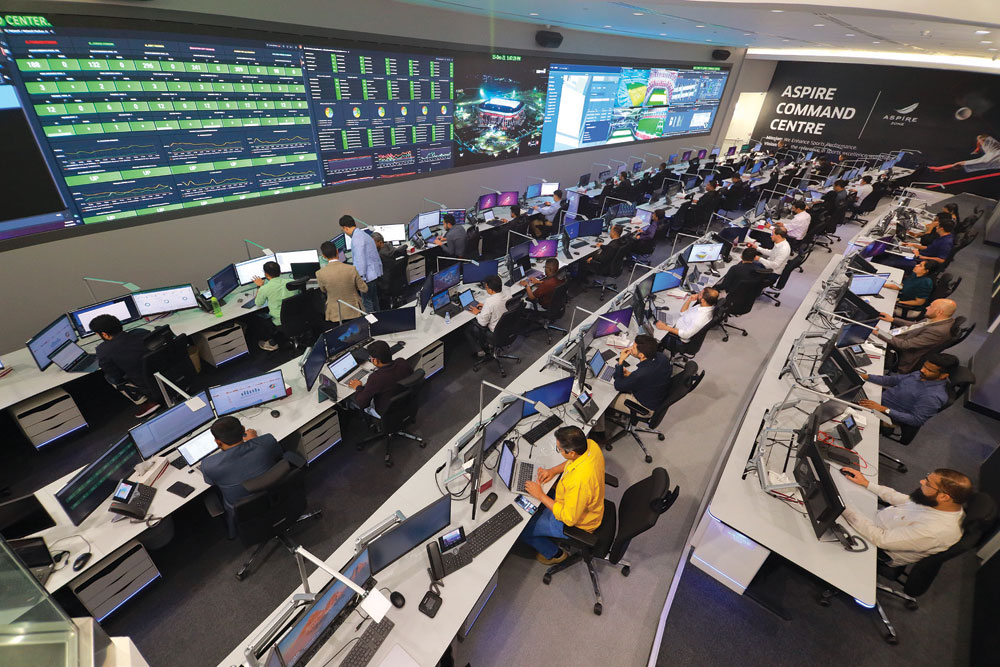 What the Aspire Command and Control Center does is complement the decisions of law enforcement and other agencies with data, states Abdulrahiman, who has now become a highly televised figure with media organisations running endless stories about the unique command-and-control centre he oversees. He adds that each fan in the stadiums will have access to high-density 5G internet, helping fans record and send videos and messages real-time. "The WiFi connection in these stadiums will be faster than your home broadband and it will be available to all," says the man who spearheads INTALEQ, the sport and entertainment technology commercial venture of Aspire Zone. INTALEQ is Ara­bic for headway, says Abdulrahiman who hopes that countries like India, rich in IT talent, will go the Qatari way in organising world-class sport events too.
But for the time being, his focus will be on delivering the most secure football experience for more than 1.2 million fans who are expected to be in Qatar shortly, as well as for those millions of spectators from across the globe.