Giorgio Chiellini after Italy lost to North Macedonia in the playoff and failed to qualify for the World Cup, Palermo, March 24, 2022
FOOTBALL NUT AND NOTED INDIAN ARTIST Riyas Komu is crestfallen about Italy not making it to the FIFA World Cup for the second time in a row. Komu, who has made several paintings and sculptures on the theme of football, is acutely aware that the current set­back is devastating news for people of the football-crazy European nation that has a long history of playing the beautiful game, jogo bonito. "We look at how teams play with their history at the back of our minds, especially when they are teams with a robust footballing past. Therefore, we will miss Italy because we are going to miss a chance this time to connect with that history. That is not a pleasant feeling," Komu says.
He adds, "When we talk about Brazil, Germany, Argentina, Italy and so on, we often place the current team in the foreground and bring in a narrative while analysing their games from a his­torical perspective. With Italy not making it to this World Cup, as it did last time, we will be left without that rich context this time, too. I am unhappy that Italy has been unlucky."
Nostalgia is a deep emotion, and when it comes to football, it is perhaps deeper than one may imagine simply because it is the biggest sporting activity on Earth. My first memory of a football World Cup is from 1982, especially towards the advancing stages of the tournament that was held in Spain. The biggest highlight of that year was not that the Germans lost the game, but how an Italian embroiled in a match-fixing scandal became the biggest star. Paolo Rossi won the Golden Boot and the Golden Ball apart from being part of the squad that won the World Cup. I remem­ber his photos from sports pages of dailies back then. It was only later that I realised that he had also joined the league of luminar­ies, such as Garrincha (1962) and Mario Kempes (1978) in win­ning all three cups in a tournament. That image of the euphoric Italian team is still etched in my memory. The other three Ital­ians whose photographs I recall are Antonio Cabrini, Giuseppe Bergomi (who continued to play more World Cups, including his last in 1998) and Dino Zoff.
Italy, then defending champions, did not do well in the 1986 Mexico World Cup although Alessandro Altobelli did display some skills in the initial rounds before being trounced by the Michel Platini-led France 2:0, resulting in the Italian exit. But it is perhaps wrong to say one did not experience the solid defen­sive game typical of Italy. As luck would have it, everything in that World Cup season was overshadowed by the magical skills and controversies around Diego Maradona who finally lifted the FIFA World Cup for his country, beating Karl-Heinz Rum­menigge's Germany, a team whose coach was Franz Beckenbauer, aka "Der Kaiser", who had led his country to World Cup glory in 1974 against the formidable Dutch team steered by Johan Cruyff.
The history that Komu is talking about with regards to Italy is stunning. They won the football World Cup in 1934 and 1938, first as a host country and the second time in France. After 1982, they won it again in 2006 in Germany against France in a highly controversial and tense final match in a penalty shootout that followed Zinedine Zidane headbutting Italy's Marco Materazzi during extra time allegedly after the latter verbally abused the former. In hindsight, it was clearly the most embarrassing mo­ment of his distinguished career for Zidane who was immediately shown the red card, and also for France who were the favourites to win the Cup. Ironically, Zidane was one of the strongest voices that backed Qatar for the 2022 World Cup. At least for some, it is therefore an evocative experience that Italy could not make it to this tournament.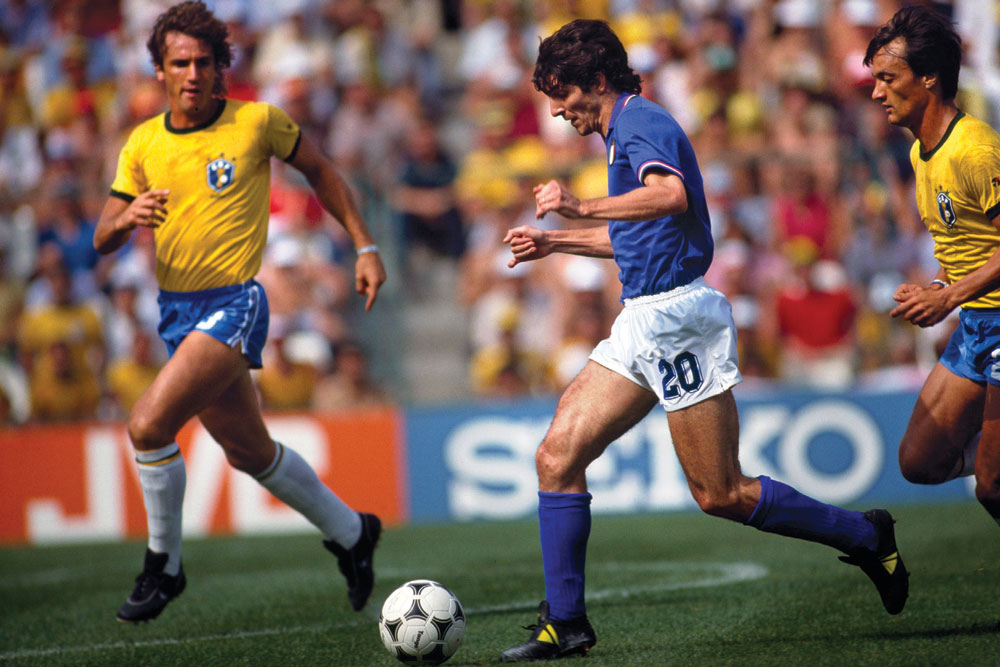 Worse, at a time when Western European teams dominate football, in club matches as well as in the typically once-in-four-years World Cup, Italy looks like a laggard although they are the reigning European champions.
The present plight of the team is startling when seen in the context of the footballing history my generation grew up with. In the 1990 World Cup in Italy, a tournament that was notoriously low in goals and high in extreme fouls, the hosts performed well with Salvatore 'Toto' Schillaci scoring the highest number of goals in the tournament, earning the Golden Boot. Italy did not make it to the final but ended up in the third place. Four years later in the US, although Brazil was the favourite, Italy had a stunning line-up and played memorable games, especially the one against Bul­garia, which had pulled off some surprise wins. The fair-playing Roberto Baggio showed great promise until they reached the final and went for a penalty shootout against Brazil. Baggio kicked the ball over the bar, breaking the hearts of Italian fans worldwide. Yet, the Italian style of defensive football was talked about widely with Paolo Maldini, Daniele Massaro and others winning plaudits.
In the 1998 World Cup in France, Italy was eliminated in the quarter-finals although Christian Vieri's goals won them a place in World Cup records in a year when Zidane redefined football and won the Cup decimating Brazil. In 2002, Vieri was in full form again but the Azzurri—as the Italian national football team is popularly called—failed to reach the quarter-finals, losing to co-hosts South Korea. All through these years, the likes of Alessandro Nesta and Alessandro Del Piero—who both went on to play in the 2006 World Cup Italy won—left their mark in reinforcing the Italian way. So did Francesco Totti and Fabio Cannavaro (who captained Italy in 2006 and later in South Africa although he was out of form by 2010).
We didn't get to see much of Italy in 2010 in the African nation after the Azzurri, along with France and hosts South Africa, were eliminated in the group stage. Italy faced a similar plight again in the 2014 Brazil World Cup, getting eliminated in the group stage in the tournament held with much pomp. Eventually, Germany won the Cup beating Argentina in the final. For the 2018 World Cup in Russia, four-time champions Italy did not qualify to play the tournament—the first time since 1958.
ITALY AS A TEAM HAS OFFERED THE WORLD TITANS of the game that, apart from those mentioned before, include Gianluigi Buffon, Franco Baresi, Giacinto Facchetti, Gianni Rivera, Gaetano Scirea, Luigi Riva and scores of others. In fact, Buf­fon, who had taken part in several World Cups, is one of the most decorated goalkeepers in the world, having won the highly pres­tigious Yashin Award. Many other players are considered by top-notch commentators and football analysts, including the great Pelé, as some of the most gifted players in the history of football.
For the 2022 Qatar World Cup, the Italians went into a playoff against North Macedonia and lost 1:0 and got knocked out.
Young Italian football aficionado Pietro Cottarelli believes that the tragedy of his country's football is that the authorities are placing more emphasis on short-term gains and measures like player purchases, and not on long-term investment in training teens to groom them into excellent players. "If they change that attitude, we will be back to our glorious days again," he tells Open over the phone from Brescia, Italy.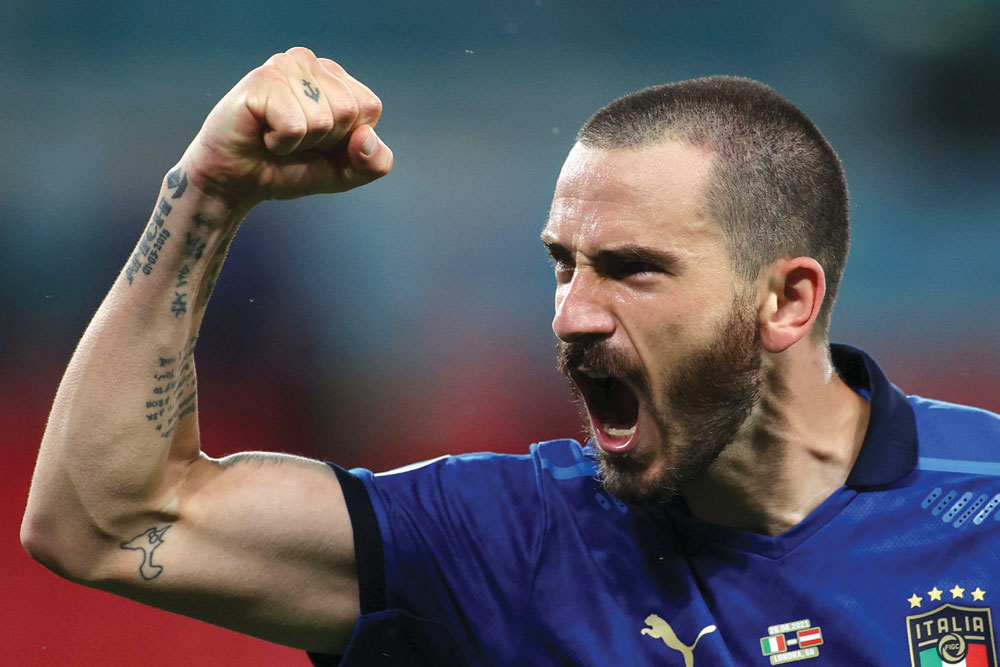 Most Italians were kicked about the prospects of 25-year-old Federico Chiesa playing in the finals, until they failed to qualify. Marco Verratti and Giorgio Chiellini are other national favourites besides Leonardo Bonucci. Cottarelli's own favourites from Italy, whom he will miss in this World Cup, include Chiesa—whose injuries were a cause for concern for many in his country—and goalkeeper Gianluigi Donnarumma. "I have to also mention Paolo Maldini because he was a master-class player," he adds, while admitting that his all-time favourite is the Argentine icon, Lionel Messi.
Cottarelli also believes that Italy must retain Roberto Mancini as the trainer and start anew by focusing on younger players and fresh talent. Mancini, currently manager of the Italian national team, "should not be allowed to go," Cottarelli emphasises.
Meanwhile, there are those who argue that Mancini's team should have been given an automatic spot in Qatar because they had won the Euro. An otherwise soft-spoken Roberto Baggio him­self has advocated an automatic berth for European champions in the World Cup. All such talk, obviously, brings to the fore the hurt that this exit—for the second consecutive time—has caused Italians and their fans.
For sure, we will miss a fantastic spectacle because some of our favourites from one of the strongest teams in the world won't take the big stage. We will also miss the pleasure of weaving titbits from their footballing history into their game.