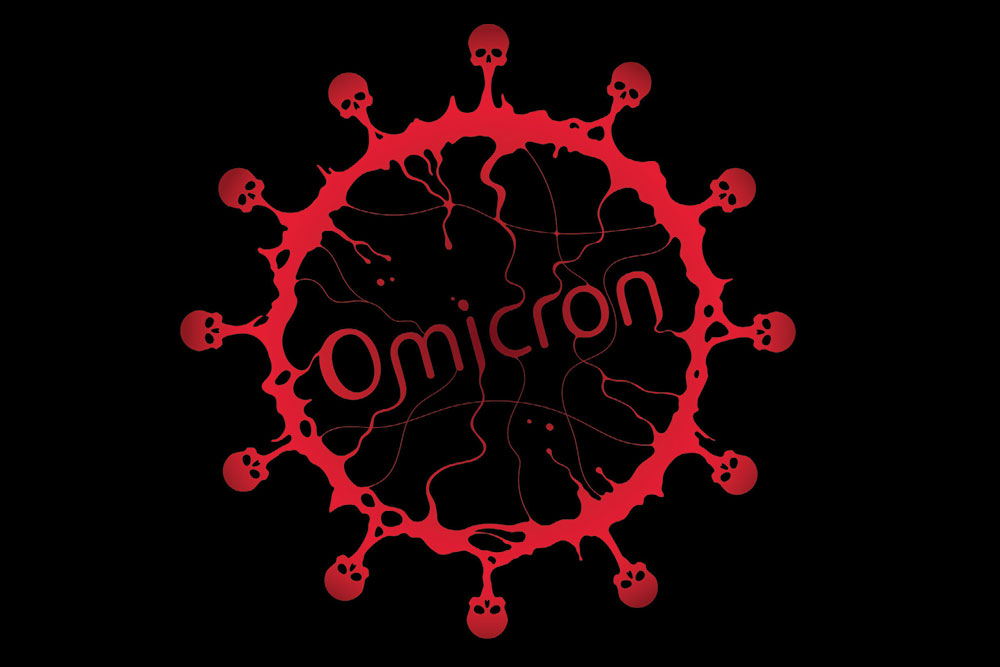 (Illustration: Saurabh Singh)
SOUTH AFRICA CERTAINLY deserves praise for alerting the rest of the world on time about the presence of the Omicron variant of the coronavirus (COVID-19 B.1.1529). One of the two countries, along with Botswana, where the strain possibly originated, it was soon targeted by dozens of countries for travel bans and restrictions, shortly after the World Health Organization (WHO) classified Omicron as a "variant of concern". In fact, South Africans not only shared data, but also samples as part of efforts to fight the new strain, and their transparency was duly acknowledged by the WHO.
Doctors and disease specialists across countries have expressed diverse opinions, some suggesting aggressive surveillance both of international travellers and those from the region where there is a jump in infections. Some others advocate measures that exclude travel bans. While the US has reported early cases along with 25-odd other countries, the Indian Government has put on hold its plans for a full reopening of international flights from December 15th. Status quo will therefore prevail in the country where flights will fly in and out only from 31 countries with which India has air bubble pacts.
Whether or not the world will find itself dragged towards the early 2020 situation is not clear at the moment, although there is no shortage of specialists who press the panic button over multiple reasons—right or wrong—including the likely high infectious nature of the new variant. But then, as of now, nothing is clear about the severity of the variant. For his part, WHO Director-General Tedros Adhanom Ghebreyesus said the organisation takes this development very seriously. He, however, cautioned countries to enforce "tailored" travel restrictions that include massive testing. He said he was averse to any country placing blanket bans that affect the lives and livelihoods of people.
Although those infected from the new variant include fully vaccinated people, there is advice from certain quarters to fall back further on vaccines to fight Omicron. Unnamed officials in India have been quoted as saying that certain homegrown vaccines are very effective against Omicron even as specific traits of the variant are still unknown. Meanwhile, there is a greater level of uncertainty among a large section of the scientific community and policymakers after Stephane Bancel, CEO of Moderna, announced a "material drop" in the effectiveness of vaccines against this new variant. "I just don't know how much, because we need to wait for the data. But all the scientists I have talked to… are like "this is not going to be good"," he was quoted as saying in the media. Ghebreyesus contended in a press conference that the WHO is learning more about Omicron. "Several WHO advisory groups have met over the last couple of days to evaluate the emerging evidence, and prioritise the studies needed to answer these questions," he told reporters. The WHO also insists that full vaccination saves lives.
The news from South Africa at the moment is that the number of deaths and hospitalisations has remained unchanged before and after the discovery of the new variant. At the same time, South Africa's National Institute of Communicable Diseases reported on December 1st that coronavirus cases have doubled in the country from earlier. South Africa first reported the new strain to the WHO on November 24th. There were also reports from the Netherlands that the variant had been present in that country before South Africa discovered it. According to some experts, the missing S-gene is an indicator for the presence of this new variant. This means RT detecting kits, which now target the E, N and RdRp genes, will have to focus on the S one too.
Amidst the worry worldwide—which is par for the course since the pandemic struck in 2020—there are sane voices from among the scientific community who argue against travel bans. They say that their efficacy is minimal in preventing the spread of any infectious disease. Dr Faheem Younus, an award-winning clinician at the University of Maryland, suggests the following measures instead of travel bans: RT-PCR tests 48 hours prior to travel; proof of vaccination needed (so as to reduce the risk of infection); and KN95 masks on flight (to minimise the risk of transmission). He adds, "Don't react like it's 2020.
Unnamed officials in India have been quoted as saying that certain homegrown vaccines are very effective against Omicron even as specific traits of the variant are still unknown. Meanwhile, there is a greater level of uncertainty among a large section of the scientific community and policymakers
Meanwhile, there is no dearth of experts among public health specialists who paint a bleak picture. Eric Liang Feigl-Ding, the American public health scientist who is also Senior Fellow at the Federation of American Scientists in Washington DC, is one among them. This former faculty member and researcher at Harvard Medical School and Harvard TH Chan School of Public Health says that among the Covid variants so far, Omicron has exhibited the fastest surge. He tweeted, "The #OmicronVarient (sic) is upswinging much faster in both new daily cases and positivity, than all previous waves in South Africa." He adds, "This supports the faster transmission theory of #Omicron."
Top-notch virologist Trevor Bedford told Medpage Today that he feels it is like January 2020 all over again. He was among the first experts to forecast a quick spread of Covid-19 in the US. "This phrase that I hate is, "There's no evidence that the Alpha variant is more severe," or "There's no evidence that masks work." When, really, it's that you don't have firm, hard evidence where you can say, "Yes, this is definitely the case"," he was quoted as saying. He added, "But you should, with the mix of evidence that you have, be able to say, "Yes, we suspect that masks do work," or "We suspect that the Alpha variant is more severe"," he noted. Bedford also went on to tweet about a trait of Omicron, "Note also that high immune escape [and] lower intrinsic transmissibility is not necessarily a good thing. Higher immune escape places previously infected and vaccinated individuals more at risk." According to medical texts, immune evasion is a strategy used by pathogenic organisms to evade a host's immune response to maximise their probability of being transmitted to a fresh host or to continue growing.
The fears are palpable but noted Adelaide, Australia-based, India-born clinical immunologist and immunopathologist Professor Pravin Hissaria is an optimist. He offers a caveat before making a stunning pronouncement that it is not easy to make forecasts about a new variant whose characteristics are not fully known. He also says that in weeks from now, it is likely that Omicron may prove to be highly infectious. But, from early indications, his best guess as a specialist in the field is that this is more likely to be a "Covid flu, and not a Covid disease." He says that his predictions, based on early data and evidence, could possibly go wrong. Hissaria, who came up with a protocol early this year for outpatient management of severe Covid-19 at the behest of the Rheumatology Association of Gujarat, also notes that vaccines are important not because of their prowess to stop infections, but to make us less sick.
The world will be lucky if it turns out to be a mere Covid flu, as Professor Hissaria suggests based on early inputs.