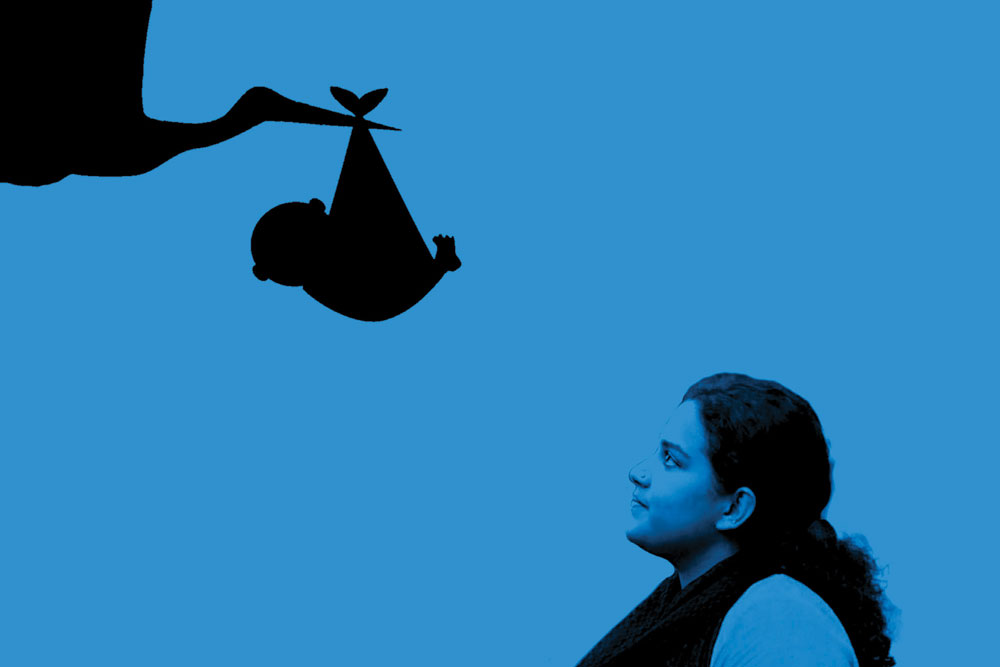 (Illustration: Saurabh Singh)
Kerala may have advanced on social parameters, but it so appears that at times, especially when it comes to extreme misogyny and moral hypocrisy, centuries tend to coexist
IN MOST INDIAN states, safeguarding the family honour in a romantic affair leads to a killing. In a sensational Kerala case, it led to a kidnapping, or a refined form of it. A young unmarried woman in her early 20s fell in love with a married man and had a baby with him in October last year. The woman's father decided to put up the newborn for adoption barely four days after birth, handing him over to the Kerala State Council for Child Welfare using his connections in the government with the intention of getting someone to adopt his grandson. Now, the biological mother has won her one-year-old son back after protests that attracted wide attention.
It is not clear whether the daughter, Anupama S Chandran, had at the time of her son's birth signed documents of her own volition, allowing him to be adopted. But in fact, the father, PS Jayachandran, has gained sympathy from a section of people for apparently doing what any middle-class parent would do—especially since he was about to get his other daughter married off in a few months when the kid was born. Some even saw this as a case of the daughter letting a doting father down. On the other hand, feminists and people who throw their weight behind Anupama's cause—that the child ought to be with the mother—are vocal about patriarchy and vain masculinity that stereotype unwed mothers as "impure" and fair game. For them, Anupama's father is the ultimate villain. There are also those who fault the baby's father, Ajith, for not doing his bit at the time of the birth, and only supporting her later in getting the son back.
In a state like Kerala, disproportionately high media coverage is guaranteed when there is a political twist in the tale. Jayachandran, the grandfather of the child, is a member of Kerala's ruling Communist Party of India-Marxist (CPM). Anupama and Ajith, too, were affiliated with CPM until their inglorious expulsion due to their personal choices. The political angle has ensured a war of words raging on social media even as offline protests intensified.
The events leading up to Anupama's victory against odds have all the makings of the plot of a hit Malayalam movie. A month before the child was born, Ajith was expelled from his post in the CPM youth organisation. He was then still married to another woman, also a CPM activist. Shortly after her sister's wedding, Anupama started living with Ajith by March this year, and she too was disowned by CPM. The party is a close-knit organisation and is known for its otherwise socially progressive values. Anupama has been part of a communist household and active in student politics.
Thereafter, Anupama and Ajith approached a local police station accusing her parents of taking away their son shortly after birth. The police did nothing about the complaint for months. But Anupama refused to give up. She filed a complaint with the Child Welfare Committee—it was done in the month of April this year through a video message. She continued to knock on various doors and appeal to people of influence, including the top cop of Kerala and various CPM leaders. Finally in May, the local police recorded her statement against her parents and her request for help in finding her son.
The police, the state agencies and others played the avuncular role of being guardians of a feudal heritage to save family honour. In the process, they slipped easily into the terrain of misusing their powers and being criminally negligent in carrying out their duties
By July, even as she and Ajith, helped by friends and well-wishers, were in search of their boy, state agencies responsible for child welfare and adoption had already entered the child's name on the website of the Central Adoption Resource Authority (CARA), a statutory body that falls under the Ministry of Women and Child Development. This is where you see the police, the state agencies and others playing the avuncular role of being guardians of a feudal heritage to save family honour. In the process, they slipped easily into the terrain of misusing their powers and being criminally negligent in carrying out their duties.
By August, a multi-member adoption committee decided to give the baby for temporary foster care to a couple from Andhra Pradesh without involving the mother of the child, and following other processes associated with adoptions.
Anupama and Ajith, both of whom would soon become the object of relentless attacks that questioned their moral character, including from the state culture minister, presently visited the Child Welfare Council's office looking for the child. What followed was flagrant violation of all laws: Anupama was shown another baby, not her own. She then filed an application for a DNA test to confirm her link with the child which, along expected lines, turned out negative.
By then it was October, and her son was almost one-year-old. It was then that she understood expecting justice from the powerful was fruitless. So, she approached the media. Soon, seven months after her first visit to the police station, the local police registered a case a day before the first birthday of her baby.
She also took to the street, first against police apathy, and then launched an indefinite satyagraha in front of the headquarters of the Kerala Council for Child Welfare in Thiruvananthapuram. The ruling CPM, which takes pride in the legacy of Kerala's renaissance and women's emancipation initiatives, was forced to act rather promptly after months of delay that saw the state officials play feudal, patronising aunts and uncles.
Within a week of this latest agitation that was accompanied by far more forceful ones on social media and in TV newsrooms, the Child Welfare Committee issued an order to bring back Anupama's child from the custody of the Andhra couple. Within days, bio-samples of Anupama, Ajith and the baby were collected for DNA tests. The results showed on November 23rd that Anupama and Ajith were the biological parents of the child. A day later, a family court in Thiruvananthapuram granted custody of the baby to the mother, who is being celebrated by the media and a large number of her supporters for her fighting spirit in the face of daunting odds. In the meantime, the Andhra couple from Vijayawada has been left distraught for what is not their fault, even after they followed the due adoption process.
Puritans have often condemned women who are bold and who seek justice irrespective of the tag that societies have hung on them. Kerala, too, has its own Hester Prynne, the key character from Nathaniel Hawthorne's 1850 novel The Scarlet Letter. Like Anupama, Prynne, too, is a young woman (although a married one) who bore a child in secret by another man. Malayalis are only too familiar with the fate of a Brahmin woman named Kuriyedath Thaathri who had to face a frivolous and voyeuristic trial by some grandees (called Smarthavicharam) in the early 20th century for her affairs with men. At the trial, the woman in question was referred to as sadhanam (thing). The latest scandal, though it cannot be seen entirely in black-and-white, proves that Kerala may have advanced on social parameters, but it so appears that at times, especially when it comes to extreme misogyny and moral hypocrisy, centuries tend to coexist.