He will surely be missed as the country braces to strengthen its military prowess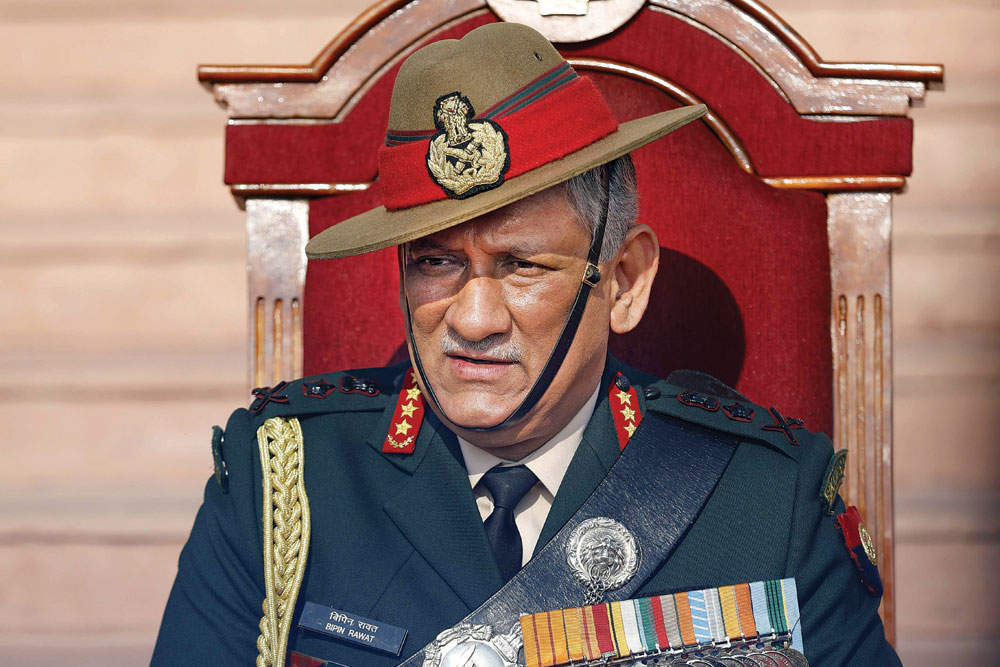 General Bipin Rawat (1958-2021) (Photo: Getty Images)
THE TRAGIC DEMISE of India's first Chief of Defence Staff (CDS) Bipin Rawat in a helicopter crash on December 8th in Tamil Nadu, seven minutes before he was to reach his destination along with his wife and 12 others, has come at a critical time in India's military history as the armed forces intensify efforts to enhance the war readiness of their three arms through modernisation and speedy integration to face heightened threats in the neighbourhood.
Rawat, when he was Lieutenant General in early 2015, had a near-death experience on his way to Dimapur, Nagaland, when his single-engine Cheetah helicopter plunged nose down soon after it took off, but he lived to tell the tale of the miraculous escape. The Pauri, Uttarakhand-born senior officer used to talk about him being a pahadi, a dweller of the hills, suggesting that he was never afraid of the heights and loved a bit of adventure. This time, however, his trip to the defence establishment in Wellington, Nilgiris district, on the Mi-Series helicopter from the Army base in Sulur, Coimbatore, turned out to be different.
This crash of the Russian-made Indian Air Force (IAF) Mi-17V5 helicopter—on which Rawat was on his way to deliver a lecture at the Defence Services Staff College, his alma mater—is the worst accident since the 1963 Poonch helicopter tragedy that killed six senior Army and Air Force officers.
Major General M Vinaya Chandran (Retd), a veteran infantry officer who had served under Rawat in Nagaland, speaks of his former boss with great respect and warmth. "I was Major General and he was Lieutenant General at that time when he was posted in Dimapur. He was very good for the organisation. He was a great officer. Back then we faced tough situations, but one phone call to him was enough to feel relieved. He was more effective as a leader in the toughest moments that the forces faced. With him at the helm, everything was under control. He never interfered with our work, but we always had the feeling that he was always there when we needed him. He was such an officer," recalls Chandran, emphasising that "the General Rawat I knew was not political at all. He was never interested in political activities." I have great respect for his wife as well," Chandran told Open. Rawat's wife Madhulika, a Delhi University alumnus, was the president of the Army Wives Welfare Association, one of India's largest NGOs. She had also worked among differently abled children and cancer survivors.
Rawat, in fact, was adjudged the best "Gentleman Cadet" and awarded the prestigious Sword of Honour in 1978 when he was commissioned. After passing out from the Indian Military Academy in Dehradun, Rawat joined the 5th battalion of 11 Gurkha Rifles where his father had served. He belonged to a family of Army veterans. What was remarkable about Rawat, notes Chandran, is that he took good care of his "men", irrespective of their rank. True, Rawat's stints in troubled areas of the country, especially in Kashmir, and the Chinese border were considered stellar within Army circles. The third officer after Sam Manekshaw and Dalbir Singh Suhag to become the chief of the Army staff from the Gorkha Regiment, Rawat in his early career had served in Uri, Jammu and Kashmir, then along the Line of Actual Control (LAC), and later commanded the 5 Sector of the Rashtriya Rifles. He also served—even as he climbed the Army hierarchy—as general officer commanding of the 19th Infantry Division in Uri, later as a Lt General at III Corps, deputy chief and then as Army chief in 2016. He was appointed CDS on January 1st, 2020.
Rawat was the one who was to play the most pivotal role in modernising and integrating the armed forces at a fast clip to take on challenges from rival countries, especially along the border
Lt Gen DS Hooda, widely regarded as the architect of the 2016 surgical strikes across the Line of Control (LoC) on terrorist bases in Pakistan in response to terror attacks by Pakistan-trained forces, says Rawat was a very practical officer. "When we were planning the surgical strike, he was already deputy chief, and he offered valuable inputs at our meetings in the Army HQ. He was very passionate and professional. He was quite firm in his views. He was also absolutely correct in his approach. More importantly, as CDS, he made a determined push towards reforms and integration and that is where his legacy lies. Whoever takes over from him now must keep the goals he has set for the armed forces. That is the way to remember him," Hooda told Open.
Meanwhile, a court of inquiry has been ordered by the IAF into the crash. Very often, senior officers are hard-pressed for time and since they spend a large part of their time on helicopters to be on time for events, there are occasions when they tend to take weather conditions lightly. Following the crash, questions also are being raised about a conspiracy behind the unfortunate incident, considering that Rawat was the one who was to play the most pivotal role in modernising and integrating the armed forces at a fast clip to take on challenges from rival countries, especially along the border. Certain strategists and commentators see a parallel in the deaths of Taiwan's chief of general staff last year and Rawat this year, suggesting Chinese foul play. Strategist Brahma Chellaney tweeted, "Gen. Rawat's death has an eerie parallel with the helicopter crash in early 2020 that killed Taiwan's chief of general staff, Gen. Shen Yi-ming, and seven others, including two major generals. Each helicopter crash eliminated a key figure in the defence against PRC's aggression." There is also talk about the levels of helicopter maintenance standards and about the likely human error in the accident. Even if such doubts are ruled out later after a thorough inquiry, conspiracy theories are sure to haunt us for a while.
Rawat, a highly decorated officer, respected even in other countries including the US, had become extremely political in his posturing, mostly towards the end of his career, attracting a fair share of controversies. He was equally admired and attacked thanks to his blunt statements. As an Army chief who had outpaced his seniors, he courted controversy over meeting RSS chief Mohan Bhagwat in Nagpur in uniform, charges that the general refuted, saying he was merely being respectful towards elders in line with Indian tradition.
Rawat had also invited criticism as well as plaudits for justifying Major Leetul Gogoi for tying a Kashmiri youth to his jeep's bonnet—using the young local craftsman as a human shield—to ensure safe passage for himself and his men from angry crowds. Later, Rawat rewarded Gogoi, much to the anguish of human rights champions. The late general had also alleged a planned Bangladeshi "influx" to expand the vote base of pro-Muslim parties in Assam. He was attacked for the communal tone of his remarks. For an officer who was not supposed to make political statements in public, he had lashed out at anti-CAA protests and had warned the opposition not to throw its weight in their favour. His tongue-in-cheek comments on disability pension for armed forces personnel, stone-pelters and about the Air Force being an offshoot—or a supporting force—of the Army, too, generated outrage.
But then he was a hands-on officer who had embarked on an ambitious mission. He will surely be missed as the country braces to strengthen its military prowess.