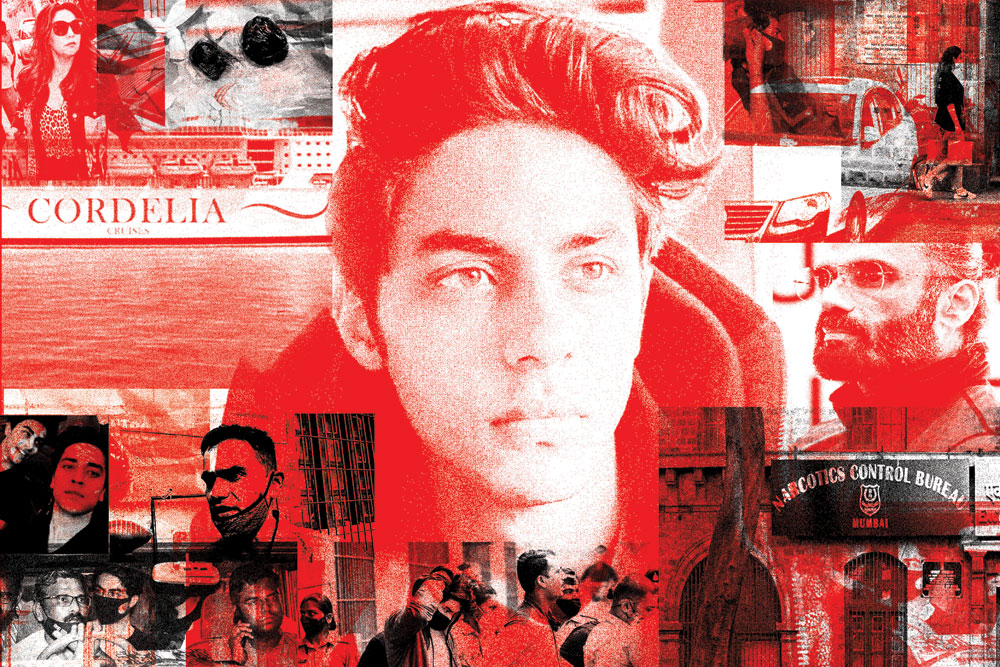 (Illustration: Saurabh Singh)
Proximity to the Golden Crescent and the Golden Triangle compounds the problem of illicit drugs in India where the super-rich and the poor alike have easier access to narcotic and psychotropic drugs that suit their purse. The rise of the Taliban who control 90 per cent of the world's opium production and Pakistan's designs pose newer risks
SAMEER WANKHEDE, the high-profile zonal director of the Narcotics Control Bureau (NCB) in Mumbai, is a busy man who responds with pithy remarks when you call him during the day. "I am investigating. I can't talk now. Later." He is handling the case of Aryan Khan, the son of Bollywood superstar Shah Rukh Khan, who was arrested along with friends in the October 2nd raid on a ship owned by the Cordelia Cruises company that was bound for Goa. Although no drugs were found on Khan Jr, he was held in custody by NCB, which falls under the Union home ministry, and the agency stated before the court that it had access to the 23-year-old's WhatsApp chats that offered incriminating evidence and likely links with international drug rackets. The nodal agency, whose primary task is to cut supplies of narcotic, psychotropic and similar illicit drugs within the country and from overseas, had recovered 11 grams of charas (cannabis resin) from two of Aryan Khan's friends who are accused, Arbaaz Merchant and Munmun Dhamecha.
Wankhede later returned the call to say that NCB's prerogative is to probe an incident fully and well so as to know the truth about the source of these drugs. Amidst questions being raised about Aryan Khan's detention—and with opposition parties claiming a witch hunt and political motive—the officer who had earlier made a name probing actor Sushant Singh Rajput's suicide case says, "There has never been any pressure from anywhere. We investigate in an impartial manner to know the truth about who supplied these kids with drugs."
He refuses to be drawn into the conversation about the incriminating nature of WhatsApp texts on Khan Jr's mobile phone, stating that the matter is in court. "I cannot say anything about that," he says calmly.
An NCB source who spoke to Open argued that the agency has no intention of targeting Bollywood stars or those related to them because it is "essentially trying" to find out the kingpins of international rackets and their associates in the country who traffic drugs and "shove Indians into drug abuse". His contention is that what is the media's preoccupation—sensationalism—isn't the agenda of his organisation. "Our priority is national security in the changing circumstances," he avers. "We aren't answerable or accountable for what the media does at its whim by lapping up an incident because of celebrity links. That is their business," he argues.
The focus is on drug abuse once again thanks to a celebrity link, but the big picture cannot be missed. A random survey of users and police officers associated with tackling the drug menace brings to the fore a major change that has set in over the past few years in India: earlier a user had to go looking for drugs but now the drugs come to him or her. This suggests easier and much less cumbersome access to drugs thanks to a raft of factors, including the anonymity that darknet offers and the fact that underpaid food-delivery boys are easy prey for rackets, especially after the pandemic hit. The result: home-delivered drugs of all kinds.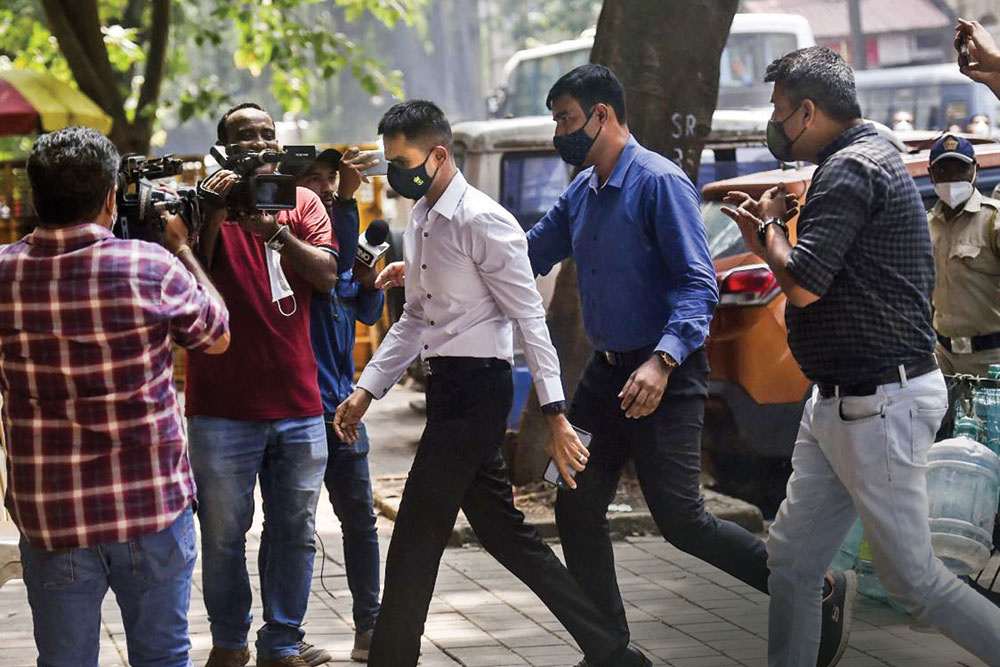 "This doesn't mean such practice wasn't there earlier. Drugs were always available everywhere for those who wanted them. From the party circuit to paan shops to outside schools and colleges, even in small towns, there were people who sold drugs, mostly party drugs and cannabis," says another NCB officer based in Mumbai who has studied how drug rackets work.
There has never been any pressure from anywhere. We investigate in an impartial manner to know the truth about who supplied these kids with drugs, says Sameer Wankhede, zonal director, Narcotics Control Bureau
According to data released by NCB, a total of 57,867 cases were registered for drug seizure in which 74,620 persons (including foreigners) were arrested in 2019 in India compared with 49,450 cases in 2018, an increase of 17 per cent. Empirical evidence suggests that the user base has expanded during the pandemic. Police officers Open surveyed in Delhi, Mumbai, Hyderabad, Chennai and Kerala confirm this, suggesting the sway of the darknet in drug purchases.
A Bruno is the former zonal director of NCB in Chennai who was at the helm until the end of the first quarter of this year before returning to his parent organisation, CoBRA (Commando Battalion for Resolute Action), the special unit of the Central Reserve Police Force (CRPF). Now posted in Odisha, Bruno earned fame following the capture of Sri Lankan drug kingpin MMM Nawas and his associate Mohamed Afnas, both of whom were based out of Chennai, early this year. They were arrested following a major haul of weapons, 96 kg of heroin and 18 kg of methamphetamine by the Indian Coast Guard in November 2020 near Thoothukudi in Tamil Nadu.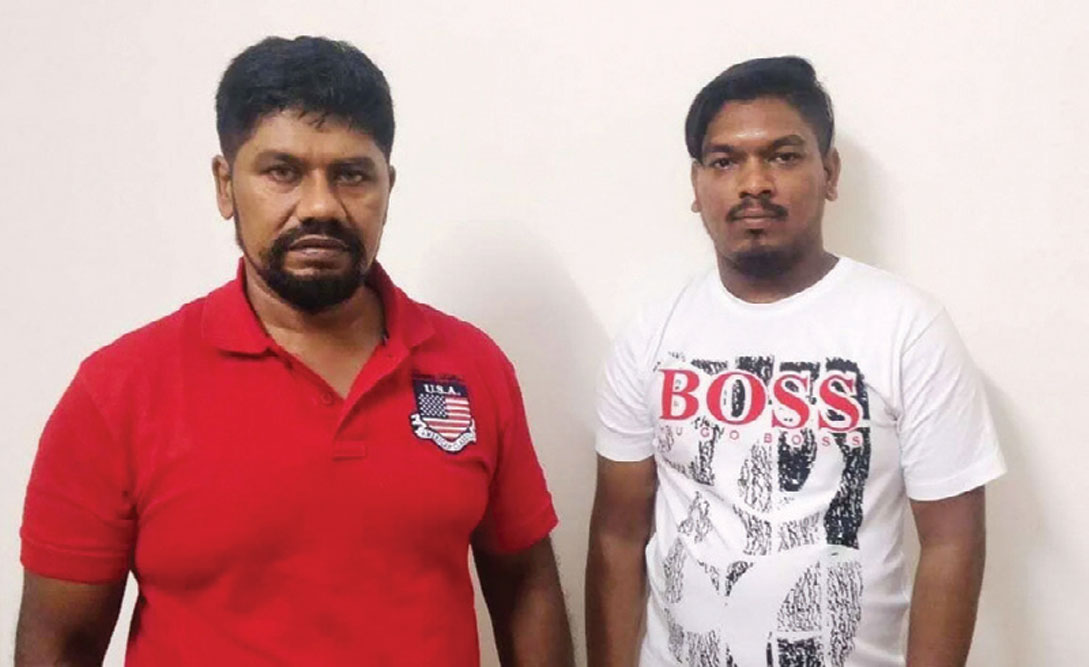 Affirms Bruno, who oversaw NCB's operations in Tamil Nadu, Kerala and Lakshadweep: "Darknet is the main source of drugs because you can order drugs from any part of the world anonymously and to the address of someone else who is staying temporarily at a place," he notes, emphasising that often such drugs get dispatched to doorsteps via India Post and through courier services. "Person A places an order quoting the address of Person B. Then person B transfers it to Person C. Person C may transfer it to Person D who sells the drugs to users directly or indirectly. It is a huge network," he adds. Bruno and his team worked towards tracking such suppliers by looking at suspect names on the list of courier firms and India Post services who had given the same mobile phone number for different addresses. The Coast Guard also has to be on constant alert because of a large quantity of drug smuggling. An NCB official says that with the super-rich consuming more cocaine than before, some of the most dreaded narco cartels in the world, most of them based out of central and South America, too, have an eye on India.
Nawas and Afnas were arrested following a major haul of weapons, 96 kg of heroin and 18 kg of methamphetamine by the Indian coast guard in November 2020 in Tamil Nadu
He adds that most of the cannabis supplies reach Indian users from the border areas of Andhra Pradesh and Odisha. The hub for hashish oil is Himachal Pradesh. The rest of the drugs, such as LSD, is sourced from various parts of Europe. Cocaine makes its way to India from countries such as Colombia, Peru and Bolivia through various routes. Heroin and opium-derived products from Afghanistan head to the country via Iran and Pakistan. India is also a midway location for those smuggling heroin from the Golden Crescent, which encompasses Iran, Afghanistan and Pakistan, to Sri Lanka, which has emerged as a trading hub and a consumer's paradise. Meth, also called crystal meth, reaches India over the India-Myanmar border, the officer explains.
Chemicals made in China and heroin from the Golden Triangle, covering Thailand, Laos and Myanmar, follow the same route through the porous Myanmar border with assistance from extremist groups active in the region. Stimulants made in pharmaceutical labs and clandestine labs within and outside the country also make it to the Indian illicit drugs market. For instance, prescription drugs are sold only marginally through retail outlets without prescriptions. "Most often, they head directly from factories to the illicit drug supply chain," the officer alleges. He refuses to name companies or private labs involved in the practice, citing confidentiality. But if one looks at the drugs often seized by agencies from suppliers, along with cannabis, opium, hashish and heroin, there are anti-anxiety drugs and pain-relieving pills and solutions, confirming that the allegation is not off the mark. In 2019, the major types of drugs seized included cannabis, heroin, opium, ephedrine, acetic anhydride, MDMA, and so on.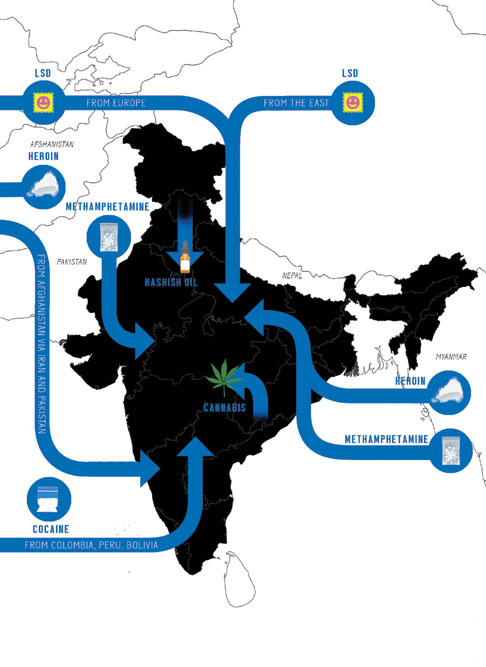 Active suppliers and a captive user base are a deadly cocktail that would attract greater attention from dangerous players in the illicit drugs business in the country, warn experts and police officers who spoke to Open. They say that the recent seizure of drugs worth ₹ 21,000 crore at the Mundra port in Gujarat operated by the Adani Group—a case that the National Investigation Agency (NIA) will probe—is just the tip of the iceberg. The consignments had come from Afghanistan via Iran's Bandar Abbas Port. "With darknet purchases flourishing as indicated by easier access for drugs, including cocaine for the super-rich, more and more people and organisations are going to target India, a country of young people, to hit paydirt or to wreak havoc or both," says a senior government official based in Delhi. Most cocaine buyers belong to the affluent class since it is an expensive habit. Well-to-do crowds can afford MDMA (also known as Ecstasy) and the likes of LSD which, at the height of the counterculture movement of the 1960s, was considered a 'liberating' drug that expanded one's consciousness. Various notables back then had encouraged its use. Those in the lower income strata typically consume cannabis and meth. Crystal meth is short for crystal methamphetamine, which is a highly addictive drug. It became popular after World War II when soldiers were given meth to keep them awake.
Cannabis supplies come from the border areas of Andhra and Odisha. The hub for hashish oil is Himachal. LSD is sourced from Europe. Cocaine comes from Colombia, Peru and Bolivia. Heroin from Afghanistan via Iran and Pakistan. Meth arrives over the Myanmar border
Although some NCB officials advocate a wait-and-watch policy on Afghanistan under the Taliban and their priorities, many others insist that the dreaded outfit now in power in Kabul will have to continue promoting opium trade to rev up an economy in tatters. Opium trade will most likely be the economic mainstay of the country after the US failed to destroy the Taliban's opium trade whose proceeds were ploughed back into terror activities. "Pakistan's intel arm ISI will not think twice about promoting opium and heroin [smuggling] into India because it is already at it, and then intensifying by tapping this new opportunity will help it further its designs such as what is happening in Punjab, which is home to a large number of drug addicts," says a Delhi-based government official who has tracked ISI activities and illicit drugs sales to India. "It is not a threat that can be taken lightly," he adds. His logic is that with more young people either trying drugs out for fun or out of peer pressure, the user base is only going to grow. He feels that those who say they use only cannabis don't understand the public-health ramifications from Canada and other countries where the product is legalised. In fact, in countries and states where cannabis consumption is legal, it is the second-most used intoxicant after alcohol. While legalising sale of limited quantities of cannabis has reduced the number of recreational users who end up in prison and removed the stigma associated with it in countries like Canada, the fact remains that it is very addictive and leads many people to destructive behaviour. "Most importantly," the official adds, "it is the gateway to other drugs like cocaine and LSD and MDMA." At a time when many people are leading a campaign to legalise cannabis in India, a section of doctors as well as parents who had traumatic ordeals with their teenaged children addicted to the substance are opposing the move, terming it as self-destructive.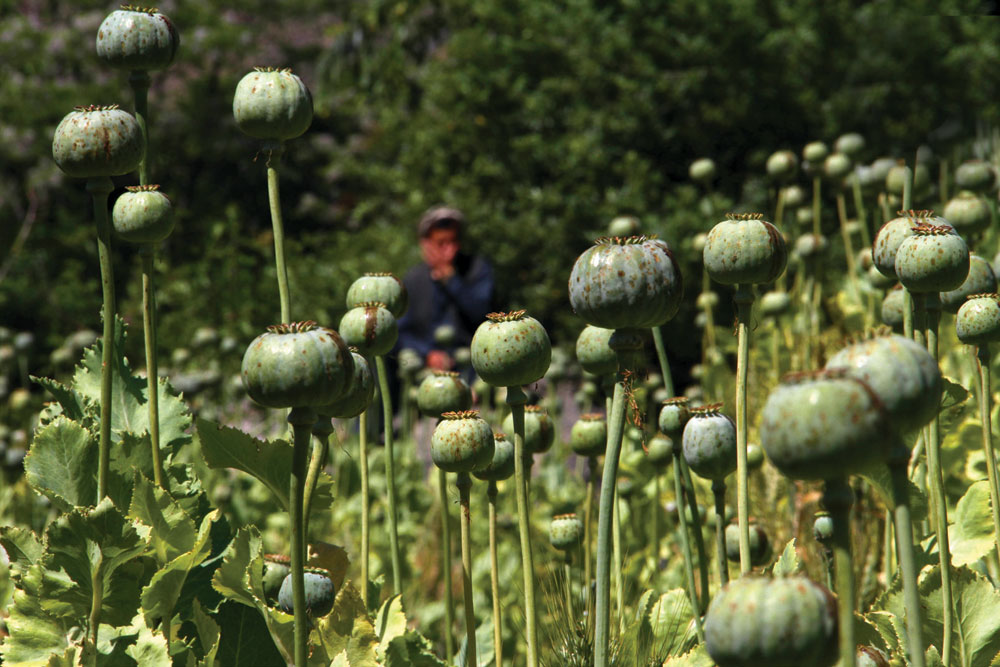 Various detailed reports have pursued how opium is smuggled into India and then processed in clandestine factories—in some parts of the country like Punjab, Haryana and Uttar Pradesh—to morphine and heroin. According to the Drug Free World Foundation, heroin is made from the resin of poppy plants. "Milky, sap-like opium is first removed from the pod of the poppy flower. This opium is refined to make morphine, then further refined into different forms of heroin," it explains. According to the 2019 study by the Union ministry of social justice, titled 'Magnitude of Drug Abuse in India', "About 2.1% of the country's population (2.26 crore individuals) use opioids which includes opium (or its variants like poppy husk known as doda/phukki), heroin (or its impure form—smack or brown sugar) and a variety of pharmaceutical opioids." The report adds: "Nationally, the most common opioid used is heroin (1.14%) followed by pharmaceutical opioids (0.96%) and opium (0.52%)." As of now, India's Northeast is home to the biggest number of consumers.
Official numbers confirm that India has a growing base of drug users. It is here where opportunity lies for the Taliban and the entity that is hand-in-glove with them: Pakistan's ISI
The problem tends to get exacerbated thanks to the greater acceptability cannabis has in India as a drug that is relatively harmless. Mental wellness expert Dr Rachna Khanna Singh, head of the department of holistic medicine and psychology at Artemis Hospital, Gurugram, narrates the story of a 23-year-old former addict—the same age as Aryan Khan. He began smoking cannabis while in school in Delhi for fun and then slowly moved up the psychedelic ladder to other forms of substance abuse. "It was only when he started stealing money and valuables from home that the parents began to feel something was amiss. And then he had to be sent to rehab where I did counselling sessions for him. Luckily, he is now doing well. But that is not the case with most others who start drug use out of curiosity and a sense of adventure and then get hooked to it and even after rehab treatments, they relapse," says Singh, adding that "party drugs are so freely available all around that darknet may have only made its access easier".
The darknet is a hidden collective of encrypted websites accessible only via special browsing tools, explains Mumbai-based cyber security veteran Ritesh Bhatia. "What makes darknet different from the regular internet is that every visit to a website is not only encrypted but also anonymous, making it difficult for any entity to find the real IP. The easiest and most convenient way to access the darknet is by using a browser called TOR," he says. The darknet has several marketplaces that sell several illegitimate goods such as drugs, hacking services, fake identity cards, stolen credit cards, guns and much more, which can be bought only with crypto currencies such as bitcoin and monero as they offer anonymous transactions and thus the buyer and seller are extremely hard to trace, Bhatia sums up.
THE PROBLEM at hand is not just a crime by law but a public health crisis with long-term ramifications, as is evident from government data. One juvenile, on average, has died due to drug overdose every 10 days in India over the past three years, according to the National Crime Records Bureau. Besides the thrill of trying out something new, there is also a strange delight of breaking the law. Ewan McGregor, who played Mark Renton, a drug addict in Trainspotting (1996), captures that irony in a conversation in the movie: "We would have injected vitamin C if only they'd made it illegal."

For his part, Dr Atul Ambekar, Professor, National Drug Dependence Treatment Centre and Department of Psychiatry, AIIMS, New Delhi, says: "Yes, we do have a drug problem in India and hoping to address it solely by supply control or law enforcement is unlikely to work. We need to reduce the demand through evidence-based prevention and treatment strategies." Ambekar, who is also the secretary general of Addiction Psychiatry Society of India, points out that strategies to control the supply of drugs are known to have very little effectiveness. "It is clear from global trends that the 'war on drugs' is almost over, since drugs are winning this war! Despite (or perhaps because of?) the rhetoric of the war on drugs, drug production has increased everywhere and the drug market in general has become more efficient. Such trends are visible in India also, where drugs continue to be available—and even the sustained Covid-19 lockdown has made little difference to the availability of drugs," he rues.
The professor also regrets that the general discourse in India, especially in the media, remains dominated by the more glamorised aspects of the drug problem: the urban, neo-rich youngsters using fancy and expensive substances like MDMA, cocaine, and so on. "These are of course of concern but pale in comparison with what is affecting the masses. As per the available data, (apart from alcohol and tobacco) the commonest drugs used in India are cannabis and opioids. What should worry us is the fact that the rate of opioid use in India is three times that of the global average (2.1 per cent vs 0.7 per cent). Further, despite India being the proverbial land of cannabis (with our long cultural association with the plant), the rates of use of cannabis (ganja/charas) and heroin are almost equal, perhaps indicating that cannabis use has been controlled in India at the cost of higher heroin use." He goes on: "It is well recognised that opioids (specifically heroin) are the drug category associated with most diseases, disabilities, deaths and devastation. So, while India continues to bear the brunt of a high use of opioids, the entry of fancier newer drugs like stimulants (MDMA, cocaine) is indeed a cause for concern. However, as of now, data shows that the rate of use of highly addictive drugs like heroin is many times higher than that of cocaine and stimulants."
He is right and official numbers confirm that India has a growing base of drug users and someone only has to stir more supplies. It is here where opportunity strikes for the Taliban and the entity that is hand-in-glove with them: Pakistan's ISI. The lure of quick bucks will help them enlist more on the network, especially peddlers who are often addicts. Bruno calls this racket a "money chain". Which means, a peddler tends to flourish by recruiting more people, first by making them addicts who are later drawn into this trap for a steady supply of drugs and money. The rackets are expanding and innovating in order to hoodwink drug enforcement agencies all over the world. Some of them have begun using drones and clever hi-tech packaging to supply drugs to the end user. India may not yet have cartels of the Mexican and South American variety that are parallel governments, but the skirmishes in Goa between the Russians on the one hand and the locals and the Africans on the other to dominate the drug trade in the former Portuguese colony known for its epicurean and susegad ways of life are not good news. "NCB had better not go after publicity and sensationalism. It needs officers and heads devoted solely to the cause," an officer based in Mumbai says pensively. That recommendation makes perfect sense.