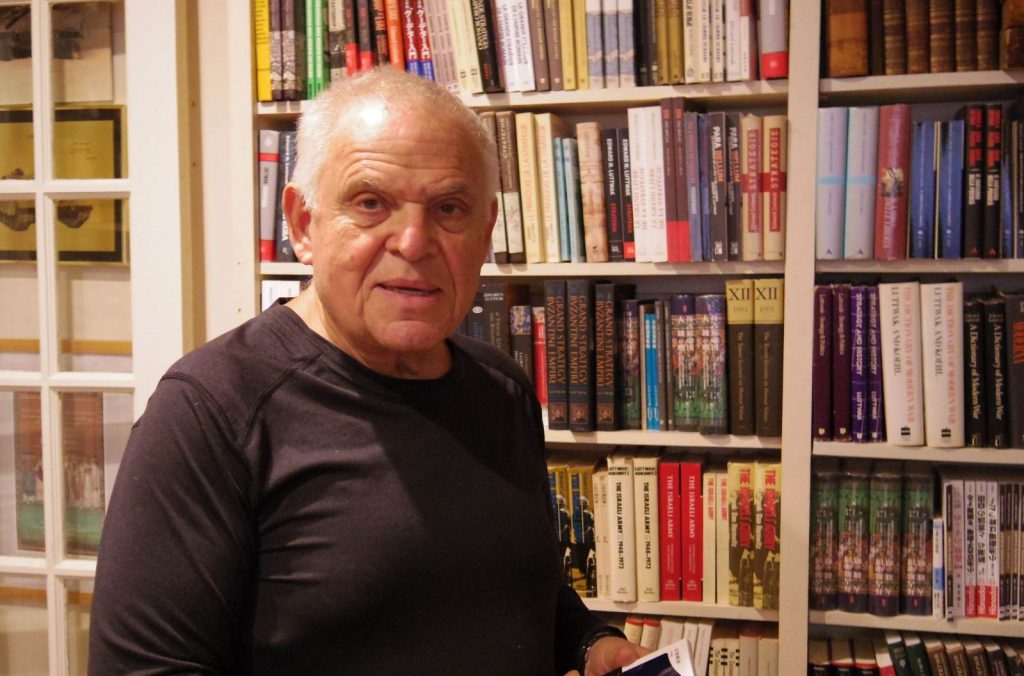 Edward Luttwak (Photo: Twitter)
Emulate IDF which recruits even autistic candidates to utilise their special talent, says acclaimed American military scholar
WORLD-renowned military historian Edward N Luttwak — who advises American allies and friendly countries on strategy — has said that India must learn from the Israel Defense Forces (IDF) on how to tactically hire people with diverse capabilities, including autistic candidates, to ensure a heterogeneous mix of talent within the forces to foster innovation and specialisation.
IDF's aptitude test is a lengthy procedure to assess aspirants for their strengths and to depute them for purposes that suit their special abilities, Luttwak told Open. The author and former cold warrior was in New Delhi recently at the invitation of the ministry of external affairs to meet top-level officials and military officers.
"As opposed to 'instruction' that armed forces typically offer its cadets, the IDF gives them 'education' based on their capabilities. Education is different from mere instruction. Which is why they even hire people considered differently abled who could be used for decrypting and encrypting secret transmissions, and various other functions such as tracking of colour and numerical patterns. They also help eventually with launching start-ups," notes Luttwak, columnist and author of books as seminal as The Grand Strategy of the Roman Empire, The Grand Strategy of the Byzantine Empire and The Grand Strategy of the Soviet Union.
"IDF recruits even juvenile delinquents, autistic people and those who are considered by most to be of low IQ. After training and retraining them to suit particular needs, the IDF has been able to become a heterogenous military unit where each person is placed in a unit where he is meant to excel. As opposed to most armies, including the Indian forces, that use uniform yardsticks to assess all candidates, IDF does it differently by identifying candidates based on their qualities," argues Luttwak. According to several studies, autistic people are often good at logical thinking and memorising information. They also excel in many functions that don't need much social interaction. "Therefore, IDF is eclectic and contributes immensely to military technology, the start-up scene and the industry," explains Luttwak, who is also a specialist on China and has been a frequent visitor to that country. His 2012 book on China — The Rise of China Vs the Logic of Strategy – had generated wide interest across the globe. Luttwak has over the decades served as a consultant to the US National Security Council, the US Office of the Secretary of Defense, the US Department of State, the US Armed Forces and to various governments.
Luttwak, whose destination after leaving India was China, told Open that it is thanks to the rigorous aptitude tests conducted by the IDF that the Israeli forces are able to train and motivate candidates, even those typically considered unfit by traditional armies, to be part of various units, some of which are special. He discloses that one such is Unit 81. "Most people have heard of Unit 8200, but not Unit 81, which contributes massively to innovation and technological breakthroughs in the country," says the historian, a polyglot who was born in Romania, raised in Italy and England and now lives in Chevy Chase, Maryland, US. When he was just 16, he had joined the British army and later volunteered for the 1967 war on the Israeli side against the united Arab forces. He is an alumnus of the London School of Economics and Johns Hopkins where he earned a PhD. Meanwhile, the Unit 8200 programme recruits teen hackers and math wizards to develop cyberwarfare techniques for Israel.
He tells Open that those hired for Unit 81 are the best ones specially trained to join IDF's various intel and tech units. "It is this drive to use a candidate for the function for which he is most efficient that has vastly helped the IDF. Israelis have a record number of 100 commando units, and that is unthinkable for any other army to create," he notes, emphasising that even those who are not historically considered 'worthy' of joining the armed forces could contribute greatly to the military prowess of a country if he or she is selected and trained well for specific tasks.
Luttwak, now 78, has in the past been a negotiator who has often doubled up as a spy and had parleyed with officials of the former Soviet Union in order to build peace and avoid wars. He is now a frequent traveller to various allied countries, including Japan and Kazakhstan.
Luttwak, a friend of US president Joe Biden's, says that India must go for reforms and train each entity, be it paramilitary or the state police, to make them capable of handling terror attacks. Luttwak rues that India has not yet learnt much from the mistakes of the Mumbai attack of 2008.
The military historian, who describes himself as a fanatical snorkeler, says that India must also become more transparent about its military failures and setbacks to promote a much greater level of accountability. This classical scholar who can go on for hours and hours on various subjects from Marx to Medieval China and ancient Rome to India's North East and 9/11 to 26/11 insists on the need to publish public reports of military strikes and operations. "The publication of a report by the IDF after its highly successful 2006 Lebanon operation targeting Hezbollah forced the latter's leader Hassan Nasrallah to admit that he would not have ordered the kidnapping of two Israeli soldiers if he knew it would have led to a war of that sort. In that sense, such brutally frank reports, notwithstanding the admission of mistakes, can act as a deterrent," avers the multi-faceted scholar who is also a cattle rancher.