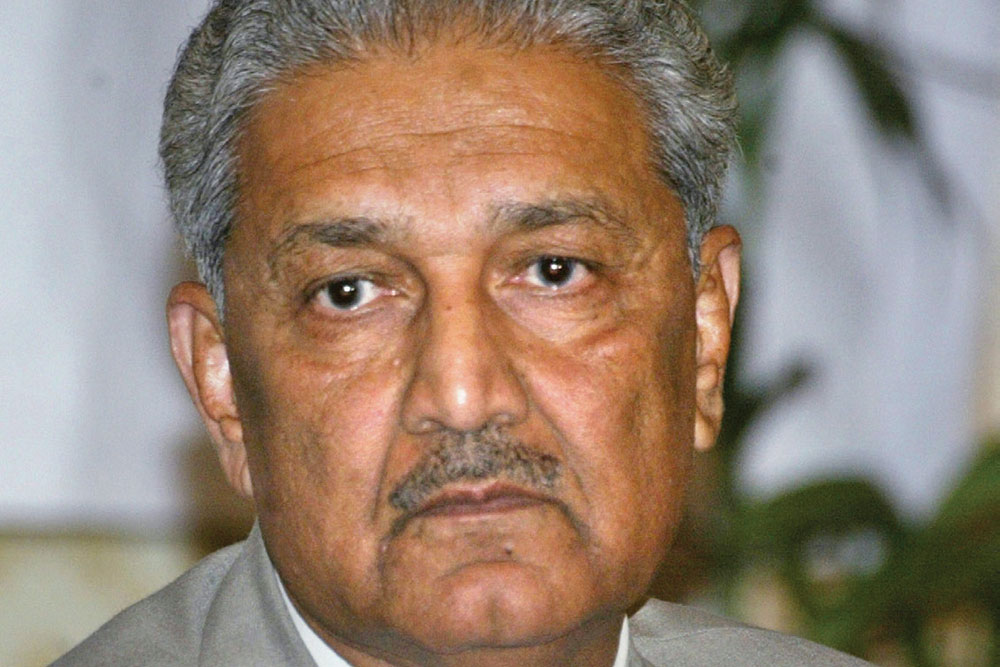 Abdul Qadeer Khan (1936-2021) (Photo: Reuters)
ABDUL QADEER KHAN, who died on October 10th in Islamabad, was born on April Fool's Day in 1936 in undivided India's Bhopal. He was nobody's fool though. Rather, he fooled others in the scientific firmament to steal overseas nuclear technology to catapult Pakistan to nuclear-power status. He was forever trying to place his foster country on an equal footing with India. Having done that with a degree of success on the nuclear front, he went rogue running an illegal international proliferation network for nuclear material, helping Iran, North Korea and Libya.
Adrian Levy, author of Deception: Pakistan, the United States, and the Secret Trade in Nuclear Weapons, has probed deep into the life and times of Khan. He describes him as the face of the nuclear programme of Pakistan who embraced a tragi-comic fate, as a man who was absolutely at one with the state, but was sacrificed by it so that the state could survive.
After his sinister role in nuclear-arming other countries was revealed, then Pakistan President General Pervez Musharraf in 2004 "made him fall on his sword so his pact with the US would continue. AQK (Khan) agreed," notes Levy.
Levy rightly observes that Khan was the instigator and motivator, but not the father of the Pakistan bomb. After all, he was only a metallurgist. "The accolade goes to the scientists in Pakistan who were eclipsed by AQK and his larger-than-life public persona. What AQK brought was his sense of hope, his patriotism, and his real sense of purpose. Unable to keep a secret, he frequently blew parts of the secret programme to journalists who courted him knowing he was unable to keep himself out of a story. He was truly an extraordinary emissary for Pakistan, but then allowed himself to be manipulated—willingly—into becoming a resupplier, shipping out schematics and parts to other nations," explains Levy.
The author adds, "Some of the thinking was to upturn the monopoly on power and the Western monopoly on it. Some were less grand and based around Pakistan's need for money, and individual officials' desires to become rich."
Levy states that almost everyone became enmeshed in his enterprise—even the secular Benazir Bhutto who agreed to carry to North Korea schematics for a bomb design, or at the very least for early centrifuges to North Korea where she exploited a relationship between that nation and her father Zulfikar Ali Bhutto into getting a banquet thrown for her by the North Korean leadership.
Many fellow academics and colleagues of Khan love to hate him. Nuclear physicist and activist Professor Pervez Hoodbhoy, who had to suffer at the hands of Khan, doesn't have an iota of respect for him.
Hoodbhoy tells Open: "He (AQK) was a man greedy for wealth and had amassed a fortune by the time he died. By being among the first settlers of Bani Gala [where Imran Khan now lives], he started the environmental destruction of Rawal Lake, which supplies Rawalpindi city with drinking water. In 1996, he attempted to join in the theft of public land via a scheme started by Benazir Bhutto who sought to give Quaid-i-Azam University's land to influential people. AQK had me put on the Exit Control List (ECL) for opposing the theft." If you are on the ECL, you can't leave the country. It is a provision mostly used to prevent drug lords and other criminals from running away. "He could do that because he was one of the most powerful men in Pakistan," Hoodbhoy recalls.
Later, Hoodbhoy says, Khan felt he had been made the fall guy by Musharraf, and that influential generals were let off the hook. All that and more were revealed by AQK in a 2008 letter he wrote to Hoodbhoy. It is true therefore that in death, although Pakistan feted him as a great saviour, a national hero, but the man who died aged 85 from Covid-19, died a deeply frustrated man.