Shabnam Khan Dawaran, whose video exposing the Taliban went viral, says she continues to receive death threats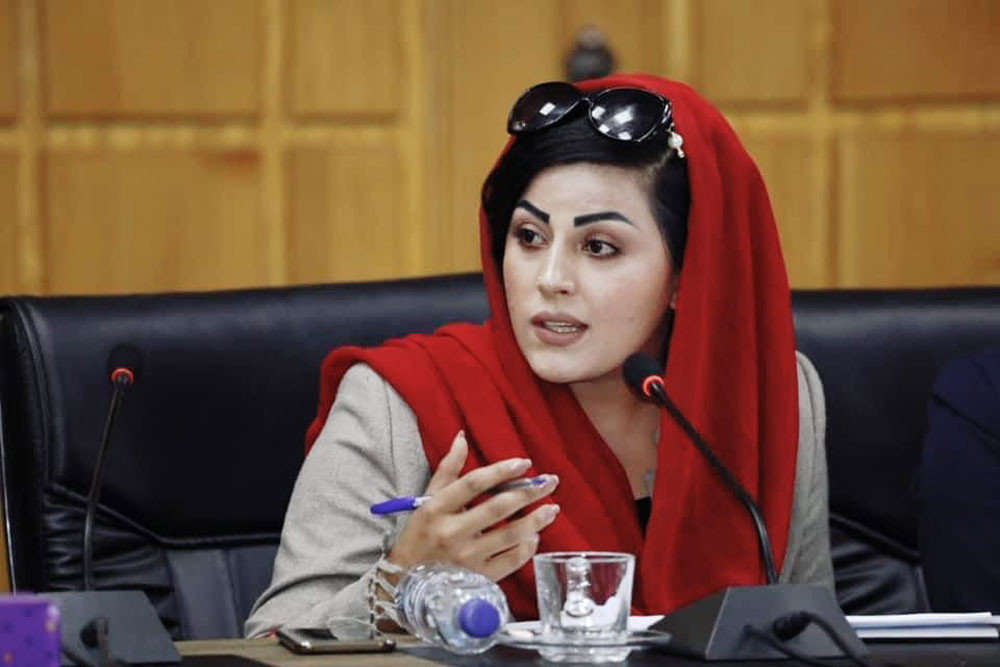 Shabnam Khan Dawaran, 24, was a TV anchor with state-run RTA channel until the Taliban stopped her from working
SHABNAM Khan Dawaran, the 24-year-old Afghan TV anchor whose video about the harrowing ordeal of being stopped by Taliban soldiers from entering her Kabul office went viral, says she wants to leave the country because she continues to receive threats from the dreaded Islamist outfit that is in now power.
"I want to leave Kabul," Dawaran told Open shortly after Taliban's co-founder Mullah Baradar arrived in Kabul from Qatar via Kandahar on August 21 to decide on the modalities of the new Afghan government.
This news anchor with the state-run TV channel RTA Pashto is also a student of law at Kabul university. Dawaran, whose parents are originally from Logar province in eastern Afghanistan, feels that the international community must rise to the occasion to protect Afghan women.
Asked about whether she felt that the American forces had abandoned the people of the country, especially its women who face the gravest risk from Taliban, which preaches and practises the most pessimistic and intolerant version of Islam, she says that it is a question that must be posed to the country's politicians who were in power. "I have nothing to say (about it)," she avers.
After she and her female colleagues were threatened by Taliban soldiers for wearing makeup and were told to stop coming to work, she had uploaded a video brandishing her office ID in which she narrated the experience outside her office days after the Taliban walked into the presidential palace without facing a single shot from the US-trained armed forces.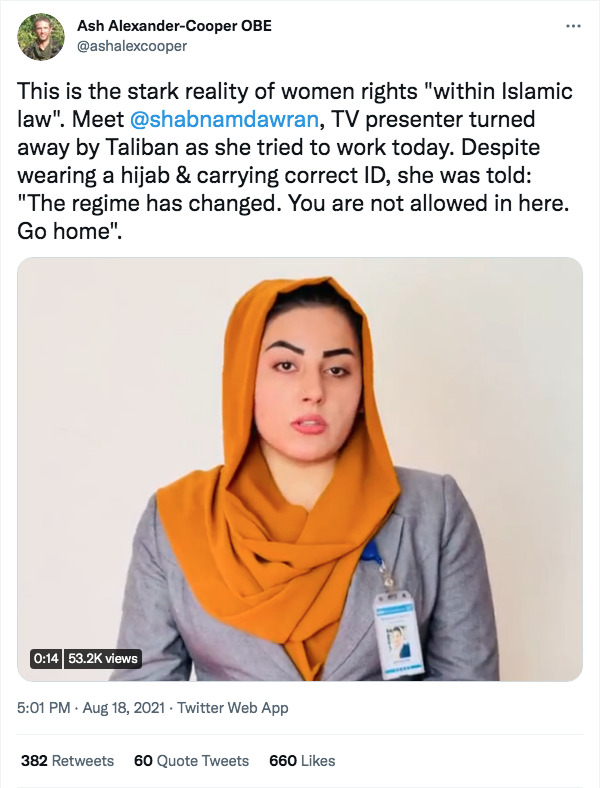 This happened even as President Ashraf Ghani fled the country, in an apparent fear that he may face the plight of the late President Mohammad Najibullah in 1996 when Taliban captured power for the first time. Taliban, which had earlier said that it would not enter Kabul, rode into the city on August 15, recapturing power nearly twenty years after they were flushed of power by the invading US forces in late 2001.
The re-emergence of Taliban as the US troops began withdrawing from the country ahead of the August 31 deadline is a stark confirmation of the failure of the peace talks initiated by the US with the Islamist entity in February last year. Taliban had then committed to not allowing forces such as Al Qaeda to operate from the country. Ahead of 9/11, Al Qaeda, founded by Osama bin Laden, was hosted in Afghanistan by the Taliban regime.
Dawaran and her female colleagues went to their office after a Taliban spokesperson said at a press conference that women will be allowed to work and study, in a ruse to appear that it was a moderate Taliban that is now in power, as opposed to the earlier regime (1996 to 2001), which blatantly excluded women from public activities besides banning entertainment and awarding brutal punishment to anyone who broke their extreme interpretation of the Sharia law.
Dawaran says she is scared that the Taliban are out to kill her following her bold assertions in the video that went viral. She had said in the video, which was recorded in Pashto language, that she was told that she couldn't work in the new regime and therefore should go back home while her male colleagues were allowed to work. She also said she was crestfallen about being denied the right to work.
She tells Open that she continues to receive threats from the Taliban ever since. Many female journalists were targets of a wave of assassinations in other parts of Afghanistan other than Kabul in the run-up to the Taliban capturing city after city and finally Kabul.
The TV anchor says she is facing the "highest" form of threat from the Taliban. "I don't know when and where they will take my life. Please save me," she appeals to the international community.
The Taliban, comprising mostly of illiterate soldiers handling 21st century weaponry, are notorious for identifying women to be married off to their soldiers and forcing them into sexual slavery besides performing public executions for violating their idea of Islamic codes.
Dawaran is glad that she is still active on social media where she is able to give vent to her feelings. On August 20, she put a status on Facebook indicating she was 'feeling heartbroken'. She then wrote a post, "I live in Kabul, but I am sad for Kabul."
Senior officials and well-connected citizens of the country have somehow managed to flee the country using their links. Open spoke to a Toronto-based former government official whose family was in Kabul at the time of the Taliban takeover, while he was struggling to get his kin out of the country. Within days, he was able to ensure that they were able to return to multiple countries, including the US, Canada and Germany, in military aircraft.
As of now, commercial flights do not operate from Kabul. In his August 20 address, US President Biden said that the US has flown 13,000 people out of Afghanistan since August 14. They were US citizens and Afghan allies.