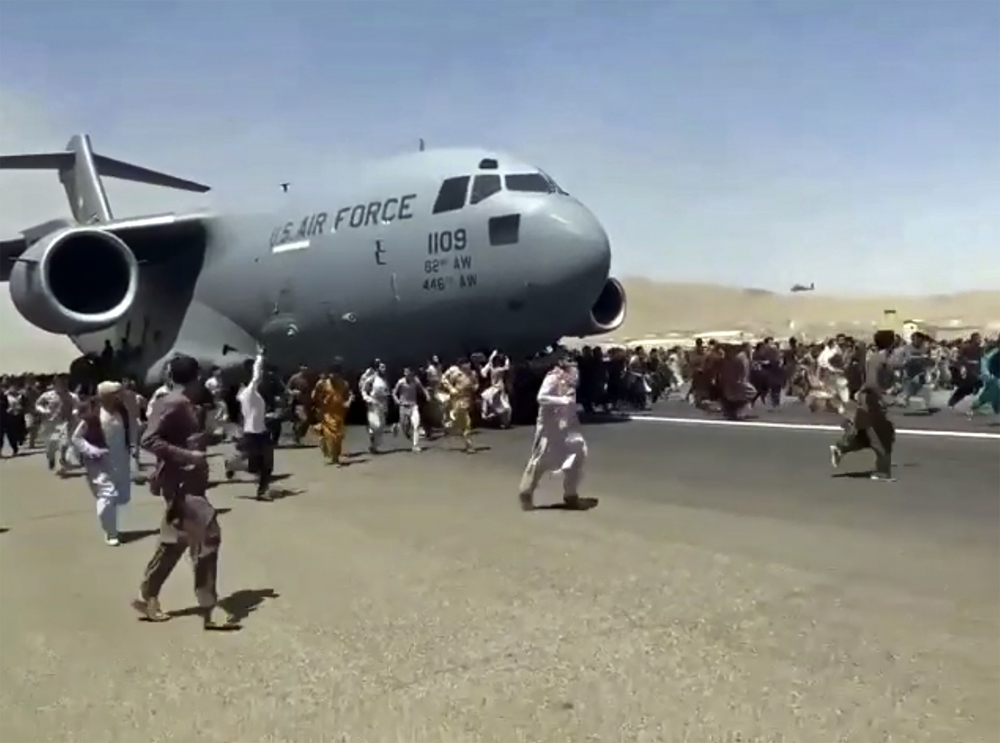 People run alongside a U.S. Air Force C-17 transport plane, Kabul, Afghanistan, August 16, 2021 (Photo: AP)
While the power elite are safe abroad, common folk of Afghanistan hope against hope that their worst fears don't come true
SEATED at his friend's pharmacy in Delhi's Lajpat Nagar, home to many refugees from Afghanistan, Jamil, who doesn't wish to use his surname for fear of his family being targeted by the Taliban back home, blames his country's rulers for betraying the people by not fighting off an outfit that had ruled the country from 1996 to 2001 with the aim of building a caliphate through what Jamil calls an "obnoxious" interpretation of Islam. He managed to flee the national capital Kabul a week ago sensing that "things were reeking of danger". Yet, he did not expect a cakewalk for the Taliban who wrested power in one city after the other ahead of the American withdrawal and stormed the presidential palace in Kabul without a shot being fired at them as president Ashraf Ghani fled the landlocked nation.
"Our Army was never given orders. In 20 years, the Americans and their puppet government in our country spent so much money to build an Army and an Air Force. They would have fought had it not been for the extremely corrupt political leadership who enriched themselves over this period," fumes Jamil who says he does business mostly in the UAE, India and Tajikistan. Americans, who had invaded Afghanistan in 2001 following the 9/11 attack, had spent billions to create and train local troops over the past two decades.
Jamil's friend Aryan interjects and says that the Taliban are devilish forces who have no respect for human rights and the rights of women. "Men are fair game for them and women potential sexual slaves. This time people are talking about a moderate Taliban. Nothing is more laughable. A tiger can't change its stripes. They have no idea of family. They are medieval louts," he says, emphasising his contempt with the choicest expletives for the likes of Ghani, Abdullah Abdullah (former CEO and foreign minister of the country) and Hamid Karzai (former president) for what he terms "sleeping with the enemy". He believes the damage they did to Afghanistan was more than just following the US's bidding and looting the country. "Yes, they did something more: betray the people of our country," insists Aryan who says his name is derived from Aryana, the earliest name of Afghanistan. Both Aryan and Jamil have families back home. "News from there, especially from outside of Kabul, is not good at all. They have the 'might is right' policy in most cities," says Jamil who says he will take the first flight back home because, for him, family is more important than his own safety.
Afghan refugees in Delhi — like Aryan and others — live in places such as Lajpat Nagar, Bhogal, Noida, Malviya Nagar and Saket where they run pharmacies, restaurants, travel agencies, grocery stores and so on. According to rough estimates, there are close to 30,000 Afghani people living as refugees in Delhi, fleeing the repression and looking to migrate to a third country. These places in Delhi are seeing an influx of refugees since the fall of Kabul to the Taliban on August 15.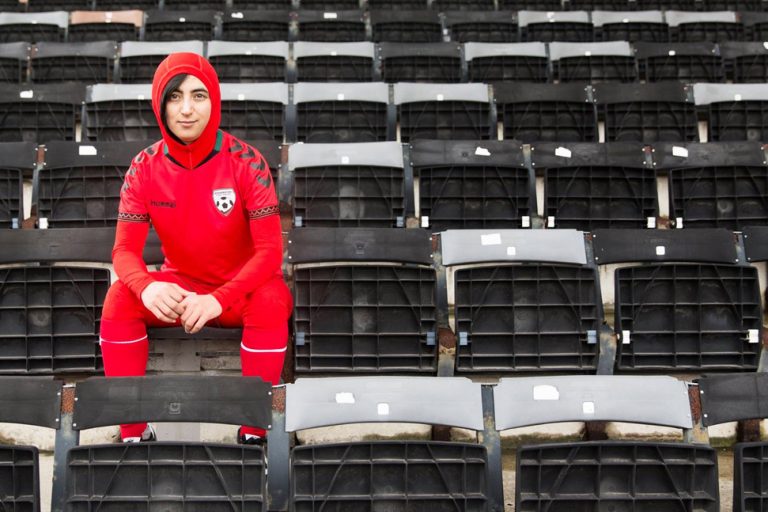 Najeeb (name changed), a senior government official, and his family arrived in Delhi on the day the Taliban took control of Kabul. He tells me that he was among the lucky ones. "We would have been targeted for sure because my position in the government was crucial… Many of my countrymen are not as lucky." He refuses to be drawn into the conversation about top leaders in the Ghani government being corrupt, inefficient, being Kabul-centric and for having either underestimated the Taliban or letting them retain control. "See, all these are speculations," he notes. He stays in one of the guesthouses in Lajpat Nagar. He is also tight-lipped about the plight of those making a last-ditch attempt to flee Taliban rule in crowded C-17 military aircraft and some stowaways falling to death after they clung on to the wings of an aircraft that took off from Kabul airport.
Ashraf (name changed) is 26. He runs a grocery store in the Bhogal market of Delhi ever since fleeing Afghanistan following the March 2017 blast at the Sardar Mohammad Daud Khan Hospital in Kabul's Wazir Akbar Khan area. A medical-imaging professional, Ashraf was advised by his older brother, an interpreter for the US forces who now lives in Texas and makes a living as a truck driver, to relocate from the country his brother said was descending into chaos thanks to Taliban's growing influence and government inaction. His parents and younger brother have not yet acquired a refugee card from UNHCR. What he has is a paper that has registered him as an asylum seeker. His application for refugee status is still under consideration at UNHCR India, which is often blamed for being painfully slow in officially placing their names for consideration by a third country to offer them political asylum and finally citizenship. He points out that his friends who had taken an illegal route to Germany via Turkey and Greece are now citizens in their new home. With more refugees expected to land in India, it is imperative that UNHCR India takes the matter on a 'war footing', says Ashraf. UNHCR India was not immediately available for comment.
Eleven of Ashraf's immediate family, most of them government officials, are scared for their lives and are hiding in their home located close to the airport. "They have all relevant documents to leave the country, but not flights. They are panic-stricken and they fear for their lives. Other countries are evacuating their citizens from Afghanistan, but these are people who had worked with the Ghani government and for the Americans and people of other nationalities. They don't factor in anywhere. They are left to die," he rues. He says that some of his relatives may come to India while others may opt to go to Tajikistan or any country to which flights are available.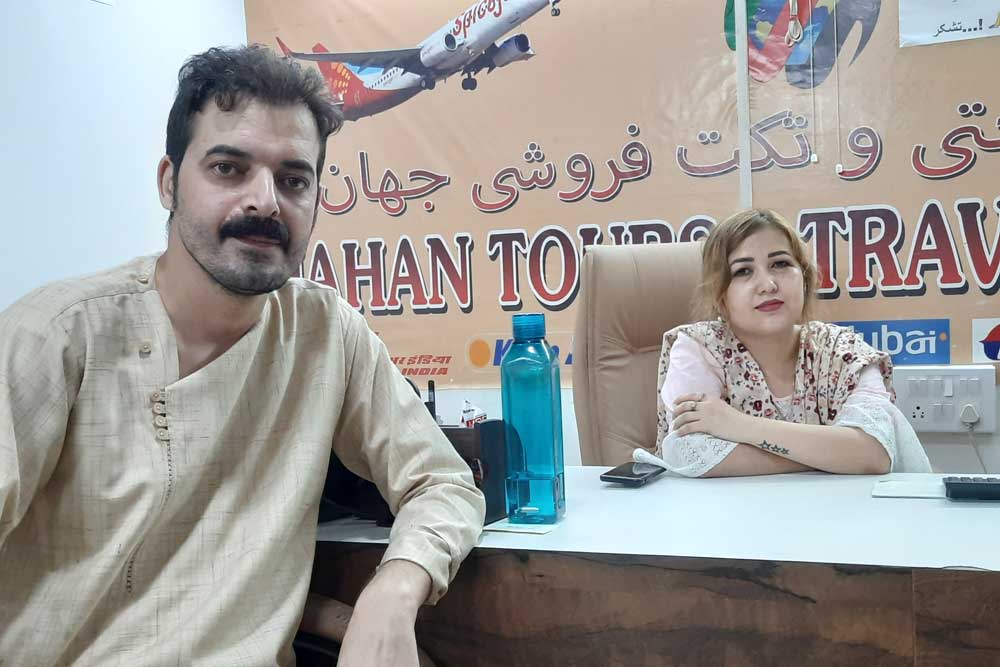 I speak to Ali Mohammed, a businessman who was in India 10 days ago with family but decided to return to Afghanistan hoping things would be normal in his home city of Mazar-i-Sharif. But the town fell to the Taliban shortly before it advanced towards Kabul. "The security situation here is not good. People are scared. There are reports that they (Taliban) have killed men and taken away women in some parts of the city here. Taliban people are asking us for money and vehicles. Everyone is in fear. I will leave with my family even if there is a one percent chance to leave," says Mohammed who runs a pharmacy in the city. "All shops are closed," he announces as he makes a video call later from his car and shows me visuals of teenaged Taliban soldiers on patrol. He blames Pakistan for the fate of his country. "They are out to create mayhem in our country. Their proxies are ruling this country. Lives of women and children are under threat. I tell you Taliban doesn't value family and are cruel people," he chokes. Soon, he disconnects the WhatsApp video call with the excuse that he is near a Taliban checkpost. Hours later, he sends in a photo of a teenaged Taliban fighter with a gun.
Delhi-based Afghan national Meena, who like most others opted not to share her surname, is crestfallen about the rise of the Taliban. She had called up her mother hours before I met her and is worried for her safety. "I am fine here, but my mother was a cook at an office run by the Americans and she is an easy target for the Taliban who hate women anyway," she says angrily. Her father, sister and brother are also in Kabul. "They are not leaving the house. They have bought eatables in bulk and are not planning to step out. Now there is silence, but how long will it last," she asks. Wiping back tears, she calls her mother for me to listen to her. She keeps the phone on speaker and translates to English her mother's conversations in Farsi. "She is asking me to be calm. She is asking me to eat well," says Meena, who adds that the armed forces, the Ghani government and the international community, especially the US, have failed the people of Afghanistan, especially its women.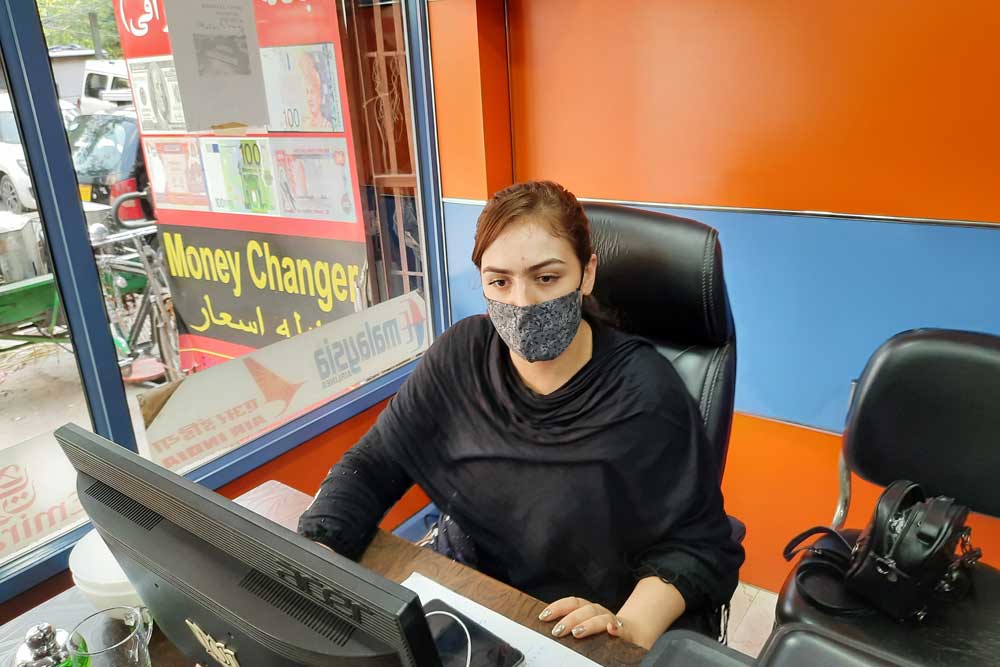 Dr Edward Luttwak, noted military historian and Cold Warrior, tells me that the mistake of the US was not to invest much in people of ethnicities such as Tajik, Uzbek and Hazara in the Afghan armed forces. Majority of the armed forces members are Pashtun who make up the ideological and ethnic base of Taliban. As regards the 300,000-strong Afghan army crumbling in such a short time to the advancing Taliban, author and political commentator Tariq Ali has said that the forces were infiltrated by the Taliban very early on. They received "free training in the use of modern military equipment and acted as spies for the Afghan resistance," he writes in the New Left Review, outlining the failure of yet another American war on terror. According to recent analysis by Brown University, the US has spent upwards of $2.26 trillion in its war on Afghanistan.
When Samiullah, a Delhi-based travel agency owner who is originally from the Logar province of Afghanistan, spoke to his mother on August 17, she sounded disturbed. His sister, brother and mother live in the Karte Char area of Kabul. "Why did our country deserve this? Americans should have reined in their friends, Pakistan, from training and arming the Taliban who are now wreaking havoc in our country," he rues, and then goes on to use cuss words for Karzai, Abdullah Abdullah and Gulbuddin Hekmatyar, a warlord, who, he alleges, are all looking for a coveted position in the new government. "This is our curse. They say we are a country that cannot be ruled by any empire, and that even Genghis Khan, the Soviets and now the Americans have failed at it. It is because we continue to be governed by foreign powers and their puppets. We have had governments that have cheated the people, which is why even the Taliban will fall," he says with a straight face. Samiullah has utter contempt for the likes of Kabul mayor Mohammad Daud Sultanzoy whom he alleges is a fraud. "He used to talk against the Taliban before and now he has courted them and has stayed back in Kabul. His family lives abroad. These are the kind of people who are in positions of influence in our country," he adds.
Khalida Popal, former captain of the Afghanistan women's national football team, had to leave Afghanistan under threat from the Taliban and other radicalists over her taking part in sport and for being a women's rights activist. Currently based in Copenhagen, Denmark, she can't control her sobs when she speaks about the capture of power by the dreaded Islamist organisation that has vowed to implement the Sharia law, threatening to take the country back to the dark days of 1996 to 2001 when it used brutal tactics, including stonings, to enforce its religious bigotry. It is no secret that the aim of the Taliban is to build a caliphate where women have zero rights. Often, a woman who complains of rape is publicly executed or whipped or caned, as evident from its previous rule.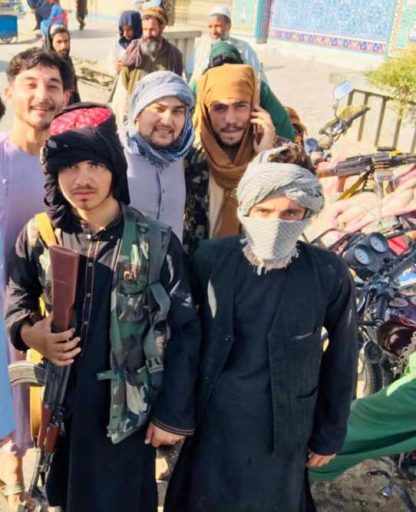 Popal, who led the first women's football team in Afghanistan and was instrumental in the formation of the 'women's football movement' that saw thousands of girls joining the game between 2007 and 2010, tells Open on the phone from Copenhagen that she is constantly in touch with friends and family, asking them to delete any digital evidence of their activism. "They live across the country. They don't want to be visible and are hiding in various places because the Taliban knows some of them to be activists. Like many of us, they are also shocked by the easy triumph of the Taliban," she says. According to Popal, who runs a nonprofit called Girl Power aimed at creating opportunities for girls in Afghanistan, Pakistan and among refugees in Europe, alleges that the rise of the Taliban is the outcome of a "great game" by the United States and others, especially the rulers of Afghanistan who were puppets of the US. "American President said the Taliban wouldn't win, but now they are in power. What does this mean? What was the US doing all these 20 years? What was the gain of their war on terror" she asks. Popal avers that she has been in constant touch with friends and family back home and with others through messaging apps and the reports she is getting are extremely shocking. "Taliban is being what they are: in many places in Herat and Mazar-e-Sharif they are killing men and kidnapping their wives and girl children. They are also killing journalists and activists. Right-thinking people are all in grave danger," she affirms.
A Delhi-based Afghan refugee, Ruksal, 25, who had to leave the country with family several years ago because of threat from radicalists in her home city of Kunduz in northern Afghanistan, is of the view that Taliban was always there and this was only a predictable outcome, although their easy win was incredibly shocking. The 25-year-old is a trained nurse well-versed in Hindi, English and Farsi, but works as a travel agent to support her family of nine as a single earning member. "I still feel lucky as a woman not to be in my country," she declares.
In the 20th anniversary of the 'War on Terror' that promised tons but delivered nothing has seen the change of guard without bloodshed in Afghanistan. In her prescient take on the situation, Professor C Christine Fair had told Open in an earlier interview that, "I fear that the US is pushing this (Ghani) government to fall in an effort to appease the Taliban for whatever reason". In the meantime, elites in the puppet government have all fled. But what go up in smoke are the hopes of ordinary people in a country known as the 'graveyard of Empires'.