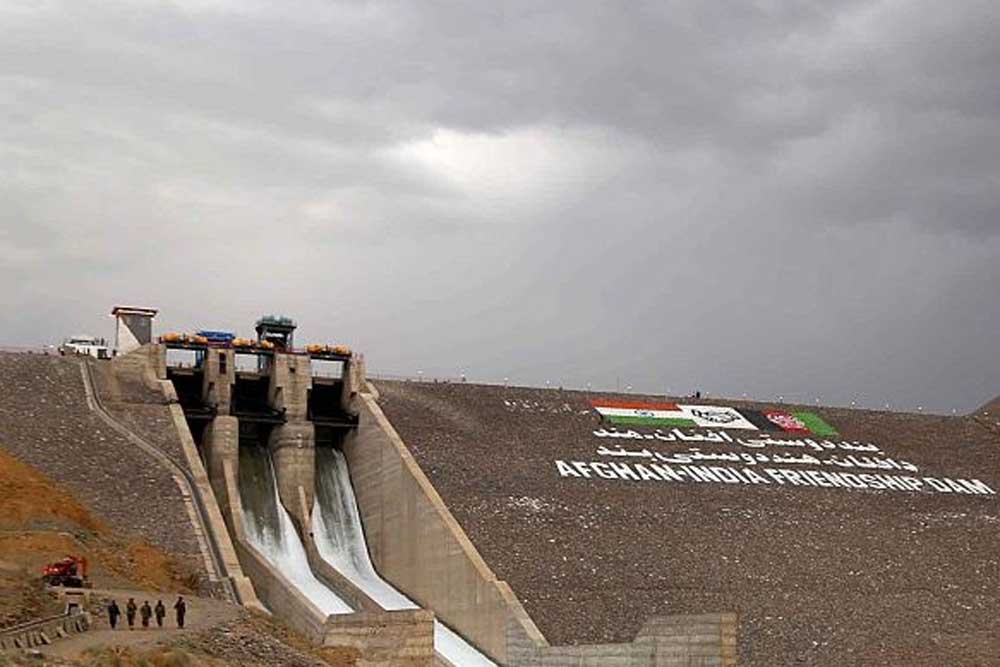 Several businessmen, including a senior executive of a company that co-built the Salma Dam in Afghanistan, state that it is unlikely that they will do any business in the landlocked nation with the Taliban returning to power. The dreaded militant outfit aims to establish a theocracy in Afghanistan.
Salma Dam is officially called the Afghan-India Friendship Dam, located in Chishti Sharif district of Herat, northwestern Afghanistan. It was funded and constructed by the Government of India. It was inaugurated in 2016 by Prime Minister Narendra Modi and the then Afghan President Ashraf Ghani. Several Indian public-sector companies that had secured contracts for various projects had enlisted the private sector to execute them.
This ambitious hydroelectric project on the Hari River in Herat province was built by a joint venture between Gurgaon-headquartered Angelique International and Bangalore-based SSJV, which were subcontracted the work by India's state-run Wapcos.
Anil Gupta, senior vice-president and the executive in charge of Angelique's Afghan operations, tells Open that, as of now, two projects undertaken by the engineering and construction company are pending. "I would say it is 90% complete amidst all the uncertainty," says Gupta, an IIT Delhi alumnus, emphasising that these are electrification projects in Khost and Gardez regions that involve supplying power to the countryside. Gardez is the capital of the Paktia province and Khost is a province in the south-eastern part of the country.
Angelique started withdrawing its staff in Afghanistan from February 2021 and the last person manning its office in that country returned three weeks ago. "We were lucky [to get out in time] although we were expecting the Taliban takeover only as late as this year-end," says Gupta who has worked in Afghanistan for over two decades now. He had told this writer in an earlier interview that, around 2003, he used to frequent gyms in Kabul where he and his colleagues used to meet even Indian embassy officials besides the local people. He had said then that Kabul at the time was like Delhi in many ways.
His company Angelique had been subcontracted to build substations across the country. They did electrification work in Kabul and also in Herat as part of the rebuilding of Afghanistan after the fall of the Taliban in 2001 and the country appeared to be inching back to peace.
But Gupta recalls that by 2005, the Taliban began to regroup, prompting the Indian embassy in Kabul to offer advisories to Indian nationals to avoid public places and crowds.
"Kabul and Herat electrification and substations were our main projects. We also did electrification in Puli Pul-i-Khumri (a city in northern Afghanistan). We also worked in the education sector, printing books for children," says Gupta, talking about the multiple projects his company had undertaken in Afghanistan where India has invested more than three billion dollars in infrastructure projects, including the Afghan parliament, the Zaranj-Delaram highway, Salma Dam and various others related to public health and architecture.
About the Taliban's return, Gupta says he doesn't expect the Taliban to go on a destruction spree since it "probably" wants to show that it can govern a country and enhance its economic strength. "My gut feeling is that they are not going to damage it this time. In Khost and Gardez, when the war was taking place, bullets were fired at the warehouses where we had stored our goods, but unlike in the past nobody came and burned them down as was typical of the Taliban. I expect the Taliban will be slightly more careful this time and would not like to destroy the infrastructure that India and other countries have built over there," notes Gupta.
Asked about the Taliban's attitude to India, he says that they are battle-hardened people who are tough to deal with. "I have dealt with them in the past when we were constructing the Salma Dam. There is this place called Chishti Sharif on the way to the dam and it was the hotbed of the Taliban. We used to visit a shrine there. Afghan security agencies warned us not to go there, but we happened to meet Taliban soldiers who assured us that they would not do any harm to us because we were doing something good for Afghanistan," he says, adding, "We had some meetings with them and we realised that they were not easy to handle."
Gupta says that the problem is that their mindset was medieval and were at the same time armed with the most advanced weapons. "That is a deadly combination," he says.
A few others who had been part of infrastructure projects in Afghanistan told Open that they would not want to speak on record for fear of Taliban reprisal against their staff in Afghanistan. "We gave employment to many Afghan nationals but we cannot talk specifically about our work there and how the Taliban's return has affected them because that would put the lives of our men and their families at risk," says a Hyderabad-based executive with a construction company.
Gupta, for his part, says that he is worried about the Afghan nationals who worked in Angelique's projects who, he says, are now "untraceable". "They have switched off their phones. We had given them a letter stating that they had helped us with the execution of various projects, but I really don't know how they will manage to get out of their country," Gupta avers.