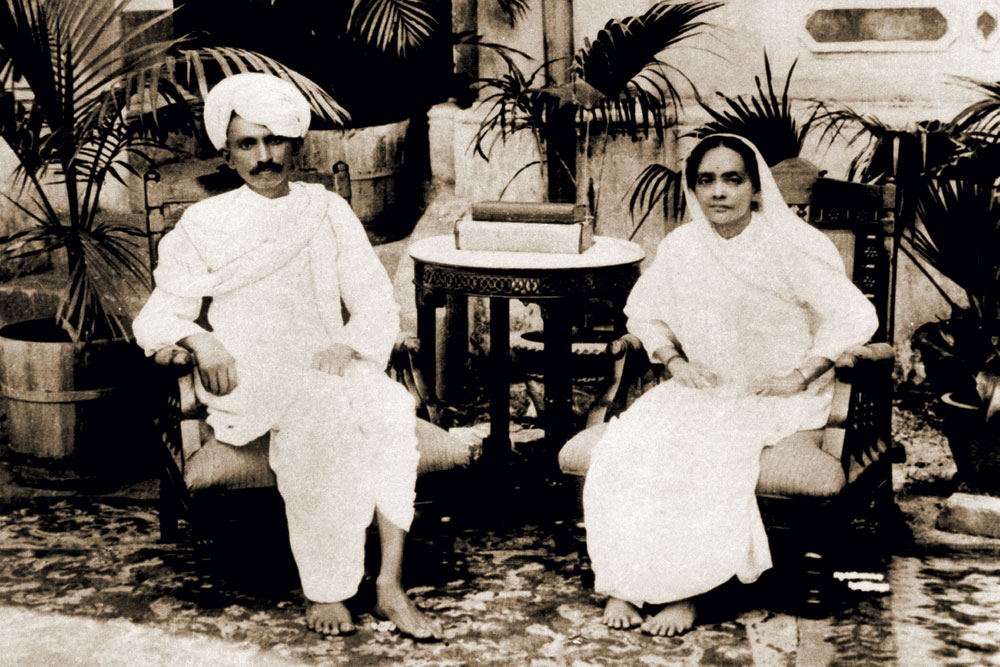 Mohandas Karamchand Gandhi with Kasturba, 1915 (Photo: Getty Images)
The Mahatma's great grandson Tushar Gandhi will soon come out with an annotated diary of Kasturba Gandhi titled The Diary of Kastur, My Ba that will cover nine months from 1932 to 1933 when she and her husband were mostly separated from each other due to prison terms, post-Salt Satyagraha work and a vow by the father of the nation to not set foot in the Sabarmati Ashram, their home, until India was free from British rule.
This is the first diary recovered till date of Kasturba who was unschooled but had picked up reading and writing in Gujarati during her years (1917-1930) at the Sabarmati Ashram, Ahmedabad, from fellow volunteers. She had earlier tried to learn writing and speaking English from Millie Polak, who along with her husband were companions of the Gandhis in community living in South Africa. "There is a misconception even among our family that she was illiterate. She writes in the diary that she started her days reading newspapers after the prayer," says Tushar, who has now begun transcribing the diary, written in Gujarati. He will run English translations for each page alongside. "I will keep the style the way it is written without editing out the inconsistencies and incongruities," explains the 60-year-old who emphasises that he will not make any efforts to 'clean up' the raw prose and rough expressions of his great grandmother. Kasturba's diary was discovered by sheer chance from the loft of a locked-up room at the Kasturba Gandhi National Memorial Trust in Indore, Madhya Pradesh, which was created by the Mahatma himself in 1945, a year after her death, with the aim of focusing on the welfare of rural women.
Obviously, the diary was in a "deteriorating condition" and had to be cleaned up with extreme care so that it could be read and understood. Tushar soon took up the task of going through Kasturba's notes. Her handwriting is illegible and construction of sentences a bit awkward, he points out. "She wrote it apparently with the intention of reporting about her days and her work when she would meet her husband later," Tushar states, adding that he had long been contemplating a book on Kasturba and then this diary was found.
He feels that unlike most other close associates of Gandhi and the members of his family, Kasturba, who was a few months older than her husband, didn't write her diary to please the great Indian leader. She even talks about occasions when she was totally bored, something that others wouldn't do, notes Tushar, who, although was born 16 years after her death and 12 years after Gandhi's, has often maintained that his great grandmother was an outstanding revolutionary in her own right. It was out of his admiration for her that Tushar named his daughter Kasturi. Tushar is the son of Gandhi's grandson Arun, who is the son of Sunanda and Manilal, one of the great man's more 'obedient' sons.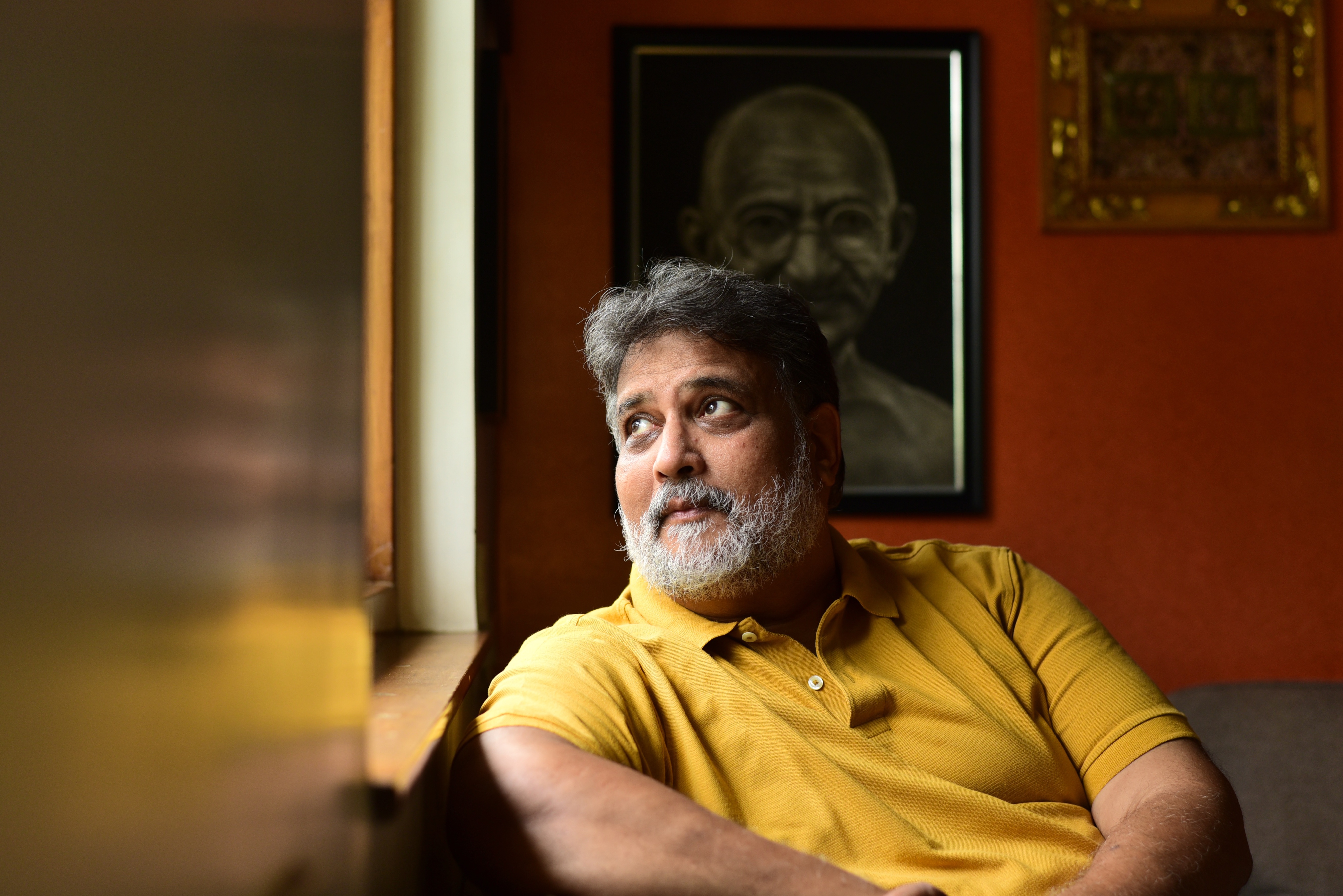 The period described in the diary, says Tushar, was marked by a nomadic life of sorts for 'Ba', as Kasturba was fondly called by people close to her. In these pages, she describes the marriage of her youngest son Devdas to Lakshmi, the daughter of C Rajagopalachari, among many other incidents that include her own prison sentence and those of her children. Apart from her activities in the freedom struggle, her diary puts the light on her work in the Swadeshi and anti-liquor movements, Tushar discloses. She was then mostly in the company of Sabarmati Ashram's satyagrahis who were also homeless and were moving from one location to another. "Mirabehn was there with her for some months. So were Sushila Nayyar and Prabhavati Devi (whom Kasturba regarded as her daughter) on other occasions," Tushar elaborates, adding that most often her sons weren't with her.
Tushar calls this rare piece of Gandhi archive as an intimate account although it is not very articulate. "The writing is disjointed, mechanical at times, but yet revelatory," says he. According to him, the significance of this diary by 'Ba' is that it gives Gandhi scholars a glimpse of Kasturba as an individual who was otherwise overshadowed by the towering presence of her husband. "Finally, we are getting an opportunity to recognise the individual called 'Ba'," says Tushar, who is the author of the nearly 1000-page volume titled Let's Kill Gandhi! A Chronicle of His Last Days, The Conspiracy, Murder Investigation and Trial, an outcome of years of exhaustive research into the previous attempts on Gandhi's life starting from 1934 by Hindu fanatics and his assassination on January 30, 1948. Tushar has always maintained that it was ever since Gandhi launched his campaign for Harijan assimilation and his work for the rights of Harijans that he became a target of Sanatani Hindus. "It was very evident from their public protests against Gandhi in various parts of the country," he had told Open in an earlier interview.
Kasturba's importance in Gandhi's life was stressed emphatically by none other than the great man himself, especially following her death. While she was alive, Tushar contends, she was great enough to not begrudge being seen as an "insignificant or an unnoticed" person, especially after Gandhi returned from South Africa and grew rapidly into a saintly global figure with tremendous mass following. Neither did she compete with others to gain her husband's favour as fellow ashram dwellers often did. "But Bapu himself has admitted the role that 'Ba' played in shaping him as an individual and a leader," Tushar says. Kasturba was certainly one of the most important people in Gandhi's life and she fully backed him in his pursuit of an extraordinary life both as an individual and as a public figure. "All this while, biographies of Kasturba were more about Mrs MK Gandhi, but this diary will bring to light the real Kasturba and the philosophy of her life. It was not easy to be her," says Tushar, who adds that in the forthcoming book by Harper Collins, he will write an essay about the Mahatma's own version of how Kasturba influenced him. Tushar says he will also reproduce tributes to Kasturba by the likes of Subhas Chandra Bose. Interestingly, Tushar will be the co-author of this book with the other being Kasturba.