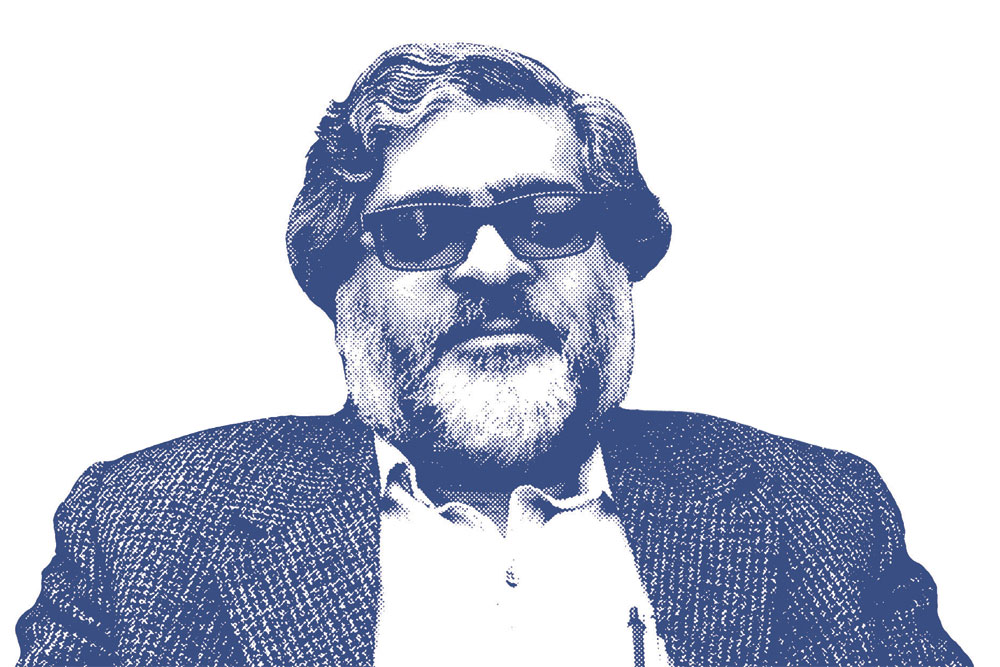 Vinay Lal (Illustration: Saurabh Singh)
EVER SINCE HE wrote an op-ed in The Los Angeles Times in 1998 titled Coming Out from Gandhi's Shadow following India's nuclear tests, Vinay Lal has earned a preeminent position as a public intellectual. His keen observations as a historian on Hindu nationalism, Indian movies, American foreign policy, history writing in India, society, people and culture are proof of his stature as as a scholar with a vast knowledge of history's cyclical sweeps.
The Fury of Covid-19, his latest book, tracks the history of epidemics as part of the author's project to understand the current pandemic in the context of human and political behaviour. In the chapter titled 'Plague and Pestilence in India, 1896-1920', Lal, Professor of History and Asian American Studies at University of California, Los Angeles, speaks about various epidemics of the period in India, including the influenza of 1918, to offer us a big picture of current events. He argues—and regrets—that people 'conversant' with that piece of history would have been more effective in tackling the migrant crisis triggered by the fear of the coronavirus in March-April 2020. The references he gives in this 300-page work are extremely useful.
Be warned, this work is not a statistical account or an update of how Covid-19 wreaked havoc in the world and in India. Instead, it is a brilliant exposition of the pandemic—which has so far claimed close to 2 million lives worldwide—against a historical and cultural backdrop of other diseases and emergencies in the past to understand this one better. In one instance, he writes of the 'singularity of global social responses' to Covid-19: 'At the height of wars, disasters, national emergencies, even plague epidemics, public life never came to a standstill—certainly not on this scale. Londoners descended into the Underground as their city was blitzed by the Luftwaffe and then, as the all-clear sirens sounded, emerged into the streets and went about their business. The bars in Paris remained open at the height of the Nazi occupation. But by contrast, the coronavirus had necessitated, or so it seemed from the advice advanced by scientists and epidemiologists, segregation and isolation in extenso.'
As someone who is obsessed with understanding Gandhi, Lal has devoted some pages, as a box item, on the Indian leader's tough-as-nails nature in not only philosophising about how to execute relief work but also in action. The author imagines Gandhi, if he were here today, as punishing himself 'to the hilt in working around the clock, organising relief workers and soup kitchens, and cajoling people not to rely on government handouts but to make themselves useful and apply their ingenuity'.
Lal, who states in the beginning that he has used arguments from published essays of his, including those in Open, writes a stunning chapter correlating each country's Covid-19 response to its national history. He hastens to add that he wasn't subscribing to the views of Margaret Mead and others in ascribing distinct personality traits to the national character of a country. Lal then goes on to talk about the rallies taken out by white supremacists as those 'disguised as protests in defence of individual liberties and the American Constitution'. He also writes a thing or two about the 'American way of life' taken as a whole being more detrimental to the interests of humankind and the earth than anything else in history, an observation that perhaps acquires a new meaning after the so-called insurrection at Capitol Hill on January 6th.
As part of his project to understand the current pandemic in the context of human and political behaviour, Vinay Lal writes a chapter correlating each country's Covid-19 response to its national history
Chapter X gives us more than a glimpse into a subject that is germane to the contemporary world, but, again, from a historical perspective: of how countries tend to treat 'the Other' as the source of an epidemic. Lal, who discusses in earlier chapters the experiences of groups considered inimical to certain national interests, concludes in this chapter that thanks to the stigmatisation of other geographies (such as Africa in the case of AIDS and China in the case of the coronavirus), the way the virus outbreak has been seen by many people 'has considerably weakened the hand of those who stand by globalization and given further impetus to nationalism, already on the rise in many countries in the world'.
The author builds up his arguments after dwelling at length on feudal practices in India that once insisted on distancing between communities. The author talks about the Kerala experience of yore when the distance people had to keep from others was rigidly determined by caste. The idea of that distancing was based on a notion of 'pollution' and lately some enthusiasts on social media have lapped it up to say that their forefathers were right about caste-based distancing as a cleanliness measure. Lal talks about this sentiment with other anecdotes and also about what should now be a slap in the face of those who had vilified Muslims, especially the Islamic missionary organisation Tablighi Jamaat which had organised an international convention in Delhi in mid-March 2020, over 'creating' pandemic hotspots. 'Few in the country were prepared to reason or listen: the view among many was that Muslims had earlier forged a conspiracy to seduce innocent Hindu girls, waging 'love jihad', and soon the call went out that the Muslims were now engaged in 'Corona jihad' and would have to be now stopped in their tracks,' Lal says in this book which was written in August 2020. Around April, the media was filled with condemnation of these participants for reportedly being superspreaders of the SARS-CoV-2 virus. In December, the Supreme Court exonerated 36 foreigners who had come to attend the Tablighi Jamaat congregation in Delhi's Nizamuddin area of violating Covid-19 guidelines and asked the Union Government to help them return to their countries.
The author is deeply reproachful of what he calls the 'infantilisation' of its citizens by leaders. That, according to him, is the thrust of the Indian response to the viral scourge. As regards the migration crisis in the country that forced people in cities to leave for their homes hundreds or thousands of kilometres away, many on foot, Lal interprets Gandhi who had said that "India lives in its villages" thus: 'He was ridiculed for his supposed adulation of the poverty-stricken den of superstition and backwardness called the 'village', but what Gandhi meant has been illustrated amply by the millions of Indians who have, since the lockdown was imposed, taken to their feet and sought a return passage to their villages.' He emphasises that what he sees in India now is rule by fiat. He recalls another occasion before the lockdown when it was on full display: demonetisation in November 2016. He uses French psychoanalyst Jacques Lacan's phrase to explain the phenomenon: 'the law of the father'.
He neither spares the Chinese, calling them out for being 'adept at obfuscating the truth', nor approves of Americans' unwillingness to learn from the experiences of the rest of the world and their penchant for placing the blame at others' feet. Lal digs deep to put the disease in a large frame of history, politics and society since antiquity. He is also occasionally sceptical of the narratives of the past, including that of Thucydides, as he weaves his own to bring out projections of where we will stand after Covid-19. On a lighter note, what Lal accomplishes here can be compared to the elderly wisdom of analysing a person's character by their behaviour in a team sport. He puts the spotlight on nations by replacing the game with a pandemic. Which is perhaps why, among other Covid-19 books, his stands out for its readability.