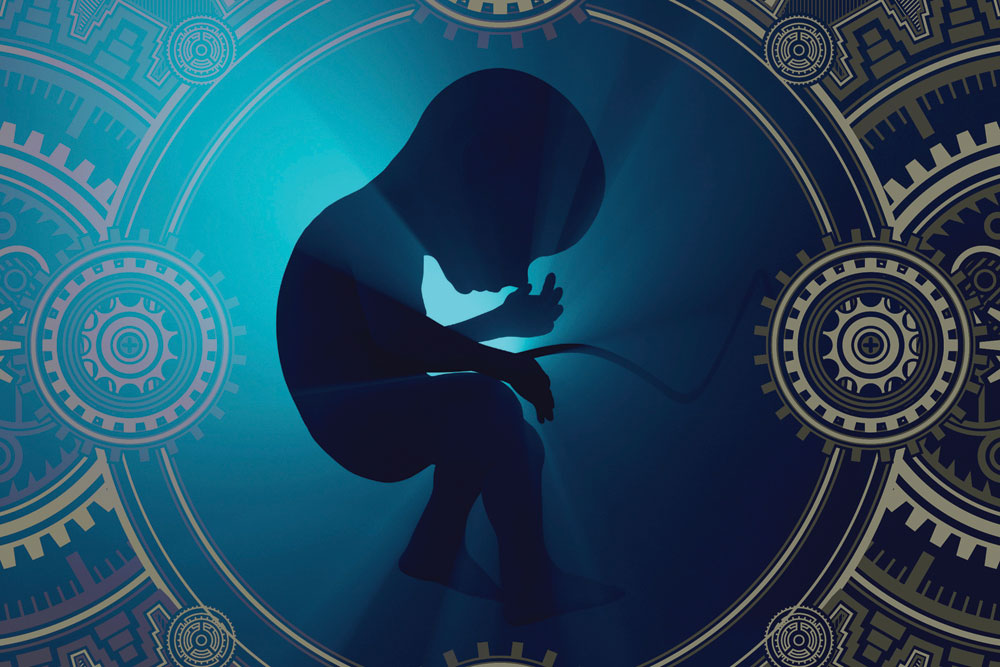 (Illustration: Saurabh Singh)
THE YEAR BEGAN WITH TECH COMPANIES exploring, with renewed enthusiasm, new batter­ies for electric vehicles (EVs) that could replace the existing lithium-ion ones that cause all kinds of pollution: water, soil, and air. It ended with scien­tists in the US producing a nuclear fusion reaction resulting in a "net energy gain". Nuclear fusion is all about fusing one or two atoms into a large one which, in the process, generates a massive amount of energy as heat—this so-called breakthrough will mean a complete overhaul of how we currently use energy. It also portends a huge setback for fossil fuel-based energy produc­tion and a triumph for green energy, thus altering geopolitics in a way unseen in the past.
Technology website CNET reports that US-based Pacific Northwest National Lab has announced a breakthrough in sodium-ion battery tech that promises "greater immunity to the temperature-management requirements that bedevil cur­rent EV batteries, charge many times without degradation, be naturally extinguishing and less of a toxic headache". More and more such experiments are taking place at a rapid pace, thanks to startups financed by money bags, EV enthusiasts and other corporate grandees.
Tech companies that focus on renewable energy continued to be all the rage this year too, with the hope of marrying sustain­ability with future profits. Massachusetts Institute of Technology (MIT) has developed ultralight fabric solar cells that can quickly and easily turn any surface into a power source, said an E&T report. It added: "These durable, flexible solar cells are much thinner than a human hair but can generate 18 times more power per kilogram than a conventional solar panel. The cells are made from semicon­ducting inks that can be easily printed. They are then glued to a strong, lightweight fabric, making them easy to install on any fixed surface, providing energy on the go as a wearable power fabric or even being rapidly deployed in remote locations for assistance in emergencies." Researchers at MIT are betting big on the ease of adoption of this new technology.
Yet this year, the toast of the town within and beyond the world of tech is Elon Musk, who needs no introduction. He en­visages using technology not only for life outside Earth but also to make the rulers of planet Earth more accountable— in his role as a free-speech absolutist. After he took over as chief executive of microblogging site Twitter, the South Africa-born and Silicon Val­ley-based serial entrepreneur, tycoon, and investor has gone ahead with his ambitions to overhaul the way the world tweets—either revolutionising news or washing dirty linen in public, whichever way you look at it. Amidst reported threats to his life, Musk's ac­tions have pitted him against some of the most powerful people in the world. Twitter Files, which are Twitter threads that spill the beans about the past actions of the social-media company, show that, at least for the time being, technology and sheer guts can either help settle scores or exonerate the wronged, depending on which side of the divide you are. Whatever opinion one may have of him, there is no doubt that Musk dominates technology as we head towards 2023, transforming Twitter into one of the biggest de facto media organisations and a reservoir of contacts, announcements, videos, and podcasts.
Tony Fadell may not be as famous as Musk or the late Apple chief Steve Jobs, but his credentials can never be overlooked. He is called the father of the iPod. He is also the co-creator of the iPhone. At a time when investors are losing money in sloppy and shady crypto exchanges—like FTX and others—he has partnered with crypto wallet maker Ledger to create hardware for the former. Crypto wallet makers are currently looking to hit pay dirt tapping the insecurities of investors who find it enormously risky to park their cash in exchanges. Fadell is expected to add style to safety.
With cryptocurrency markets facing backlash like never be­fore, some companies are in it to learn from the mistakes of oth­ers and do better. Pi Network, launched on March 14, 2019, wants to make blockchain tech accessible to the common man. They have already reached across 230 countries and regions, home to 93 per cent of the global population. This year, the network is in an enclosed mainnet stage, allowing KYC-ed 'Pi'oneers to move their mined coins to their respective wallets. The enclosed main­net period is also the time to test the resilience of the network and to finetune it before open mainnet. So far, it appears Pi Network relies as much on common sense as it does on technological breakthroughs. Likewise, in a broader sense, blockchain remains a highly secure option thanks to the fact that existing data cannot be altered or removed.
They say nothing can stop the march of technology, but some vision-boards appear too farfetched to ever come true. One such is the viral video of a fictional 'EctoLife artificial womb facility'. Pro­ducer, filmmaker and science communicator Hashem Al-Ghaili has created a sci-fi impression of the future of childbirth, an idea, he says, that is still at a conceptual stage. The video shows a future where designer babies are created with gene-editing technology and are incubated in pods. Is it possible? One could argue that ad­vances in medical science have already led to the innovation of fer­tility procedures such as IVF (in-vitro fertilisation), egg and sperm freezing, and surrogacy that would have been unimaginable a cen­tury or two earlier. Even so, the idea of producing genetically edited babies in computerised pods instead of human bodies challenges our notions of humanity, consciousness and even identity.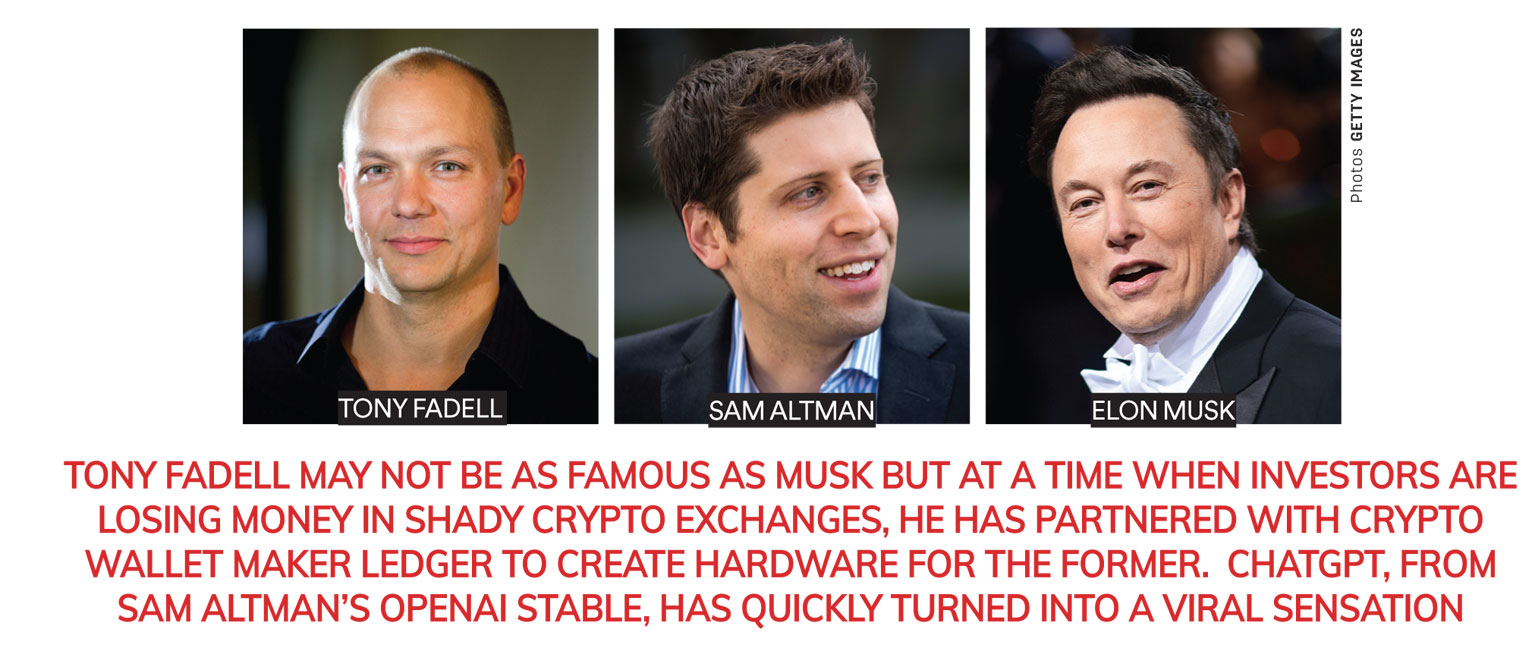 Journalists and scholars had a glimpse of what could be an existential threat for them this year: an updated version of an Ar­tificial Intelligence (AI) language processor that has seen rapid downloads. Since late November when ChatGPT debuted, it has quickly turned into a viral sensation. Born in Sam Altman's OpenAI stable, the chatbot has the capacity to generate text based on written prompts, and is being used to give remarkably lucid and accurate answers to commands. Its language-processing AI model, GPT-3, has accumulated hundreds of billions of parameters and is now powerful enough to even write scholarly essays and news articles, a direction of growth that must worry scribes and writers.
It's not just language that AI can generate. GPT-3 is also used for Dall-E 2, which creates videos, images and sounds based on commands, and has left the creative world in a tizzy. From fantas­tical works of art to instructive videos to even magazine covers, the image-generating tool is all set to revolutionise the way hu­mans create and consume art and design, and has been hailed and criticised alike for its powers—from celebrations of beauty to the dangers of fake imagery.
We often come across technologies that can completely alter the way monetary transactions are made, and this year was no exception. The same is true of transportation—both public and private. How fast can fast get? With gadgets, software, trains and cars acquiring newer features to make them go faster with more ease, this year proved to be no disappointment for makers and consumers, despite the challenges of the pandemic over the past couple of years.
Alongside all the advances on the usual turfs of technological growth, some analysts have begun talking of Industry 4.1. We have all heard of Industry 4.0, starting with the steam engines, electricity, then electronics and now the Internet of Things (IoT). But some futurists have for long talked about the greater role of consumers in the manufacturing process, which they call Industry 4.1. For instance, 3D printing. This year saw an escalation of consumer roles in such technologies, especially in the use of 3D printing in building construction—from houses and bridges, to even entire townships and multi-storeyed buildings—and that it is expected to grow manifold over the years. Incidentally, NASA, which already uses 3D printing for many of its space components, reportedly also has plans to use 3D printing for space colonies on Mars.
Meanwhile, an article in the MIT Technology Review that pub­lished satellite images of Saudi Arabia's sci-fi megacity shows the direction of smart cities, or how smart cities can really get. It is about housing people in a zero-carbon megacity in a place 170 ki­lometres long and half-a-kilometre high but just 200 metres wide. According to the Review, the residents would be whisked around on underground trains and in electric air taxis. The project is valued at $500 billion. What we are currently witnessing is a construction boom in what we thought was an inhospitable terrain.
Cyber technology has attracted much attention this year. Although cyber attacks continue to be rampant, and misinforma­tion and propaganda relentless even for a war year, there is hope in some areas, especially the browsing space. According to CTech, LayerX, a cyber security startup that offers browser security so­lutions, has attracted the attention of some big players to invest in them. LayerX, according to the report, "operates in tandem with all commercially available browsers, enabling workforces to maintain their existing browsing preferences while granting security administrators the flexibility to transform any browser into a secure, customisable, and intuitive workspace". More such companies are mushrooming and fighting off data thieves and other cyber malefactors.
Other areas in technology where leaps were taken this year include genomics, quantum computing, IoT, cyber behaviour, quantum computing, virtual reality and augmented reality, ro­botics, AI, and so on. Some of the changes have been incremental but some others have been epoch-making. Medical technology is one area where surgeries were done in a far less cumbersome way thanks to new technologies that helped with xenotransplanta­tion, which the US Food and Drug Administration defines as "any procedure that involves the transplantation, implantation or infu­sion into a human recipient of either (a) live cells, tissues, or organs from a nonhuman animal source, or (b) human body fluids, cells, tissues or organs that have had ex vivo contact with live nonhu­man animal cells, tissues or organs."
Year 2022 saw more and more people talking about VPS (visual positioning system) as an alternative to GPS (global posi­tioning system) and as a more accurate way of tracking movements and finding our way to destinations by using visual prompts. More changes are happening with devices getting smarter and even our clothes capable of 'hearing'—yes, you heard it right. Reports say MIT researchers have created a fabric that can track heartbeats, claps, or all kinds of feeble sounds.
Very soon, there will be practically no area of human life left untouched by some bit of technology. The march continues.