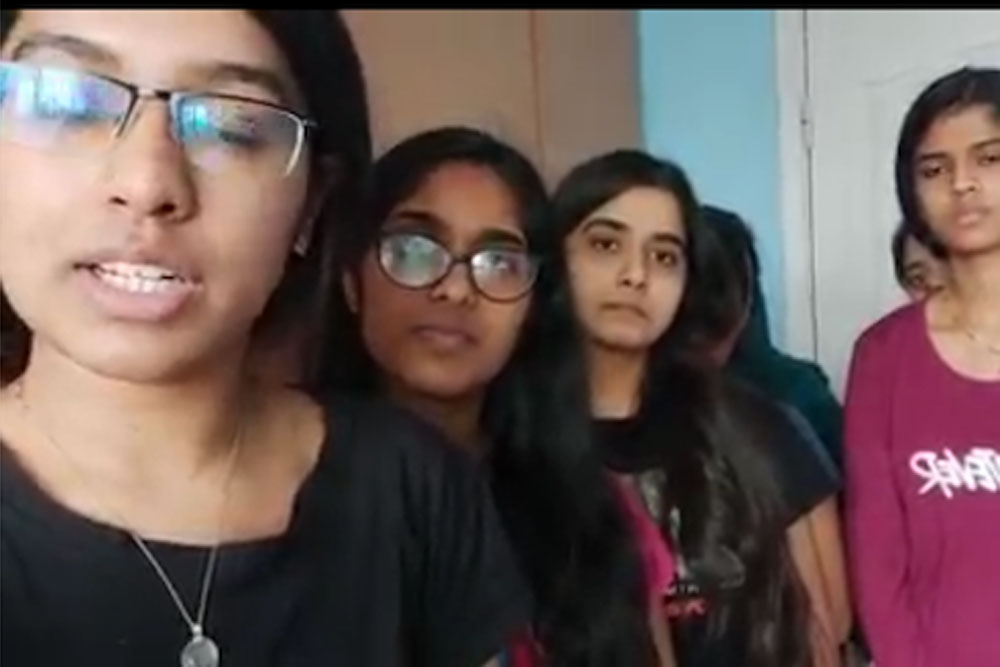 Malavika (third from left) and her friends at the Medical Institute of Sumy State University have released a video for immediate help from Indian authorities
On multiple occasions since the Russian attack began on Ukraine on February 24, Malavika Manoj, a medical student based in Sumy in the eastern part of the country that is barely 40-odd km from the Russian border, had to rush with her classmates from their hostel rooms to the old, squalid bunker beneath the building to escape shelling from tanks and airstrikes. The 21-year-old is among the 500-plus Indian students of the Medical Institute of Sumy State University. "Of the Indians, close to 80% here are from Kerala," says this third-year MBBS student, adding that she and her fellow classmates decided to stay back in Russia's hostile neighbour country for several reasons despite Russia's military build-up.
In a video shared by a group of young female medical students, one of them states that both the university and the Indian embassy had assured them that they could stay back if they felt like it. "There was never a mandatory instruction from anywhere asking us to go," the student says. Malavika vouches for that, emphasising that the other reason was that in third and sixth (the final) years they had to appear for the so-called Krok test to get their licence as a foreign student to practise medicine in the European Union. According to the website Ukraineeducation.org, KROK-1 test is to be given by the medical students of Ukraine after finishing the third year and KROK-2 on completion of the sixth and final year.
Malavika tells Open that since returning from her hometown Kannur, northern Kerala, last September when the offline class began in her medical school, she has not left Sumy, focusing entirely on studies. "We fly from India to Kyiv via Sharjah typically and then take a 5- to 6-hour drive on the bus to Sumy," says she. The only time she leaves Sumy is when she has to go home. They get their supplies and provisions from the supermarkets nearby in the small town founded in the seventeenth century by Cossacks. She never left the town in the past three years she has been a student there. Not even to Kharkiv, which is less than three hours away, unlike some of her classmates. Indian students are trapped in Kharkiv, another academic centre where a lot of Asia and African students travel for professional courses. "I don't get the time to travel. I have to study so that I do well in the annual exams," Malavika states. She is the only child of her parents and she wants to make them proud by scoring well and making it to a medical institution in the UK to do her higher studies. Many of her classmates, too, share her enthusiasm for excelling in studies.
It is in the midst of busy days of visiting nearby clinics and attending classes that the invasion began, throwing everything out of gear for these students.
Ukraine, according to that country's official data, is home to close to 20,000 students, several of whom have been evacuated since the Russian onslaught started, to bordering countries of Hungary, Poland, Slovakia and Romania. Ukraine has closed its airspace for commercial travel and so the evacuation had to be done on the road through transit points along the country's borders. Because most of these countries are on the western side of the country, evacuation picked up momentum on the western side of the country, leaving students like Malavika and others in eastern institutes to bear the brunt.
According to reports, India set up camp offices in Lviv and Chernivtsi towns in western Ukraine to help the students to travel to Hungary, Romania and Poland, but evacuation of students in eastern Ukraine bordering Russia is yet to start. Students across the eastern region are running short of food, and are mostly camping in underground stations. They are in dire straits for want of official help from within and without. Malavika and her friends say that the bunker – the video of which they shared with Open – lacks any ventilation, dilapidated and dusty. Which makes it inhospitable. "We cannot survive inside for more than an hour even as young people," she shares. She and her friends are under tremendous stress due to the loud noise of bombs going off and aerial strikes in the region. "We are in an area where we face constant shelling from the Russian side and we often hear sounds of exchanges of fire. We cannot step out to buy food and whatever we had stocked up is getting depleted," some of the students said in the video they released for help.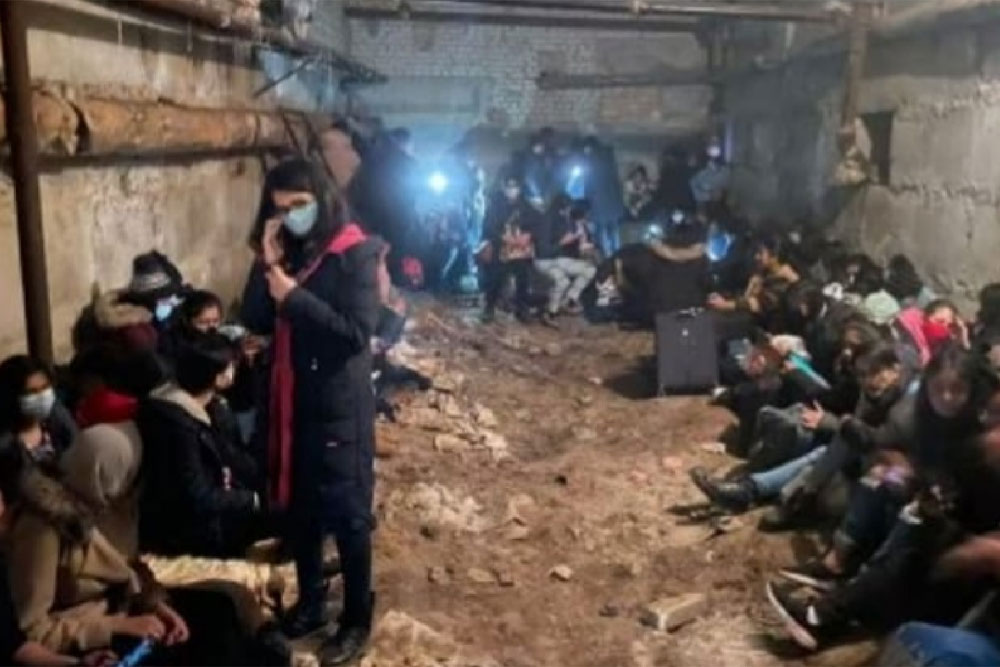 Malavika says that most students in her institute, similar to those that Open spoke to in other locations in eastern Ukraine, eat just one meal a day fearing that they will run short of food. "We are mentally and physically very fragile, and we are extremely uncertain about our future in this turbulent and volatile situation," she says.
They expect that the Indian government can arrange for their exit from the country via the Russian border since travelling to countries on the west side that is far away is fraught with dangers. Students in Kyiv and other cities near the borders of Romania and other countries had walked the whole distance to cross the border and take a flight back home to India. Meanwhile, Poland promised issuance of hassle-free visas to Indian students. Polish ambassador to India, Adam Burakowski, tweeted on February 27, "Poland is allowing to enter without any visa all Indian students who escape from Russian aggression in Ukraine."
As clashes continue between Russian and Ukrainian troops, Ukraine, according to an AFP report, has agreed to hold talks with Russia on the Belarus border on February 28, "shortly after Valdimir Putin ordered his defence chiefs to put the country's nuclear deterrence forces on high alert".
Meanwhile, Malavika and her fellow students say they are praying for an end to their traumatic experience as are their parents back home in India.