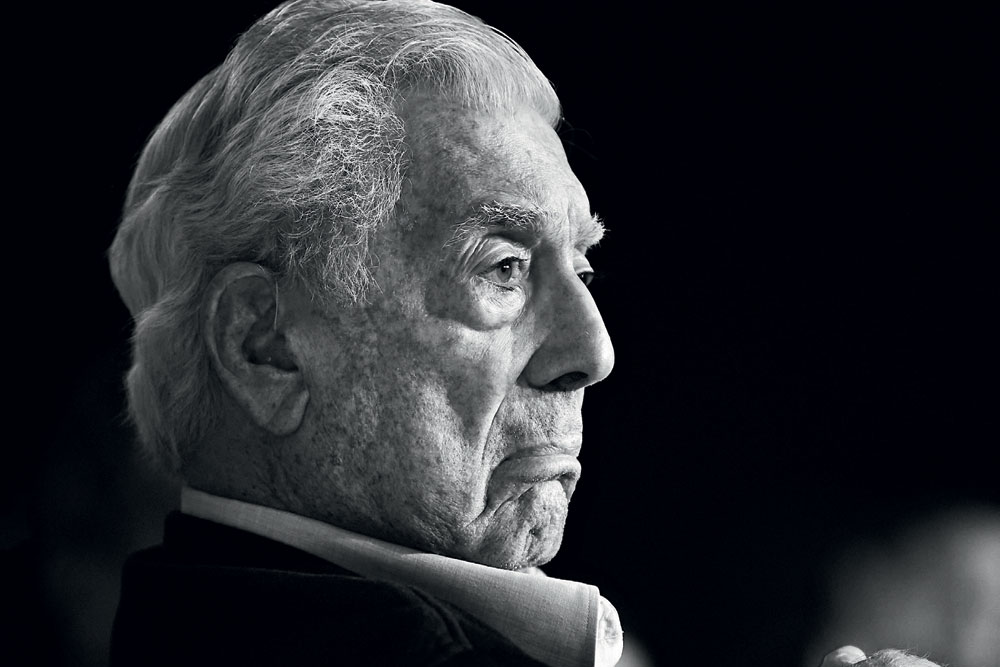 Mario Vargas Llosa (Photo: Getty Images)
WHEN IT COMES to drawing from history to weave fiction, Harsh Times (translated by Adrian Nathan West; Farrar, Straus and Giroux; ₹ 1,864; 304 pages), Mario Vargas Llosa's latest novel whose English translation hit the stands recently, appears as compelling as his 1981 masterpiece, The War of the End of The World, a fictionalised version of the War of Canudos in 19th century Brazil. The 85-year-old, Peru-born Nobel laureate, one of the world's iconic living writers, has a penchant for tapping real-life characters and their actions while writing his novels because, as he admits, it gives him the licence to take liberties with facts.
That's a quotable quote, but given that the most rewarding aspect of Llosa's craft is that he remains loyal to his training as a journalist and retains the intellectual honesty of an essayist, he is only being unusually modest and self-effacing. His meticulous research—in which he doesn't even go wrong with dates and the exact hour of an occurrence—combined with his flair for accuracy make his works of historical fiction as impactful, to a great extent, as non-fiction accounts. The writer seems to know this strength of his all too well.
A few reviewers have wondered whether Llosa, a committed pro-market and conservative intellectual, is finally veering towards the Left in this novel, which is set mostly in the 1950s. For a writer who, unlike his one-time friend, mentor and then rival Gabriel Garcia Marquez who brings up politics in his fiction only with the subtlety of a literary Houdini, Llosa is unabashed about brandishing his ideological stance in his writings. Among the products of the 'Latin American Boom' in literature, he has been the most trenchant critic of 'socialist' yet dictatorial regimes in the region. He had even tried being a politician, contesting presidential polls unsuccessfully against Alberto Fujimori in his home country. The outcome was a book titled A Fish in the Water (1993), the highlights of which were no-holds-barred criticism of many Leftist intellectuals of Peru besides memories of his childhood.
No. Llosa hasn't changed much. He is unequivocally in favour of capitalism. The departure he makes in this work is that he also tells the story of how democratisation and modernisation in Latin America in the 20th century were derailed primarily by the fatally flawed American foreign policy and its post-WWII crony capitalism. The watershed event that Llosa has picked up in Harsh Times to argue his case of an American folly causing devastating and inexplicable collateral damage is the CIA-backed invasion of Guatemala of 1954 (Operation PBSuccess) to unseat the government of Jacobo Arbenz, whom the author says, was putting his country on the path that the US had taken: building a pro-market democracy. According to Llosa, the American misadventure resulted in a chain reaction throughout the region. The denouement, he argues, is that previously pro-democratic nationalist parties were forced to ally with the Soviet Union for fear of American aggression, and that the myth of armed struggle became immensely popular.
The most rewarding aspect of Mario Vargas Llosa's craft is that he remains loyal to his training as a journalist and retains the intellectual honesty of an essayist
The author has done extensive research for this novel, combing through books, newspapers and magazines from the '50s in Guatemala, travelling along the border of Honduras and Guatemala to grasp the lay of the land, listening to his vast network of friends and historians and exploring what he calls the "secrets" of Guatemala City, the national capital. He also managed, after a prolonged and tormenting wait, to meet the former mistress of the man who replaced Arbenz, Castillo Armas (who was later assassinated to make way for another US puppet), in her Langley, Virginia home not far from the CIA headquarters. He calls the effort to secure an interview with her an "acrobatic wrangling". Called Marta, her warning to Llosa regarding the interview was that while she was not going to read his book, her lawyers would! The woman, who also told him that she had outlived her 10 husbands, refused to say yes or no to his query whether she was a CIA agent or not. The author, meanwhile, keeps talking about what she retains from her past—what he calls the "Verdigris" gaze.
We definitely see Llosa the journalist and researcher on an overdrive even at this ripe old age, travelling far to pore over tomes and leaf carefully through dusty newspapers besides meeting former insiders of various regimes and experts on the country's history. Casting his net wider to understand a piece of history he already knew contributes to the splendour of the narrative, as any reader would discover from page one of the novel. With Dominican dictator Rafael Trujillo making an appearance in the book, plotting assassinations and unleashing violence in Guatemala and elsewhere through his henchmen, the research he had done for the stunning work from 2000, The Feast of the Goat, must have come in handy for Llosa. Like that book, this, too, is a multi-layered take on Latin American politics.
Now the question is: So, where is the novel in this? Is it merely a retelling of history, told and untold?
Llosa isn't one of the world's finest living novelists for nothing. The master storyteller recaptures characters, known, lesser-known and unknown, with the skill that has endeared him to readers of fiction worldwide. History and other minute details he picks up from his momentous study of each subject and milieu embellish the pace of this literary half marathon.
Some players in the book were born in the late 19th century, including Samuel Zemurray, president of United Fruit Company, for whom the Americans have wreaked havoc in many Latin American countries, and his diabolical propaganda chief, advertising professional Edward L Bernays. Although the latter is sometimes described as the father of public relations, his role in fomenting trouble in Guatemala where Arbenz asked United Fruit (now called Chiquita Brands) to pay tax as everyone else did is well documented. Arbenz was soon accused of turning his country into a Soviet satellite. Ahead of the US-backed coup, he had to resign, and finally flee the country.
Llosa's gifts as an artist with words comes to the fore while he reconstructs before the readers the lives of each character in the novel, with their eccentricities, insecurities, desires, fears, ambition, duplicity and jealousies. He also talks about wars, intrigue, betrayals, corruption, corporate greed, social unrest, unscrupulous and brutish ambassadors, armies and rebels in the cut-throat world of Latin American and American power politics with a finesse he is often admired for. Plots and subplots involving multiple assassinations, exfiltration, prisons as well as carnal fetishes of people, too, are a sheer treat.
The last scene in the book — of a bloody massacre of a family of a now-tainted former operative comprising him, his wife, daughters, maids and pets with primitive weapons before the savages who launched the attack burnt down his house — leaves a bad taste, but mirrors exactly what Latin Americans feel about extended periods of foreigners meddling in their affairs under the pretext of fighting communism.
By writing this book, Llosa displays, yet again, his famed dexterity in recounting facts that are stranger than fiction.