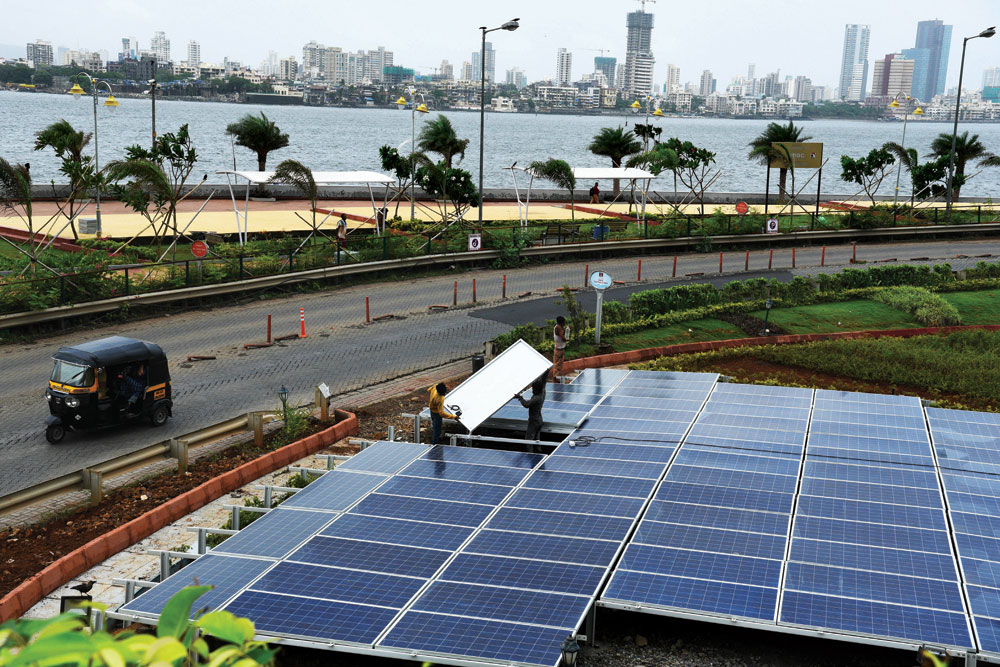 Solar panels being installed in Mumbai (Photo: Getty Images)
ULKA KELKAR, director of the climate programme at the World Resources Institute (WRI) in India, is glad that the Union Budget has highlighted energy transition and climate action as a key "vision" of the Union Government in the 25-year-long run-up to free India turning 100 in 2047. "Placing them as overarching pillars of India's growth strategy is quite a positive signal to the markets, workforce and the financial markets," she tells Open. Bengaluru-based Kelkar, also an economist, notes that it is perhaps for the first time that environment and climate priorities are not seen as separate from the growth of the economy. "Climate concerns have now been mainstreamed," she says. WRI is a non-profit that advises governments, businesses and other groups on sustainable development.
In her Budget speech, Finance Minister Nirmala Sitharaman called the 25-year period beginning this year "Amrit Kaal" before spelling out the visions of the Narendra Modi Government on the financial front. She also talked about the circular economy, stating that recycling will create new businesses and generate jobs. Meanwhile, for her part, Kelkar says that while she is looking forward to further announcements from the Government, she is delighted that energy storage has been made part of infrastructure development. "That is a big opportunity for businesses as well as students who can take cues from that statement in the Budget," she elaborates. "The action plans for 10 sectors, such as electronic waste, end-of-life vehicles, used-oil waste, and toxic and hazardous industrial waste, are ready. The focus now will be on addressing important cross-cutting issues of infrastructure, reverse logistics, technology upgradation and integration with the informal sector," Sitharaman said in her speech. This objective is necessitated by the fact that India is relatively short on critical minerals needed to make batteries. The Budget said that data centres and energy storage systems, including dense charging infrastructure and grid-scale battery systems, will be included in the harmonised list of infrastructure. It added, "This will facilitate credit availability for digital infrastructure and clean energy storage."
In line with the hopes that the Government would prioritise climate action in the Budget, especially since Prime Minister Narendra Modi had, at the Glasgow summit (COP26) in October 2021, made pledges to massively rein in carbon emissions, the finance minister's speech was peppered with expressions such as green (mentioned seven times), energy (20 times), sustainable (10 times), climate (eight times), clean (six times), and so on. Last October, Modi vowed to work towards achieving net-zero emissions in India by 2070 and non-fossil fuel energy capacity of 500 GW by 2030. His other targets, among others, included meeting 50 per cent of India's energy requirement from renewable sources. Experts have said that such ambitious greenhouse gas emission reduction targets call for trillions of dollars in investment, given that globally India is the third-largest emitter of carbons.
The likes of Swati D'souza, an energy analyst at the Institute for Energy Economics and Financial Analysis (IEEFA), feel that more needs to be done than using the right words in a speech and at a fast clip. "There is nothing material in the Budget towards addressing many climate-change concerns," she avers. D'souza, however, adds that there are some mitigating features, "The idea of a zero fossil fuel space is tempting. The announcement on green bonds is also a step in the right direction," she points out. Sitharaman said in her speech that "we will promote a shift to use of public transport in urban areas." She added, "This will be complemented by clean tech and governance solutions, special mobility zones with zero fossil fuel policy, and EVs (electric vehicles)." The Budget also said that as a part of the Government's overall market borrowings in 2022-23, sovereign green bonds will be issued for mobilising resources for green infrastructure. "The proceeds will be deployed in public sector projects which help in reducing the carbon intensity of the economy," it added.
Many analysts continue to be gung-ho about the future of the Hydrogen Energy Mission although more details are yet to be disclosed. The programme looks to link India's renewable energy capacity with the hydrogen economy. The Government asserts that it is determined to build a greener India and that the recommendations in the Budget are a testament to that resolve. Among the measures taken as part of the low-carbon development strategy, focus on solar energy is included. Sitharaman said in her speech: "To give a further boost to the non-conventional energy sector, I propose to provide additional capital infusion of ₹ 1,000 crore to Solar Energy Corporation of India and ₹ 1,500 crore to Indian Renewable Energy Development Agency." The Government also plans to build domestic capacity for solar energy. According to the Budget, "At present, to encourage domestic production, we are raising duty on solar inverters from 5% to 20%, and on solar lanterns from 5% to 15%." It also said that 5 to 7 per cent of biomass pellets will be co-fired in thermal power plants to attain carbon savings of 38 MMT annually. The finance minister added, "This will also provide extra income to farmers and job opportunities to locals and help avoid stubble burning in agriculture fields.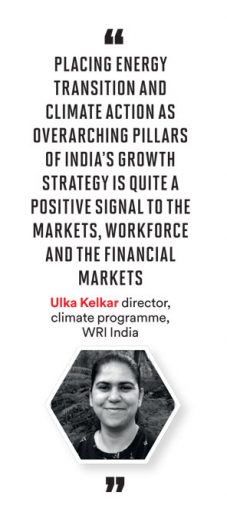 The Budget has also dwelled on what the Government has been harping about conserving energy. "Saving energy is an important aspect of energy management. Hence, energy efficiency and savings measures will be promoted. This will be done in large commercial buildings through the Energy Service Company (ESCO) business model. It will facilitate capacity building and awareness for energy audits, performance contracts, and common measurement and verification protocol," the Budget notes. It also announced a voluntary vehicle scrapping policy with the aim of phasing out "old and unfit vehicles." Sitharaman said, "This will help in encouraging fuel-efficient, environment-friendly vehicles, thereby reducing vehicular pollution and oil import bill. Vehicles would undergo fitness tests in automated fitness centres after 20 years in case of personal vehicles, and after 15 years in case of commercial vehicles." Further details of the scheme are yet to be released by the finance ministry.
Sitharaman also spoke about the new measures to promote the use of vehicles run on non-fossil fuels, including electricity. Amid rising enthusiasm among car buyers, notwithstanding the teething problems on Indian roads, the Government had late last year launched a web portal titled e-Amrit, calling it a "one-stop destination for all information on EVs." The portal is hosted by NITI Aayog in collaboration with the British government. A Press Information Bureau (PIB) release said on the occasion of the launch last October: "E-Amrit intends to complement initiatives of the government on raising awareness on EVs and sensitising consumers on the benefits of switching to electric vehicles. In the recent past, India has taken many initiatives to accelerate the decarbonisation of transport and adoption of electric mobility in the country. Schemes such as FAME (Faster Adoption and Manufacturing of (Hybrid &) Electric Vehicles in India) and PLI (production-linked incentives) are especially important in creating an ecosystem for the early adoption of EVs." The finance minister's pronouncements in the Budget gels with that drive to push the adoption of EVs. "Considering the constraint of space in urban areas for setting up charging stations at scale, a battery swapping policy will be brought out and interoperability standards will be formulated," the Budget said. A battery swapping station helps EV users save time by exchanging a discharged battery pack for a charged one. The Budget also said that plans are afoot to enlist the private sector to develop sustainable and innovative business models for "battery or energy as a service" to improve efficiency in the EV ecosystem. The Budget added that for encouraging sunrise sectors, such as climate action, deep-tech, digital economy, pharma and Agri tech, the Government will promote thematic funds for blended finance with the government share "being limited to 20% per cent and the funds being managed by private fund managers." PM Gati Shakti is also an initiative expected to give a huge fillip to climate action and energy transition in India. The scheme, according to the Government, is a digital platform to bring 16 ministries, including railways and roadways, together for integrated planning and coordinated implementation of infrastructure connectivity projects. In her speech, Sitharaman said, "PM Gati Shakti is a transformative approach for economic growth and sustainable development. The approach is driven by seven engines, namely roads, railways, airports, ports, mass transport, waterways and logistics infrastructure. All seven engines will pull forward the economy in unison. These engines are supported by the complementary roles of energy transmission, IT communication, bulk water and sewerage, and social infrastructure." The minister also launched four pilot projects for coal gasification and conversion of coal into chemicals required for the industry.
The Budget acknowledged the limitations caused by climate change for India before setting aside funds and lining up plans to transcend them. Sitharaman said that the risks of climate change are the strongest negative externalities that affect India and other countries. She went on, "As the prime minister said at the COP26 summit in Glasgow, 'What is needed today is mindful and deliberate utilisation, instead of mindless and destructive consumption.'" The Budget also said that several near-term and long-term sustainable development plans are in the pipeline even in agriculture where the Government wants to promote organic farming.
Kelkar sums up, "We now need the power of government incentives, aggregation and de-risking for clean energy to be complemented by standards for low-carbon materials, skilling for battery recycling, and consultative processes for green infrastructure projects." These are, of course, early steps in a long road towards a transition to a low-carbon economy. But then it is often a good beginning that makes a good ending.