It is time for Indian management institutions to compete and tap new opportunities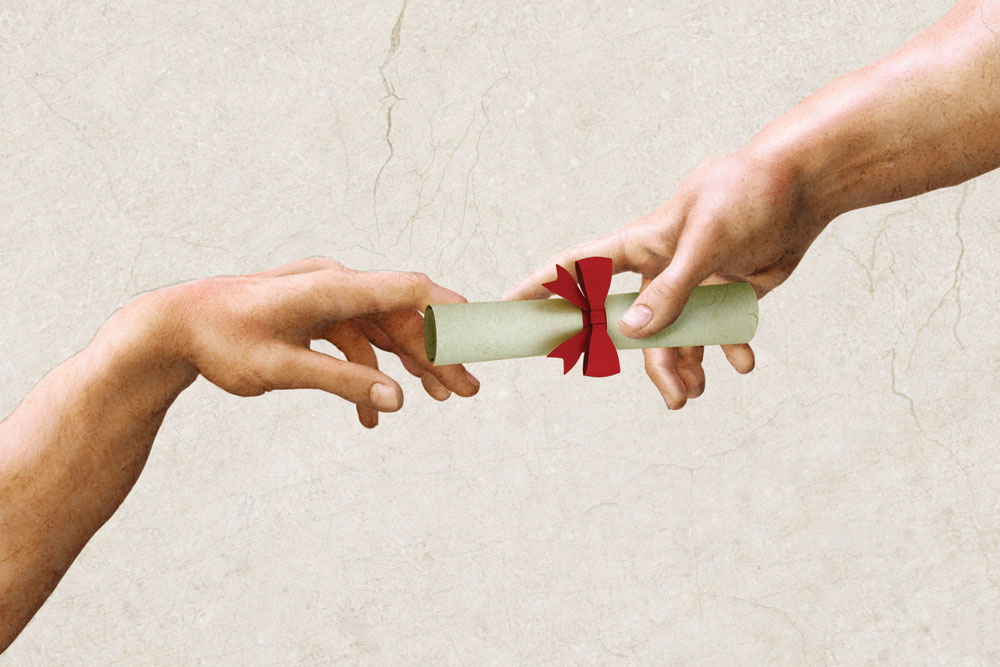 (Illustration: Saurabh Singh)
IN line with the changing times, titles of management professors, too, have become fancier. In the case of Professor Mohan Sawhney, celebrated author and academic, his designation is only fancy enough to capture a slice of his contribution to innovation in business studies. The West Bengal-born alumnus of Wharton and IIM Calcutta is proud of his alma mater in India although he has adapted rapidly to new realities since passing out. "My experience at IIM Calcutta broadened my horizons by exposing me to the exciting world of marketing. By combining my background in engineering gained at IIT Delhi with my passion for marketing developed at IIM, I have been able to pursue a successful career at the intersection of technology and marketing. I also developed key relationships and friendships at IIM, which have been valuable at various points in my career," says Sawhney, who is now associate dean for Digital Innovation, McCormick Foundation Professor of Technology and Director, Center for Research in Technology & Innovation at the Kellogg School of Management in Northwestern University, Illinois, US.
He is of the view that IIMs need to do more in bringing in global faculty and international students, in diversifying their student body beyond engineering and in the development of hybrid modalities (online and in-person combined) for executive education. He is, however, glad that efforts are on towards what Professor Neharika Vohra avers is the need to align business studies with the demands of Industry 4.0. Vohra is vice chancellor at Delhi Skill and Entrepreneurship University and is on leave from IIM Ahmedabad where she was professor of Organisational Behaviour.
Sawhney is glad that the IIMs have been adapting and evolving their curriculum and training in response to global skills and leadership requirements. He adds with specifics, "For instance, IIM Calcutta has created the PGDBA programme, in collaboration with IIT and ISI (Indian Statistical Institute). This analytics-focused programme is well-aligned with the global demand for analytics talent. IIMs have also created cutting-edge executive programmes covering topics like AI/machine learning (AI/ML), fintech, blockchain, healthcare, etcetera."
But a group of academics and industry experts surveyed by Open, some of whom have written for us in this edition, opine that much more needs to be done by B-Schools from whose confines grads immediately enter a world where new economy corporations have eliminated or reduced certain jobs and created new ones. As a consequence, managing needs new and specialised skills.
R Rajasekharan, entrepreneur and a former McKinsey executive based out of Singapore, has studied and worked in major cities of the world. His assignments at McKinsey have taken him from eastern China to Germany to the Nordic countries and from North America to the Far East. As someone who continues to consult MNCs the world over, he describes the newest trend that has ushered in new hierarchies and rung out old positions as the "Uberisation" of the global economy. "Automation has killed many entry-level jobs in companies. For instance, in e-commerce, it belongs to someone who has a bike and can drive to deliver products. As a result, the new entry-level function is handled by machine learning experts and others whose managers not only have to possess people skills as was the case in the past, but also a knowledge of technology to know what went wrong when there is a hassle with workflow," he goes on. With daily production reporting in the manufacturing and other sectors getting replaced by automation and therefore becoming self-managed, he says, greater managerial skills are the imperative to make yourself employable in a new economy corporation. Interestingly, an ASSOCHAM survey has found a vast majority of Indian business graduates, more than 90 per cent of them, unemployable in companies that have adopted new technologies to improve efficiencies. Banks have chatbots replacing call centres, messages eliminating several other positions, bringing in the new slogan: you are your own banker. This change, in fact, applies to most bank account holders.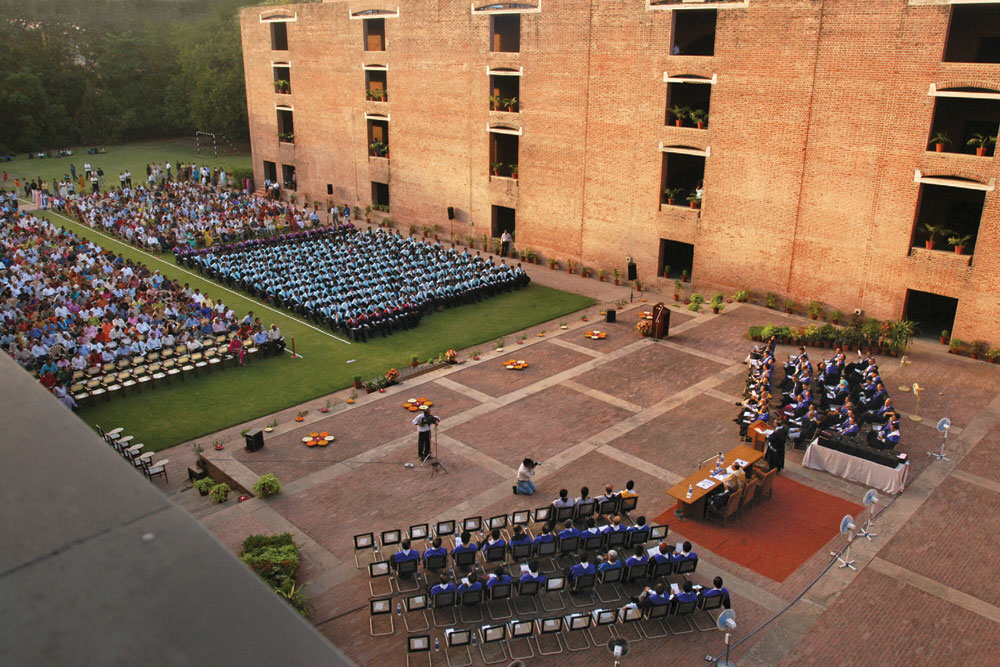 All this calls for reinventing coaching, updating curricula, managing, among others, in-person as well as remote schooling besides making the most of the work-from-home format, which, to be successful in full measure, requires training in independent working. We have come a long way from Ford assembly lines to managing electronic platforms. It has indeed been a big departure. Also in order at B-Schools, some of which are featured on the following pages for the strides they have taken, are disciplines that teach innovation, entrepreneurship, and so on. Notes Rajasekharan, "With opportunities to grab liquidity available at the moment for entrepreneurs, B-Schools also need to impart education on launching startups as well as on governance and ethics."
Among Indian-origin American academics, Vijay Govindarajan is by now synonymous with business education and innovation. As regards education in India, he has an ear to the ground. Incidentally, he has talked about telemedicine long before most people in India have done it as a step towards offering the poorest high-quality medical care. This management guru, an original champion of "reverse innovation" (building low-cost products to fit the needs of the developing world, which can then be repackaged for developed markets), has famously played "matchmaker" between MNCs and poor economies. In an interview to Open, he says, "The world continues to change and evolve, and the pandemic has accelerated all of that [a subject we have dwelt on at length in this edition], so we want to keep looking forward, not backward, and shape leaders' thinking for the new challenges we face now. I've been talking to CEOs and C-Suite executives about the challenges leaders must confront and tackle in the post-pandemic world." Govindarajan, Coxe Distinguished Professor, Tuck School of Business at Dartmouth and best-selling author of several books, lists the top five challenges that, he says, B-Schools will have to confront. "Digital transformation, diversity and inclusion, future of work, stakeholder capitalism and reimagining of global supply chains," he says. Adds this former professor at IIM Ahmedabad and an alumnus of Harvard Business School (HBS), "B-Schools must re-look their curriculum to heighten the importance of these topics."
B-Schools, including the ones as reputed as HBS, have begun offering online classes targeting leaders. Among them is a certificate course taught by Srikant Datar, dean of HBS, titled, 'Design Thinking and Innovation'. Among other roles, he had also held the chair of the Harvard Innovation Labs. In a statement, he had said recently when the course was launched, "Entrepreneurial leaders must prioritise experimentation and constant iteration to effectively solve business problems in a consumer-centric way. I hope this course helps business leaders think more creatively, so they're better positioned to achieve the highest levels of success for themselves and their organisations."
Datar, a Padma Shri recipient, is a votary of e-business education.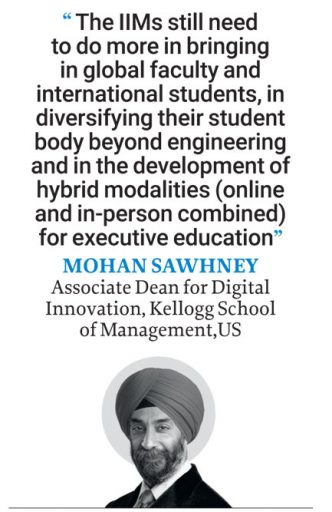 Studies have begun coming out on revamping business education for more than a decade now, even in India. "There is nothing new about this demand for an overhaul of business education. Even within the Government and in academic circles, there has been a lot of talk and research into the growing necessity of rethinking the MBA and saving it from people who are taught to think uniformly," says a Delhi-based Government official who is himself an MBA. Shortly after the largely unexpected global economic meltdown of 2008, MBAs were seen as the ones who precipitated the crisis because they were overly focused on finance and not on business. Columnists had trained their guns back then on MBAs for the likely 'demise' of capitalism. The common refrain was that MBAs were more loyal to Wall Street, which is also a common name to describe financial giants and stock markets, than Main Street, meaning businesses. MBAs were also accused of thinking in a straitjacketed and uniform way in solving economic issues, and not applying creativity.
Shortly afterwards in India, in a paper in the Journal of Management & Public Policy titled 'Management Education in India: Issues & Challenges', the authors, Shweta Jha of Apeejay School of Management and Manoj Kumar of Maharshi Dayanand Saraswati University, concluded: "Management education across the globe is facing a unique crisis of relevance in the contemporary scenario. All the aspects of business education such as quality of MBA aspirants, curriculum, business research, quality of research publications, industry-institute interface, management development programmes, faculty development programmes, placements, compensation packages of B-school graduates, career development trajectory of alumni, diversity among faculty as well as students, governance and accountability, etcetera, are under critical scanner. Indian B-schools are not untouched by the contextual compulsions of management education in the international arena. B-schools in India need to revitalise management education in the country in order to meet the expectations of all the key stakeholders such as students, faculty, society, industry, government and global community at large."
The paper emphasised: "Hence it is imperative that the ever-growing crisis of relevance vis-à-vis management education is addressed collectively, enabling key stakeholders to contribute in the process and system improvements. A broad-based consultation with the stakeholders might help in developing a holistic framework for effective management education while tackling fundamental issues of faculty shortage, lack of governance and accountability, absence of an effective regulatory body, poor quality of research and publications, lack of pedagogical innovations, lesser industry-institute interface, lower employability of B-school graduates, among others. It is time to collectively reflect and take stock so that we are ready for the next wave in management education."
Tonnes of changes have buffeted India and the rest of the world since this study in the past decade, but the thrust of the argument still makes great sense: that industry-institute interface is poor and that more is desired, to put it mildly, in making MBAs in the country employable.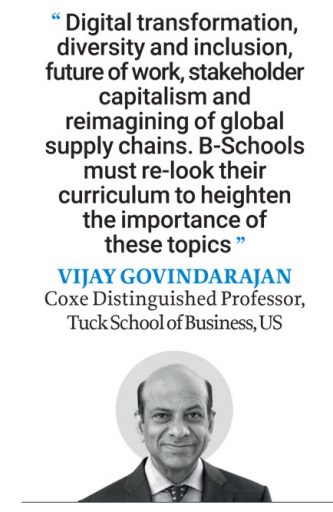 With changes sweeping the whole world before and during the Covid pandemic, it is true that several Indian and global management institutes are looking at ways to cope with the rapid and unexpected changes, again, a subject examined by various authors in this edition. For B-Schools, this is a phase to announce to the world their relevance in the new global scheme of things. Already, successful entrepreneurs, including in India, are loudly proclaiming that you don't need to go to B-Schools to become successful in business. The likes of Elon Musk, who attract millions of followers, including potential MBA aspirants, are at the forefront of this idea. Musk, who has earned a cult status as an entrepreneur, has often said that MBAs are overrated and that they may be good at PowerPoint presentations, but do not know how things really work. He has also been quoted widely as saying, "As much as possible, avoid hiring MBAs. MBA programmes don't teach people how to create companies. Our position is that we hire someone in spite of an MBA, not because of one." If one looks at the mounting education debt and the returns on investment in acquiring an MBA, in addition to employability in the fast-changing world of business dominated by AI/ML, robotics, and so on, unless a drastic overhaul is made to make business graduates more skilful and job-ready, the future of the course may look bleaker than ever before. The MBA became popular, especially from the 1980s, with business courses being offered by universities rising at a fast clip around the globe since.
OV Mustafa, a Dubai-based businessman who is the managing director at Gargash Insurance Group, notes that MBAs from good institutions in India often are good at adapting to new situations, but a lot of others with the once coveted degree are "merely good only at numbers, but not in management and sales." He says that he would prefer to hire smart undergrads who can be trained than expensive MBAs who often don't grow as far as they or others often expect them to. "It is not wrong to say they don't meet their own expectations and those of their companies. Maybe, they might perform well in financial organisations," says the UAE entrepreneur of Indian origin.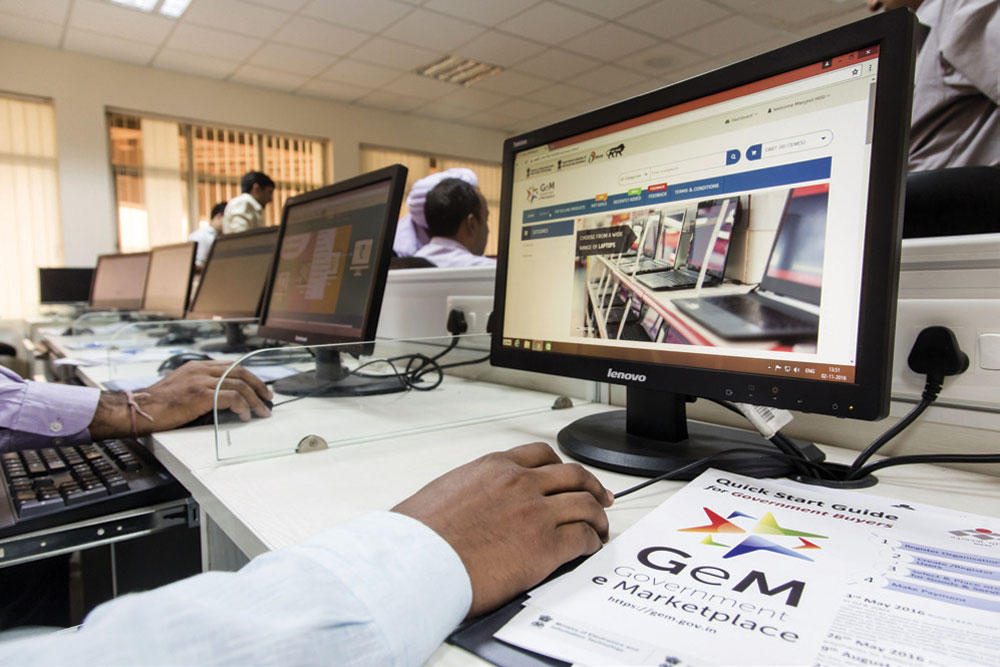 For their part, however, B-Schools in India argue that they are revising curricula and enhancing academic-industry cooperation to make their grads eminently employable. "Yes, there has been a gap in between. But now, we are acting swiftly to make up for lost time by incorporating various new courses to make sure that the industry is pleased with our MBAs and that on-campus hiring rises," says a senior professor at a prestigious B-School in India on condition of anonymity. He agrees with the assertions of Govindarajan about stakeholder capitalism and diversity, among others. "He is absolutely spot on about the transformation in the global supply chain [the whole system of machines and people involved in transporting a product to a consumer], new work culture as new functions arrive, diversity, digital transformation, and so on." The problem with B-Schools is the same as the problems faced by the whole of academia in catering to the needs of sectors where various domain expertise needs application. In the case of management education, though, the stakes are higher thanks to the quantum of money and positions involved currently.
Several CEOs that Open spoke to say that it is not as if all is lost. They are more or less of the view that this is a passing phase whose challenges can be overcome. One of them says, "As we know, B-School grads, of Indian origin and elsewhere, are in topmost positions in Silicon Valley companies. Let's not forget that they have learnt to be flexible, and not in small measure, owing to their business education." Hyderabad-born Satya Nadella, CEO of Microsoft, is an MBA from the University of Chicago and an alumnus of the Manipal Institute of Technology. Shantanu Narayen, an engineering graduate from Osmania University and an MBA from the University of California, Berkeley, is the chief of Adobe Inc. Google and Alphabet CEO Sundar Pichai, a BTech from IIT Kharagpur, is an MBA from the University of Pennsylvania. Similarly, Nikesh Arora, CEO and chairman at Palo Alto Networks, has an MBA from Northeastern University. Many other highly successful people in the US, including Raghuram Rajan, former Reserve Bank of India governor, are products of IIMs.
Shortly after the largely unexpected global economic meltdown of 2008, MBAs were seen as the ones who precipitated the crisis because they were overly focused on finance and not on business. The common refrain was that MBAs were more loyal to Wall Street than main street
But then, many Indian business professors insist, in private chats, not to rest on past laurels. "We have to fill the gap and forge ahead," one of them says. Meanwhile, a few good men have launched initiatives on their own to offer skills and proficiencies that they say are not always offered by B-Schools. One such is Invact Metaversity being launched by former India Twitter head Manish Maheshwari who has partnered with Tanay Pratap, former Microsoft veteran and founder of Invact, to offer, what they call, employability training. On its website, it says, "While this programme's primary aim is to get you into a business role, a job, it is not its sole purpose. We want to make structured business education available for entrepreneurs and someone running the family business." It adds, "If you're in a job, we would advise you to take a four-month leave. You would need weekday mornings to attend lectures and discussions." The website states that one must be able to dedicate 40-50 hours per week for learning. Invact Metaversity didn't offer comments to Open because it is expecting "to launch the platform in the first week of February". An official from the company told Open, "We would like to talk to the media only after the launch." More education portals are also looking to hit pay dirt in this space.
With more such groups entering the fray to tap the new business opportunity—of training aspiring business managers—B-schools will most likely batten down the hatches to navigate this time of adversity and opportunity. Open explores what various stakeholders think of this trend.