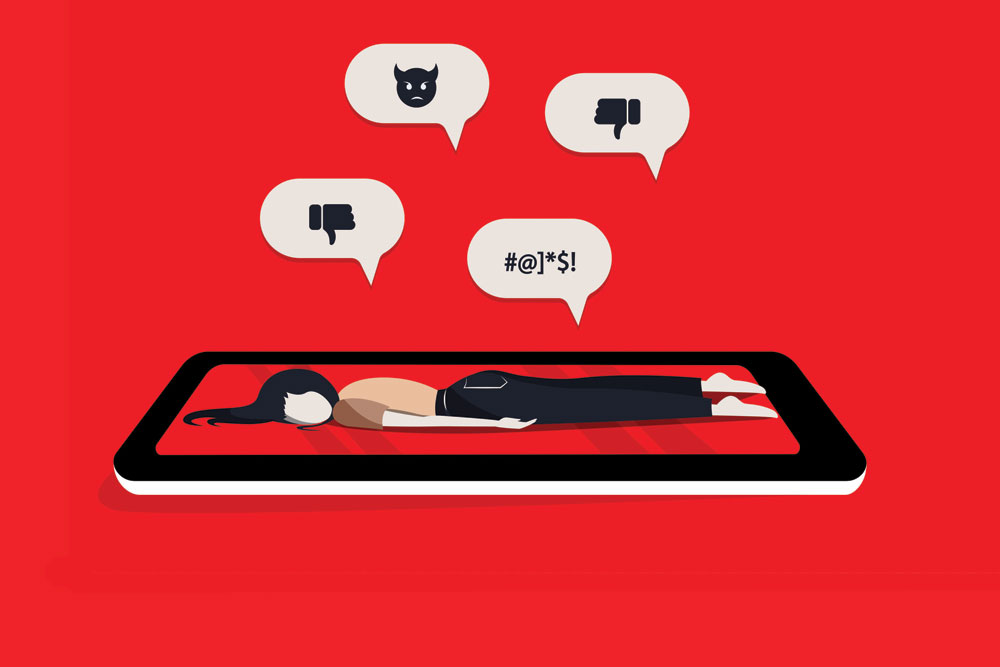 (Illustration: Saurabh Singh)
If you are a regular on the Instagram circuit in India, it is almost impossible to miss the page of Priyanka Paul, also known as @artwhoring, an artist, LGBTQ+ crusader and pro-Dalit activist. Constantly under attack for her outspoken views, the threats against the young Insta-activist from real and fake accounts were so vicious at one point that many people expected her to delete her account and disappear. She didn't. She stood her ground. But not everyone is as tenacious as Paul. Instead, they give up their public presence on social media and retreat into an emotional cocoon of fear and tears. The Covid season saw online harassment rise rapidly in India, as it did in the rest of the world, proof of which are the numbers obtained from official as well as independent sources. While this phenomenon has attracted interest from officials, social activists, and others, not much emphasis has been placed on helping the victims cope with the mental trauma of such abuse, which includes stalking, porn revenge, sextortion, trolling, etcetera, and has the potential to throw hundreds of thousands of lives out of gear for want of therapeutic assistance.
A recent survey by CyberBAAP (cyber bullying awareness, action, and prevention), which offers guidance and counselling to victims of cyberbullying, discloses shocking results. As opposed to the age group of 13-20 in advanced countries, those targeted the most for abuse online in India are those between 21 and 30, an age when young people start living away from their parents and mingle closely with peer groups and colleagues. Many get married around this time, making their position vulnerable to blackmailing by those out to wreck marriages, especially if the perpetrators are former lovers or those who know some secrets from the victims' pasts. This organisation was approached in 2021 by victims from more than 250 cities/towns in India. "The pandemic of 2021 saw an increase in not only other cybercrimes but also cyber harassment which has affected people mentally and emotionally," says a statement by CyberBAAP, a non-profit group based in Mumbai.
According to the National Crime Records Bureau (NCRB), cybercrime, including cyber harassment, rose close to 12 per cent in 2020 compared with a year earlier as the world entered the lockdown phase even as psychologists and psychiatrists forecast a rise in such cases during Covid. This reflects the offline trend. Crimes against women rose to unimaginable levels in 2021. According to numbers released by the National Commission for Women, 2021 saw a 30 per cent spike in complaints of crimes against women compared with a year earlier. According to Statista, a German organisation that is into crunching market and consumer data, cybercrimes in India rose steadily in the past two years, touching 50,000 cases in 2020. Analysts see the trend continuing into this year if Covid-induced restrictions persist. "The mental and emotional cost of this is often brushed under the carpet. Of course, we have mechanisms to get such crimes reported, but more needs to be done to overcome the stigma associated with disclosing anxieties and fear. Worse, people, especially the young ones who bear the brunt, fear approaching the police owing to perceptions that complaining will result in police harassment. That fear is very high in most places," says a Delhi-based health ministry official on condition of anonymity. He adds that although the Union government has launched initiatives to curb this menace, there is greater focus on financial crime online rather than harassment. "The entries on the website (Cyber Crime Portal) need to be expanded to ensure that there are more categories for people to report harassment online," he asserts. Similarly, social media and messaging platforms, too, have put in place measures to tackle cyber crimes of all kinds, but cyber security experts that Open spoke to contend that more needs to be done to tackle the crime and much more is in order in assisting victims spring back to normal life.
Nirali Bhatia, cyberpsychologist and founder, CyberBAAP, tells Open that she is often bombarded with pleas for help when she visits schools and colleges. She shares the view of the Government official that "nobody wants to go to the cops although we encourage them to report cases of harassment either to the police or online on the cyber crime portal".
Although girls and women are the primary targets of cyber abuse, more boys and men report being harassed. Cyberbaap says: 'Out of all the complaints that were reported to us, 53% were male and 47% female'. It is true that men and women respond differently to harassment
She says sometimes victims are blackmailed by people who know something about their past. "I remember a case of a young lady from Punjab who had done something she was ashamed of, and this perpetrator, who remained anonymous, knew about it. He started making demands of all kinds. She became acutely paranoid and started fearing for her life. The experience had left her totally scarred when I met her. Now slowly, after she was given the confidence to stand up for herself, she has started her normal activities," Bhatia recalls. She says that she and her team of volunteers work among these victims from across the country and prepare them to first report the case. Then they are put through guidance and counselling sessions. If needed, they take help from cybersecurity experts to investigate and track down the IP addresses used by the harassers.
CyberBAAP has identified 18 types of cyber harassment and tracked these activities across 16 online platforms. While Instagram tops the list, others include WhatsApp, Facebook, YouTube, gaming, Twitter, Snapchat, Discord (a VoIP instant messaging and digital distribution platform), dating apps, matrimonial and porn sites, and so on. According to its latest survey, the second most targeted people are in the age group of 16-20 and those between 31 and 40 come next. Those between 10 and 15 are also routinely targeted, says the report. Interestingly, April was the cruellest month for harassment victims last year. The majority of the victims are college students. Meanwhile, Instagram, the photo and video sharing social networking service owned by Facebook (now called Meta Platforms), has taken several steps to check harassment on its platform. It has introduced a 'restrict' feature for the purpose, besides other ways to instantly detect abusive content. But harassers still thrive on the platform.
21-30: The age group of people who are typically the worst victims of cyber abuse in India
The most common types of harassment online, according to the report, include trolling, sextortion, flaming, hacking, sexting, revenge pornography, impersonation, doxing, defamation, morphing, fake profiling, financial fraud, spamming, stalking and sexual harassment. Among cities, Delhi tops the list with Bengaluru and Mumbai close behind. The emotional impacts of these crimes are classified as fear, anxiety, anger, restlessness, distraction, shame, exhaustion, suicidal tendencies, guilt, depression, sadness, post-traumatic disorder and so on. Some people end up allowing a sense of revenge to drive them. "Very often these people require immediate care," says the senior health ministry official. "If it is late, it complicates matters further. People get habituated to living in a state of fear," he emphasises.
Studies have analysed the increase in cyber crime although not much about the social cost. Open had earlier reported the conclusions by an Elsevier paper. "Owing to the Covid-19-induced lockdown in India, most people's internet activity surged, leading to an expected increase in the rate of cybercrimes. This (our) research focuses on analysing whether the factors significant in cyber-bullying susceptibility changed with the lockdown," states the Elsevier paper titled 'Has the COVID-19 pandemic affected the susceptibility to cyberbullying in India?' The study, which surveyed 256 students before the pandemic in October 2019 and 118 students during the lockdown in June 2020, was authored by Ojasvi Jain, Muskan Gupta, Sidh Satam and Siba Panda. This study from late 2020 added that the most prominent form of cyberbullying is stalking (71.21 per cent) followed by posting derogatory comments (64.39 per cent), leaking pictures/videos online (41.67 per cent) and harassing (21.97 per cent). All this also signifies that most individuals have faced more than one type of cyberbullying, the authors reason. The majority of the victims surveyed for this study said that they were not negatively impacted by the act (37.88 per cent) whereas 30.30 per cent said they were negatively impacted (Cruelty of the Mysterious Man).
256 Indian cities/towns covered in a recent survey that categorised cyber harassment across 16 online platforms into 18 types
Although girls and women are the primary targets of cyber abuse, more boys and men report being harassed online. "Out of all the complaints that were reported to us at CyberBAAP, 53% of those were males and 47% female," the report said. It is true that men and women respond differently to harassment. Studies done in the UK and published in Lancet show such a trend. The interpretation in a study titled 'Roles of cyberbullying, sleep, and physical activity in mediating the effects of social media use on mental health and wellbeing among young people in England: a secondary analysis of longitudinal data' says: "Mental health harms related to very frequent social media use in girls might be due to a combination of exposure to cyberbullying or displacement of sleep or physical activity, whereas other mechanisms appear to be operative in boys. Interventions to promote mental health should include efforts to prevent or increase resilience to cyberbullying and ensure adequate sleep and physical activity in young people."
But then such distinctions tend to blur at times when the abuse is malicious to the hilt.
Bhatia, who went through some of the harassers' messages, says, "They are horrendous to read, and we start wondering how it is possible for anyone to be this brutal to someone else with whom they hardly have any personal enmities in the past, especially when it comes to caste slurs and body shaming." She adds, "Many are those have no clue about their victims. This is a global trend, but the impact of all this is hugely under-reported in India." Some others are into cyber harassment because they want to be instant stars overnight, says the Government official.
Another trouble with cyberbullying is that victims usually find out after all the damage has happened. A Delhi-based 25-year-old former research scholar tells Open that she knew about the existence of a morphed photo in which she was 'caught' in a 'compromising' position with her sister's brother-in-law only months after it began circulating on messaging platforms. "The first thing I wanted to do was to end my life. It was something I wanted to believe did not exist and that it was just a nightmare. Then I called my sister who was terribly upset and even sounded as if I was to blame for this humiliating situation. She thought this would complicate things with her husband's family. After a lot of explanations, she finally agreed to share the news with her husband and the other victim, her brother-in-law."
She had to then go for a series of counselling sessions to the extent that she had to abandon her PhD studies midway. "I had to then approach cybersecurity experts, all by myself, to get my 'online history' cleaned up," adds this lady. "The worst part is nobody has been able to track the person who morphed the photos to trash me in public. Only a psychopath can do it," she says with controlled anger.
Psychologists Open spoke to say that a medium which offers anonymity has the potential to bring out the worst in an individual. "Some people I handle are perpetrators themselves, some of them who are caught by the police and then assigned to us for treatment," says a Delhi-based psychologist who avers that it is extremely difficult to fathom the motives of these people. "They have often had a normal childhood and grew up in happy families. They are those who went to good schools and colleges," he adds. When asked about their victims, he says many of them do not show any remorse for traumatising their known and unknown victims who had done them no harm at all.
The need of the hour, therefore, is to make it more cumbersome for the perpetrators to act and then get away with their bullying using technology and other means. Equally important is to build infrastructure to offer succour to the victims at a time when elsewhere in the world people are using a multi-pronged method, including pet therapy, to fight their mental scars. Finally, though, no amount of laws and technology can check hate, discrimination and cruelty unless there is a fundamental change in social behaviour from the roots. After all, empathy begins at home.