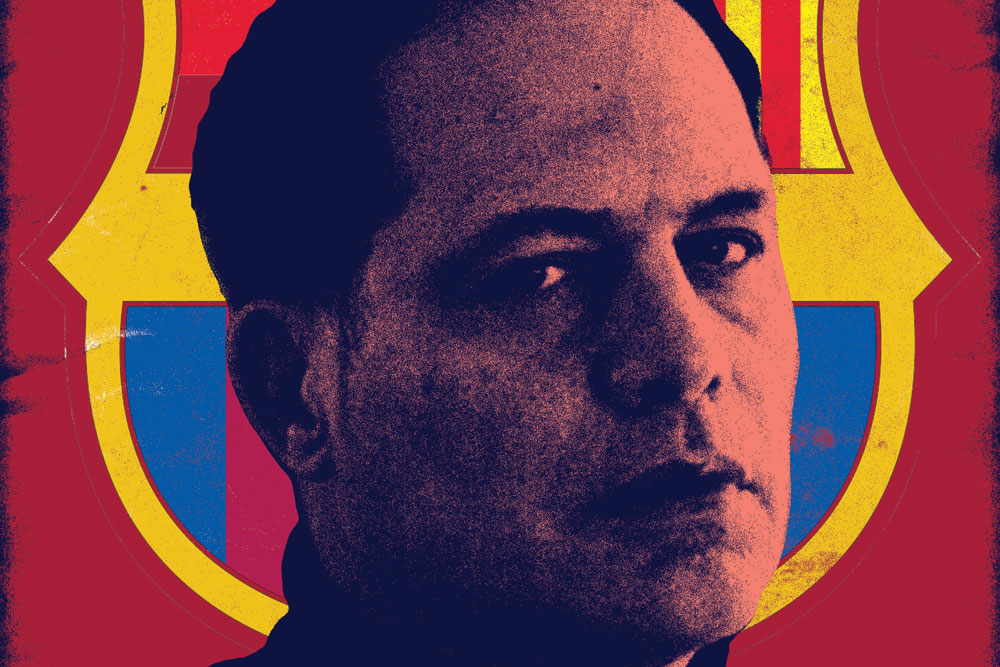 Simon Kuper (Illustration: Saurabh Singh)
SIMON KUPER has earned a reputation over the years as one of the world's greatest football writers. A columnist with the Financial Times, 51-year-old Kuper is an author of several books on football, including perhaps the most influential of them all, Soccernomics, co-authored with sport economist Stefan Szymanski. His latest book, Barça: The Inside Story of the World's Greatest Football Club (Short Books; 384 pages; ₹ 799), is on a club he immensely loves, FC Barcelona. When the club authorities offered him full access to write a book a few years ago, he expected to write about the rise of Barça, but he ended up writing about its fall, too. The Uganda-born British writer, who grew up in the Netherlands and the UK and now lives in Paris, is an alumnus of Harvard and Oxford universities. Some of his other works in English include Football Against the Enemy and The Football Men. He spoke to Open from Madrid where he will spend several months this year along with his family while he gives shape to the newest and regional editions of his latest book. Kuper talked about the book and the characters in it, and also about his predictions for the beautiful game in India and China. Excerpts:
How suitable is Xavi as Ronald Koeman's replacement as FC Barcelona head coach?
I always think that the role of the coach is overvalued as we had stated repeatedly in Soccernomics. I don't think the coaches are significant, especially now at a time when coaches have staff comprising dozens of people—defensive coaches, fitness coaches, goalkeeping coaches, etcetera. I don't see any reason to believe that Xavi [a former club player who now returns to Camp Nou, the home stadium of FC Barcelona] would make a change. What has he done to make us think he will make a great change in Barcelona? [He was the head coach of Qatari club Al Sadd since 2019.] So, I don't think that he has the solution. I don't think he will make a big difference [in the cash-strapped FC Barcelona].
Do you still stand by the Soccernomics argument that football is bad business?
I think football is not a good way to make profits. There are exceptions though like Manchester United and Arsenal, but most of European football is lossmaking. Most of them who own clubs don't see profit as top priority—and in Barcelona's case the members don't see the club as a business. [These members are called socis/socios, the dues-paying ones who number almost 146,000 in 2021; Kuper uses the Catalan soci instead of the Spanish socio in the book.] In fact, nobody inside Barcelona [which falls in Catalonia] sees it as a business. Typically, football clubs plough money back to football.
How different are Manchester United and Arsenal from most European clubs that do not make much profit?
Manchester United have always had pretty much the highest revenues in European football. Until [Roman] Abramovich came to Chelsea [in 2003] Manchester United didn't really have strong rivals who could spend as much money as they could to buy new players. So, they could keep the surplus and still win leagues most of the time under manager Alex Ferguson. And then around the time Abramovich was coming, the Glazers took over the club. [Their stake steadily rose over the decades since they picked up the first tranche in 2003.]
The Glazers don't care about winning titles. That is not what they want. The Glazers are a very rare phenomenon in European football. They do care about profits and they took over a club that was profitable. They live in Florida and they do not care about what the fans think about them. The fans hate them. They have a club that doesn't win titles anymore, but they don't care. Winning the title would cost them money—for that you need great players and to get great players you need to spend money. They would rather finish top four, get into the Champions League every year and make profits. They are therefore an exception.
Stan Kroenke [the owner of Arsenal] does something similar. Where you always underspend and make sure that there is surplus money. Arsenal don't win the League anymore. They haven't won the League for a long time. But he doesn't care. He is in it for the profit as well.
Barça taught world football about playing in the other team's half, attacking all the time, pressing when you win back the ball, playing with your defenders on the halfway line and that playing beautiful football can win rewards
What has changed at FC Barcelona since you wrote the book?
Messi's departure is there in the newest edition of the book. They were delaying the sacking of Koeman over money—because they didn't have the money to pay him. Gavi is coming through. He is only 17 and is a highly talented player. Ansu Fati is coming back [after being injured and out of action for months]. You have young players aged below 20, two of them from the Masia [Barcelona's youth academy that has produced great players such as Lionel Messi, Andrés Iniesta, Xavi, Carlos Puyol and Gerard Piqué]. But that is not enough to create the magical return to 2003 where there were seven or eight great players. They have run out of money. I still think it is a pretty bleak future [for the club].
Why did you write this book? Did you choose the timing of the book, the Covid lockdown, which saw the club slipping into great difficulty?
I wrote this book because I have always been fascinated by Johan Cruyff [former legendary Dutch captain and FC Barcelona manager]. Very little has been written about him. To me, he is the most significant and interesting man in the history of European football. And when the club gave me access, which is very rare in football—in fact, even a small club tends to keep you restricted to press conferences—I was excited. It was the greatest European club at the time. I thought I could really explore the club top to bottom. Those two were the most important factors.
As for the timing, I didn't choose the lockdown. It was due to be released in 2021 anyway. The lockdown gave me more time to expand my research. I didn't realise when I started working that they were falling apart. I realised it only during the research.
You have said that you were happy to take your family along the journey of writing this book, which you mostly penned in your Paris living room. You state in the dedication—to your writer wife Pamela and children Leila, Joey and Leo—that the whole process of researching and working on the book "wouldn't have been worth it without [the family]". Could you please tell us more about it?
I think we have all absorbed the spirit of Spain in the process of my work on Barça. It is a difficult thing to say because Barcelona doesn't always consider itself part of Spain. But we all loved the life there (while we were there during my research). Our children and I enjoyed learning and improving our Spanish. We had decided to spend the schooling year in Spain. My wife already speaks good Spanish. We spent time first in Barcelona but you cannot learn Spanish easily in Barcelona because Catalan is the main language in social life there. Often it is more acceptable to speak English than Spanish there. So, to learn Spanish we had to come to Madrid and so here we are. We loved the beauty of Spanish life and the Spanish language. Yes, my kids became Barcelona fans and we saw Messi one night in his full glory when Barcelona beat Real Valladolid. [In that La Liga clash in late 2020, Messi broke Pelé's record for most goals scored for a single club.] They will be able to talk about it many years from now.
Do you think something like the "Rise and Fall of the World's Greatest Football Club" would have been a more apt subtitle for your book?
We discussed that subtitle for the latest edition of the book. I don't think we did it in the end. I think we plan something similar in the newest edition. In fact, I thought I would write about the rise of FC Barcelona when I started my work and ended up writing about the fall, too.
What are the lessons that Barça has taught world football?
They taught world football about playing in the other team's half, attacking all the time, pressing when you win back the ball, playing with your defenders on the halfway line, that playing beautiful football can win rewards, and that there is necessarily no trade-off between playing beautiful football and winning the game. They taught the world that the most beautiful team can win. In the 1960s, '70s and '80s, the assumption was that the most negative teams tend to win. It was thought that football was really ugly and that there were the British and the German muscular styles that finally prevailed. Those were thought of as the winning ways. Cruyff [the tragic hero of the 1974 World Cup who lost to the scheming German side led by Franz Beckenbauer] said no, you could win with beauty. And that has become the norm now and when you see Bayern Munich now, Italy now, Manchester City, these are Cruyffian football teams.
They also revolutionised youth training. The assumption was that the big kids tended to do better. If you are 13 and you are taller than many others, you can bully your way through, push people aside and become a valuable player. Cruyff said I don't care about that. I care about producing great football and people who can pass and understand that geometry of the football field. And smaller players were better because they had to get rid of the ball quickly before the big guy knocked you over. And Cruyff discriminated in favour of the short. He said football is a game you play with your head and geometry. That was the great contribution he made in the new system that subverted the ideas of physique and youth selection. It was longterm thinking and it clicked. More clubs began to focus on various age groups starting from the very young. That longtermism is another contribution of FC Barcelona to world football.
Does that mean the age of muscular football is a story of the past?
I think that everyone became muscular. Everyone is now faster and healthier. Physical requirements have risen and risen. Players most often don't drink or smoke. Football is about becoming fitter and healthier than ever before. So, the importance for physique has not gone away, but it is no longer decisive because that kind of British power is now universal. You can't be the little guy without power and you can't be the big guy who can't play. So, when everyone is powerful, the most skilful and intelligent players win.
From its fall, what does FC Barcelona teach other clubs not to do?
I think it is very difficult to take lessons from them. When you are Number One, you stop thinking. That is the moral of the Barcelona story. They were the Number One for many years and they had the best youth system. They won all the prizes and they played beautiful football and the money poured in. They became the first football team in the world to post $1 billion in revenues a year. You get lazy in such situations. You stop looking at peers like Bayern or Real Madrid, about what they are doing and what you can learn from them. How are they innovating in football? You don't want to know. Everyone else was learning from Barcelona. Barcelona stopped learning. They used coaches who never travelled abroad to study other youth academies. And Barcelona had a lot of money and they started spending it when someone asked for a raise. Whenever Messi's father [Jorge Horacio Messi] asked for a raise for his son, you said, yes sure, why not!
Money was never a problem for them and suddenly when the pandemic hit, you realised you burnt your way through paying high sums in transfers and hires in five years. Covid destroyed your revenues and there was nothing left.
We are witnessing the passing of an era of two great players, Messi and Ronaldo. You don't have the likes of them in every era and you may not see the likes of them for a long time
You have talked about the imposter syndrome among many players at FC Barcelona.
Well, players often have a very realistic view of their capability. If you were signing for Barcelona, say between 2006 and 2017, you were signing for the best team in the world. The player who is hired looks at Iniesta, Xavi and Messi and this very complicated system, and thinks, what is my role in this team? I am not good enough to do this. They were right in thinking that. Imposter syndrome is often accurate. Players were afraid of joining the level they couldn't cope with. The Peter principle in business explains it. [The principle states that an employee continues to receive promotions to work at higher ranks up to that point where they reach their level of incompetence.] That was one of the issues that potential transfer targets had in mind.
You have said that the loss of Neymar heralded the decline of Barcelona as a club. Can you elaborate?
He is a brilliant player and he is the player that Messi wanted [to play with him at Barça]—the young Neymar, the Neymar who runs fast. You got the highest transfer fee [€220 million], till today the highest [when Neymar went from Barça to Paris Saint-Germain in 2017] in the history of football. You have this money to at least restore the quality, but you are losing the best player of his generation. You need young players to keep refreshing the team. Neymar was exactly the right complement for Messi. And then you waste €220 million almost immediately buying [Philippe] Coutinho and [Ousmane] Dembélé who are not almost good enough. If they had replaced Neymar adequately—and I don't know how they could have—that wouldn't have been the watershed moment it became. That was the error from which they did not recover.
Instead of Messi you blame his father for demanding frequent raises. Why? How much has Messi contributed to the rise of the club and also its financial troubles and finally its fall?
Without Messi, Spain won the World Cup in 2010. So, this was a great team and a great generation, but Messi makes it the best football team in modern history. His contribution to the greatness of Barcelona is essential. They might have won a Champions League or two without him, but they wouldn't be an unforgettable team without him.
Then the demise is partly finances, as I say in the book. I spoke to a former Barcelona official recently and he says Messi doesn't know about finances. That Messi doesn't understand what a bank account is. He doesn't handle that stuff at all. It is not Messi who is aware of the club's financial problems and his role in that. He knew about it when Covid hit and the game lost spectators. He didn't think there was a structural problem.
What do you think of Messi's future in his new team, Paris Saint-Germain?
At PSG, he is a more marginal player because they are not willing to build an entire team around this guy who doesn't run anymore. Sometimes the club tends to do better when he is not playing. He does zero defending and, in modern football, that is quite a luxury.
What do you think will be Messi's career trajectory from now on?
The trajectory will have to be down. The guy is 34. He is no longer in a team that is built entirely around him. I also sense that he is losing motivation. I even see him returning to Barcelona next season. I really think we have already seen his best.
Can we hope to see FC Barcelona great again?
It is difficult. We say in Soccernomics that money buys you quality and they don't have any money to spend now. The wage bill is similar to Everton FC's which means your performance will be similar to Everton's. So, you might even sink further than you are now. Messi is gone for the moment and the club is less attractive to sponsors. If you don't win or qualify in tournaments, your revenues keep going down. Barcelona can't get a rich guy to buy the club because it is not for sale. Emirs from the Arab world are not keen to buy bits of a club like that.
Who are the new players to watch out for as successors to Messi and Ronaldo?
[Kylian] Mbappé and [Erling] Haaland are the names often mentioned by people. I quote Mbappé in the book, saying he is not as good as Messi or Ronaldo. And that it is unrealistic to compare the likes of him to Messi and Ronaldo. Neymar will be 30 next February. I think we are really witnessing the passing of an era of two great players ever. There were never Messi or Ronaldo figures often in the past. You don't have the likes of them in every era. The general level of the game, of course, will rise even in England and Germany. But exceptional players cannot often be produced like that. There is a difference between the general level and exceptional talent.
You have talked about India in the past. What do you think is the future of Indian football?
I have been very surprised about the fact that countries like India have made so little progress in the last 20 years. We had expected, as we say in Soccernomics, that big countries like India and China would learn from how Western Europe plays and copy that. Millions of people there watch the game. But in playing the game, there are no signs of improvement. Italy has learnt that Barcelona way. I am really surprised why India hasn't.