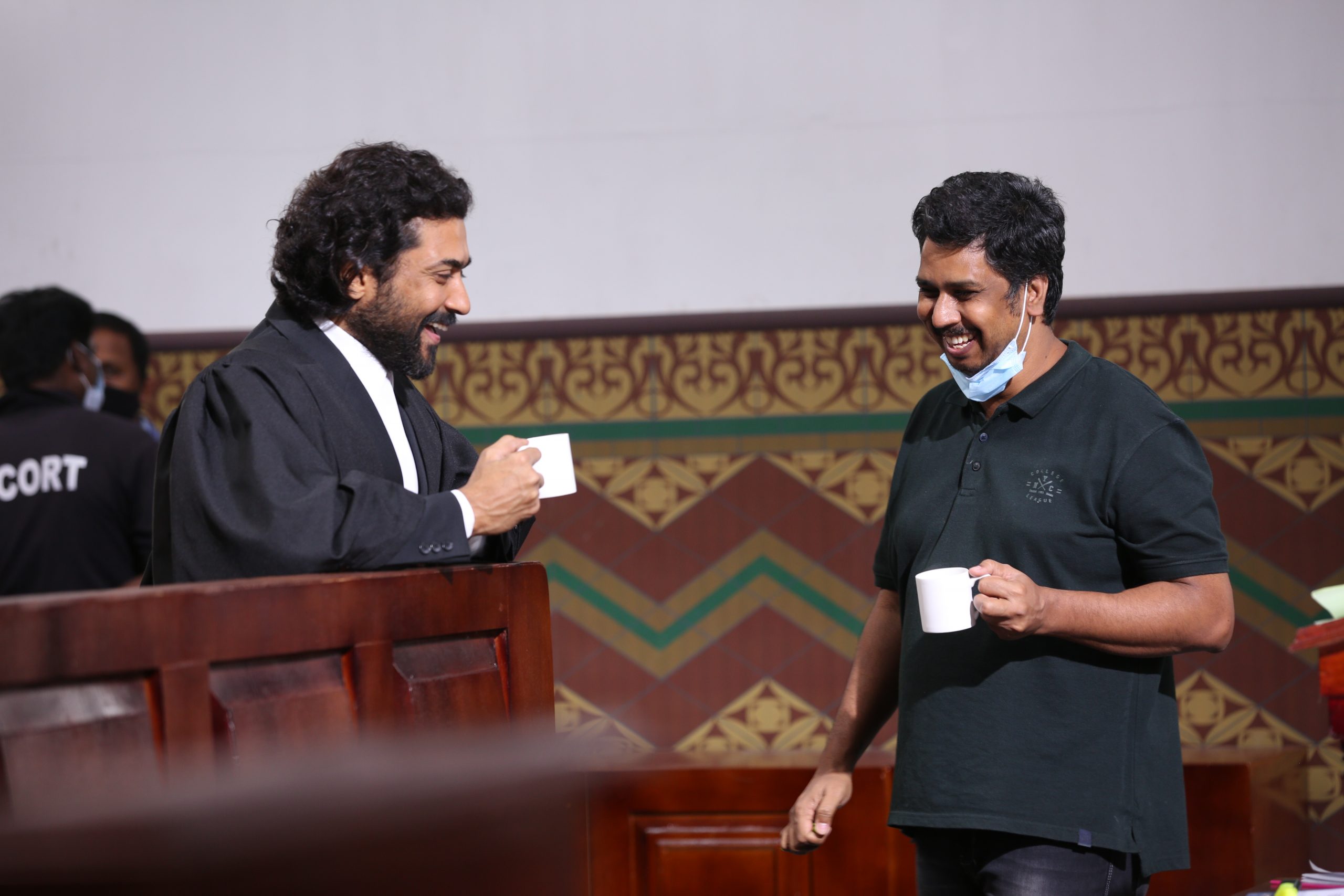 Director Tha Se Gnanavel with Suriya on the sets of Jai Bhim
TJ Gnanavel, director and writer of Jai Bhim, the Suriya-starrer that was launched to critical acclaim on Amazon Prime on November 2, says he had internalised the story of the historic legal case narrated in the movie ever since he first interviewed former Madras High Court Judge K Chandru 15 years ago as a journalist. The movie is centred on the real-life case fought pro bono by Chandru as a young lawyer at the behest of the wife of a young tribal man killed in police custody. What had initially piqued Gnanavel's interest in the case was that – besides it being the longest habeas corpus petition in the history of the Madras High Court –Chandru, who was about to take over as judge around 2006, had told him in the interview that it was the most challenging case of his career.
"I interviewed him for (Tamil weekly magazine) Ananda Vikatan days before he was to become a judge after decades fighting for the cause of the most suppressed people. One of the questions I asked him was about his favourite case. Then he spoke to me about this habeas corpus petition filed by the wife (whose original name is Parvathi, but changed to Senggeni in the movie) of Rajakannu who died due to custodial torture at Kammapuram police station in Cuddalore district (of Tamil Nadu)," Gnanavel told Open even as the movie received rave reviews and widespread praise in the film industry and outside.
Finally, in 2019, when Gnanavel and his team decided to make Chandru's iconic court-room battle into a movie, he met the now-retired judge and took his permission to infuse fictional elements in the case to make the movie more watchable. Chandru, Gnanavel says with a sense of pride, gave him a blank cheque, indicating that the former high-court judge had utmost confidence in him.
"The atrocities faced in real life by the tribals, especially Irulars, who are often stigmatised as thieves and lodged in prisons to prove unproved cases, are nothing compared with what was shown in the movie," the 40-year-old director clarifies in the face of remarks from a section of critics that custodial interrogation and torture scenes in Jai Bhim were graphic and excessively brutal. "It is nothing compared with actual incidents and the indifference of our society towards their suffering," he adds.
He hastens to specify that it was not his intention to cast aspersions on any other caste group, but only to expose the immorality of power. "Whoever gets an opportunity to misuse power against the most marginalised does it with extreme bias. That is what I wanted the world to know. This is something that Irulars continue to suffer although most people still don't talk about it," avers the director when quizzed about the portrayal of tyranny of the middle castes in his home-state. In many parts of Tamil Nadu, clashes between Dalits and powerful intermediate caste groups are on the rise with the former asserting themselves socially and politically. Similarly, tribals also bear the brunt of crimes committed in the name of caste. Gnanavel adds, "It is only natural that each and every caste other than the oppressed caste are negative characters [in the film] since they are shown as part of the power structure."
Gnanavel made his writing and screenplay debut in 2011 with the thriller Payanam (directed by Radha Mohan), and has so far written the screenplay for six movies. He made a foray into direction four years ago with Kootathil Oruthan (A Man in the Crowd) for which he also wrote the story and screenplay. A PhD in Tamil literature from Presidency College, Chennai, Gnanavel is originally from Vellore district. He is the first person to acquire a college degree in his family. He had earlier worked closely with actor Prakash Raj.
As regards choosing the members of the cast for various roles in his latest movie, Gnanavel talks about "two kinds of extremes". He continues, "One is the tribe. They don't have power. They don't have water. They don't have voter IDs. Theirs is a very simple life. The actors chosen for playing their roles are new faces, and many of them are from the Irular tribe. We identified people whom we realised could be trained to perform before the camera. One or two lead characters – Rajakkannu (played by Manikandan) and Senggeni (Lijomol Jose) are not so well-known actors. They had to completely transform themselves to play the role of the tribal people. They went to Senchi (in Villupuram district) and lived with the tribes for two months – to learn how they hunt, work, eat, live, and so on."
"The other extreme is a centre of power: Madras high court," notes Gnanavel. For most roles there we chose familiar faces, he adds. "Suirya, Prakash Raj, Rao Ramesh, Guru Somasundaram and so on. These are well-known figures," he says.
Among director TJ Gnanavel's favourite movies are Children of Heaven (Iranian), My Sassy Girl (Korean) and Kireedam (Malayalam)
Gnanavel, who says that he connects with movies mostly on the basis of content and not as a fanboy, says that when he approached Suriya his intention was only to request him to take up the production of the movie. "It is not a role that I wanted Suriya to play. I didn't want to take advantage of our friendship and make a request to him. But after agreeing to produce it, he asked me whether I had someone in mind for Chandru's role, and when I said no, he said he would do it," the director recalls with a laugh, emphasising that although there are a lot of fictional aspects to the film, the court and lockup scenes are based on real-life incidents.
As with the political parties depicted in the movie, he says none of it is fictional. "Communist parties alone were approachable for the Irulars. It was those activists who exerted the pressure on the police to investigate the matter thoroughly," asserts Gnanavel, who says he is not affiliated to any political party and is a journalist by training and trade. He adds that instead of Mythra (played by Rajisha Vijayan), in real life, it was a worker of DYFI, youth arm of the CPM, who introduced Rajakannu's wife to Chandru while the latter was at Neyveli to attend a function. "There, Chandru gave her his card and then asked to meet her in Chennai. That was how Chandru happened to take up the case," Gnanavel says.
The Jai Bhim director says the shooting for the movie was disrupted twice due to the Covid lockdown, during the first and second waves. Most of the shooting was done in Meghamalai where Irulars usually work in brick-making factories. Some scenes were also shot at Munnar in Kerala.
Asked about the stark and often disturbing portrayal of social and political tensions in society in movies, Gnanavel says that it could be because Tamil Nadu is a land of social justice and that spirit was imbibed by filmmakers, too. He adds that he has learnt a lot from Kerala movies, especially people's stories. Among his favourite movies are Children of Heaven (by Iranian director Majid Majidi), My Sassy Girl (by South Korean director Kwak Jae-yong) and Kireedam (Malayalam movie directed by Sibi Malayil and written by Lohithadas). He is deeply enamoured of modern Tamil literature. "I am obsessed with many writers starting from Pudhumaipithan to S Ramakrishnan."
Gnanavel says he used the photos and busts of the likes of Karl Marx, Ambedkar, Periyar and Lenin in the movie because of Chandru's communist background and his admiration for the work of people like Periyar and BR Ambedkar. "Chandru sir's book 'Ambedkar Oliyil Enathu Theerppukal (Light of Ambedkar in my judgments)' is proof of his great respect for Ambedkar," says Gnanavel. He regrets that the slogan Jai Bhim and Ambedkar are often identified with a caste. "Ambedkar cannot be reduced to any particular community. It is gross injustice. In my school days, I never saw Ambedkar in any of the fancy-dress competitions. Which is why I showed that part in the movie. He is such a towering leader that I never knew why he was always left out… Jai Bhim, in fact, is the slogan of all those who are suppressed. Their weapon is the Constitution of India. If women are suppressed, Jai Bhim is their slogan, too." Gnanavel, whose wife Kritika assisted him with the screenplay for Jai Bhim, wants entitled people of society to know that perpetrators of crimes against the excluded are thriving thanks to their silence. "Our silence is criminal. That is what I wanted to say in the movie," he sums up.