Emboldened by its victory, the Kerala CPM will resist any bid by its central leadership to align with Congress anywhere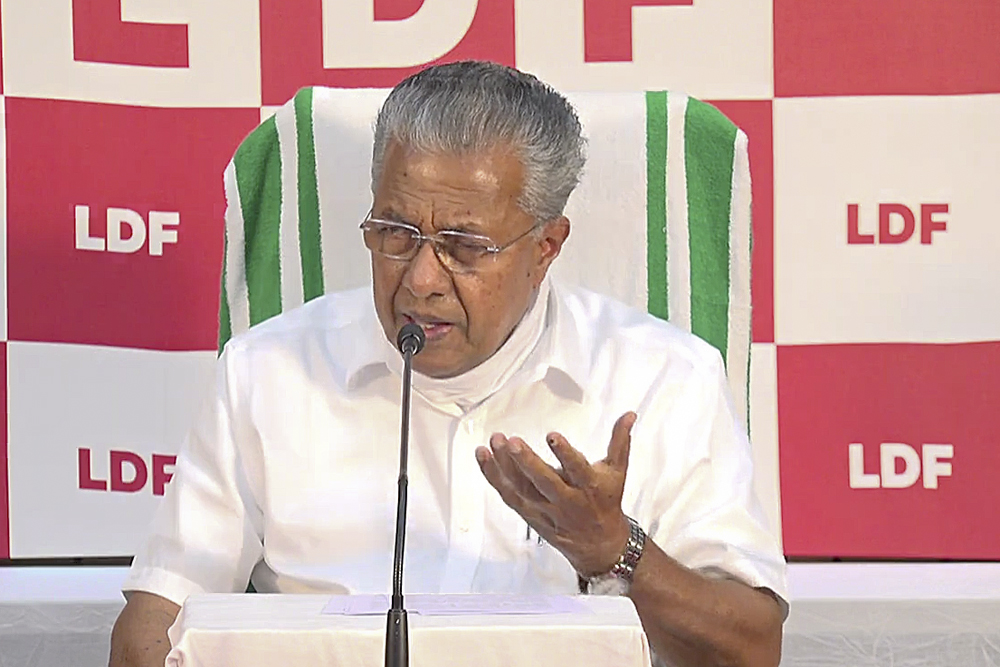 Pinarayi Vijayan addressing after the election results, May 2, 2021
Kerala Chief Minister Pinarayi Vijayan has made history by becoming the first incumbent in the state to return to power. The Left Democratic Front (LDF), the coalition he is part of, has also made history as the first coalition to return to power since 1977 for the second straight time. In a state where communists have often made history, this may not be an epoch-making event. After all, in 1957, EMS Namboodiripad did make history by becoming the first elected head of a communist government in Asia and third in the world (following San Marino and British Guiana).
But back when EMS was in power, the undivided Communist Party of India had a wider national presence and communism was in vogue as an international movement presided over by the Soviet Union. New nations were coming under communist control in many parts of the world as the Cold War intensified. Ideological positions were still sacrosanct and it looked like dreams could come true.
Now, over 30 years after the dismemberment of the Soviet Union and shrinking of the Left in the country to its last outpost of Kerala, CPM's central leadership has been reduced to being the media equivalent of a far-flung foreign bureau.
Some years ago, CPM General Secretary Sitaram Yechury had countered criticism in a state conference of the Kerala CPM, which disliked the party entering into an understanding with Congress elsewhere, especially in West Bengal, saying, "You must understand that our party is Communist Party of India (Marxist), not Communist Party of Kerala (Marxist)." Yechury's hope was that the party could enter into a poll pact with Congress in Bengal and manage a win against Mamata Banerjee's Trinamool Congress in the 2016 election. His calculations were misplaced: Congress benefited more from the alliance than CPM because, while CPM transferred its votes to Congress, the reverse flow didn't happen.
Yechury didn't give up. Two years later in 2018, at the Hyderabad Party Congress, he proposed a crucial change in the political resolution presented by his rival Prakash Karat over alignment with Congress. Yechury put up pressure to push what he called a minority view that he averred needed to be discussed. Most days of the conclave were wasted over this semantic quibble. A close scrutiny of the draft political resolution and the one that was finally adopted revealed hardly any difference between them. The word 'understanding' was excised from the political resolution to state that the party could join hands with secular democratic forces 'without having a political alliance with the Congress party'.
Yet, Yechury continued to endorse an alliance with Congress in West Bengal and the Kerala unit kept silent in the name of political expediency although it came under attack back at home. Grin and bear it was the attitude they had adopted. The CPM unit in the state had often fought tooth and nail any proposal of other state units to join hands with Congress as well as so-called communal forces.
This time round in Bengal, CPM tied up not only with Congress but also with an organisation called the Indian Secular Front (ISF), floated earlier this year by the 34-year-old Abbas Siddiqui, a pirzada or cleric, of the shrine of Furfura Sharif in Hooghly district. Cobbled by CPM politburo member Mohammed Salim, a Yechury loyalist, this alliance was seen as an opportunistic attempt to pitch one form of communalism against another. With the Left-Congress-ISL combine being decimated in Bengal, the futility of such formations will be reviewed.
Yechury certainly has tough questions to answer. The emboldened Kerala unit, which had earlier vetoed a plan by Congress to nominate him to Rajya Sabha, is sure to act tough.