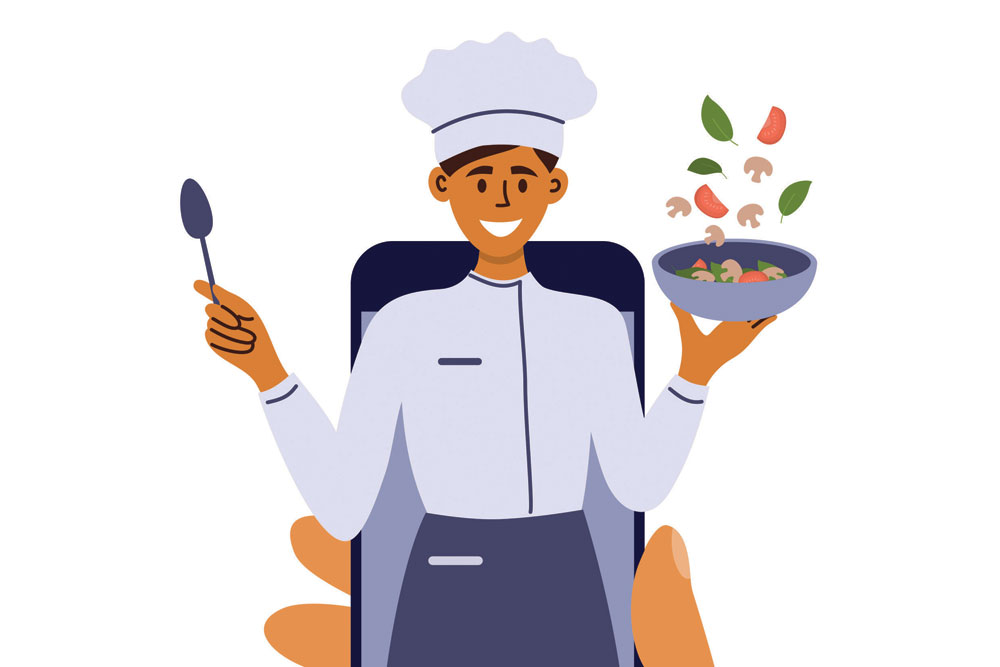 (Illustration: Saurabh Singh)
THE IC in IC Colony in Mumbai's Borivali stands for immaculate conception. Chisy Das, who resides there, wants to believe that her new venture, a home kitchen, was conceived similarly, with patience, passion and perfection. This former MNC professional and her husband, who was in the construction field, considered several options before settling on DumDun as the name of their new business.
Das had been a media professional and, later, an ace brand manager. On March 10th last year, the company she had worked for laid off her team, except for her. But she didn't want to go back. "Those were troublesome days," she notes. More troubles were in store: the Covid-19-induced lockdown changed their lives. The husband and wife, who have a 12-year-old daughter, had to start afresh as their previous careers hit the skids. After a few months of learning to 'stay calm', in September last year, they launched DumDun whose specialty is biryani. "We make charcoal tandoori biryani. That is our signature dish," says Das. As the orders mounted, they decided to rent a one-bedroom house and employ a few hands to assist them. "My husband and I are crazy about cooking," Das notes.
The home-kitchen trend grew rapidly in India in 2020, engendering a whole community of 'Covid chefs'. Powered by a steady stream of customers—mostly their own friends and acquaintances from the neighbourhood—this home-chef revolution has converted thousands of talented homemakers as well as professionals into a veritable hospitality brigade who work on their own terms and at their own pace. They retail through WhatsApp groups, and marketing is purely by word-of-mouth. There is hardly ever a fixed menu—for, unlike restaurants, a homemaker must submit to the produce her sabziwala brought in that morning. If her friends already know that she makes great pepper-chicken curry, however, then she offers it every day, except during lockdown in the area.
The highlight of this new hospitality business model is that instead of the restaurant going all out to please customers with inviting interior décor, trained servers and high-quality and consistent menus, here it works the other way round: the customer must align to the needs of the meal provider, from the menu to the time of being served or even stepping out of one's home to go and collect it.
Home-chef businesses took off late last year when customers were still wary of eating out at restaurants and preferred fresh home-cooked, delicious meals while taking a break from their own cooking as they were locked down or working from
home. The trend continues to thrive even after the easing of the lockdown.
What is a new livelihood option for Das and her husband is a dream come true for Delhi-based Shirin Sabharwal, who loves bringing up the distinction between the commercial and the personal in cuisine.
As a former chef at a five-star hotel, she should know. Unless you are on your own, you cannot apply your culinary arts training and aptitude to perfection, she argues. Which is why she feels the happiest in her new avatar as a home chef who decides what is on her menu every day. Her specialty is continental food and what she considers a boon is the rise in awareness levels in India about this cuisine thanks to travel and cooking shows.

Until opportunity struck during the lockdown last year, the 30-year-old had been employed in more commercial pursuits. An alumnus of Institute of Hotel Management (IHM), Aurangabad, she was a chef at Taj Damdama in Gurugram, Haryana, overseeing its continental cuisine. "It was a great experience, but I felt after some years that my growth was being restricted," says Sabharwal, who finally quit her job and started her own catering business called Dine Divine. Though she used to offer party catering initially, she began delivering food in her Vasant Vihar neighbourhood, and later expanded to south Delhi over the past few months.
"To deliver continental food is a tricky thing. You have to pack it exclusively and provide tips to the clients before they eat. Otherwise, the quality may go down," she warns. She changes her menu every day and tries different flavours and styles, including keto meals and low-oil dishes. "People are now more used to the variety in global cuisine. Also, more vegan ingredients are available," notes Sabharwal, who typically sells a three-course meal consisting of salad, main course and dessert. Her customers are mostly families, and she receives orders through WhatsApp and social media. Sabharwal posts the next day's dinner menu at 9PM the previous night and closes orders at noon. She has tied up with delivery-service apps and sometimes delivers herself if the location is close by. "I cook my meals the way I would like to eat," she says.
Mumbai jewellery designer Rhea Nasta had to temporarily close her studio at Bandra once the lockdown was imposed last March. The 51-year-old started spending more time at home, cooking. "More time and attention went into getting my baking right," she says about her grandmother's recipe of making Sindhi nankhatais, which are traditional cookies. "There is a Sindhi custom of sending these items of confectionery to a daughter's home or those of close relatives, especially during festive occasions," says Nasta, adding that in July last year, she gift-wrapped her homemade nankhatais and dispatched them to her daughter's home in the city.
"That set the ball rolling," says Nasta, a gemologist. As with many others who discovered their potential as a chef in the time of Covid, she was persuaded by relatives and friends to make her special cookies for them. Then her daughter drafted a message for neighbours near Nasta's Prabhadevi residence. She was soon flooded with orders—people not only wanted to savour the confectionery themselves but send to others as well, Nasta says.
By end-July, she decided to go professional, turning baking into her second career. She tied up with delivery apps to sell her products to various parts of India's commercial capital. More festivals meant more orders. "I use sulphur-free sugar and, on some occasions, I use jaggery for variations," she says.
Soon, her product, sold under the label 'Shudh Ghee Nankhatai', was a big hit. "I have sent them outside of Mumbai, to Delhi, Kolkata, Hong Kong, Singapore, and so on," says Nasta, who says she gets help from her mother-in-law in the kitchen. There are no signs yet of any slide in orders.
It wasn't just established professionals who switched careers or launched accidental startups during the lockdown, but also young adults starting out in life. Twenty-one-year-old Soumya Sofat, a singer, songwriter and a recent graduate from Delhi University who lives in Noida, doesn't remember when it first occurred to her that she could sell the doughnuts that she was an expert at making. She began sharing them with some of her friends in her gated colony, and when they encouraged her, she decided to sell them as a hobby.
Sometime in August, on a whim, this alumnus of Delhi Public School, RK Puram, shared a line or two on the building society's WhatsApp group about her doughnuts for sale. "I was overwhelmed by the response," says Sofat, who learnt the art of making doughnuts through books available at home—which includes Bake with Shivesh and others—and by browsing for recipes online.

On day one, there were 10 orders from the apartment complex. It left her with a craving to learn more about baking as well as packaging. "I decided to use only eco-friendly packaging options," says Sofat who adds that it took a few weeks for her to polish her baking, branding and packaging skills. Soon, she says she felt inspired to "take it a little further" and to deliver her doughnuts across the national capital region. "There are apps available like Wefast, Pidge, Porter, Lalamove and others that are prompt with delivery," says Sofat. She takes orders for her handmade doughnuts on her WhatsApp number and her Instagram page. "I also make customised pieces," asserts the psychology graduate, who says she donates 10 per cent of her profit to charity. But she hasn't let go of her love for singing. As a trained musician, she has performed at various clubs and restaurants in Delhi and elsewhere in India and aspires to study music at Berklee College of Music in Boston. Doughnuts, she says, are like a moveable feast, and will travel with her.
The craze for hygienic food and delicacies from home kitchens is not restricted to big metros alone.
Parul Ahuja saw her earnings from her language coaching centre in Moradabad, Uttar Pradesh, dip due to the lockdown. The educational institute was launched in the city, known for its brassware, by the 46-year-old along with her husband several years ago. It attracted a large number of students until the pandemic hit and schools and colleges shut last March. Ahuja swears by the dictum: 'necessity is the mother of invention'. "I had always been a good cook. My friends loved coming over to eat my non-vegetarian preparations," says the mother of two girls. Then everything happened swiftly. Her daughter helped her create a WhatsApp group comprising neighbours, and designed an ad with a menu and price list for her home-kitchen business. It became so popular by word-of-mouth that she could make enough and more to meet her family's needs by monetising her culinary skills during an adverse situation.
Ahuja's coaching centre is back in full swing now. But she doesn't want to stop her home-chef business because it not only brings in money but also the satisfaction of rediscovering one's "inherent potential" that was long untapped, she avers. The most popular item on her menu is called Chicken Dobara (loosely translated as 'Chicken Again'). She says she coined the name of the signature dish because anyone who orders it once ends up ordering it again. Her USP was that she focused on non-vegetarian food although her menu has a few vegetarian dishes on offer too. "People here mostly don't cook non-vegetarian food at home, but they order from outside. When the pandemic panic started, they didn't want to order from restaurants but from a place they knew and that supplied home-cooked food. In the early months, I used to ask my clients to bring their own utensils to collect the food," she notes. Despite her intention to slow down, she still takes orders due to demand from repeat customers. "They have to call me before 5PM if they want to collect their dinner by 8PM," she says.
The prerequisite for her success, and that of others named here, they confess, is that they are sticklers for hygiene. Without which the whole USP of home-cooked products cannot be sustained. They all dwell at length on sanitising and choosing fresh raw materials and mostly disallowing others to enter their kitchen while they are at work. Many of them enjoy a loyal clientele and repeat customers even as the Government has announced plans to regulate home kitchens.

Delhi's Kaveri Jain goes a step further and gets herself regularly tested for Covid to reassure her customers. Belonging to a business family that is into liquor manufacturing, among other laterals, she prides herself as a fabulous host and a cook for friends and family. "I have always wanted to feed people; it was never my intention to sell food to make money," she asserts. But the lockdown increased demand for her homemade baked goods and, under pressure to supply to more and more people, she decided to launch a brand and charge for her goodies. "Initially, I made the menu but not the price list, but gradually as customers grew or returned, I had to come up with a price list," says Jain, who runs a food page on Instagram and is also a food writer and stylist.
Jain, who lives in Delhi's Panchsheel Park area, specialises in brownies, sourdough bread of various flavours and a dozen other items (including hummus, flavoured loaf cakes, herbed garlic butter, and so on). Her customers order through WhatsApp and social media. "I make my sourdough bread for healthy eating without using commercial yeast. I make yeast myself and so baking these breads takes a lot of time. Mine is therefore a class product and cannot be made in bulk. I am happy with that. What is important for me is the quality of what I make," says the mother of two.
She says it is heartening to get repeat customers who are also ready to wait because some of the items on her menu cannot be made in a hurry. "I love customers who have patience and love of good, wholesome food," smiles the Hindu College alumnus. Though Jain has toyed with the idea of opening a bakery for years, she is at present content with baking handmade products that are of high quality and take time to produce.
Insistence on quality is another factor that is pivotal to the sustenance of home kitchens, which do end up costing more than regular restaurant takeaways. After all, unlike food apps or online delivery, there is no 'rating' system to judge anyone's worth, and it is purely a word-of-mouth business model. The fact that this trend that started during the lockdown continues to endure, and even thrive, confirms a shift in perceptions about customer behaviour—that whoever orders food invariably wants it as quickly and cheaply as possible. In this case, a set menu is decided by those who make it at their pleasure and will, and the customer is willing to respect it and wait for it.
Deepa Rupani could not agree more with that assertion. The Juhu, Mumbai-based nutritionist, who had to temporarily close her office during the lockdown, makes low-calorie, healthy desserts using pure vegetarian ingredients and no gelatin. The emphasis on quality is inviolable, she states.
She started her 'dessert initiative', called love.at.first.bite, after feeling stifled at home. A sport enthusiast and marathoner, she ensures there is enough calcium and protein in all her desserts. "I still get orders and although I am once again busy in my nutritionist role, I have no plans to end my second career as a high-quality dessert chef," says the 41-year-old mother of a teenager. As long as customers keep demanding their homemade preparations, home chefs see no reason to call it quits even after the pandemic becomes a memory.