Parvathy is done with the whataboutery of the Kerala film industry. The straightshooting actor shares her hopes and frustrations with Ullekh NP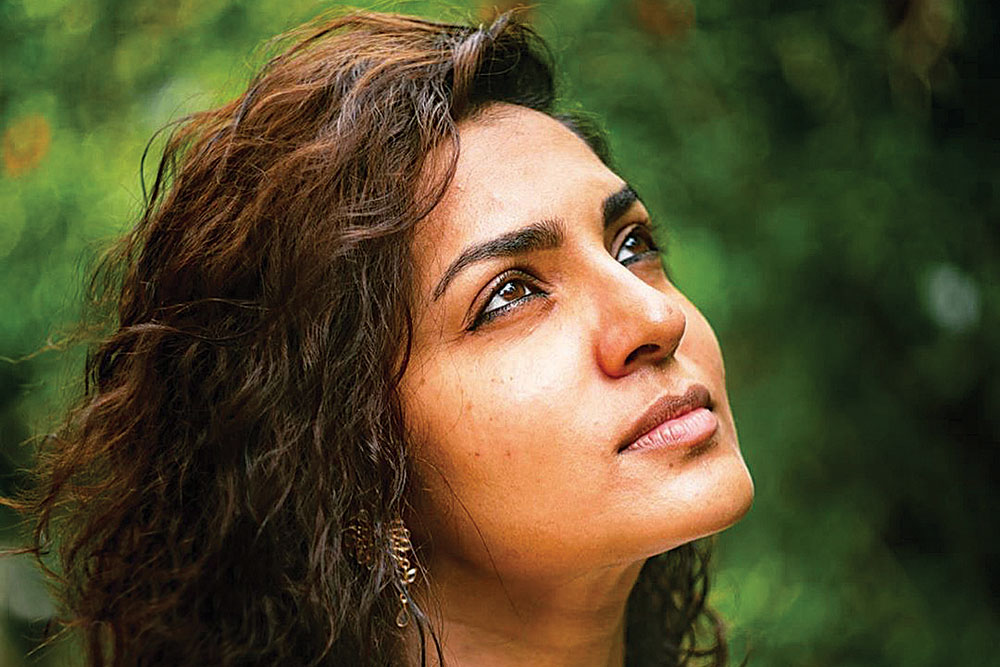 Parvathy (Photo Courtesy: Aum Thiruvoth)
PARVATHY THIRUVOTHU, popularly known by her screen name Parvathy, is an outspoken and well-read feminist known for her roles in multiple south Indian languages and in Bollywood where she had starred in Qarib Qarib Singlle (2017) alongside the late Irrfan Khan. Her most popular films include Poo (Tamil, 2008), Take Off (Malayalam, 2017), Uyare (Malayalam, 2019) and Virus (Malayalam, 2019). Recently, the award-winning actor quit the nodal actors' body of the Malayalam film industry, Association of Malayalam Movie Artists (AMMA), over a derogatory remark by the general secretary of the organisation about a fellow female Malayalee actor. Kerala, feted for its high social indices, has often incurred the wrath of feminists over its toxic masculinity on and off screen.
Undeterred by rape threats and cyberstalking, the likes of Parvathy, who is part of Women in Cinema Collective (WCC), are leading a crusade against the scourge which often brings them face-to-face with big names in the industry. "For me they are not superstars unless they also have a moral compass," says 32-year-old Parvathy. She spoke to Open from the sets of a short film she is shooting, along with an untitled movie directed by Sanu Varghese. Excerpts from the interview.
When did you start feeling that AMMA does not stand up for the rights of its female members?
Ever since the incident happened in February 2017 [when a leading female actor in Kerala was abducted and allegedly raped]. I found their 'support' to be rather performative than holding any value to help the survivor. That really confounded me. Three members resigned as members of AMMA in protest against this injustice, including the survivor, but I, Padmapriya and Revathi stayed back as a strategy to fight on.
We went through the bylaws of AMMA. We went for its executive committee [EC] meeting which was, in hindsight, a big drama to ensure that we as well as the media kept quiet for a while. We wanted them to request the survivor to return to its fold. We also had questions about the bylaws and about the internal complaints committee [to probe sexual harassment at the workplace]. We kept writing emails to them and they never responded. The next thing we knew was the president and a few EC members organised a press conference where they said the survivor needed to apply for a membership in AMMA in order to come back. And so, we decided to go into the general body meeting with the same set of questions. We realised that 90 per cent of the members had no clue that the EC was going to redraft the bylaws which were atavistic and they were going to make them more regressive. Essentially, more powers would be vested with the EC, making the general body almost toothless. Out of 15 members of the EC, only three were women.
Two of the male EC members are legislators in the Kerala Assembly. They speak from such power that only some five-six of us at the general meeting asked questions. We got up to speak and found a slot to make our voices heard, even as AMMA was almost close to passing the new amendments to the bylaws without any voting. Thanks to our intervention, they had to freeze that move.
Since that day we had told them we are ready to work with them, with our lawyers on our side, and form a committee for bylaw amendments. But as expected there was radio silence after that.
Did the AMMA general secretary make the statement, which triggered your exit from AMMA, about the actress herself or was it about the character she was going to play in a movie (that "she is dead now")? Is there any confusion?
There is no confusion. I watched the video so many times before I made my decision. I wanted to be sure. What he said is completely out of line.
You always enunciate each letter in the acronym AMMA instead of pronouncing it 'Amma'. Why?
It is dishonourable to use the word 'amma' [mother] for the organisation. They are the most regressive and anti-women organisation that I have found on every count. I call it A-M-M-A because people need to see it is an organisation and stop putting it on a pedestal that it doesn't deserve.
How far have things changed in the industry since the early days of your acting career?
I have far more hope that things are going to change now than when I joined the industry. Back then, I had zero hope. It was incredibly male-dominated and it wasn't even discussed openly. There was a strange pattern that women were never allowed to huddle together. There were production controllers and the way they would speak about an actress to another used to be very derogatory. We came to know much about all this after we came together as WCC. We never knew there was an underlying plan to stop us from interacting closely, to ensure that we don't share our secrets and experiences. I feel we were all floating little islands until WCC came together.
Nevertheless, I was vocal about me reading the script before signing on. They used to ridicule me for that. They used to ask questions like, 'Oh you will only read the script and say yes?' It was as if it was not the right of an individual to ask to read the script to know what task lay ahead of them. They treat women as if they have no agency of their own. Newcomers are made to feel they were being offered a favour by producers and directors by hiring them for a movie.
Many male actors blame female AMMA members for being selective in their outrage — that is, people complain only when it suits them. What is your response?
There is a good word for it: whataboutery. Basically, they need to be called out for their whataboutery. The onus is on them to answer this, not us. I have seen a lot of women do it too. I don't even want to dignify such statements. There are so many ways in which they would try and digress from the issues at hand.
You have called out some big names for their misogyny.
Yes, I have called out a few idols that have been created out of human beings who are as flawed as any other person. It is strange that you can pick and choose where and when you glorify them. You can talk highly of their superhit movies. But what about their basic moral responsibility? If there is gross injustice at their own workplace and they are quiet about it, they are enablers. Period.
What is the state government doing about it?
I would like to voice out my disappointment over the delay by the Kerala government in placing the report of the Justice Hema Commission [appointed two years ago to study gender discrimination in the Kerala film industry]. WCC is the one that sought this commission. The recommendations have been made, but it is not yet in the public domain. We understand this is Covid time, but we have to make sure there is a preventive and prohibitive mechanism. Why are those recommendations still in cold storage after a lot of time and money has gone into the creation and running of the commission? We need a tribunal in place. Or else, more women are going to drop complaints for want of redress mechanisms. This wouldallow criminals to terrorise them with absolute impunity.
Is your Collective (WCC) a cohesive entity?
Of course, there are differences of opinion. WCC is full of people who are from a varied range who work in various departments in the film industry. We strive for healthy debates and discussions. We call it sisterhood, yes, but we don't want to put it on a pedestal where some of us cannot be touched or questioned. We are disruptors, we are whistleblowers, but we are also a support system. We are supportive of every member in the film industry who is willing to make the change along with us. Our core belief is that we are here for equal spaces, equal opportunities and we want to be treated with basic human dignity. We at WCC have come from different notions of feminism and we have evolved over the past three years in our understanding of it. We are looking to speak the truth and move forward together.
What is your idea of feminism and how has it evolved?
My idea of feminism used to be the very basic idea of it which is about holding equal spaces for everybody so that there can be freedom to make a choice without any conformist ideas pushing them to make that choice. That notion itself has not changed, but by being part of WCC and with the help of my closest friends I have come to realise one cannot overlook the core part of feminism: intersectionality. Feminism is not something that can be applied in the same way for each person because of their economic, social and political backgrounds. The more conversations I have with fellow women, the more I am able to understand their perspectives. It has led me to understand my own privilege and how that has enabled me to do and be so many things. That is not the case for those who go through casteist oppression or are harassed based on their sexual orientations and gender.
Can you elaborate on your privilege?
I was born and raised in an upper-class Hindu family. That cushions a lot of the blows . I did not recognise the cushioning I had until I started working with WCC and started listening to others. I have strongly felt that to a really great extent, the justice I have received often is because of my skin colour, my caste and so on. There are women who stand to lose because of lack of that privilege.
You are up against formidable powers. How do you plan to go ahead?
What is it that makes them formidable? It comes with a certain structure from which they have benefited by oppressing others. That is the power structure that I would like to break. That is an ongoing process. We have the same agency as any other person. There is a façade of niceness and we do not want to be part of it. I plan to continue to work, produce and direct movies, and aid and facilitate moviemakers who are trying to make a change. The strongest way to make change is actually by making a very good connection with the people by giving them quality content. That is what I am very focused on at the moment.
I don't think the market changes all this just on its own. I think we have the power to change the market. We are figuring a way out. People who are likeminded are coming together. That an all-encompassing power structure is irreplaceable is a myth. The tide is shifting already. The age-old oppressor structure will be replaced. OTT [over-the-top or streaming media service] opens up a lot of opportunities for us. In time we will have a far more concrete plan in place.