RATAN TATA, CHAIRMAN, Tata Trusts, and chairman emeritus, Tata Sons, is on Instagram, the Facebook-owned social networking service where 'stories' are essentially photos and videos. With three million followers, the former business tycoon has till October 14th shared only as low as 32 'stories' and that includes photos of him as a schoolkid in America in 1955 and one with his late dog Tito, among others. By his own admission, his familiarity with the social networking space isn't deep, yet he sensed that people were pulling down each other online, which is also known as bullying. That prompted him to appeal to bullies sometime in June: 'This year has been full of challenges for everyone, on some level or the other. I see the online community being hurtful to each other, bringing each other down, harshly and with quick judgments.' Tata has been sharp at diagnosing the malaise called bullying although he said his presence online was 'limited'.
Mumbai-based researchers who have been analysing cyberbullying before and during Covid-19 find their results confirming Tata's worst fears: that it is in the most challenging times in recent history—lockdown—that bullies have unleashed their fury over others on social networking sites and messaging platforms.
Actor and filmmaker Pooja Bhatt even received death threats on Instagram, forcing her to make her account private and come out with tweets about her ordeal. 'People threatening violence/hurling abuse, suggesting you die seems to have become a norm on @instagram when reported, #Instagram mostly responds saying that the conduct does not go against their guidelines & suggests you block them. #Twitter has far better standards/guidelines,' Bhatt wrote. 'What's even worse is that most of the abuse and messages screaming 'Go die' or 'why don't you kill yourself' come from women or at least people pretending to be women—one can't really tell with @instagram anymore. Get your act together @instagram cyberbullying is a crime,' she wrote from her verified Twitter handle.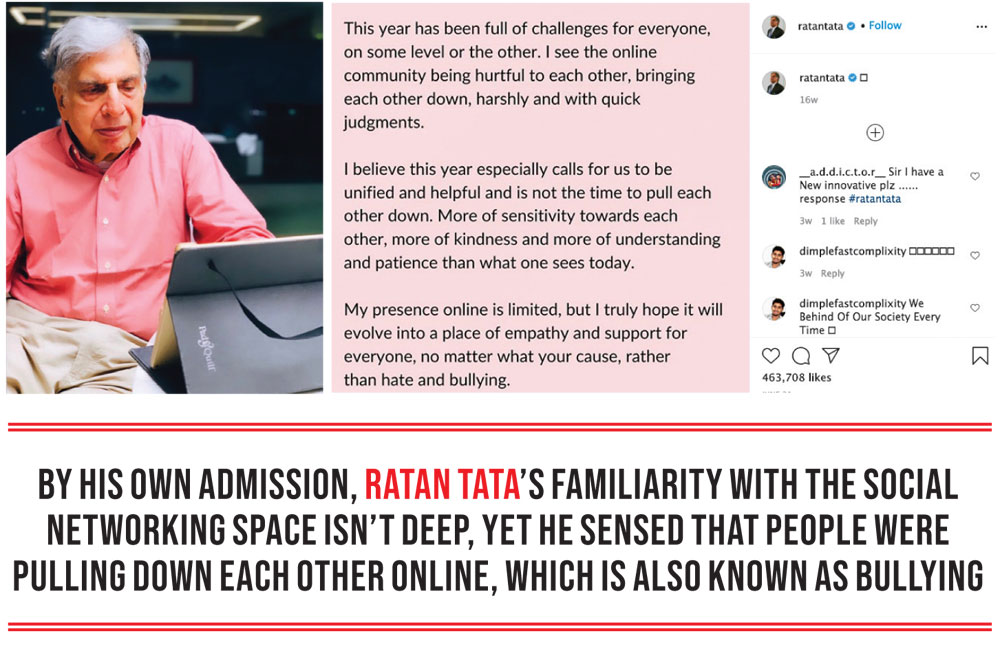 If you thought such attacks had only to do with the furore and anger, manufactured or otherwise, over the death of young actor Sushant Singh Rajput whose case undoubtedly acquired political and provincial colours, the study, mentioned earlier and conducted by a team of enthusiastic researchers at the Narsee Monjee Institute of Management Studies (NMIMS), which was published in the Elsevier peer-reviewed publication in late September, busts all such myths. Open has followed this trauma-inducing trend of cyberbullying that involves hacking, verbal abuse and nuanced body shaming, besides others, for long. But the situation, as studies and numbers from agencies suggest, is hurtling out of control with more people entering the online space to entertain themselves and to seek the pleasures of offline platforms online thanks to the lockdown.
'Owing to the Covid-19-induced lockdown in India, most people's internet activity surged, leading to an expected increase in the rate of cybercrimes. This research focuses on analysing whether the factors significant in cyber-bullying susceptibility changed with the lockdown,' announces the Elsevier paper titled 'Has the COVID-19 pandemic affected the susceptibility to cyberbullying in India?' The study, which surveyed 256 students before the pandemic in October 2019 and 118 students during the lockdown in June 2020, is authored by Ojasvi Jain, Muskan Gupta, Sidh Satam and Siba Panda.
Jain, who is a BTech student of data science at the institute, told Open that the team had collected data on cyberbullying ahead of the pandemic and after Covid struck, decided to do another survey to make a comparative analysis. The results were shocking in that it showed a rapid rise in bullying on a range of factors, including age and other demographic variables.
This paper argues why the number of cases of cyberbullying has grown faster than usual during the lockdown. It says, 'New factors emerged such as Instagram as a preferred social media platform along with the number of games and gaming chat platforms preferred by respondents. Apart from these, even demographics of the respondents such as their age and sexual orientation were found significant during the COVID-19 pandemic, which were not significant before. The emergence of these new factors and their degree of significance, depicts a change in cyberbullying susceptibility and can provide for the basis of study for future researchers.'
According to the NMIMS study, the most prominent form of cyberbullying is stalking (71.21 per cent) followed by posting derogatory comments (64.39 per cent), leaking pictures/videos online (41.67 per cent) and harassing (21.97 per cent). All this also signifies that most individuals have faced more than one type of cyberbullying, the authors reason.
The majority of the victims surveyed for this study said that they were not negatively impacted by the act (37.88 per cent) whereas 30.30 per cent said they were negatively impacted. Unfortunately, although the Government has advertised it many times that complaints should be promptly made on http://www.cybercrime.gov.in, the study found that the severest reaction by the victims was only reporting and blocking perpetrators on social media platforms. In fact, one should not run into a conclusion that such online platforms are any less concerned about such bullying. They have also advertised aggressively, asking the victims to report bullies. But cyber analysts contend that they could do more than asking them to report. "In fact, they just ask you to block the malefactor," a Delhi-based senior government official said.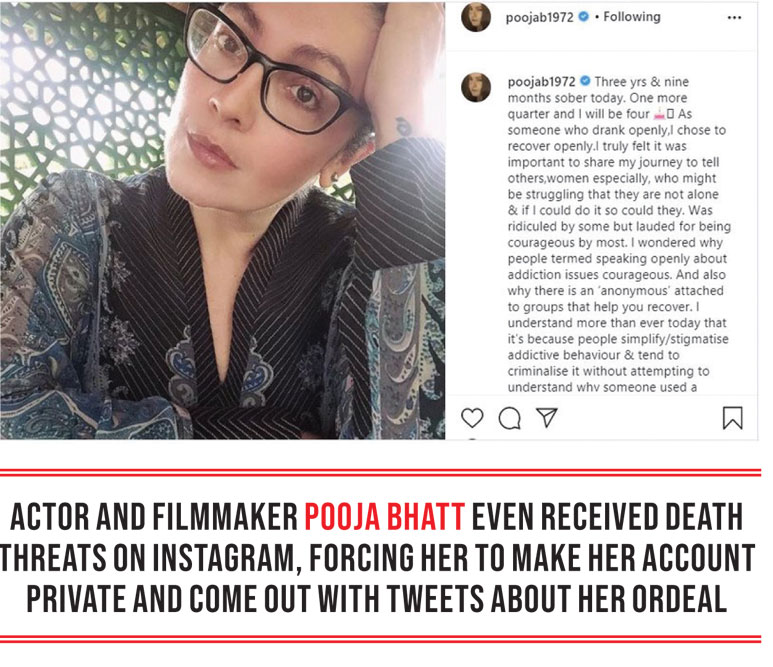 The Mumbai study concludes that the victims mostly blocked their bullies on social media platforms (39.39 per cent of the respondents did so), many others ignored them (29.55 per cent). 'Merely 4.55 per cent of the victims took legal action against the bully by reporting them to the concerned government authorities,' the report says. As in the case of sexual assault offline, a majority of the attackers were known to the victims here too. In 68.18 per cent of the cases, the perpetrator was known to the victim, and the authors contend that familiarity could be behind the gross underreporting of cases.
In some cases, victims treat the bitter experience as par for the course. "We grin and bear it because it is seen as an unpardonable offence if we complain even to school authorities about someone hacking into our social media sites, especially Instagram," says a former female student of Delhi Public School, RK Puram. In fact, in her book, Stoned, Shamed, Depressed: An Explosive Account of the Secret Lives of India's Teens, author Jyotsna Mohan Bhargava writes about how teens take pride in hacking somebody else's account to fit in while the victim seems to derive a certain pleasure in the fact that her account was hacked into. She describes it as a badge of honour for some people. Bhargava writes, 'Many hacking victims dismiss it as a rite of passage in school—you aren't relevant if your account hasn't been hacked at least once.'
Even those who make such posturing and many others go through unexplainable trauma and long-term psychological consequences. The Omerta-kind of code that insists only the faint-hearted approach authorities, drive many of them to psychiatrists and counsellors. "I have seen many teens under counselling commit suicide and many others coming back from suicide attempts struggle to get back to being normal. It is a constant struggle and the stories are mostly untold and suppressed in the name of everything from family honour to ensure that these experiences don't impinge on their lives in the future, since India is a country where there are stigmas attached to everything from mental illness to meeting shrinks," says a reputed psychologist who spoke on condition of anonymity so as not to embarrass her patients.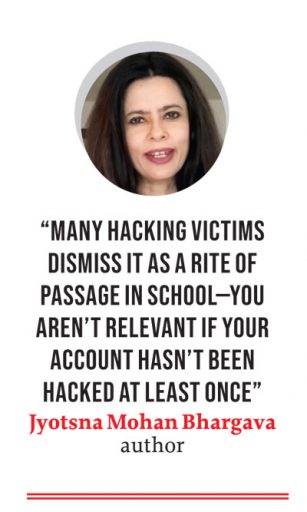 THE NMIMS STUDY, unsurprisingly, throws up an interesting result as regards the action against the perpetrator. There is not much change in pre and post-Covid periods despite the rise in cases in the latter period. The study makes some recommendations: 'Various stakeholders such as students, parents, government authorities, psychology experts, and researchers can leverage these findings to spread more awareness about the impacts of cyberbullying to curtail the number of cases and encourage the victims to report these cases to proper authorities. Further studies from the bully's perspective can also be conducted to get more information on the various reasons behind cyberbullying.' The paper adds, 'Apart from this, studies can focus on the causal relations between the various significant factors. Statistical post-hoc tests can be conducted to delve deeper into these causal relations. Various interaction effects can also be considered to get a better understanding of the matter and create a profile for an individual who is more susceptible to cyberbullying and understand its impact on different demographic groups.'
In some cases of cyberbullying, as police confirm, victims find out about being trashed online only after months or, maybe, years. For instance, Kriti, who doesn't want to use her surname and lives in Gurugram, noticed that she couldn't log on to her Facebook account for two days, but she saw nothing wrong with it: she thought it was some technical glitch. In reality, what happened was that her Facebook (FB) account was hacked and private and dirty messages were sent to one of her FB friends whom she was not in touch with for long.
Two days later, she used her mobile phone number and other 'clues' to create a new password and joined FB. Life was normal until she was contacted by her FB friend much later with the screenshots of the raunchy texts he had received from her detailing some fictitious sexual exploits of hers in crass language. Her messages were immediately deleted by the person who hacked into her FB account, so she herself could not view them. "Since my old friend understood that it could not be me, he warned me to be careful about hacking, but I never complained to anyone after that," says this young lady who is a fresh graduate. "Such attitude is wrong," says a Delhi Police officer who has probed many cybercrime cases involving young people. "These days, thanks to Covid, even older people end up as victims of cyberbullying because they are also online," he points out. Various police officers Open spoke to across states and Union Territories also shared the view that the "Covid season" saw a sharp increase in cyberattacks, including stalking and abusive comments online.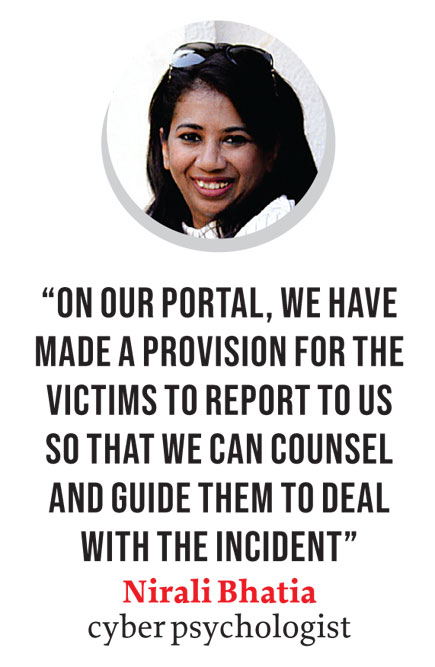 Mumbai-based Nirali Bhatia, a cyber psychologist and psychotherapist, who is also the founder of Cyber BAAP, which helps victims of cyberbullying, explains to Open why bullies who have recently surfaced online are unlikely to disappear once the Covid-19 blues end.
"During lockdown, cyberspace has been our only getaway. Be it for communication, socialising, work, education or entertainment. So, certainly during this period, there has been a huge hike in the number of people going online across all age groups," she affirms and goes on to add that the tricky thing about cyberspace is that it is designed to be addictive. "Nonstop, unlimited information is pushed to us. It is available 24×7 and offers instant gratification and wide popularity." That is why she says most often new entrants into online platforms are hooked forever.
Bhatia concedes that in the past five months she has received more than 2,500 cases of cyberbullying and harassment on her anti-cyberbullying portal http://www.cyberbaap.org, which is much higher than before. "Maximum bullying cases amongst the youth are on Instagram, while for those over 25 years of age, it is either dating sites, WhatsApp or Facebook. Victims under the age of 13 have reported bullying on gaming chat rooms and portals like Discord," she states.
Bullies thrive on anonymity offered by certain platforms and hence some spaces are hubs of bullying, she confirms, emphasising that such social media and online gaming platforms have no methods to validate users. "Another big reason is these platforms have no regulations for Indian regional languages and bullies are taking advantage of it. These days, we have maximum cases where hurtful comments or threats are made in regional languages, which when reported, do not meet guidelines of bullying on these social media platforms," adds Bhatia. Twitter abounds in such complaints, most recently by the co-founder of Alt News, a fact-checking website, who put up a screenshot this week of Twitter's response to a malicious Hindi tweet he had reported, saying it did not violate Twitter norms, though Hindi speakers would understand the threat behind it.
As an expert who meets or e-meets a large number of victims of cyberbullying, Bhatia says such experiences can lead to severe psychological conditions such as depression, anxiety and suicidal tendencies. "We want no victim to ever feel there is no hope or no help available. On our portal, we have made a provision for the victims to report to us so that we can counsel and guide them to deal with the incident, hand-hold them in reporting this to the police, offer inestigations service and, lastly, we also conduct cyber safety awareness workshops," Bhatia tells Open. She encourages victims to report cyberbullying on http://www.cybercrime.gov.in before they approach her.
Even the most reticent person offline can turn a potential bully online. Further, anonymity allows them to unleash the monster in them towards strangers and friends alike. The lockdown has seen more people becoming bullies online. They have tasted blood and the only way to stop them is extensive reporting of all kinds of cyberattacks to instil in them the fear of punishment. After all, bullies mostly thrive when they feel their victims are weak.