Bengaluru-based hardware engineer and soccer nut Lashminarayan Venkatesan says that he derives immense "gratification" playing online fantasy sports because it gives him a stake in the real game being played between teams. This category of games online is nothing new, but has been growing rapidly over the past few years, thanks mostly due to what Venkatesan, who is into artificial intelligence, calls the opportunity it offers participants to "have skin in the game".
The idea of having a stake in the real games through an online game is all the rage not only for football aficionados such as Venkatesan, who plays online fantasy games coinciding with soccer matches between international teams. For cricket fans, an opportunity has now come up after a gap, thanks to IPL 2020 being held from September 19th to November 10th in the UAE. The 53-day cricket tournament will be the first cricketing event to be held following the disruptions caused by the lockdown. Unlike online poker or chess, these online games can be played only when real events are around the corner.
This is how it works: you can download apps of Fantrax or Fantasy Premier League (FPL), choose a game that is being played and select your dream team of players. Your points rise or fall according to the actual performance of your team and your chosen team members on the field. It is, of course, a game where luck plays a prominent role, but it is also a game of skill where your abilities to predict various scenarios are based on the past record of each player in specific situations. Which perhaps explains why Magnus Carlsen, the world's top-ranking chess player, emerged with superb scores in the English Premier League's official fantasy sports game, FPL.
For similar games in cricket, which is also growing at a fast clip, enthusiasts often download apps—Dream11, PlayerzPot, FanFight, Real Fantasy, and so on. Federation of Indian Fantasy Sports (FIFS) is the self-regulatory body formed in India in 2017 to protect the interests of participants and to ensure best practices in the sports segment following court verdicts that have legalised the segment in most Indian states. The most interesting aspect is that the sector has generated over Rs 1,500 crore of foreign direct investment over the past two years. According to reports, Dream Sports, which is the parent company of Dream11, received $225 million in new financing. A KPMG report avers that this sports segment is set to enhance consumption of sports even in the interiors of India. More companies, including PayTM First Games, Halaplay, My11 Circle, MyTeam11 and 11 Wickets have invested in this online sport game.
According to a whitepaper by Indiatech.org, a non-profit organisation that vows to build the world's largest internet commerce ecosystem in India, 'the online fantasy sports industry is more skill-intensive and non-addictive in nature and has provided an opportunity for newer sports to become popular, and their popularity is spread today across metropolitan and non-metropolitan cities as well.' Justifying favourable court verdicts, the Indiatech report says, 'Industry discussions and research findings have clearly established that the majority of the participants usually prefer to play in the free-to-play format.' The report adds, 'Statistics reveal that 80% of the participants play online fantasy sports for free as entertainment. The 20% of the remaining participants engage in the 'pay-to-play' format of which a majority 98% have either won or lost less than Rs 10,000 on an online fantasy platform in their lifetime [past 3 to 4 years]. This reinforces the fact that fantasy sports are a competitive digital sports engagement platform and clearly not in the nature of an addiction. The average ticket size of the participation in the pay-to-play format is usually as low as Rs 35 [typically the cost of a snack].
The report quotes a survey by Kantar & FIFS to say that 59% of the participants in India have started watching new sports because of their interest and inclination towards fantasy sports. "While 48% of fantasy sports users now watch almost every sport, irrespective of team or country; cricket followed by football and kabaddi are the most popular sports amongst fantasy sports users," it adds. Rameesh Kailasam, CEO of IndiaTech, tells Open, "India being a nation with one of the largest sports fan base has a huge potential for online fantasy sports."
The IndiaTech report states that this sport segment is extremely useful for the Indian economy as well. The sector, the report says, has further contributed to the economy by generating employment opportunities. 'Industry discussions have indicated employment of 2,800 individuals on the payrolls of the Online Fantasy Sports platforms in FY2019. The industry reported an increase of employment numbers to rise to 3,400 employees in the 2020 fiscal. Furthermore, the income tax outlay due to direct employment by Online Fantasy Platforms and operators in the 2019 fiscal amounted to Rs 43 crore, which doubled to Rs 81 crore by the 2020 fiscal,' the whitepaper notes.
It adds that technology solution providers, marketing agencies and other ancillary markets have benefitted from the industry through a multiplier effect. Besides, indirect employment in ancillary industries is also on the rise, expected to jump from 4,200 in the 2019 fiscal year to over 5,000 by the 2020 fiscal, the report forecasts. Overall, it states, the sector is emerging as a significant contributor to the Indian economy. 'With the right-hand holding policy support and self-governed mechanisms in place, this industry has the true potential to become the next sizeable sector that will help startups from India in this space emerge and take on the world market,' says the report.
The idea of having a stake in the real games through an online game is all the rage. For cricket fans, an opportunity has now come up after a gap, thanks to IPL 2020 being held in the UAE
Typically, fantasy sport is played by friends and so the primary motive is to secure peer group recognition rather than make money. However, in sport avenues where one has an option to make more money, people who keep performing very well may move on to the next stage, assuming that they have outgrown their circle of friends and that it is time to test their abilities. Since it is a highly regulated game in India, this scenario is unlikely to arise. The argument that this kind of a game may prompt people to try a hand at gambling is also off the mark, say analysts. Points out Kailasam: "The current legally compliant format of fantasy sports ensures that sports enthusiasts follow the game more keenly and are more hooked on to sports beyond cricket, like football, kabaddi, hockey, volleyball, basketball, baseball and so on."
As an online poker player, Soni Sasankan, a video editor, says that fantasy sport is vastly different in that it attracts fans besides those who get obsessed with the real games between real teams. "It is like a religion where you visit a certain place of worship because you love the god in that place of worship. It is not a place you go because you know the game well or want to learn it very well. The motive of someone playing poker is not applicable here," he says.
Poker, unlike fantasy sports, promotes gambling whether you have the gene for it or not. While it is true that some players define a budget and stick to it with utmost care, "there are people who dip into their family savings and take loans to play poker," says Sasankan, emphasising that it is the gains that encourage people to try the game and then become addicted. He discloses that the prospect of earning 2-10 times the money you deposit is irresistible; those who come in the top 3 slots in a poker game, end up earning 10 times and those who come in top 20, double their initial investment. "And these games are designed such that you end up winning once in a while making you feel that you could gain more and more. But then you are not lucky all the time. Things could go really awkward," Sasankan informs. He adds that sites that offer poker games have now entered India in a big way and have customised their formats to suit Indians' needs.
According to a report in The Economic Times, online fantasy sports are one of the fastest growing sectors in the country with more than 100 million users and close to 200 operators, despite no support from the government. The report adds that the sector, which has been growing at a compounded annual rate of 32 per cent, is expected to touch $3.7 billion by the end of 2024, according to a forecast by KPMG.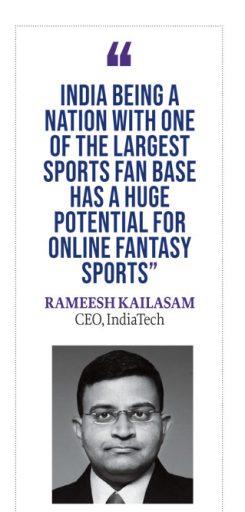 Emphasising that online fantasy sport is a game of skill, the IndiaTech report has offered a history of the legal battle that finally led to it being declared legal in India. The report says that this is because when in play, the game requires elements of understanding, judgement, expertise, knowledge and strategy. 'The states of Assam, Orissa, and Telangana are exceptions as their respective state laws do not allow its citizens to indulge in any games, skill or chance or a mix of chance and skill involving real money,' it narrates. The report adds that the question of whether fantasy sport is a game of skill was put to test before the Punjab and Haryana High Court in Varun Gumber vs Union Territory of Chandigarh, and later, before the Bombay High Court in Gurdeep Singh Sachar vs Union of India. In both the judgments, the report says, it was upheld that the specific model of fantasy sports as offered by Dream11 was the basis for ruling it in favour of 'game of skill'. Further, special leave petitions filed against the above ruling were also dismissed by the Hon'ble Supreme Court of India, according to the report. In one such dismissal, the Supreme Court in its standing order has ruled fantasy sports do not fall under the ambit of gambling. A similar petition in the Rajasthan High Court in 'Chandresh Sankhla vs State of Rajasthan and others' was quashed citing lack of merit to determine online fantasy sports as equivalent to betting and/or gambling. "The legality granted to such formats in the court of law has led to a greater level of adoption and a push for other businesses to venture in the area," the report argues.
Venkatesan, who plays free fantasy games, says that he is so rooted in the game of soccer that he sees no reason to bet for money to sustain his interest in the game. A few such participants in cricket games told Open that they buy the 'religion' argument as regards cricket. "I play with money, but that is just for the fun of it, not to make money. The fact is that cricket is my life's greatest passion. I have my favourite players whom I look up to, but when I play my online game, I choose wisely and not let my fanboy status affect my priorities of winning."
For those like Venkatesan who vouch for the fact that fantasy games marry the board game with real-life performance, this sport is about celebrating their love for the game. With the online fantasy sport segment showing signs of growing fast, the focus certainly needs to be on regulation. Without proper checks in place, love for the game may not be enough to ensure that the scale of its reach is not misused by unscrupulous elements out to violate rules in place to make a quick buck.