To soccer fans like me obsessed with some of the early proponents of total football and the concept of libero, Mahendra Singh Dhoni is Franz Beckenbauer of Germany and Johan Cruyff of the Netherlands rolled into one. The former, nicknamed Der Kaiser, typically snatched the game away from the jaws of defeat from an unlikely position, that of a defender, quite like a silent assassin. Cruyff had the guts and ingenuity. Between them, the two could take on the rest of the world. The Ranchi boy, of course, is closer to Beckenbauer because the footballing legend had perfected the art of winning without making a big deal about it. Dhoni, too, has always been the most collected dude on the field, whose 'Captain Cool' composure disarmed spectators and rivals alike, not to talk of the therapeu­tic effect he had on his boys caught in a whirlpool of emotions.
So much has been written about Dhoni's intrepid and inspir­ing captaincy for the Indian national team in both limited overs and Test cricket, including the stylish wicket-keeper batsman's exploits against Pakistan, Sri Lanka and various others, but less about the moral courage of the Jharkhand boy, who even at the height of his career, managed to retain his connect with his roots. He did it unassumingly amidst adoring masses and in the face of adversity. Right from those days when he sported long hair to the day that he announced his retirement, his behaviour on the field and off it cannot be seen as detached from where he came from.
One tends to take at face value when people who knew him for long say that his triumphant demeanour and unshakeable willpower are deeply rooted in his childhood in Ranchi where lower middle-class families still want their wards to land 'safe and secure' jobs and not unconventional ones. Dhoni's is cer­tainly the will of the local boy who is a breakaway from that mould. Yet, he remains an out-and-out Ranchi kid, unflappable in the face of tense moments, on occasions when the metro-bred and the privileged lose their nerve. That I-have-nothing-to-lose air of self-assurance perhaps becomes contagious and helps win matches, as Dhoni, the son of a PSU employee, often did. The records of this middle-order batsman and wicketkeeper as Indian captain, as they say, are nothing short of stellar, having scored a massive number of runs in ODIs and led the country to remarkable wins. His poise on the field was deceptive to those who underestimated him early on, much to their disadvantage. Regardless, his rivals got the message soon enough: that he is not any faint-hearted Indian player.
Purists among anthropologists may disagree, but for a man who rose from an Indian small town that is despised even by other small towners as somewhere out there in Jharkhand, his strong moral fibre that stayed with him like a moveable feast all through his career came from the region where he was raised. Sceptics might want to check out the works of the likes of Martin Amis and the great Indian-origin VS Naipaul who have often linked personalities to where they came from to assess their rise or fall. While Naipaul did it about Argentina in the context of the Falkland War, Amis did it to dissect the per­sona of Diego Maradona, arguably the world's greatest soccer player. Similar attributes have been made in the biographies written on the likes of Pelé, who was raised by a strict mother in an impoverished neighbourhood of Sao Paulo, explaining why he did not go astray at the height of power and glory unlike a reckless and more talented fellow player, Garrincha, emphasis­ing that the places you are raised in and the way you are raised tend to have a lasting impact on the lives of both ordinary men as well as legends.
True, in some cases, such ascendancy is dizzying enough to delink the subjects under review from reality—they end up thinking they are gods. That is the perspective that Martin Amis narrated with amazing skill in his 15-year-old review of a biogra­phy of Maradona. In a controversial paragraph of that article that appeared in The Guardian in 2005, Amis said something closer to what Naipaul had written about the Argentinian fetish for things, including cheating and sodomy (even with their wives). Sample this from Amis: 'In South America it is sometimes said, or alleged, that the key to the character of the Argentinians can be found in their assessment of Maradona's two goals in the 1986 World Cup. For the first goal, christened 'the Hand of God' by its scorer, Maradona dramatically levitated for a ballooned cross and punched the ball home with a cleverly concealed left fist. But the second goal, which came minutes later, was the one that [England manager] Bobby Robson called the 'bloody miracle': collecting a pass from his own penalty area, Maradona, as if in expiation, put his head down and seemed to burrow his way through the entire England team before flooring Shilton with a dummy and stroking the ball into the net. Well, in Argentina, the first goal, and not the second, is the one they really like.'
Dhoni remains an out-and-out Ranchi kid, unflappable in the face of tense moments, on occasions when the metro-bred and the privileged lose their nerve
By saying so, Amis avers that the eccentricities of Maradona are rooted in the Argentinian psyche. Such an observation may not find approval among sociologists or academics deep into behavioural sciences, unless, of course, the aim is propaganda to besmirch the image of the political rival. It is here that trau­matic childhoods are projected as the reason why someone became 'bad', the attempt being to buttress the argument that someone is a villain beyond redemption. If the aim is to make someone look good, he becomes good despite his child­hood trauma!
Now, Dhoni is similar to the well-raised Pelé in this regard. He is certainly a product of deeply held middle-class values and as­pirations that most Indians take pride in. Which explains why Dhoni appeared for a test and be­came a ticket examiner on trains before he shot into the limelight by a quirk of fate. The rest, as they say, is history. He managed his rise without being swept off reality, because of the fam­ily values that he had imbibed early on, argues Shireen Qadri, a resident of the National Capital Region of Delhi who is originally from Wasseypur, close to three hours' drive from Ranchi, in Jharkhand. "I think he is shaped by small-town values and, there­fore, he endears himself to a large population of India. He is certainly different because he took the road less travelled. But certain aspects of your upbring­ing stay with you all your life. Dhoni is a widely admired figure and a pride of Jharkhand," notes Qadri, founder and publisher, The Punch Magazine.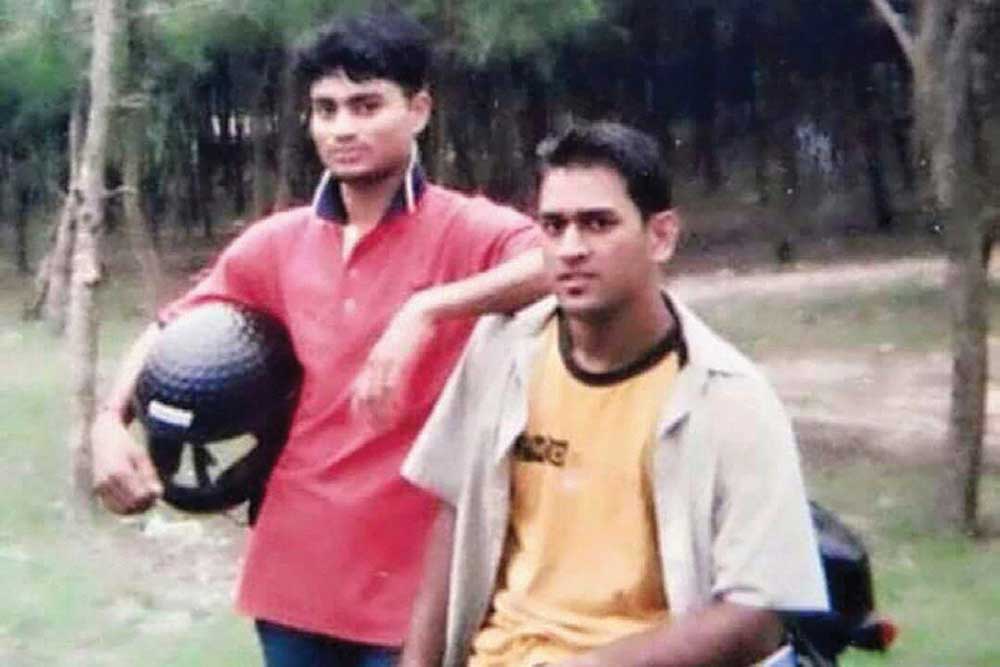 Qadri's brother Zeeshan wrote the script for the cult movie Gangs of Wasseypur. Although the film is about the life of peo­ple living dangerously, their future and past linked to the coal mafia in Dhanbad, links between politics and crime spanning decades, certain aspects about the hardiness of its key protago­nists that coexist among small towners are on display. The di­rector of the movie, Anurag Kashyap, had said in an interview that he was inspired by another movie, set in a small town in Tamil Nadu, Subramaniapuram, which also covers decades of vendetta and violence that ordinary people from lower middle-class backgrounds are drawn into by default after their loved ones meet with gruesome deaths at the hands of village tough­ies. Both these films may look distant from the lives of ordi­nary people and are confined to violent gangsters, but on closer inspection, one discovers that these are essentially stories of lay people with extreme devotion to their friends.
One of the songs in Wasseypur is titled 'Teri keh ke lunga'. Although there are various interpretations of the lines, Qadri says that "'I will destroy you after telling you' is the closest to the original expression." One of the lines makes it clearer: 'Jisme bachna ho bach le, bach meri jaan/Teri keh ke lunga' (Hide wherever you want to hide, my boy/I'll tell you and finish you off).
The Manoj Bajpayee-starrer was an instant hit because it probably struck a chord with the rising aspirations of the small-town youth ready to avenge injustice and find its place in society.
Discounting the cinematic violence, Dhoni as wicketkeep­er epitomised a peculiar killer instinct and defiance with his actions, shouts and at times deadpan graveness to the fall of the wickets, as though he were saying, 'I will tell you before your wickets fall.'
Dhoni, the indomitable hero of the masses, has himself been the subject of a biopic starring the late Sushant Singh Rajput and has inspired various biog­raphies, bestowing his home state with perhaps more than it could have offered him. Jharkhand for long was about hockey (remember Michael Kindo?) and Birsa Munda, the folk hero and tribal freedom fighter who had died aged 24 in 1900, as the late actor Tom Alter once exclaimed during his televised travels. Now, there is one more attribute to Jharkhand besides hockey and Munda: the phenomenon called Dhoni whose meteoric rise from obscurity to stardom has few parallels in Indian cricket for a person coming, as he does, from a region that is far from the recruitment map for Indian cricket. Perhaps it is not an exaggeration to state that there are two eras in our cricketing culture: one before Dhoni, and the other, after his emergence as a leader among leaders.