Noted historian Ayesha Jalal, an expert on global jihadist trends, India's Partition, Kashmir and Pakistan, has hit out at New Delhi over its latest legislative manoeuvres on Jammu Kashmir that she emphasised have destabilised the subcontinent.
In a brief chat with Open, the Mary Richardson Professor of History at Tufts University, said that the Narendra Modi-led government's decision to remove special privileges for the troubled Jammu and Kashmir state is a provocative move. She averred, "Scrapping Article 370 that granted the state special provisions is a brazenly undemocratic move that has destabilized the entire region and amounts to a virtual declaration of war on Kashmiris."
On the announcement made in Parliament on August 5 by Union home minister Amit Shah to revoke Article 370 amid an unprecedented lockdown in the border state, which is also the world's most prolonged military zone, she rued, "Reeling under India's security blanket for decades, their (Kashmiris) voices have been stifled totally (now)."
The Indian government decided to not only remove special privileges enjoyed by Muslim-majority Jammu and Kashmir, but also to bifurcate the state, downgrading it into two Union Territories, one with legislature and other without. It may soon announce a Lieutenant Governor, most likely veteran IPS officer K Vijay Kumar, who will serve as the Centre's powerful representative (the first such position) in Srinagar, the capital of Jammu and Kashmir.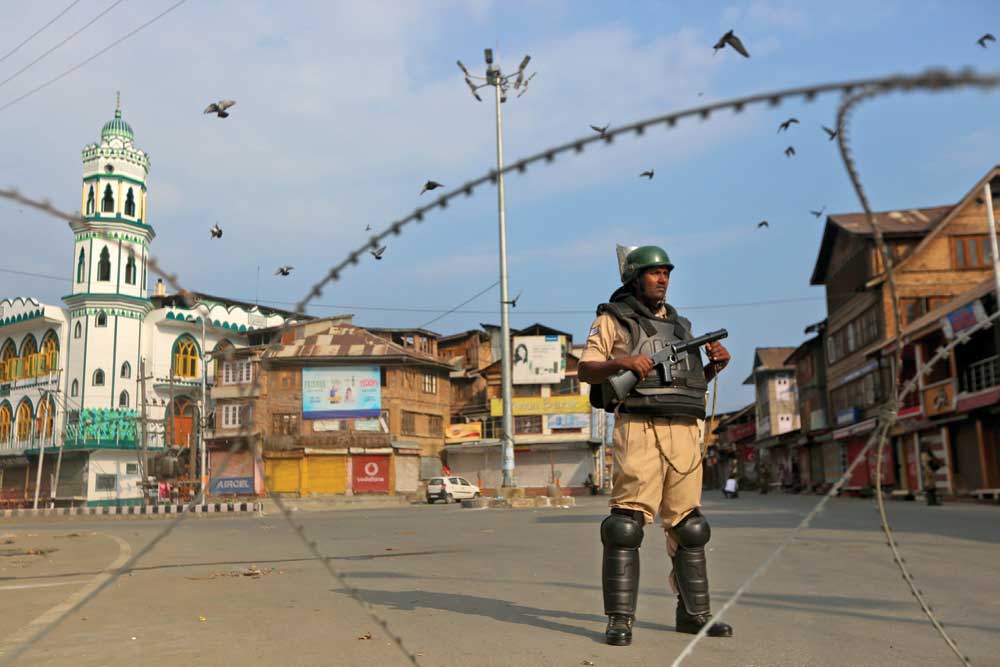 India's Hindu nationalist government argued that their seemingly popular move to get rid of special powers for Jammu and Kashmir was to end the rampant corruption of a few political dynasts and to contain decades-old insurgency and also to ensure greater national integration. Some of its opponents alleged that it was pandering to majoritarian sentiments gaining dominance in the country. A large number of additional troops were deployed in the border state in anticipation of unrest following what many in the country consider it as a historic move, breaking away from the secular traditions promoted by India's first prime minister Pandit Nehru.
Jalal's works have attracted a great deal of attention over time for detailed analyses, especially after the Indian revenge assault — in response to the Pulwama suicide attack that killed over 40 Indian security personnel — on Balakot, a place inside Pakistan that is considered holy by jihadists. In her work, Partisans of Allah: Jihad in South Asia, Jalal had talked of the warriors who fought a Sikh army: 'Accolades showered on the martyrs of Balakot and reverential accounts of the movement written by [holy man] Sayyid Ahmed's followers and admirers have since 1831 assumed such proportions that separating the myth from history is a difficult enterprise.'
The Pakistani-American historian is the grandniece of the celebrated Urdu writer Saadat Hasan Manto. Jalal had made controversial comments on Pandit Nehru and Sardar Patel in the past, arguing that their political ambitions stood in the way of negotiations to avoid the Partition of India that resulted in one of the world's largest exodus and mindless communal violence. She has often argued that there is a "disjunction" between Jinnah's aims and the Partition of 1947.
Jalal, who has earlier taught in the University of Wisconsin-Madison, Harvard University and Columbia University, among others, is known for her incisive commentaries on Pakistan's war strategy, non-state actors in that country, modern Indian history and the Indian democracy. She is an authority on the life of Pakistan's founder MA Jinnah as evident from her stellar 1985 work, The Sole Spokesman.
The noted historian spouse of Indian-origin Harvard historian and former Trinamool Congress lawmaker Sugato Bose, a grandnephew of Subhas Chandra Bose. A recipient of the prestigious MacArthur Fellowship in 1998, Jalal has won wide acclaim among her peers for originality in her works that include The State of Martial Rule, a much-lauded work on the functioning of the Pakistan Army.