Amid deep uncertainty and a massive security build-up that threw life out of gear in the Valley, the Union government on Monday scrapped Article 370 that offered special status to Jammu and Kashmir. It was this "temporary" provision that ensured the then princely state's accession to India in 1947 when the country was partitioned and the new nation of Pakistan comprising some Muslim-majority areas was carved out of it.
The Union government and several political pundits described the unexpected move — although it was in line with the ruling BJP's poll promise — as historic. But a section of the opposition and commentators said the Centre was pandering to majoritarian sentiments by further alienating the people of Muslim-majority Kashmir valley.
The Kashmir valley remains a bone of contention between India and Pakistan, which, following the skirmishes of 1948, holds one-third of erstwhile Kashmir and India two-third. New Delhi considers the whole of Kashmir as an integral part of India.
Dropping the bombshell in the Rajya Sabha, home minister Amit Shah announced that Article 370 has been revoked by an order by President Ramnath Kovind. He also introduced in the House another Bill that bifurcated Jammu and Kashmir: From now on, Jammu and Kashmir will no longer be a state, but a Union Territory with a state assembly, along the lines of Delhi and Pondicherry. Ladakh, which is part of the state, will become a Union Territory without legislature.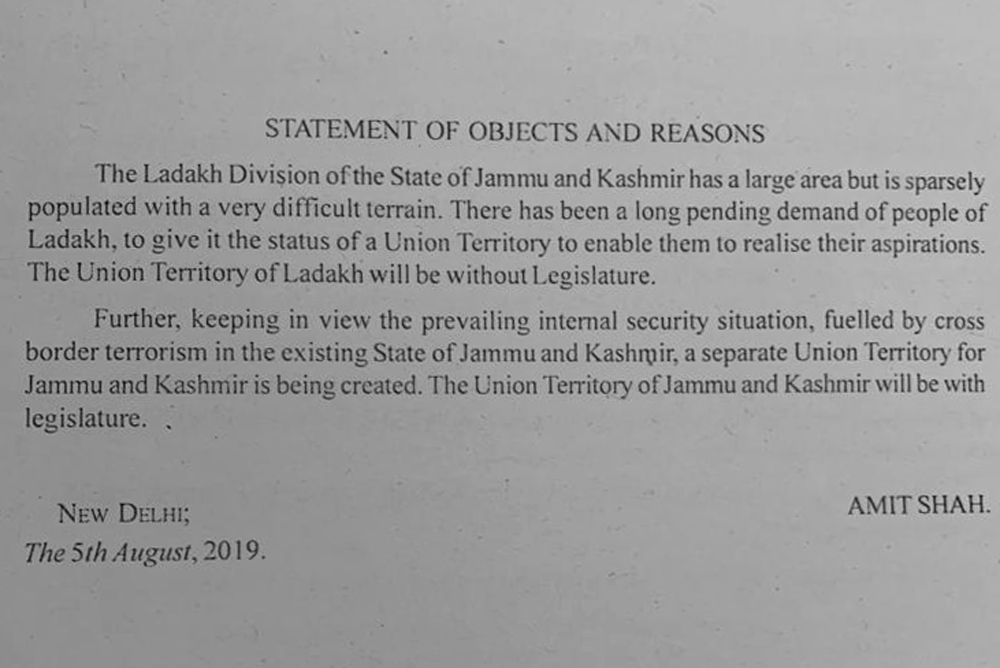 The insurgency-hit Kashmir valley had plunged into deep panic over the past several days due to rumours of a major Central intervention and on account of curfews and internet and communication shutdowns. A day before Shah introduced these crucial Bills in Parliament, senior politicians such as former chief minister Mehbooba Mufti and Omar Abdullah besides others were put under house arrest, fueling worries.
The Centre had also cancelled the Amarnath Yatra and asked outsiders to leave the state which has been under President's rule since the Assembly was dissolved in November last year, several months after the coalition of Mufti-led PDP and the BJP fell apart.
The provision of Article 370, which restricts Parliamentary powers over Jammu and Kashmir by granting the latter its own Constitution and sweeping powers — in all matters except defence, communications and foreign affairs — meant that Kashmir, which was the only Muslim majority geography in South Asia at the time of Partition, enjoyed special privileges that included dual citizenship, separate flag, immunity from Article 356 and right-to-information queries and so on.
Reservations elsewhere in India were not applicable in Kashmir; J&K assembly also enjoyed special powers and its term was six years as opposed to five years in other states. Earlier, the state had a Prime Minister, a practice that was later done away with.
The latest Presidential decree, Shah said in Parliament, comes into force with immediate effect. He also emphasized that the revocation of Article 370 would kickstart the development in Kashmir. The government, meanwhile, has also scrapped Article 35A of the Indian Constitution which had bestowed the state assembly the powers to name its permanent residents, who could avail of special rights and privileges. This provision came into force in 1954.
With curfew and other restrictions on movement in place in the Valley and people largely unaware of their state losing special autonomy, the Valley has remained calm following the government's action that turns upside down the Kashmir policies of earlier governments since independence.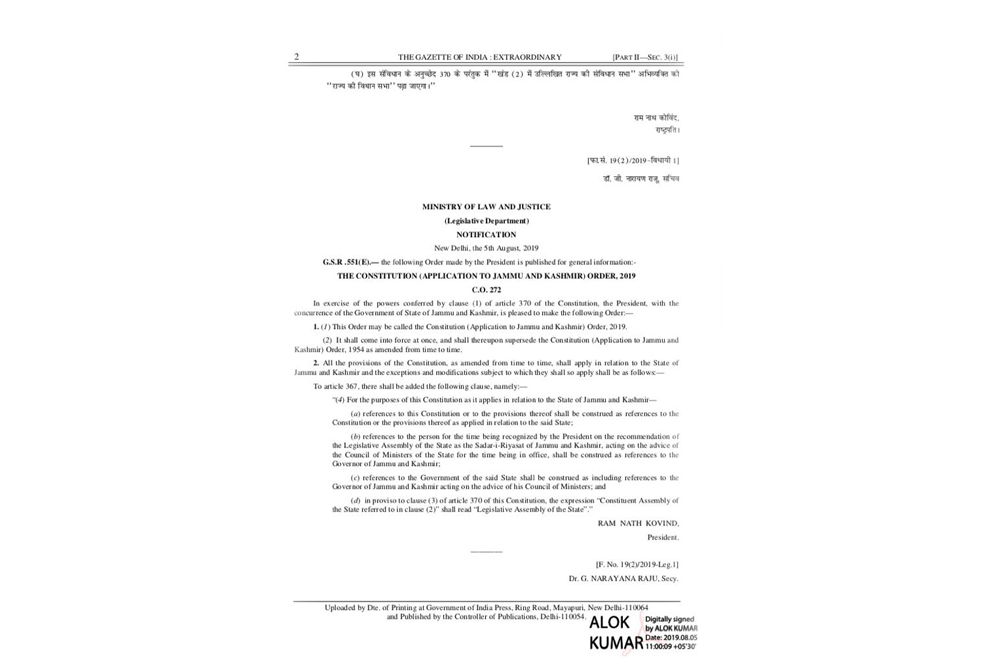 Worries are that this governmental action will at least in the short-term rouse passions in the region that is home to seven crore people and further strain ties with Pakistan, which, over the past several decades, has supported insurgency in Kashmir. Shah, for his part, said that Article 370 had resulted in large scale bloodshed in the Valley.
Congress leader P Chidambaram retorted, "Momentarily you may think you have scored a victory, but you are wrong and history will prove you to be wrong. Future generations will realize what a grave mistake this house is making today." Shah also claimed that Jawaharlal Nehru himself had hoped that this "temporary" provision would fade away in time, yet it took Modi to make it happen.
Mufti, who was chief minister in the state with BJP's backing, tweeted, "Today marks the darkest day in Indian democracy. Decision of J&K leadership to reject two-nation theory in 1947 & align with India has backfired. Unilateral decision of GOI to scrap Article 370 is illegal & unconstitutional which will make India an occupational force in J&K."
The Centre's decision on Kashmir comes at a time when the Indian economy is experiencing a slowdown coupled with large-scale loss of jobs. Notwithstanding poor financial indicators, the Narendra Modi government has gone into a welfarist overdrive. The Opposition and some commentators have charged the government with focusing excessively on amassing its political fortunes and not in mending the economy. The government denies such allegations and says that it is committed to an all-round development of Kashmir and towards ending bloodshed in the region.