Chief Minister Nitish Kumar celebrates 'Bihar Police Day 2023' in Patna
ON APRIL 24, BIHAR CHIEF MINISTER Nitish Kumar flew down to Howrah to meet with his West Bengal counterpart Mamata Banerjee. As if possessed by a state of thrall to an imagined world, the Janata Dal (United), or JD(U), leader got straight into the business he had in mind: to chalk out a plan to unite opposition parties in a bid to dislodge Narendra Modi as prime minister in the 2024 General Election. Banerjee, during the hour-long meeting she had with Kumar and his deputy and Rashtriya Janata Dal (RJD) leader Tejashwi Yadav, envisaged the possibility of a Jayaprakash Narayan (JP)-like movement, a total revolution of sorts that in the 1970s shaped the young Kumar's political career. Ironically, the period also saw Banerjee catapult to national fame, but not in the way Kumar did. In 1975, she made headlines by dancing on JP's car as a mark of protest.
Kumar's next stop for the day was Lucknow to meet former Uttar Pradesh (UP) Chief Minister and Samajwadi Party (SP) President Akhilesh Yadav with the same mission that he has thrust upon himself to stay relevant: to evolve a strategy to get non-BJP parties to pursue the so-called one-against-one formula. It means that no opposition party will allow a split of non-BJP votes and, therefore, will not contest against each other in a seat where BJP is in the fray. The contention is that it had worked in the elections in 1977 and 1989 in battering Congress which was in pole position at the time.
Kumar increasingly resembles Telugu Desam Party (TDP) chief and former Andhra Pradesh Chief Minister N Chandrababu Naidu who had, ahead of the 2019 election, sought to become a contender of sorts, announcing that he senses the possibility of the country witnessing a repeat of 1996 in 2019. In the coalition-era politics of 1996, regional parties came together following the elections to form a third-front government although BJP was the single-largest party. BJP went on to post an emphatic win in the Lok Sabha polls in 2019, securing 303 seats and more than 37 per cent of the votes polled. Naidu bit the dust in the polls winning in three constituencies, losing 15 seats from the previous polls in 2014.
The response to Kumar's bid to take on the burden of ensuring that Modi faces a tough challenge in the next General Election has not been generous. Open spoke to pundits who hasten to state that Kumar is nowhere near the stature of a national leader to reckon with. Kumar's Mahagathbandhan government releasing convicted gangster-turned-politician Anand Mohan Singh from prison has added to his woes and earned him the wrath of even his die-hard supporters. Isn't it a case of him yielding to political compulsions in a more desperate fashion than ever before and capitulating on political values he was projected to wield? Ques­tions have arisen from within his fanbase, including columnists and academics. Kumar's JD(U) could win 16 seats to Lok Sabha in 2019 because it fought the elections in alliance with BJP. There­fore, he faces his biggest political battle yet this time round— to prove that he is useful to his ally RJD, and that he can win elections without BJP's backing. After winning the 2019 polls in a tie-up with BJP, Kumar, in a realignment of forces, joined hands with RJD and returned to the 'Grand Alliance' in August 2022 to stay on as Bihar chief minister. Kumar has not been electorally beneficial for the alliance. In the last December by-elec­tion, the JD(U) candidate lost to BJP in Kurhani, a seat RJD had held.
KUMAR WAS NOT cut from the cloth of Don Quixote, the crazy character from the eponymous novel by medieval Spanish writer Miguel de Cervantes, who derived great pleasure from tilting at the windmills with fury. A typically sharp politician known for his political survival in the rough and tumble of state politics, the 72-year-old JD(U) leader placed on himself, to everyone's surprise, the enormous responsibility of being the glue to a po­tential rainbow coalition against Modi in the 2024 General Election. The crew of political contenders he has lately been in touch with had not expected him to play this role. His next plan, it seems, is to launch an all-party op­position meeting in Bihar, which has been a crucible for many social and political movements in the 1970s that finally resulted in the 1977 fall of the Congress government from the Centre for the first time.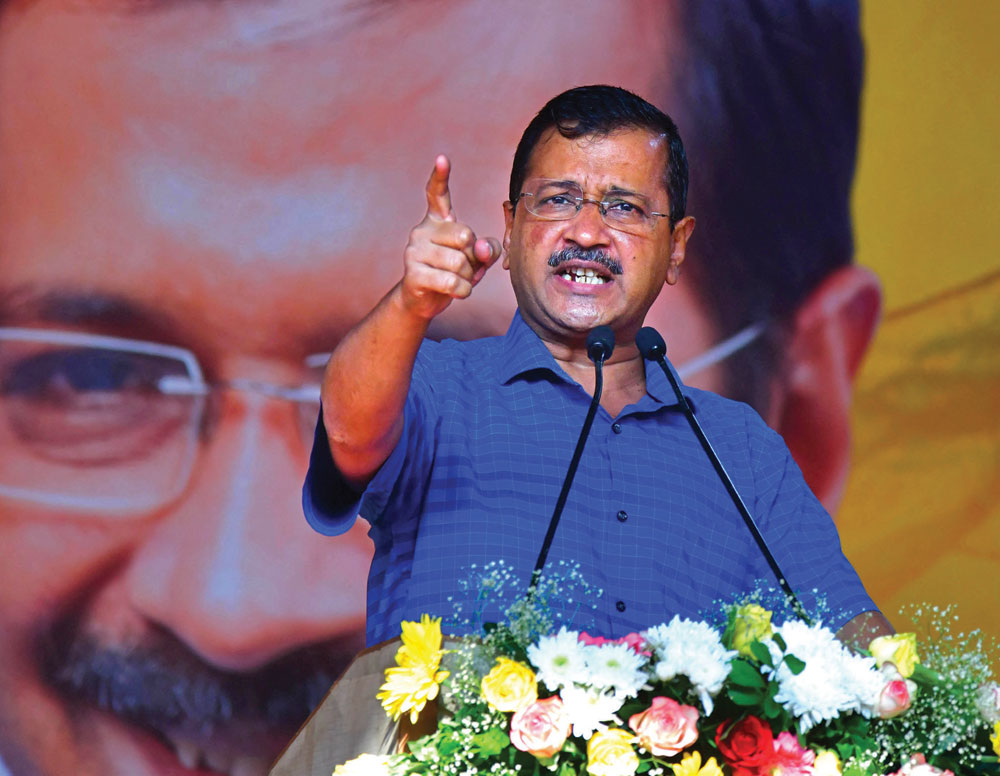 Earlier in April, Kumar, as if on a mission, had met Congress leader and Nehru family scion Rahul Gandhi and its president Mallikarjun Kharge in Delhi, looking to unite non- BJP opposition parties. He had also met Delhi Chief Minister and Aam Aadmi Party (AAP) leader Arvind Kejriwal, one of Congress' harshest critics.
So far, his whirlwind tours to meet opposition leaders who can't see eye-to-eye haven't even gained a symbolic value thanks to vastly differing interests. Some analysts are of the view that he has embarrassed himself by foisting this 'burden' on himself. The political situation is nothing like what it was ahead of the 1977 polls and during the unforgettable period of Emergency prior to that. What JP did was offer leadership to a movement that had risen from the students whose key players in contemporary politics include the prime minister, Kumar, and others. No such movement is anywhere in sight as of now.
Kumar had met congress leader Rahul Gandhi and party chief Mallikarjun Kharge, looking to unite non-BJP opposition parties. He had also met AAP leader Arvind Kejriwal, one of Congress' harshest critics. So far, his whirlwind tours to meet opposition leaders haven't even gained a symbolic value thanks to vastly differing interests
Ironically, BJP, which won 303 seats in the 2019 election, has gained electoral heft, winning in more states than it did four years ago. BJP campaign spearhead Modi's popularity has demonstrably soared thanks to successful welfarist schemes and a growth-oriented push. Neither is it in any way similar to the 1989 election when the country was going through massive electoral churning in the aftermath of cor­ruption scandals and the assertion of religious identities.
Trinamool Congress' (TMC) Banerjee herself had expressed doubts to Kumar at the Bengal state secretariat, Nabanna, whether such a coming together of political enti­ties that want to see BJP defeated is a feasible idea or not. Her hesitation, of course, stemmed from her own experience. There is no love lost between her and the party that she dethroned after three decades of its being in power in West Bengal: CPM. Except possibly in a seat or two, both warring outfits cannot even enter­tain the chances of not contesting against each other in a seat where BJP is also in the race. In the past elec­tions, Congress and CPM had even come together to take on the might of TMC. Neither TMC nor CPM and Congress in the state will likely yield to each other to make room for a one-against-one formula.
One analyst notes, "It is an idea whose time has not come and, worse, is nowhere in sight."
Does Kumar, who, with his diminishing political heft and withering vote bank, and who looks like a liability even for his ally RJD, have it in him to play the role that he has signed up for?
"He comes across like a busybody, not even as an emissary who is often sent from one party to another or among a larger group of parties to formalise an understanding. Even if you agree that politics is the art of the impossible, there are too many rough edges here," says a Kolkata-based columnist who has watched Bihar and Bengal politics for decades.
WHILE KUMAR CONTINUES to attract ridicule for the apparent futility of his efforts to stay afloat in the name of a cohesive opposition, Union Home Minister and BJP heavyweight Amit Shah, in an interview with the Times of India recently, dwelt on these efforts by Kumar, a former ally. He won­dered what "bringing together" of non-BJP parties meant, after all. He saw no logic in their plan, saying that Akhilesh Yadav will not field candidates in West Bengal and neither will Banerjee in UP. "They have already been contesting against us in their respective states," he said, adding that Yadav and Congress holding a meeting has no mean­ing since the latter has vanished in UP. He also asked whether it were pos­sible that Mayawati's Bahujan Samaj Party (BSP) would not contest in UP or Naveen Patnaik's Biju Janata Dal (BJD) would not field candidates in Odisha. When prodded by the inter­viewers, he went on to say that it is the media's preoccupation to run headlines of its choice, but that he would not buy the argument that Congress and AAP would join hands in Delhi or that the communists and Banerjee would not contest against each other. He also asked if the com­munist-led and Congress-led fronts wiould not face each other in Kerala.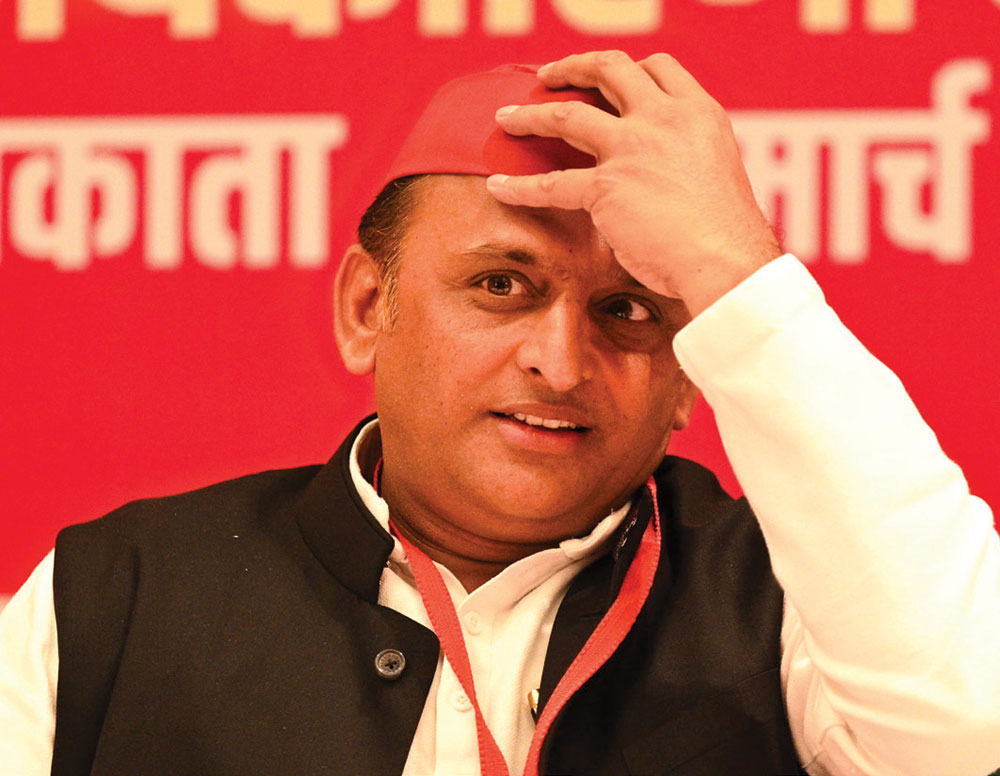 "Nitish Kumar is an unlikely prime ministerial candidate and the least he can expect is to play the role of a convenor for opposition meetings. Even then, there is no certainty about convergence points among these par­ties," says a Delhi-based opposition leader who didn't wish to be named.
Another major hurdle, a few op­position politicians surveyed by Open concede, is that Congress, which now has its lowest-ever tally in Parliament at 44 seats, hasn't come to terms with how much it has shrunk politically. One of them said, "This can be called an exaggerated sense of self-impor­tance or phantom significance it feels for itself, especially on the part of Rahul Gandhi despite the legal and political reverses. We will have to start talks from there but whether such parleys will have any progress or not will be seen."
In Lucknow, Kumar met former UP Chief Minister Akhilesh Yadav with the same mission that he has thrust upon himself: to evolve a strategy to get non-BJP parties to pursue the so-called one-against-one formula. It means that no opposition party will allow a split of non-BJP votes and, therefore, will not contest against each other in a seat where BJP is in the fray
Such lack of confidence among opposition parties—and heightened hostilities even between Congress and TMC lead­ers—is not good news for anti-BJP forces. What political ana­lysts repeatedly point out is the huge gap that invariably exists between coming together and entering into an understanding. "Many parties have become rudderless and many others like the Bharat Rashtra Samithi (BRS) of K Chandrashekar Rao have lost lustre over time. The Left is on the wane, limited to Kerala, and would not want to sacrifice its seats to anyone, especially to Congress," notes a psephologist.
THE TASK AT hand for anyone looking to forge an all-oppo­sition alliance is only getting tougher with fissures emerging out in the open, and with more political entities expressing their reservations about leadership issues and its famed formula.
A political observer tells Open that it is easier said than done to agree on a common minimum programme among the non-BJP parties because of ideological and organisational incon­gruities among them. He admits that neither Kumar nor anyone in today's political sphere enjoys the clout to be a political challenger to Modi. He points out that with BJP securing the votes of a large section of the Other Backward Classes (OBCs) and the most backward among them, a section that Kumar once attracted, Kumar's standing is not anywhere near what it used to be.
BJP has, over the years, walked away with a large chunk of the OBC vote, armed with Modi's own OBC credentials and by meticulously wean­ing away the weaker among the OBCs as well as Scheduled Castes who were not beneficiaries of the post-Mandal politics that brought a few caste groups among these sections to promi­nence while others lagged. The veto that caste-based regional parties had in Bihar and UP over voters belonging to their castes is more or less a thing of the past by now.
The question of negotiation meanwhile looks like a far cry, the observer adds, emphasising that no­body has a clear idea of what is there to negotiate. "My feeling is that fighting BJP on each party's terms will continue in these coming elections, too, and any talk of government formation in 2024 will have to wait until after the polls," he sums up.
The enfeebled position of a likely contender continues to be the curse of the opposition. In that context, it isn't surprising that any frenetic activity to play a busybody of sorts among largely incompatible outfits is likely to give off a Quixotic scent.