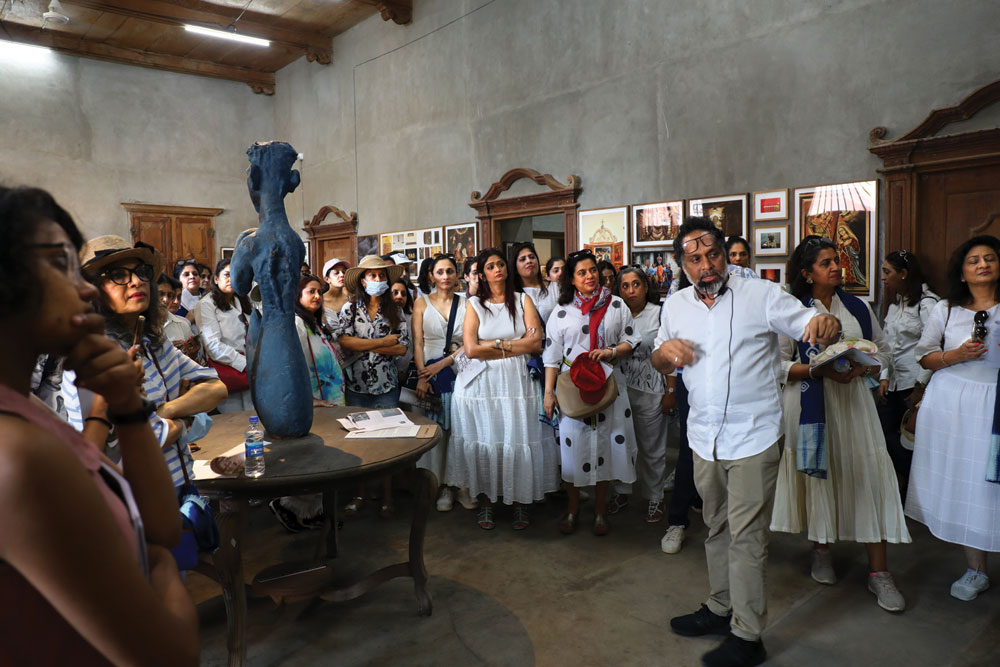 Riyas Komu, curatorial director, Sea: A Boiling Vessel
Clad in resplendent medieval dresses, the residents of Fort Kochi who feature in KR Sunil's stunning photographs resemble the dandies of the Congo. The setting too is similar in parts—stagnant pools of water, dilapidated buildings. In the Congo, they wear the most expensive of modern clothes, imitating the rich from France and Belgium, their colonial masters. Practitioners of Chavittu Nadakam in Kochi, an opera-like art form in which men and women dress in colourful European clothing of yore and perform all night long, do not however splurge money on expensive designer brands, unlike the Congolese. They use medieval-style costumes and makeup to play the unlikely roles of kings and queens in their performance, which combines dance, music and drama, mostly based on themes picked up from the Bible. The influence is Portuguese, but the language is a mix of Malayalam and Tamil. It is an art form of the Latin Christians in this region and is at least four centuries old—much older than the dan­dy movement of 1920s Congo, which was a way of resisting colonial superiority by a people typically expected to wear the second-hand clothes of their masters.
If Sunil's photo documentation project, Chavittu Nadakam: Story Tellers of the Seashore captures alternate ways of being, Mohamed A's photographs offer us a glimpse of something deeper about Kerala's past. Of the state's heritage and history dug up at various excavation sites. These photos encompass engravings, rock-cut drawings, architectural remnants that include those from sacred groves besides artifacts, terracotta figurines, and much more. Some of them date from the 3rd century BCE to 5th century BCE, from a time reminiscent of John Denver's lines: "Older than the trees… younger than the mountains." The historical sites here include Edakkal, Maray­oor, Ettukuduk, Pattanam etc. These photographs, titled Buried Monologues offer the viewer enough and more scope for imagina­tion, and conjure up visuals of a lost civilisation, deftly marrying reality with abstraction.
"I am interested in maritime history because it is a true history that needs to be told louder over and over," says Riyas Komu
The images described above are from a three-month long exhibition curated by Riyas Komu titled Sea: A Boiling Vessel at Kashi Hallegua Art Gallery in Mattancherry, Kerala. Organised by Kochi-based art collec­tive Aazhi Archives, this show pools in artists, academics and performers as part of an effort to understand and emphasise the histories of those considered to be on the fringes of society. This pioneering exhibition by Aazhi Archives with 18 artists is "part of a long-term multidisciplinary project that brings together artists, performers, scholars and intellectuals to contemplate together the cosmopolitan pasts previously unheard-of, and the fluid futures of Kerala."
The selection of these works was done rig­orously, says noted artist and sculptor Komu, who is also the co-founder of the Kochi-Muziris Biennale. Interestingly, for those behind Aazhi Archives who pride themselves as knowledge seekers, knowing the history at a hyper-local level becomes imperative in the face of a contrived bid to rewrite history. Intellectual and artistic attempts such as theirs— especial­ly to explore culture and history as a product of both land and sea—are not new, but Aazhi Archives earns praise from the likes of Dilip Menon, historian of South Asia and a professor at the University of Witwatersrand, in Johannesburg, South Africa, for their out-of-the-box thinking and zeal. He says, "It is an original, innovative and imaginative initiative that tries to link the histories of land and sea together". Menon, who is an expert on oceanic histories, adds, "Connecting art, history and literature, it redefines the idea of the archive as concerned only with the past. The contemporary, the transient as well as signs of the future are melded with an eye to an exigent global conjuncture; that of the rising waters and global warming."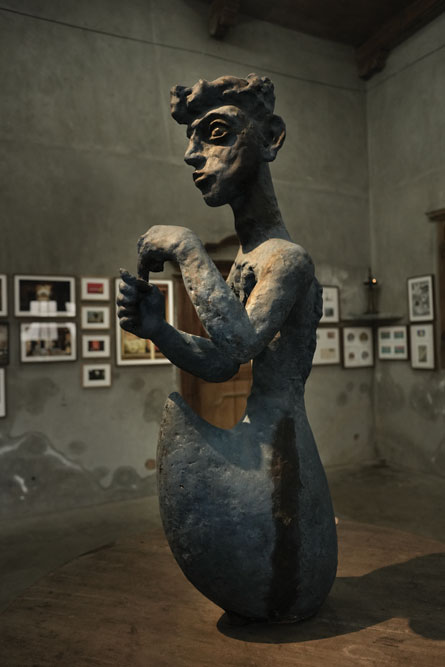 Curatorial director Komu has also included the late artist KP Krishnakumar's work titled Boatman (the last work of the artist who was a founder member of Radical Painters' and Sculptors' Association). Loaned from Krishnakumar's mother Ammalukutty Amma, this sculpture depicts a man whose lower half has metamorphosed into the bow of a boat. He is a hybrid of a half-man half-boat, both forever trapped to each other like conjoined twins sharing internal organs. The figure immediately inspires pity and mystery in equal measure. The half-man's eyes speak more than words can decipher. Komu understands only too well that the late artist was one of the first to put the spotlight on maritime history, famously capturing Vasco da Gama as the coloniser, not just an explor­er. Curator and academic Shanay Jhaveri once wrote about Krishnakumar's Boatman, "It depicts a crouching form on the sand, holding up in one hand a stained sail and in the other a shell—a fateful image of the heroic coloniser, simultaneously assessing his own victory and the implicit tragedy of his act." Inside the Kashi Hallegua Art Gallery, which once belonged to a Jewish family whose photos adorn the wall, is a note by re­nowned academic and art historian Shivaji Panikkar in which he writes specifically about this final work by Krishnakumar: "His very last sculpture; a diminutive, shrunken and tragic Boatman obliquely gestures towards an absurdity of the pos­turing self; to me, it gestures towards a historical auto-criticism that re-engages through the de-constructed historic icons."
Komu's choice of the artist as a posthumous asset makes tremendous sense because it is, perhaps, for the first time since Krishnakumar's death by suicide that artistic and academic re­views of maritime history and influences from across the seas are resurfacing. He showcased it against multiple logistic odds. In the process, the curator acknowledges where he comes from. "I am interested in maritime history because it is a true history that needs to be told louder over and over," says Komu.
That the venue of this exhibition is an old Jewish home, a constant reminder of migration, is inescapable. On the walls are quotes from Tony Joseph's Early Indians: The Story of Our Ancestors and Where We Came From with the title that em­phasises what Indian history and heritage are all about, "A multi-source civilisation, not a single-source one". The works on display do justice to that idea. They dwell on both stark realities and abstract concepts and legends.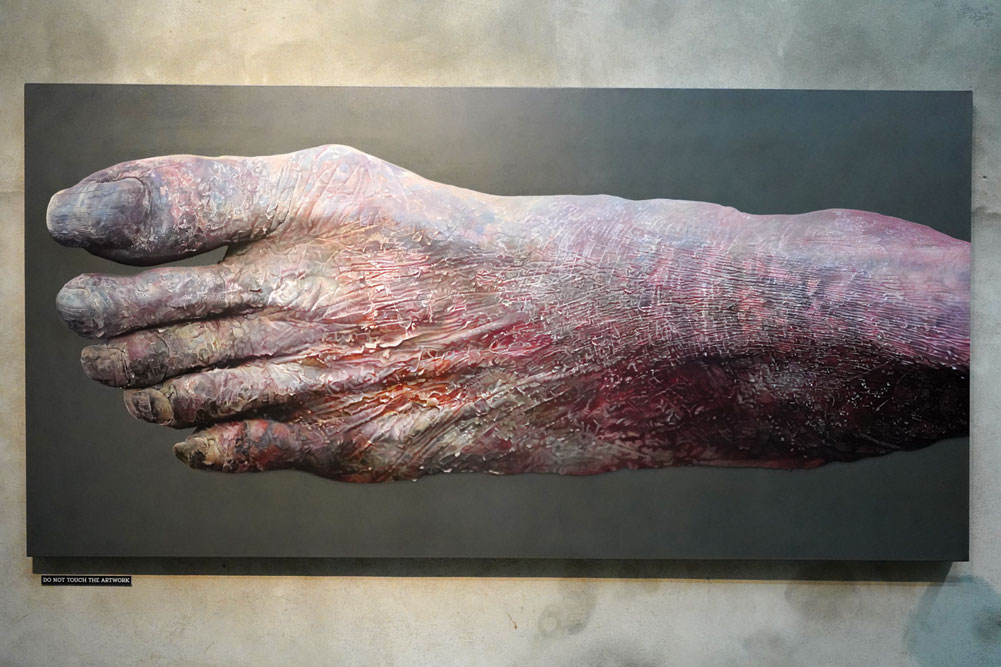 While the exhibition showcases—thanks to help from three families—old photographs from Kerala villages that had seen massive migration to the Gulf, Dubai and Abu Dhabi, in the sec­ond half of the last century, multimedia art by Midhun Mohan highlights migration across the seas by the people of Kerala. The most striking is the one in which Cheraman Perumal, one of the Chera kings who ruled Kerala, is said to have witnessed a miracle performed by Prophet Muhammad which was a supernatural event: the splitting of the moon. The king is said to have later travelled with Arab merchants to Mecca to meet Muhammed and converted to Islam. According to some historians, this incident is described in Hindu and Islamic texts.
Parag Sonarghare has attracted the attention of art con­noisseurs for his focus on skin, in the most unvarnished fashion. His hyper-realistic (often nude) portraits of the elderly and marginalised—whose skin speaks volumes about their hardship and personal histories—capture lives beyond com­parison. The Foot, his work on display here in Kochi, zooms in on the foot of a worker, who could be a miner or a farmer. The foot is calloused and discoloured by hours of toil. This is where the image is loud even as it is silent and devastating in its detail. One has to see it to take in the intensity that it conveys. Komu discovered this work, which stresses on the wear and tear of migrations, exile and perhaps even modern slavery, many months ago and had immediately chosen it for the exhibition.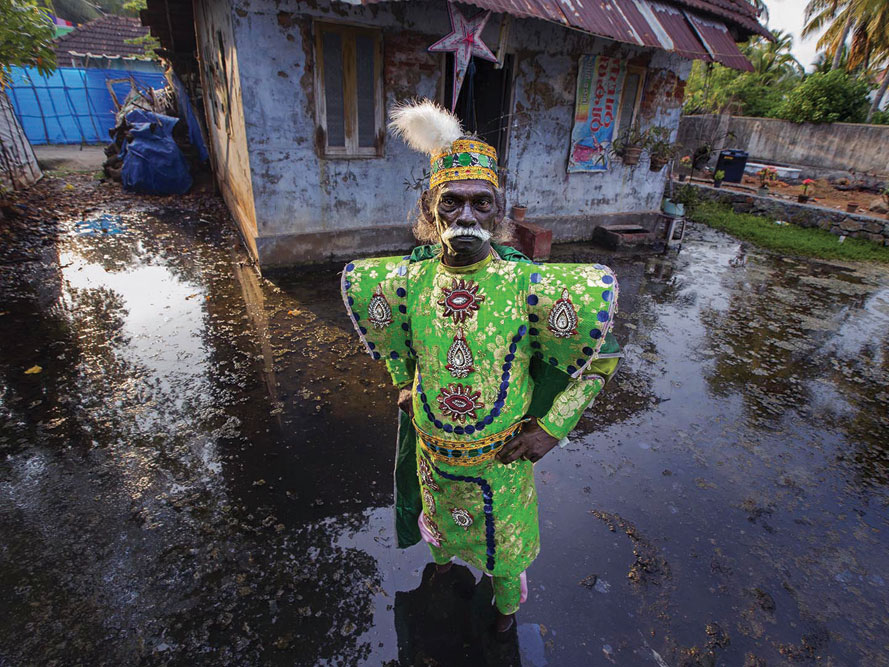 What enhances the accommodation of multiple narratives of all these works on display—which includes inspiring ones by veterans such as TV Santhosh, Sumedh Rajendran and muralist PK Sadanandan—is perhaps Komu's long exposure to the subjects under study here: history, geography and migrations.
Also impressive are works by MR Ramesh Kumar, a scientist who is also a philatelist, artist Siji Krishnan, Sunil Nampu, Biju Ibrahim, KK Muralidharan, and a performance by Luxembourg-based sound artist Rajivan Ayyappan.
Kshema Varghese, project manager at Aazhi Archives spoke to Open about the importance of this show, "I come from a Development Studies background and to be at the intersections of knowledge, art and people is what I have always sought. This is a project that puts into practice the interdisciplinary nature of academia and its need to explore diverse ways to connect it to the public. I am proud to have been part of its making."
Finally, the key takeaway from the show, about acquiring knowledge, is that there is no single history of our times. It can be viewed from multiple perspectives, and besides, it is always in the making.
(Sea: A Boiling Vessel runs at Kashi Hallegua Art Gallery, Mattancherry, Kochi, till April 30)