PT Usha poses at an event in New Delhi (Photo: Getty Images)
VENUGOPAL TK, A CLOSE RELATIVE OF PT USHA'S COACH OM NAMBIAR, recalls his meetings with the iconic athlete back in the mid-1980s. "Her name was a synonym for hard work and devotion. She had a tremendous will to train against odds and win," he says, remember­ing the days when he used to meet her in Delhi's Nehru Stadium where she trained with her coach for sporting events in the national capital.
It certainly has been a bumpy ride for the 58-year-old, who at a young age became an inspiration for female athletes thanks to her trail-blazing career as a sprint queen of India, especially for those from similar backgrounds from the countryside and working-class families.
From her rise as a teenager at sub-district sport meets in her hometown Kozhikode through national and Asian athletic glory to the Olympics in 1984 where she missed the bronze medal at 400m hurdles by 1/100th of a second and elsewhere, odds were a constant companion for Usha, whose spirit of survival is now the stuff of legend. She was rewarded with a Rajya Sabha membership and later got elected as president of the Indian Olympic Association (IOA), the first woman to hold the post, last year.
All her life, she overcame hurdles, literally and figuratively. As an astute hurdling and sprinting phenomenon, she had to make do with the barest of facilities available when she made a surprise foray into athletics. It was her primary-school coach Balakrishnan in Vadakara, Kozhikode, who figured that she had it in her to make it big in sport. He made Usha, then a Class IV student, compete with a champion runner in her school, who was at that time in Class VII. Usha beat her, much to the shock of onlookers and her classmates.
Since Usha was a good student, her parents, especially her mother who was a teacher, and her father EPM Paithal, a small businessman, did not want their daughter to pursue athletics because of the stigma associated with girls taking part in sport and wearing shorts, which was widely frowned upon. They also wanted her to follow the path of her mother and become a teacher. Sport wasn't for her, the parents had decided. But one of her uncles, TV Narayanan, insisted otherwise and so did a few others, who finally prevailed. She easily got admission to the sports division launched by the state government for women the year she turned 13.
At the Municipal High School where she studied in neigh­bouring Kannur district, things were not hunky-dory. Only, Usha had by then learnt to turn odds into opportunities and focus on training. Nearly 80 people in the hostel had to share two toilets and three bathrooms. "But we managed," she would disclose later in interviews.
IN 1980, AT the age of 16, she had her first experience of being treated like a national star when she travelled to Pakistan to attend the Open National Meet in Karachi where fans loudly chanted her name from the galleries as she picked up gold for India. Just as Milkha Singh had inspired aspiring athletes in an­other generation, PT Usha became the idol that young people, especially girls, looked up to as a role model. But odds were still her companion. She did not travel to Karachi by flight but on an unreserved train compartment all the way from Kerala, first to north India and then inside Pakistan. The same year, she was chosen for the Olympics in Moscow. Until a few months earlier, she had not used a tracksuit or worn spikes, which some of her affluent rivals in track and field back home in Kerala used to do. Yet, she was laps ahead of them at the finish line in all track events from 100m to 400m sprints and hurdles.
When she landed in Moscow and met her co-participants from other countries, she had the shock of her life: they were all extremely muscular and big. "My whole body was the size of their leg," she would joke later in an interview. But she wasn't someone who would baulk or feel intimidated. Since the time she used to run on northern Kerala's beaches as a teenager, she was used to people staring and being judgemental and dismissive. Usha's only wish was that she would not be among the last bunch of run­ners. Back then, Malayalam was the only language she spoke and she was tongue-tied amongst the international group of runners. She was reluctant to mingle with the seniors, except for basket­ball coach M Rajan, a fellow Malayali. Usha recalled later with a lot of gratitude that the late Joginder Singh Saini, veteran athletics coach and Dronacharya awardee, gave her enough confidence before she took part in the 100m heats, in which she finished sixth. She still holds the record for the youngest Indian sprinter at the Olympics. She has said in several interviews that she had to make do with the unfamiliar continental food because by the time she reached the mess hall—because she was alone and lonely and often lost her way while going from her room to the mess hall—the Indian food would be finished.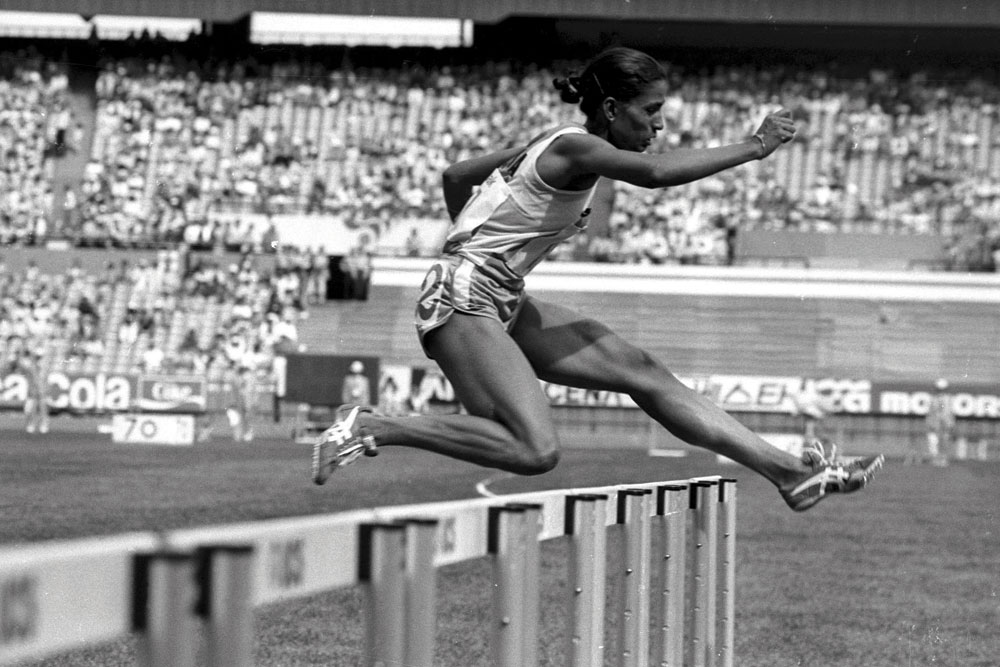 Her day in the sun would soon arrive, though. Aged 18, at the Asian Games in New Delhi in 1982, she won two silvers in the 100m and 200m dash and earned the epithet "Payyoli Express". Payyoli is a place in Kerala's Kozhikode dis­trict that Usha hails from. And then she went on to win gold in the 400m race and silver in the 200m at the Asian Championships held in Kuwait City in 1983.
Usha rose from prominence to prominence soon although, at the 1984 Olympics, she lost the bronze in the 400m hurdles final after she had to restart fol­lowing a false start by a fellow competitor. She would later talk about her days at the Olym­pic village when she had to eat just rice porridge and kadu manga (traditional Kerala mango pickle) and had no supply of supplements. She was devastated by what she thought was bad luck. Usha lost the bronze to a Romanian sprinter who crossed the finish line at the same time but won because the latter lunged forward at the final moment.
Yet, as Venugopal TK, a former Central government officer based in Delhi, says, she knew the importance of dogged deter­mination. Many others who knew her since she was a teenager say that she would break into tears whenever she lost or suffered a setback or faced humiliation, but recovered immediately. At the Asian Championships in Jakarta in 1985, she was irresist­ible, winning gold in the 100m, 200m, 400m, 400m hurdles and 4x400m relay for India. India came third only in the 4x100m relay. In 1986, at the Seoul Asian Games, she won gold in the 2oom, 400m, 400m hurdles and 4x400m relay for India. She got silver in the 100m sprint. In the 100m, she had a great rival in Lydia de Vega of the Philippines, both often losing to each other in the early 1980s. Of the 23 medals Usha had won in the Asian track and field events from the 1980s, 14 were gold.
The Usha School of Athletics attracts talent from all over the country. She aims to create world champions and still dreams of training an Olympic champion for India. But it hasn't been easy to counter the challenges, against her academy or from those trying to belittle her standing. But she always knew the importance of dogged determination
Usha has said that despite her achievements, she had been blamed by sport writers as well as by those within the sport fraternity. At the 1988 Olympics, when she could not perform well because of an injury, the barrage of criticism she had to face was tendentious in the extreme. She talked about the agony of having to face such attacks, but none broke her. She was tena­cious enough to resurface on the track with renewed vigour. Usha did well in 1987 and 1989 at the Asian Championships, winning seven golds in the two events. She was 34 when she took part in the Asian Games in 1998 in Japan where she played a crucial role in the victory of the relay team that won gold in 100m.
Yet, despite being one of India's most decorated athletes— she has won the Arjuna award, the Padma Shri, and several other honorary awards, including doctorates—she has often faced discrimination as an athlete as well as a trainer at the hands of sport organisers who often denigrated her. But it is her never-say-die attitude that has often stood her in good stead.
After retirement from sport, Usha, who had been employed with the Indian Railways, began to focus on tapping talent and training them in track and field events. The Usha School of Athletics in Balussery, Kozhikode, set up in 2002, at­tracts talent from all over In­dia. She aims to create world champions for the country. She has been the subject of several biographies, and a biopic about her life is reportedly in the making.
But it hasn't been easy to counter the challenges, be it those facing her academy or from those trying to belittle her standing. For someone who had risen to become the most recognisable face in Indian sport, she has been under immense scrutiny since the beginning over her performance. Several months ago, a prominent sportswoman made a preposterous remark that Usha was not a world-class athlete and that she managed to almost win a bronze in the 1984 Los Angeles Olympics because the Eastern bloc of countries had boycotted the event. That the International Amateur Athletic Federation had selected Usha in 1985 and 1986 as one of the best eight athletes in the world is often overlooked by her critics.
Usha, among whose favourite sportsmen is former American track and field athlete Edwin Moses, still dreams of training an Olympic champion for India. For this alumnus of Providence Women's College in Kozhikode, who is married and has a son, it is an obsession that is as powerful as her willpower to overcome seemingly insurmountable odds. Pilavullakandi Thekkera­parambil Usha recently used a quote that is attributed, among others, to Franklin D Roosevelt: "Great power involves great re­sponsibility." Now in a powerful position, she knows she can do more to fulfil the dreams that she could not so far. She knows that the odds, too, are many. But then PT Usha has charged through all the barriers she has faced, ever since she was four.