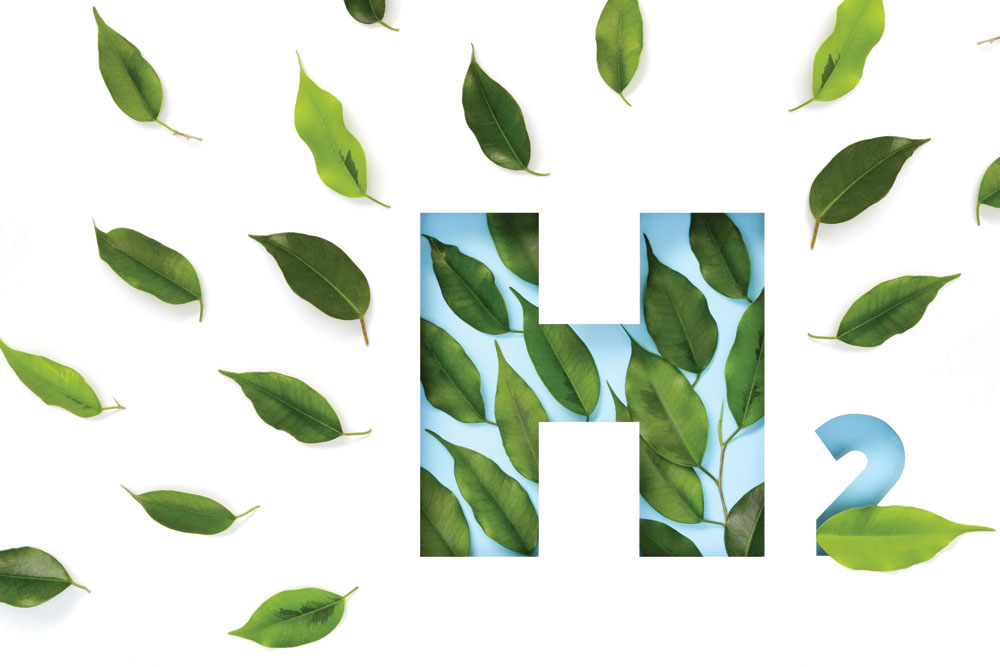 (Illustration: Saurabh Singh)
ANYONE WHO TALKS about clean energy but does not dwell on green hydrogen is quite out of sync with the movement to ensure low-carbon targets, notes Alok Raj Gupta, an expert on energy and sustainability economics, who is also the founder of the think-tank Envecologic. He avers that as regards green hydrogen, the pros far outweigh the cons.
The global trend is now evident. Governments and corporations are increasingly hailing green hydrogen as a magical alternative to hydrocarbon fuels as well as the best option to reduce dependence on electric batteries that are made from mined metals and minerals. To say that the Indian government, too, is gung-ho about it with an eye on decarbonising industries is an understatement. The National Green Hydrogen Mission, which was approved by the Union Cabinet early this month, envisages making India a global manufacturing hub and a clean source of energy. The government has approved an incentive plan of ₹17,490 crore for this purpose—which means many startups as well as big businesses will benefit enormously from this opportu­nity. Green hydrogen can potentially reduce 3.6 gigatonnes of car­bon dioxide (CO2) emissions by 2050, according to a NITI Aayog report. In fact, the Mission, launched by Prime Minister Narendra Modi on August 15, 2021, looks to create a coordinated skill de­velopment programme, according to a government notification. As a result, 6 lakh job opportunities will be created, according to an official statement by the Union Ministry of New and Renewable Energy.
THE KEY OBJECTIVE of the Mission is to create a produc­tion capacity of at least 5 MMT (million metric tonnes) per annum of green hydrogen with an associ­ated renewable energy capacity addition of about 125 GW in the country by 2030. The Mission also aims to boost the export of green hydrogen as well as slash fossil fuel imports of over ₹1 lakh crore over the coming decades.
Green hydrogen is produced by powering an electrolyser using re­newable electricity (such as wind). The electrolyser then splits water into hydrogen and oxygen. The hydrogen thus obtained is burnt to manufacture carbon-free pow­er. This is vastly different from grey hydrogen produced from natural gas. The country is aiming for an annual production capacity of 25 million tonnes of green hydrogen by 2047. According to reports, the existing output of green hydrogen is low and is derived from some pilot projects.
Meanwhile, a Reuters report said that by May this year, India is likely to invite bids for subsidies for setting up green hydrogen manufacturing and utilisation hubs, fertiliser and steel plants based on green hydrogen, and factories for making electrolysers.
Daily news headlines alone are enough to capture the in­terest that is picking up among all stakeholders, including the government. For their part, several Indian corporations are looking to make the most of this plan. Reliance Industries has decided to hive off its green hydrogen business. It has also set aside huge sums of money to transform from grey to green hy­drogen. The Adani Group, reportedly, plans to spend more than $50 billion along with France's Total to create what they pitch as "the world's largest green hydrogen ecosystem" in a decade.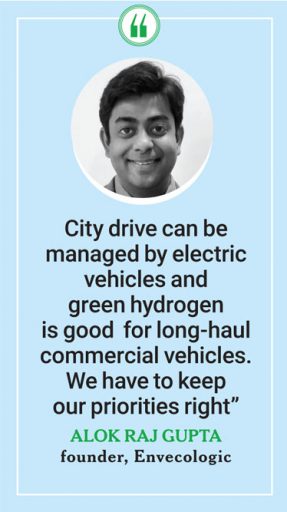 Again, many other players, too, stand to gain from the govern­ment's huge subsidy programme to rev up green hydrogen pro­duction. Sandeep Agarwal, founder and CEO of Greenzo Energy India Ltd, says that his company is looking forward to becoming a trusted partner of the government in this Mission. He explains, "Greenzo Energy India Limited (GEIL) has been working in the renewable energy space for the past decade and has successfully executed several projects in Nepal and India. We are one of the fastest growing companies with strong fi­nancials, a healthy order book, and experienced, able management. Headquartered in New Delhi, GEIL has already tied up with technolo­gy leaders from the UK and Europe who would be supporting the com­pany in the indigenous production of electrolysers as well as green hy­drogen generation plants of 1MW, 2MW, and 5MW capacities. The containerised solutions of GEIL can be easily deployed at fuel stations, re­fineries, steel manufacturing units, fertiliser manufacturing plants, etc. We are targeting the complete value chain from electrolyser manufac­turing, green hydrogen generation, ammonia, and fertilisers." With global energy consumption rising at a fast clip, countries need to de­pend on transformative methods to meet both climate goals as well as energy demands. Global energy consumption is set to grow by 50 per cent in 2050. Estimates suggest that in emerging economies like India, consumption will rise 70 per cent by then.
The government is not waiting for the private sector alone to walk the talk. According to a report in Mint, India and Panama are in talks to explore collaboration on renewable technologies, including green hydrogen. Likewise, India and the UAE have reached an agreement on green hydrogen development and the laying of undersea cables connecting India to the UAE. Even oil marketing companies are looking to tap the opportunity. NTPC and Indian Oil Corporation are also planning to produce green hydrogen. After all, a good chunk of the money set aside for the Mission will go towards subsidising making electrolysers and similar machines.
Alok Raj Gupta says that he sees the excitement around green hydrogen as legitimate because the future of this alter­native source of fuel is extremely promising. He is also upbeat about the energy intensity of this clean fuel. According to a study by Colorado, US-based Rocky Mountain Institute, which does extensive studies on sustainable development, diesel has an energy density of 45.5 megajoules per kilo­gramme, slightly lower than gaso­line, which has an energy density of 45.8 MJ/kg. It adds, "By contrast, hydrogen has an energy density of approximately 120 MJ/kg, almost three times more than diesel or gasoline. What this really means is that 1 kg of hydrogen, used in a fuel cell to power an electric motor, contains approximately the same energy as a gallon of diesel."
Theoretically, Gupta says, "hydrogen as an energy source is well-regarded."
AGARWAL ALSO SHARES these views, offering a big-pic­ture analysis: "India being one of the fastest-growing econo­mies of the world, imports almost 85 per cent of its crude oil require­ments. India's import bill during 2021-22 was $119 billion against $62.2 billion during 2020-21. As per government data, India's pow­er consumption increased by more than 11 per cent to 121.19 billion units in December 2022 compared with a year earlier. With most of India's northern states reeling under extreme cold conditions, energy consumption is going to increase further. With fast-depleting domestic crude oil production, India needs to look at alternate modes for meeting its energy requirements. The twin condition of achieving economic growth along with protection of environmental concerns requires adopting in­novative energy generation solutions." He elaborates, "Next, India being an agricultural economy, the need for fertilisers at an affordable price to our farmers is of prime importance. India's annual fertiliser subsidy bill stands at a whopping ₹2.3-2.5 lakh crore. Here, it is important to note that hydrogen is the common element between fertiliser and fuel. To reduce our import bills, we need to create indigenous hydrogen production, storage, and transportation at affordable rates."
According to Agarwal, there are several crucial advantages of green hydrogen fuel cells, besides zero-carbon emissions. This source of fuel has high energy efficiency—high-pressure gaseous and liquid hydrogen have around three times the gravi­metric energy density, around 120 MJ/kg, of diesel and LNG, and a similar volumetric energy density to natural gas. Hydrogen is also available in abundance, and its production and use do not lead to noise pollution.
One of the disadvantages, he says, is the higher cost of production of green hydrogen. This is because hydrogen must be extracted from its compounds. "As we progress, these costs are certainly going to come down, but at the moment, this is an impediment," he says. He goes on about other hurdles, "Transportation is another. Due to regulatory constraints and the as­sociated hazards of transportation of highly flammable hydrogen, hydrogen needs to be generated closer to the point of consumption. The electrodes are manufactured using scarce rare earth materials, and hence may be subjected to supply chain disruptions and higher costs."
Both Gupta and Agarwal high­light infrastructure development as a major challenge, although it is possible with sustained in­terest from investors and the government.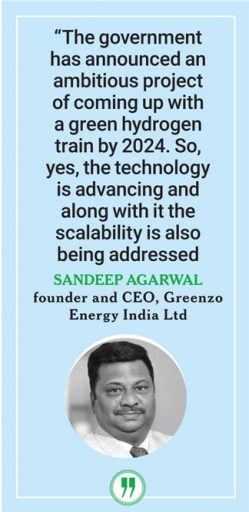 Asked if it is too early to gauge the efficacy and scalability of green hydrogen technologies, Agarwal replies, "The West has already shown us the way. Technology already existed for a long time. The focus today is to make the process more efficient and bring down the cost through innovation. Today, you have aircraft, trains, automobiles, etc, running on hydrogen fuel cells. The Government of India has announced an ambitious project of coming up with a green hydrogen train by 2024. So, yes, the technology is advancing and along with it the scalability is also being addressed."
Gupta is of the view that green hydrogen must be used more for industrial purposes than for individual transportation requirements. "City drive can be managed by electric vehicles and green hydrogen is good for long-haul commercial vehicles. We have to keep our priorities right," he points out.
With the buzz rising and the country looking to build 500 GW of renewable electricity capacity by 2030, experts expect a large number of startups and even polluting indus­tries to transition to cleaner ways to gain from the government's ambitious push.
What's most crucial, they warn, is not to let the pace slacken and lose sight of long-term goals.