Kalaripayattu, which once offered medieval women in North Malabar a means of self-defence, is fast gaining in popularity among modern women as a tool for self-development
Meenakshi Amma and her son practise Kalaripayattu (Photo: AFP)
MORE THAN FOUR decades ago, I had a peek into life inside a kalari— where the ancient martial art form of Kalaripayattu is taught—along with my cousins who were around four or five years old back then and were practitioners. There were both girls and boys in the group, girls in their underwear and boys in their loincloth (konakam). They were all around 4-5 years old. Girls would disappear from these places upon attaining puberty, which in those years was age 13 or so. While gurukkals (the term used for the in­structors) seldom imposed any gender restrictions, adoles­cent girls, generally shy by disposition, would stop turning up mostly out of familial pressures.
Things have been changing for a while now, and girls and women of all ages and various nationalities, some of them in their 40s, attend kalaris in loose trousers or a dress code of their choice to learn Indian combat techniques that were developed long before the Chinese martial arts. There are claims that Kalarippayattu is from where Shao­lin Kung Fu emerged. Some claims, rejected as ahistorical by some historians, suggest that the founder of Shaolin Kung Fu and Zen Buddhism, the Indian monk Buddid­harma—called Tamo by the Chinese—was a master of Kalaripayattu. Some studies suggest that the techniques used in this martial art form resemble those from the San­gam period (600BCE to 300CE).
Interestingly, teenage girls and women, according to oral history as well as some local historians, used to regu­larly practise Kalaripayattu before its "lost years". The term stands for a period when the British banned the practice, from around 1805 until it resurfaced in the 1920s in Thal­assery, part of Kannur district in northern Kerala. It saw a major revival in the 1970s. In fact, according to noted historians, the British banned Kalaripayattu following the Kottayathu War, a rebellion against British rule led by Pazhassi Raja, a king. The ban was necessitated after the British observed local men and women warriors fight valiantly, displaying gravity-defying acts and expertise with swords and other weapons. Most kalaris shut shop after the ban, but a few of them continued to run secretly, ensuring that the martial art form was not lost completely.
In Northern Ballads ('Vadakkan Pattukal'), which are a collection of songs that narrate the heroics of warriors during the peak of the popularity of Kalaripayattu, tales of women do come up often, the most famous of them all is about Un­niyarcha, who lived in the 16th century. Local Kalaripayattu historians say the ban achieved partial success: it obliterated a large chunk of oral history about the martial art form. Ma­layali historian Sreedhara Menon states that medieval Kerala saw the "golden age" of Kalaripayattu. The main characters, women included, were feted in these ballads for their fight­ing skills, courage, and idealism. In her work, Rethinking Chivalry and Courtly Love, Jennifer G Wollock writes, "The ancient Indian martial art of Kalaripayattu is still practised in Kerala in southwestern India as well as adjoining regions and in Sri Lanka and Malaysia. It is especially associated with the Nair and Thiyya warrior castes."
There is a flip side to these heroics. We will come to that later.
Padma Shri winner Meenakshi Amma, who is also called Meenakshi Gurukkal, is now 80 years old. She started at­tending the kalari when she was just seven. Her guru was Raghavan Gurukkal, the founder of Kadathanadan Kalari in her village in Vadakara in Kozhikode district, adjacent to Kannur. Kadathanadu is the erstwhile region that now falls in Kannur and Kozhikode districts. It is home to folk tales of Chekavars (warriors who often fight to the death) and other kalari exponents. At the age of 17, Amma married her guru and continued to teach martial arts to hundreds of students, male and female, every year. Her husband died in 2007, and she took on the reins of the training institution. She regrets that he did not live long enough to see her become a Padma awardee in 2017. "All the awards and recognition came thanks to his determination and single-minded effort to popularise Kalaripayattu. He used to teach almost for free and did not do it for monetary gains, but out of devotion," says Amma who says one of her sons, a businessman, is also a Kalaripayattu teacher. All her four children, including her daughters, are trained in Kalaripayattu.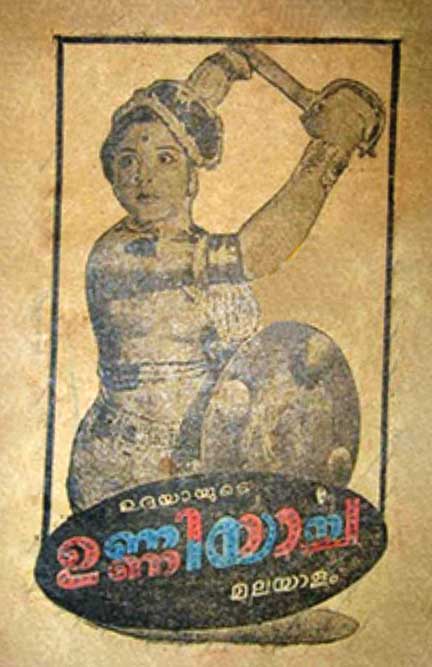 Thanks to the award and the attention that fell on her, Meenakshi Amma is now in the spotlight as a woman who champions the cause of the ancient martial art, which had endless female virtuosos in the past. Her story has revived interest in such women amidst efforts to compile most of the oral histories that were thought to be lost. Although many claims are yet to be ascertained, there is a growing in­terest in women, primarily from Chekavar clans, who were martial arts specialists in the days of yore. Some of the wom­en fighters were so feisty, it is said, that even well-trained men rarely dared to rub them the wrong way. One example that Pankaj Akshan, a trained martial artist from Vadakara, points out is the plight of the great warrior Thacholi Othe­nan himself who had to hastily flee after he made advances at a woman, who happened to be an accomplished fighter and managed to chase him away. While specific names and occasions are not often mentioned, some local historians have been able to collect anecdotes that are linked to the Northern Ballads.
Anthropology and ethnography studies done by Edgar Thurston, the British superintendent at the Madras Government Museum from 1885 to 1908, reveal that some of these retrieved oral accounts could not be off the mark. Thurston, who had done stellar work researching the flora and fauna of southern India, including what is now northern Kerala, has written in his encyclopaedia titled Castes and Tribes of Southern India about the expertise of Chekavars in using the urumi, a loose metallic sword ca­pable of inflicting serious damage, including the decapita­tion of an opponent. He notes that in a fraction of a second, such experts can bump off a rival. Various other European historians have written about well-trained and ferocious womenfolk in the region.
There are claims that Kalaripayattu is from where Shaolin Kung Fu emerged. Some claims, rejected as ahistorical by some historians, suggest that the founder of Shaolin Kung Fu and Zen Buddhism, the Indian monk Buddidharma—called Tamo by the Chinese—was a master of Kalaripayattu. Some studies suggest that the techniques used in this martial art form resemble those from the Sangam period (600BCE to 300CE)
Meenakshi Amma still travels widely and trains In­dians and foreigners alike. She tells Open that she was surprised to see her photo at a training institute of one of her foreign students in Dubai. Similarly, she is also the centre of attention lately of YouTubers and TV channels from abroad and from India. "There are always people who want to do documentaries and videos," she tells me on the phone from her home in Vadakara. She is deeply thrilled about the prospects of women travelling from far and wide, besides those in her neighbourhood, to train in Kalaripayattu. "Women and young girls are not shy anymore. They are passionate to learn it," she emphasises.
When she started learning the ancient martial art, she did not have any female role models to look up to except for the legendary characters, such as Unniyarcha and others. Now, most women see her as a role model. "It is true that the recognition from the government has changed the way women and girls look at Kalaripayattu. Foreign women used to come long before that, but there is a greater interest now," Amma avers, although she is self-effacing about her contributions and credits her departed husband for all her success and achievements.
She goes on to talk about how things have changed now as regards training. In the olden days, Kalaripayattu used to be taught only four months a year, essentially dur­ing the rainy season in Kerala. Now, the training goes on all year round. Although she keeps her institute open 12 months a year, Amma explains that she still sticks to the old style of training that is done in four comprehensive stages. The first is called meypayattu (training the body to make it flexible); kolthari (which includes the use of various types of sticks with which to defend and attack); ankathari (training using sharp, metallic weapons such as daggers, swords, shield, spears, urmi, etc.); and verumkai (fight using bare hands).
While Amma's decades of hard work and focus have brought back memories about the glory of female war­riors, certain odious aspects of angams (bouts) also come to the fore whenever we discuss the folklore about Cheka­vars, many of whom were also mercenary fighters hired to kill. Written by renowned author MT Vasudevan Nair and directed by Hariharan, the 1989 movie Oru Vadakkan Veer­agatha glorified the Chekavar culture but did not highlight the historical injustices behind such mindless violence. Chekavars were hired by landlords and kings to settle mi­nor scores between them and had to fight till one of them died. Very often, even the victor would carry the burden of wounds with him. But MT Vasudevan Nair did bring it up on one occasion through a character who laments being born into a clan that trains for years only to kill or die.
Meenakshi Amma however stresses that in modern times, Kalaripayattu helps foster discipline and control over one's emotions. There is a meditative aspect to the movements and exercises, all of which enhance mental and physical health. The rise in interest among women­folk is a testament to its growing and evolved relevance even in modern life, she affirms.