Sports18/Jio Cinema presenter Semra Hunter makes the Qatar FIFA World Cup more special for Indian viewers
As a football presenter, Semra Hunter is now popular among Indian fans
Semra Hunter, star presenter at Sports 18 and Jio Cinema that broadcast the ongoing FIFA World Cup to Indian viewers, has emerged as a sensation in the country thanks to her slick chat, analysis, sense of humour, infectious guffaws, sultry looks, and fashion sense.
A multilingual presenter raised in the US, Hunter has worked in Spain, Turkey and so on. In the process, she has picked up Spanish and Catalan. As luck would have it, she mesmerised millions of Messi fans on December 4 – on the day he scored his 789th goal in his 1000th appearance (for club and country) during Argentina's round of 16 clash against Australia in Qatar – by translating the iconic player's interview live into English.
Hunter has earlier endeared herself to TV audiences in Spain thanks to her informal yet informative commentaries as lead presenter of La Liga TV, which airs the Spanish football league matches besides other sports programmes. She has stated in media interviews that she loves skipping the teleprompter and speaking to her viewers impromptu. That she does unscripted commentaries is evident from the pen and paper she places on her table and from the originality of her presentation. Again, she rips off into guffaws occasionally. She has over time acquired the status of a cult figure in football reporting, especially in Spain.
Hunter, who doesn't disclose her age but appears to be in her 30s considering that she started her sports broadcasting career in 2013, recently tweeted that "Life is like a mirror. We get the best results when we smile".
Smile she does, most often, ensuring an informality expected while reporting on one of the most exciting and creative games on planet earth, a sport that, they say, comes closer to poetry than any other.
Acknowledging the delight of working with a world-class professional of the stature of Hunter, fellow presenter Anant Tyagi tweeted some days ago, "It's been a surreal experience hosting the FIFA World Cup on @JioCinema and @Sports18. Thrilled to have the company of a top pro in @SemraHunter with me every day on the show."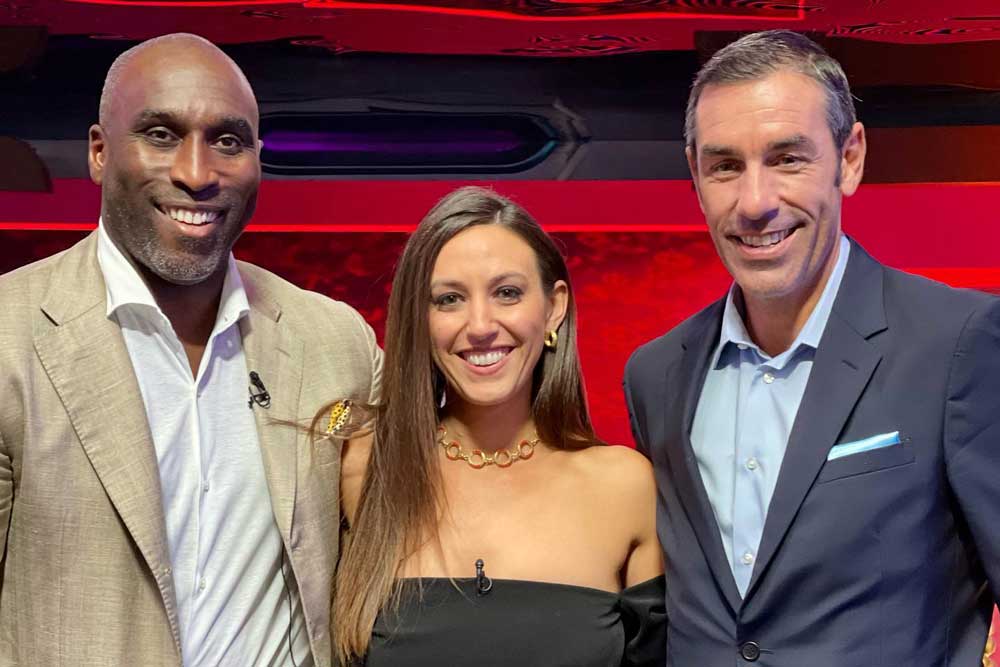 Apart from her panelists that include the likes of Luis Figo, Wayne Rooney, Robert Pires and Sol Campbell who are regulars at the English coverage on Sports18 and Jio Cinema, Hunter is often heaped with praise on twitter by her new and old fans, from Barcelona to New Delhi and from towns across India. She makes it a point to thank them individually.
A native of Los Angeles, Hunter is an alumnus of University of California, Berkeley, where she did her Bachelors in Peace and Conflict Studies, and Real Madrid International School where she did her Masters in Communications and Sports Journalism. She is an athlete herself, and a Junior Olympic volleyball champion (when she was 17). She has also played various other games in her life, including her favourite, football.
Semra, who began her career with Al-Jazeera in Madrid and later joined RealMadrid TV, strikes a chord with her FIFA 2022 viewers in India, especially because the team broadcasts the football fever here, running videos from football-frenzied spots that mostly include the eastern and southern parts of the country.
While working at RealMadrid TV, she writes on her official website, Hunter ran several shows in both English and Spanish while also covering games and conducting weekly interviews with Real Madrid players and coaches. In 2016, she relocated to Istanbul, Turkey, as a sports anchor for TRT World. She has interviewed sports luminaries such as Xavi Hernandez, Michael Phelps, Usain Bolt, Carles Puyol, Claude Makelele, Luis Figo, Fabio Capello, and others.
She returned to Spain from Turkey in 2018 and is currently based out of Barcelona – when she is not touring the world like she is doing now. She handles one of the flagship programmes for LaLiga TV. The only child of her football -crazy parents, she thanks them for her keen interest in football and her current stardom.
Hunter has said in her interviews that she is glad to have shifted to Spain in 2008-9 because it gave her great proximity to footballing trends in Spain as well as the whole of Europe. She was also lucky to watch stars such as Messi and others become legends. She often talks about cultural immersion with the footballing culture in Europe, especially Spain. This World Cup has certainly helped her earn a name and greater fame in the Indian subcontinent, a region with a massive football fan base notwithstanding its vastly disproportionate footballing credentials.