Popularly known by her screen name 'Ramya', the 39-year-old had quit the party after the 2019 poll loss and has lately been highly critical of former colleagues
Celebrated Kannada actress Divya Spandana, former social media head of the Congress party and MP who had quit the party in a huff after the humiliating drubbing in the 2019 general election, has announced the launch of a movie production house, AppleBox Studios. The 39-year-old, who has been a close associate of Congress leader Rahul Gandhi in the past, has lately been vehement in her criticism of various initiatives of the political entity she was once part of.
"Two new film projects are in the offing," Spandana told Open without disclosing further details.
Spandana, who is more popular by her screen name Ramya, had earned a reputation in the run-up to the 2019 election – as well as other crucial state elections since 2014 — for revving up the social media presence of the Congress party and Nehru family scion Rahul Gandhi. She was a Congress Working Committee member when she took the dramatic step to exit politics in 2019. Until a few years ago, she was one of the most prominent faces of the Congress party at the Centre and an influential figure in social media. Back then, she also had a penchant for picking fights with anyone critical of the Congress. After she decided to quit the Congress, she had gone incommunicado for many months.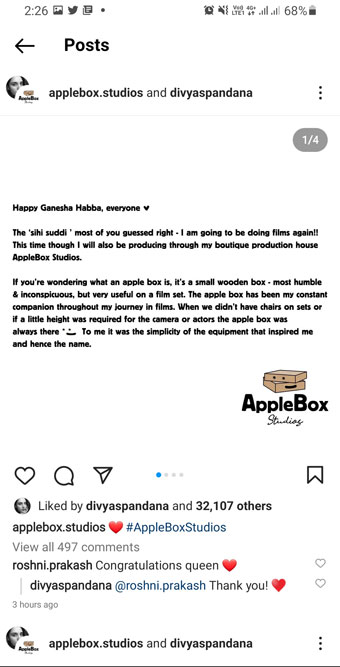 "I am going to be doing films again!! This time though I will be producing through my boutique production house AppleBox Studios," she wrote in her official Instagram account on August 31, a day after she took to social media to state that she was going to make a future plan the next morning. "If you are wondering what an apple box is, it is a small wooden box – most humble and inconspicuous, but very useful on a film set. The apple box has been a constant companion throughout my journey in films," added Spandana, who had briefly helped the Congress party play catch-up with the might of the BJP's well-oiled social media apparatus. Spandana had headed a lean team with tighter budgets than the BJP's.
She joined the youth wing of the Congress in 2012 after taking a break from the movies and then contested and won a Lok Sabha byelection from the Mandya seat in Karnataka in 2013. She however lost polls a year later by a slender margin. Since then, Spandana had been instrumental in putting in place a strong IT cell for the Congress. She had a team of 40-odd people comprising mostly young women below the age of 30 that included techies, social scientists and creative people.
Spandana, who has had a stellar career in south Indian movies after her debut in 2003 and had won the epithet "Sandalwood Queen", had recently retweeted at least one of Prime Minister Narendra Modi's tweets besides entering into a twitter brawl with some of her former colleagues in Karnataka Congress, fuelling speculation that she was keeping her options to reenter politics open. Which was why when she left a social media post on August 30 about a major plan, there were rumours that she may make a political foray in a new capacity, especially at a time when several former Congress leaders, including veterans, are distancing themselves from the party whose high command, they aver, is immune to change and therefore subverting any organic growth for the Grand Old Party, which is lassoed by dynastic ambitions.