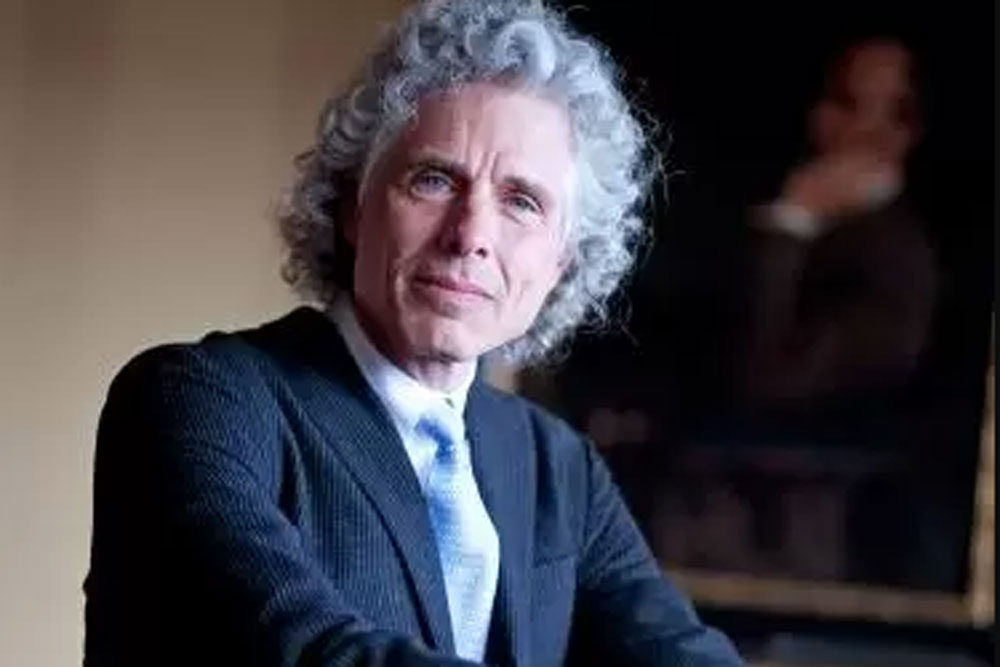 Steven Pinker is the Johnstone Family Professor of Psychology at Harvard University (Photo courtesy: Rose Lincoln/Harvard University)
Celebrity intellectual and Harvard Professor Steven Pinker has rebuked Pope Francis's comments on NATO and the Patriarch of Rome's ambiguous statement on western nations supplying Ukrainians with weapons and intelligence.
In a recent interview to Corriere della Sera, the Italian daily published from Milan, the Bishop of Rome had stated that NATO may have provoked Vladimir Putin into the ongoing war with Ukraine by "barking at Russia's door." By making that statement, Pope Francis was apparently endorsing the opinions of scores of others, including American scholars such as the late Stephen Cohen and John Mearsheimer, who suggest that NATO has a role to play in the war in eastern Europe. More vocal commentators have described NATO as an offensive military coalition bent upon dividing nations and instigating wars.
In the interview, the Pope also said that he didn't know whether it was good on the part of western countries to supply weapons to Ukraine which Russia invaded on February 24.
"I think it's nonsense," Pinker tells Open about the Pope's pronouncements in the interview. He argues that, contrary to what the head of the Catholic Church says, NATO is a defensive alliance. "And the countries that joined (NATO) had legitimate fear of being invaded by Russia, as Hungary, Czechia (the Czech Republic), Poland, and the Balkans had in the past. The idea that Russia had a realistic fear of being invaded by NATO is nothing short of psychotic." He adds, "And, of course, Putin invaded Ukraine even though it was not a member of NATO and almost certainly was not going to be admitted."
"India's standing in the world community will very much depend on whether it furthers its historic role as the largest democracy and a successful multi-ethnic nation, or instead becomes an autocracy or Hindu theocracy."
Canada-born Pinker, who has made a name for himself worldwide as a cognitive psychologist and psycholinguist besides a prolific author and speaker, has lately been vocal about the need to be rational. In his latest book Rationality: What It Is, Why It Seems Scarce, Why It Matters, he argues that the trait is a key determinant of human progress.
To a question on why some foreign policy experts believe that the Ukraine war, more than any, will mark the end of America's unipolar moment, Pinker notes that America's unipolar moment was always something of a myth. "It was not able to achieve its longer-term goals in Iraq, Syria, Afghanistan, or Libya, and was not joined in the Iraq invasion by France, Germany, Canada, and many other nations," he responds.
Pinker, who is well-known for his public debates, has authored numerous best-selling books over the past several decades. Some of them include The Blank Slate: The Modern Denial of Human Nature; How the Mind Works; The Language Instinct; The Sense of Style: The Thinking Person's Guide to Writing in the 21st Century; and Enlightenment Now: The Case for Reason, Science, Humanism, and Progress. An alumnus of McGill and Harvard universities, Pinker has taught at MIT, Stanford and Harvard universities. He is currently the Johnstone Family Professor of Psychology at Harvard University.
As regards the importance of India from the American administration's point of view, Pinker tells Open that India will play a vital role in the decades to come. He adds, "But its standing in the world community will very much depend on whether it furthers its historic role as the world's largest democracy and a successful multi-ethnic nation, or instead becomes an autocracy or Hindu theocracy, and sides with murderous men like Putin."