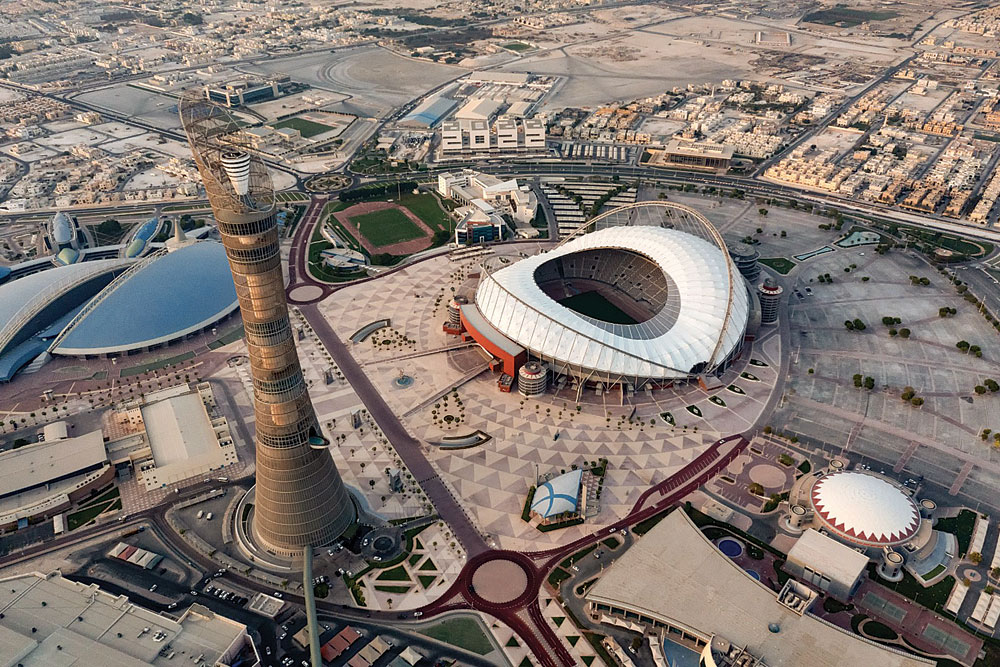 The Khalifa International Stadium in Doha
IF ALL GOES well, the FIFA World Cup of this year-end, to be held in the months of November and December, as opposed to the usual months of May or June and July, will be held in the small nation of Qatar in the Persian Gulf. People from that country, home to more expatriates than the locals, would like to identify themselves as being part of the Arabian Gulf region, as notifications from that country, including those about the sporting extravaganza, often reveal.
Qatar has attracted more attention worldwide, far disproportionate to its size, thanks to the activities of its citizens, government officials and entrepreneurs. Pick Al Jazeera, for instance. It has, over time, earned a name for itself as a media group that far exceeds the appeal of the country of its origin. In sport, too, the trend is evident. The Arab country has been building sport infrastructure and has invested heavily in athletics training to make a mark for itself on the global sport map. In football, they are the Asian champions. European football clubs spend months training at their sports academies where even their families come to spend vacations. They had hosted the Asian Games as early as 2006, and are looking to organise another in 2030. In cricket, too, the country has hosted several international tournaments and is now home to Afghanistan's cricket team. The field of the work of its citizens and the government, by and large, is definitely bigger than the recall value of the name of the nation.
Qatari officials that Open spoke to say that they expect the 2022 FIFA World Cup to be the next iconic event that will further seal its position in the world as a country to reckon with. After all, unlike perhaps all other hosts of the World Cup, the country has fully finished building its stadiums and related infrastructure a year in advance, with the probable exception of one out of eight stadiums where the qualified teams will vie for the coveted trophy. For the year 2022, it is expected to be one of the most resplendent and simply the biggest athletic event—indeed, a grand spectacle—that will mark the end of the year. This biggest show on earth—that is how the football World Cup is often talked about—will take place in a country, again, unlike most previous hosts of the event, that can be easily covered in an hour's drive. While for Qatar it is a spectacular display of its carefully crafted sport prowess, for the year 2022, it is a historical occasion that will see new concepts such as "connected stadiums" and "compact tournament" being played out. All this simply means all stadiums in Qatar can be accessed with one single card. Equally easy will be the connectivity with hotels and venues via buses and the Metro train service. This is why Qataris take pride in calling the forthcoming FIFA World Cup the "compact World Cup".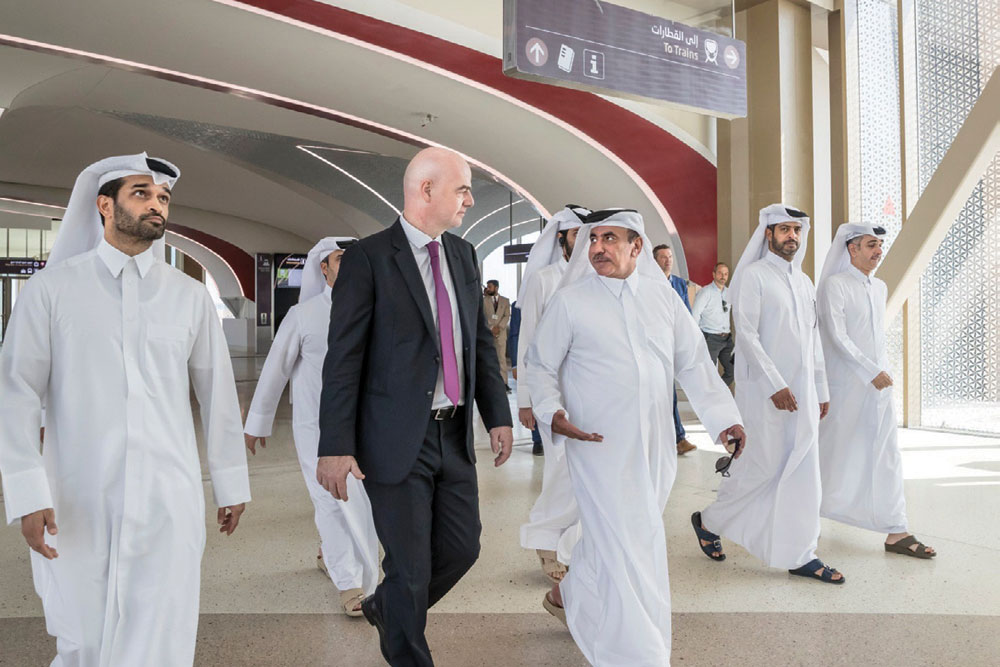 True, Qatar winning the bid to host the FIFA World Cup had attracted enough and more controversy. Qatar, which trounced the US, Australia, Japan and certain other advanced countries to secure the opportunity, had come under criticism for being an undemocratic government like Russia, which had hosted the 2018 FIFA World Cup. Another row stemmed from the fact that all European countries were excluded from the 2022 World Cup bid. Similarly, charges flew after Qatar won the bid that FIFA officials were bribed more than $5 million by a Qatari citizen to secure it. Following that, an internal investigation at FIFA is said to have found some officials guilty of collusion with Qatari citizens. Allegations of apathy towards a section of the migrant population also surfaced during the period. Later, the war in Yemen, in which Qatar is positioned against Saudi Arabia and other allies that have the blessings of the US, also complicated matters.
But Qatar, which won the FIFA bid for the 2022 World Cup in December 2010, had a lot going in its favour. It had in place modern stadiums and hotels and other facilities to accommodate players, officials as well as fans. That was, of course, an outcome of a painstaking effort the country had begun much early on. Similar scepticism and controversy had clouded Qatar's bid to host the Asian Games in 2006. But the country proved all its detractors and doubters wrong in the end. Qatari officials vouch for the fact that things will not be different this time either. What also gave it an advantage were low crime rates, excellent connectivity with the West as well as the East, and so on.
In South Africa, which had hosted the 2010 FIFA World Cup with much fanfare, there were reports that several stadiums fell into disuse shortly after the tournament was over. But Qatar did not want to make that mistake. Apart from flaunting its gorgeous modern stadiums, Qatar aims to leave a sporting legacy that attracts and trains sportsmen and women from far and wide
A Qatari official close to the matter told Open that the country, which will in another eight years host the 21st edition of the Asian Games, had learnt early on not to squander the opportunity of hosting sporting events, and to use the infrastructure to further promote sport. Even countries such as China and Greece had faltered on this front and had to either abandon stadiums because they could no longer maintain them or transform them into parking areas. In South Africa, which had hosted the 2010 FIFA World Cup with much fanfare, there were reports that several stadiums fell into disuse shortly after the tournament was over. Similar stories are often heard from around the globe. But Qatar, say its officials, did not want to make that mistake that is popularly described as the "winners' tears". Meaning you win the bid and later live to regret building infrastructure that is hardly used.
IN QATAR, the panel that organises events such as the World Cup is called the Supreme Committee for Delivery and Legacy, set up by the government of Qatar. The aim is not only to build sport facilities and academies but also to leave a sporting legacy that attracts and trains sportsmen and women from far and wide. Qatar has earned plaudits for making the most of its existing international stadiums and sport centres. The government also runs various sport academies, including the famous Aspire Academy, all of which scout for athletes, pick them young and train them along with offering them education. "So, our sporting legacy is rich because we don't let any sport centre go underused or disused," an official told Open. In such academies, students are admitted typically at age 10 and then trained to become champions, he added. "We follow the strategy of making champions out of our trainees. We help them gain endurance and stamina and acquire great skills that together help them become champions," he said.
FIFA President Gianni Infantino is himself upbeat about this year's World Cup, the first to be held in a Middle Eastern country, for which Qatar has so far spent $220 billion. In an interview to CNN aired more than a month ago, the FIFA chief even stated that he felt that Qatar had improved a lot in terms of human rights. He also dismissed certain reports on poor labour rights that the Qatari government, too, had claimed did not offer the correct picture.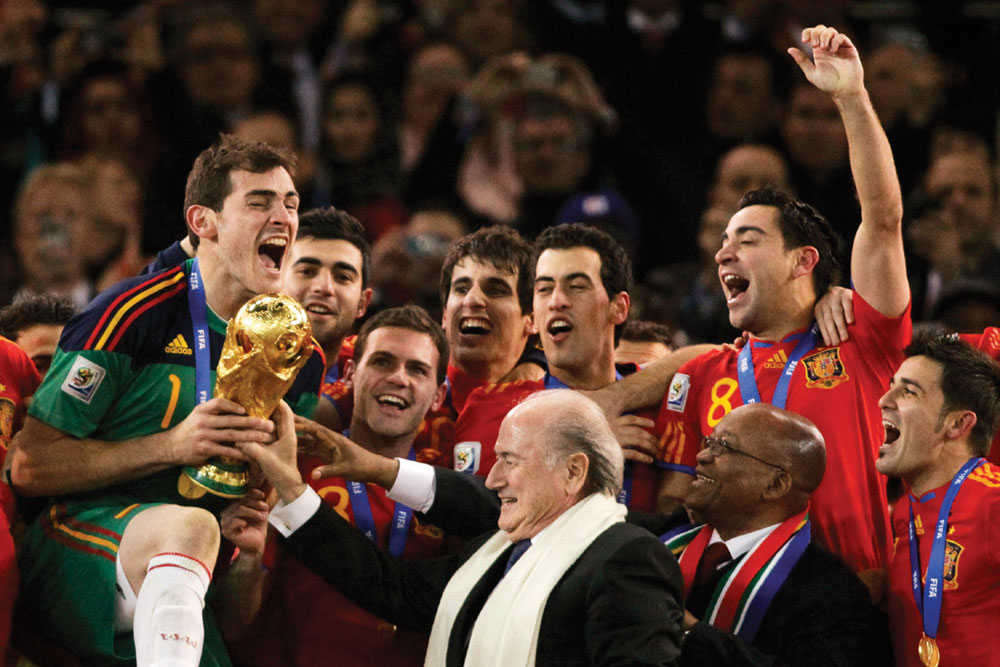 Meanwhile, it is widely reported that Qatar has taken huge strides in preparing for the footballing event. Of the eight stadiums that will be used for the tournament, the 80,000-seater Lusail stadium where the World Cup final will be staged, is expected to be completed in a few weeks. All others, as announced, are operational. Reports suggest that bookings at hotels in terms of packages are exceedingly high, 500 per cent more than the ones sold in Russia, according to various reports.
Qatar's officials hasten to add that the success of the Arab Cup hosted by the country this year was stunning. "We held multiple matches each day for two weeks at six of our stadiums. We used technology to make sure that what is perceived as our disadvantage—small area—is, in fact, our biggest strength. This is where the idea of compact sport works," one of them says.
Qatari officials say that any visitor to the World Cup can watch more than two live games a day—which is impossible in any other host country because of the distance. For instance, in Russia, some games were held in Sochi, some others in St Petersburg and Moscow. As someone who had visited South Africa during the 2010 FIFA World Cup and watched games there, this writer, too, had to miss some interesting matches because of the distance from the venue of a match of great interest to another one of great interest. Close proximity, therefore, for Qatar, is also an opportunity even as it remains a challenge in tracking and managing millions of people who are expected to visit the country during the World Cup season. On account of the "connected stadiums" concept, monitoring, operations, and control of games and movement of people and public and private transport are handled from a single platform, officials confirm. Besides, technology wizards handling the event are looking at options to make travel between hotels and key locations to stadiums and back a smooth affair by organising bookings in a coordinated manner, the same official said but did not elaborate.
As Qatar, where more than 80 per cent of the people live in the national capital Doha, prepares to host the prized tournament, there are many firsts to the event. It will be the first FIFA World Cup tournament in a long time where there will be no inter-city travel involved. As Qatar claims, it will be the first "compact FIFA World Cup" where with a single access card you can enter all the stadiums. It will also be the last soccer World Cup in which 32 countries will compete against one another. By 2026, FIFA plans to admit 48 countries to the competition.
Starting on November 21st this year, the FIFA World Cup will come to a close on December 18th, the day of the final. Apart from flaunting its gorgeous modern stadiums—Al Bayt Stadium (which resembles a large Bedouin's tent), Khalifa International Stadium, Al Thumama Stadium, Ahmed bin Ali Stadium,
Lusail Iconic Stadium, Stadium 974, Education City Stadium, and Al Janoub Stadium—Qatar will also be able to beam for the world from its venues the finest footballing talent, including that of players for whom this may be their last World Cup.
Simon Kuper, celebrated author and columnist, is of the view that
Qatar has hired international professionals and, therefore, will get things right as regards the facilities and organisation of the event.
He adds, "FIFA knows by now how to organise a World Cup. There's a playbook that the host just has to follow." He then goes on to make some prophecies, "[Cristiano] Ronaldo and Portugal may not make it—they still need to get past Italy, probably, in the playoffs. I think Argentina and Brazil are stronger than before and for the first time in years, might be able to match the best Europeans. But Western Europeans have won four World Cups running, so my money's still on them, especially France and Italy." France are the reigning champions.
Like any other sport, football, too, is an unpredictable game. And so, whatever happens, the year 2022 will enter history books thanks to this glittering show in more ways than one. What adds spice to it is also the fact that the World Cup will mark the celebration of the end of a year that has just begun.