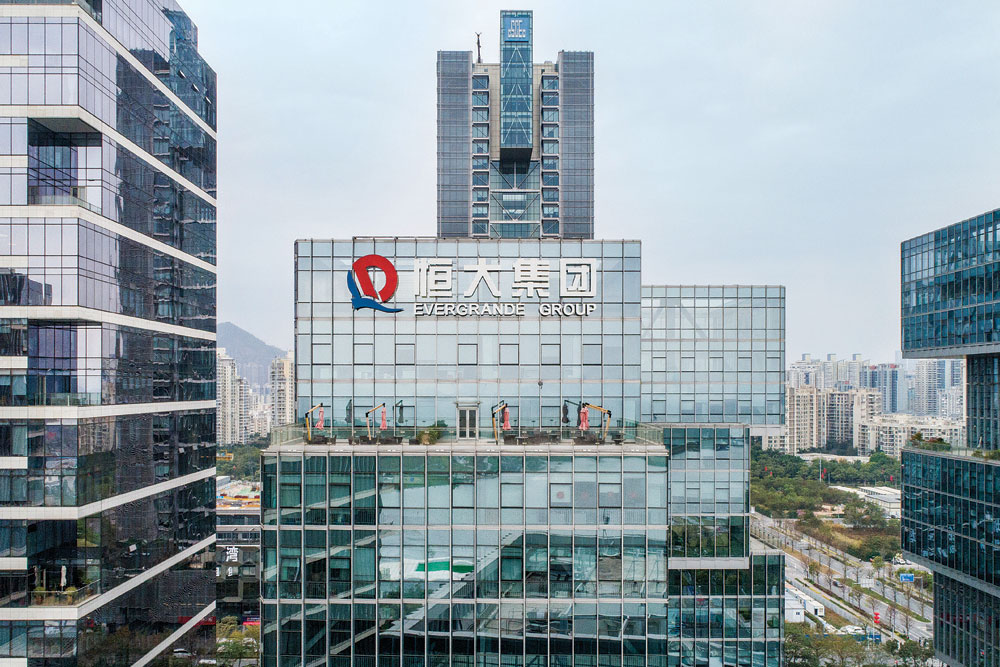 Headquarters of the Evergrande Group in Shenzhen, China (Photo: Getty Images)
EVERGRANDE IS A company that has over the decades benefitted massively from the Chinese infrastructure and real estate boom. One of that country's most valued companies and one of its biggest property developers, it was an entity considered too big to fail as it grew into a behemoth building more than 1,300 housing projects across 280 cities in China where real estate accounts for more than a quarter of its national income. Currently, Evergrande has over $300 billion in liabilities and has such huge debts to service that it could possibly default in the near term.
The crisis the Shenzhen-headquartered group is now facing has been interpreted in many ways across the world by all those watching the situation closely. While some Indian market analysts say India will not be affected much by the crisis that is an outcome of unbridled ambition, some others have called it China's "Lehman moment", suggesting that Evergrande's fall into bankruptcy may trigger a domino effect all over the world similar to the filing of the bankruptcy petition by American financial firm Lehman Brothers in 2008 after talks for financing its reorganisation failed in the midst of the subprime mortgage crisis that year. That milestone event in American financial history preceded a global economic meltdown.
For his part, US Federal Reserve Chair Jerome Powell has said that the debt problems of Evergrande seem particular to China and that he did not see a parallel with the US corporate sector, Reuters reported. "In terms of the implications for us, there's not a lot of direct United States exposure. The big Chinese banks are not tremendously exposed, but you would worry it would affect global financial conditions through global confidence channels and that kind of thing," Powell was quoted by Reuters as saying. "But I wouldn't draw a parallel to the United States corporate sector," the report added.
There is, of course, no dearth of people downplaying the likely impact, saying that the Chinese government can still step in to help the highly indebted company, although there are no such indications yet. Their assumption is based on the premise that China cannot afford to see one of its biggest property players collapse. But interestingly, Evergrande's troubles started with the government tweaking its policies upon the realisation last year that there was a huge level of debt linked to the country's real estate market and that it was not a positive sign for the Chinese economy. The new rules enforced immediately prevented companies such as Evergrande and others from accessing more credit to ensure funds for grand plans. Besides overstretching, the Covid-19 pandemic also affected the company badly as the demand for new homes slowed down. The company also had to sell homes at discounted prices to ensure that it had the cash to complete committed projects. New government restrictions also meant that it could not sell its homes fast enough because some buys that were legal earlier were made illegal afterwards. As of now, protests from people who had paid for homes but have not received them have become shriller. According to reports, as many as 1.5 million people in China are waiting for Evergrande to deliver their homes.
Many Indian steel producers are exporters to China. Which means, if Evergrande doesn't get a 'life-saving deal' from the Chinese government and it crumbles to bankruptcy, there is sure to be an impact not only on the real estate segment in China but also a ripple effect in India
China's second-largest property developer by sales, Evergrande is finding the situation overly grim although it has said it hopes to tide over the crisis soon. At the moment, though, a few economists are worried of a spillover of the problems at Evergrande to other segments of the Chinese economy. If that happens, some of them aver that it could become a systemic problem that will have far-reaching consequences for the Chinese economy and others who have exposure to China's markets, meaning the rest of the whole world.
To power its infrastructure and real estate sectors, China produces steel in large quantities but because it needs much more, it imports finished steel from other countries in the world, including India. Many Indian steel producers are exporters to China. Which means, if Evergrande doesn't get a 'life-saving deal' from the Chinese government and it crumbles to bankruptcy, there is sure to be an impact not only on the real estate segment in China but also a ripple effect in India. Real estate makes up for close to 30 per cent of the Chinese GDP. An economic contagion of sorts in China will, according to at least some economists, affect Indian companies that supply steel and building materials to China to start with.
A Press Trust of India report quoting HDFC Bank economists on September 22nd said that Indian currency, the rupee, could also come under pressure because of the Evergrande crisis. The report quoted a team led by Abheek Barua. "We remain cautious over this turning into a broader risk-off scenario, which could mean increased pressure on EM (emerging markets) currencies, including the INR (rupee), while the dollar remains bid," the PTI report said, quoting the team of economists.
"For now, the uncertainty around the Evergrande situation could keep the market on its toes (positive for dollar) which along with the US Fed policy decision later today could mean the USD/INR pair remains under pressure," Barua was quoted by PTI. Again, while a section of market experts sees outflows from foreign investors who will be looking to adjust their portfolios, the trend won't last long and such investors will return to park money in the country.
Meanwhile, adding to the woes of the property major saddled with debt even as protests mounted from investors and employees against Evergrande, the company's second-biggest shareholder Chinese Estates Holdings announced that it has sold $32 million worth of its Evergrande stake and plans to exit the holding completely, Reuters reported on September 23rd. "The directors are cautious and concerned about the recent development of China Evergrande Group including certain disclosures made by China Evergrande Group on its liquidity," Reuters quoted Chinese Estates' filing to the Hong Kong Stock Exchange.
Clearly, this isn't merely about Evergrande. China's property boom was fuelled in part by reckless accumulation of loans by many others in the sector, loans that they couldn't possibly repay. The practice was overlooked by the government for long because it made millions off China's homeowners. It was already late when the government finally decided to put the brakes on the sector and reduce the indebtedness of property developers. All this has been a wakeup call for Beijing. More importantly, it goes against the scruples of the Chinese style of communism that pledges against allowing corporations to speculate and grow to a point of triggering a financial meltdown. Concerns were aired much earlier inside and outside China about this model of property development—which was to borrow hugely to build fast. There were also accusations that China wasn't prepared to learn from the mistakes of other countries.
The Chinese government, therefore, will have to take measures to invigorate its economy because lately retail sales and industrial output are slowing, offset only by the investment in infrastructure. Much more needs to be done to make the growth sustainable.
At the moment though the world is worried about the global impact of the Evergrande problem. Overenthusiastic commentators are even comparing the impending trouble with a financial equivalent of Covid-19. Others don't expect it to last long. But with local events having global impact in today's worldwide web of interdependence, the uncertainty is for real.