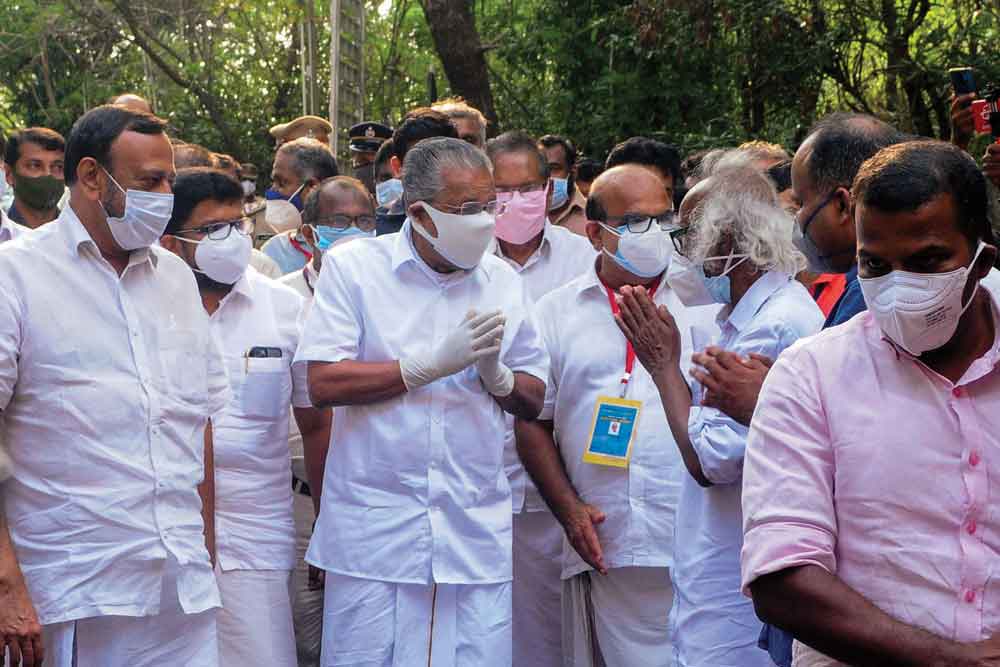 Kerala Chief Minister Pinarayi Vijayan (centre) meets party workers in Kannur, May 2 (Photo: AP)
THE MORNING of May 3rd, the day after a stunning electoral victory for Kerala's Communist Party of India-Marxist (CPM)-led coalition of which he is the spearhead, Pinarayi Vijayan was seated inside a Bombardier flying him from his hometown Kannur in the north to state capital Thiruvananthapuram in the south of Kerala. He and wife Kamala occupied the last row of this Indigo passenger plane packed with several other senior leaders of his party, including Health Minister KK Shailaja and other CPM grandees from the district. He had come in just before the flight took off and, until then, the leaders had been chatting animatedly. Just as he came in, conversations became soft. Outwardly, there was no difference between him and the others, but if you watched closely, you noticed that nobody dared to go anywhere near him even to exchange pleasantries. He was like Imran Khan from the 1992 cricket World Cup when none in the jubilant winning team dared to venture anywhere near the team leader.
Projected as 'captain' in the poll campaign, Vijayan is a commander who flies with his comrades and stays close to them, and yet exudes such tremendous power and seriousness that he appears unapproachable. No one even dared greet him out of an apparent fear that he disapproves of perfunctory gestures. He is no-nonsense, terse and distant. Even his comrades-in-arms of 40-50 years wouldn't want to go up to him for small talk.
As party honcho, he has achieved what none of his illustrious predecessors ever could, both on the organisational and electoral fronts. Back when the likes of luminaries such as EMS Namboodiripad and AK Gopalan led the party, the number of seats that CPM had contested and won were far fewer than now. Inside the coalition, the Left Democratic Front (LDF), CPM is far more formidable now than ever before, winning a record number of seats. Vijayan has brought a stature to his party within the alliance and outside that nobody else could before.
As with making history, he is the only chief minister in Kerala, formed in 1956, to win a second straight term. Of the 99 seats in the 140-member Assembly, 67 belong to his party, which is cohesive under his de facto watch. In the past, no other CPM chief minister had the reins of the party in his hands as well. Each leader in the Stalinist confines of CPM in Kerala invariably had a rival within, ensuring a healthy competition or engendering a toxic one. MN Govindan Nair was a formidable presence when Namboodiripad made history following the 1957 polls by becoming the first head of a communist government in Asia and the third in the world. Even the very popular CPM Chief Minister EK Nayanar had VS Achuthanandan and others breathing down his neck whenever he was chief minister. Achuthanandan, when he became chief minister in 2006, had to contend with a domineering Vijayan, his arch-rival. But now, Vijayan has no challengers within, a big departure for CPM where heated debates over a leader's choices and decisions were par for the course at any party meet. The party had often watched over the chief minister's moves and intervened whenever it thought wise. Those days, however, belong to the past.
Strong leaders have their loyal band of admirers due to expectations that they will deliver and effect reforms that others cannot. Hopes are high in Kerala as Vijayan bucks the trend and returns as chief minister. Vijayan has earned praise for his governance amidst seemingly insurmountable odds, such as floods, cyclones and the pandemic. Confirms Jacob Punnoose, former Director General of Police (DGP) of Kerala, "Under the chief minister's leadership, the state police could achieve what other states could not in the face of natural calamities." He tells Open that the chief minister has been able to marshal resources and tap the opportunity of using the state police forces exceedingly well when the floods happened, Ockhi wreaked havoc and the Covid pandemic hit. "This is because of his leadership and thanks to the tradition of community policing that the state has," Punnoose says, emphasising that such efforts contributed immensely to the chief minister's popularity.
A streetfighter who often dared the police, Vijayan was tortured in lockup during Emergency. In 1977, he was re-elected to the state Assembly, where he made a speech brandishing his blood-soaked shirt as a reminder of police beatings
THE FORMER DGP doesn't share the concerns of a section of pundits that with a strong leader at the helm, there could be more rampant misuse of power, especially using the police. "There is a system in place here," he avers, adding that the courts are robust and active in the state. He notes that no government can afford not to use laws, such as the Unlawful Activities (Prevention) Act (UAPA), considering that the incidence of terrorist and radicalised activities is high in the state.
Although Vijayan had won plaudits for his governance and his willingness to promote private investment, his stint was not without challenges and corruption charges, including the gold smuggling case. The speedy completion of the GAIL natural gas pipeline project from Mangaluru in Karnataka to Kochi in Kerala was seen as an outcome of the chief minister's perseverance, and it was acknowledged by none other than Union Minister Nitin Gadkari himself. "The chief minister was also very keen whenever there was a natural disaster and more recently when the Covid infections began to rise that the state supported people in need. In fact, the state came to the rescue of people by not only offering quick and free healthcare services but also food items so that no family stays hungry at a time when livelihoods are lost and people are in despair," says a senior bureaucrat. Meanwhile, the Vijayan government had to battle allegations of gold smuggling and a raft of other charges involving senior bureaucrats that brought the chief minister's office under a probe by Central agencies. Vijayan, meanwhile, is laconic in his response about the investigation by Central agencies: "Now we know that their intentions were more political than anything else."
Although he had established himself as a powerful organisation man since the late 1990s as the mighty state secretary of CPM, 2021 is the election that was fought in a presidential style with him leading from the front against multiple candidates in the Congress-led United Democratic Front (UDF). CPM's previous victory in 2016 was credited to Achuthanandan, a darling of the masses. To those who hasten to attribute Vijayan's popularity this time round as a mass leader to branding and rebranding, his former media adviser and Member of Rajya Sabha, John Brittas, offers a contrarian view. "Now people know the real Pinarayi Vijayan who was earlier typecast as rude and haughty. This is not branding or rebranding. Rather, vicious rumours that clouded his image have now disappeared. Those who tried to project him as a despot could not sustain their campaign and, with this, they stood exposed as the public could see the humane side of the chief minister who cares for those in need. That shroud of villainy that vested interests built has now vanished," Brittas says, adding that Vijayan is like any other human being who is a foodie, who cracks jokes and enjoys being with friends.
Vijayan's composure—since the time I have personally known him—is vastly different in personal interactions compared with his persona on stage or in official settings, especially with non-CPM members.
He is an unassuming conversationalist in private chats who also listens attentively, but he is often at his ferocious and aggressive best while making speeches and conducting party meetings. The tough taskmaster image has endured.
Brittas, who has known Vijayan for three decades, first as the district correspondent of CPM mouthpiece Deshabhimani daily in Kannur when Vijayan was CPM district secretary, recalls that the chief minister always ensured that everyone who travelled with him on a tour, abroad or locally, ate their meals on time and slept well. "He enquired after the welfare of each and every person, from drivers to that of senior leaders, especially when it came to food and boarding arrangements," says Brittas.
My personal experience of having breakfast with him is no different. He goes out of the way to make sure that you eat well.
Some CPM members blame Vijayan himself for perceptions of him being indifferent and callous. There is an inside joke that whenever Vijayan feels like laughing amid party meetings, he takes a bathroom break to laugh away to his heart's content before returning with a grave face!
Whether or not that is true, Vijayan has always held power with the exception of a few years when he was sidelined by the late CPM stalwart and one-time mentor MV Raghavan five or six years before the latter's expulsion from the party in 1986. Vijayan was assigned tough tasks in areas known for violent politics in the late 1960s when he was in his early 20s. For someone who had Maoist sympathies, it took a lot of power of persuasion for some of the leaders to force him to stay within the Marxist fold. In 1970, aged 25, he became the youngest MLA in Kerala. A streetfighter who often dared the police, he was subjected to torture in lockup before he was thrown in jail. In 1977, he was re-elected to the state Assembly, where he made a speech brandishing his blood-soaked shirt as a reminder of police beatings. From 1980 to 1985, there was an attempt to push him to the fringes in the powerful CPM unit of Kannur, but he made a comeback just ahead of Raghavan's exit and entered into a mutually beneficial alliance with his new mentor, Achuthanandan.
Strong leaders have their loyal band of admirers due to expectations that they will deliver and effect reforms that others cannot. Vijayan has earned praise for his governance amidst floods, cyclones and the pandemic
Vijayan's first stint in government came in 1996 when he was 51; and he held two coveted portfolios: power and cooperation. He is widely credited with setting in motion reforms that made Kerala a power-surplus state. In 1998, he relinquished the ministerial position to take over as the state secretary following the death of then party state chief Chadayan Govindan.
Within a few years, Achuthanandan and Vijayan locked horns in a battle for supremacy and power. Over the next decade, it went on, generating headline after headline until Achuthanandan was left organisationally battered and bruised. As is said, to the victor belong the spoils. But Achuthanandan was not someone who was ready to give up easily. He appealed to the public and, in the face of a media outcry, the CPM central leadership intervened to make the party veteran chief minister in 2006, against Vijayan's wishes to have a person of his choice at the helm. But 10 years later, in 2016, Achuthanandan had to give in.
WHAT EXPLAINS Vijayan's perseverance in the face of a long internecine wrangling until he finally achieved victory? A party insider offers a glimpse into his personality: "He is unwavering. Also, his trust and distrust are 100 per cent. He doesn't take on the party. He is disciplined, and he is a master of how to use the party to take on his opponents." Vijayan is also a survivor by all counts: "He is the youngest and one of only three of his parents' 14 children not to die as an infant. He almost became a Naxalite. He survived numerous attempts on his life in a region caught in a vortex of political violence."
Former Rajya Sabha Member Pattiam Rajan, one of Vijayan's former colleagues in the CPM state panel and who had been a comrade-in-arms since their college days, says that they were all caught in life-threatening situations several times, and yet managed to stay alive. "I have not known a person who is braver and more daring than Vijayan, even in the height of tough situations like the Thalassery riots of 1971," he avers, adding, "He had learnt to conquer fear because of the circumstances of the time when we were student politicians."
Vijayan's determination to fight to the finish is a boon in governance.
I met TKA Nair, former principal secretary and later adviser to Prime Minister Manmohan Singh from 2004 to 2014, for a morning walk at his tony Kuravankonam neighbourhood. Nair said that "the chief minister is not a prisoner of any ideology. He is flexible". Nair brings up two examples, one in which he had played a role while at the Prime Minister's Office: the GAIL pipeline. The land acquisition was cumbersome under various chief ministers, but Vijayan made it happen in Kerala despite protests from certain quarters. Then, although some of his party members had opposed the Vizhinjam International Seaport in the state, Vijayan, after he became chief minister, only promoted it.
Nair adds that there is an advantage with Vijayan being a strongman. CPM is such a party that it doesn't let its government go off the tracks. At the same time, the party cannot stay rigid because the chief minister is not someone who can be 'subdued' by them. Going ahead, Nair expects the chief minister to have as top priority the unemployment issue in the state. "We have to have village-level sustainable projects to generate employment," he advises. "The chief minister is a development-oriented person and he is determined," Nair adds. Economist and author Rajesh Raj SN, for his part, says the key focus of the chief minister should be on development with more emphasis on the growth of productive sectors. "This includes revival of the agricultural sector and industrial development. Promotion of new industries should be given utmost priority. This is important from the perspective of addressing issues of very high unemployment, especially among the youth, and placing the economy on a higher growth path as it has been shattered by the pandemic." Unemployment rate among the youth aged between 15 and 29 stood at about 41 per cent, according to the periodic Labour Survey for the first quarter of 2020, which is almost double the rate at the national level. According to Economic Review 2020, the unemployment rate in Kerala stood at 9 per cent, substantially higher than the 5.8 per cent for the whole country.
With Vijayan back in the saddle in a historic triumph, expectations are high in the last communist outpost in India about what this combination of power and single-minded focus can do to put the state on the fast track of growth.