"I don't give a damn," asserts Dr Ajayita Chanana, Chandigarh-based celebrity ayurvedic doctor and yoga coach, about the unsavoury comments she receives on her social-media accounts for promoting her aphrodisiac oil for both sexes. Branded I-Red, she says it is prepared based on texts by ancient masters of traditional Indian medicine. "I have no time for those who leave nasty messages. I get positive comments all the time," says this winner of multiple beauty pageants who emphasises that she contemplated making this 'special oil' in order to help her patients facing relationship issues in the time of Covid.
"In addition to those looking for greater satisfaction in bed and enhanced virility, the oil also helps people suffering from urinary infections or painful periods. I have even received messages from those based abroad in the UAE, who say they are feeling an overall improvement in health," says Dr Chanana, a mother of two who is a gold medalist in Bachelor of Medicine and Ayurvedic Surgery (BAMS) from Himachal Pradesh University. She launched her clinic in Chandigarh 14 years ago and I-Red in 2020.
Dr Chanana says she had to dive deep into Charaka Samhita and Sushruta Samhita, two ancient ayurvedic texts by two pioneers of the Indian medical system, Charaka and Sushruta, before she applied her own knowledge of traditional herbs to make I-Red, which is now commercially available thanks to a tie-up with Punjab-based ayurvedic products makers Souvnear Global and Sharma Rasayan Shala. The contents are displayed on the bottles, which are currently available in 30ml and 60ml sizes. "It is the mix that makes all the difference, and the quantity of milk has to be closely monitored while making it, for it to be effective," says Dr Chanana who says she is undaunted by criticisms that entrepreneur-professionals like her face in Indian society, especially when it comes to an aphrodisiac where she has lent her own face in advertisements and other campaigns.
"It is the society that has to shed its inhibitions, not me," says the doctor who says her role model is her father who was a superintendent engineer with the Himachal Pradesh government. "My father was an epitome of generosity and vivacity. His mere presence used to give a fillip to my confidence. What I am today is all due to his impeccable love and blessings," she notes. She is all praise for her dentist husband, too, for being supportive and giving her the freedom to pursue her interests. "He doesn't interfere in my decisions but guides me well whenever I ask for some perspective," avers Dr Chanana.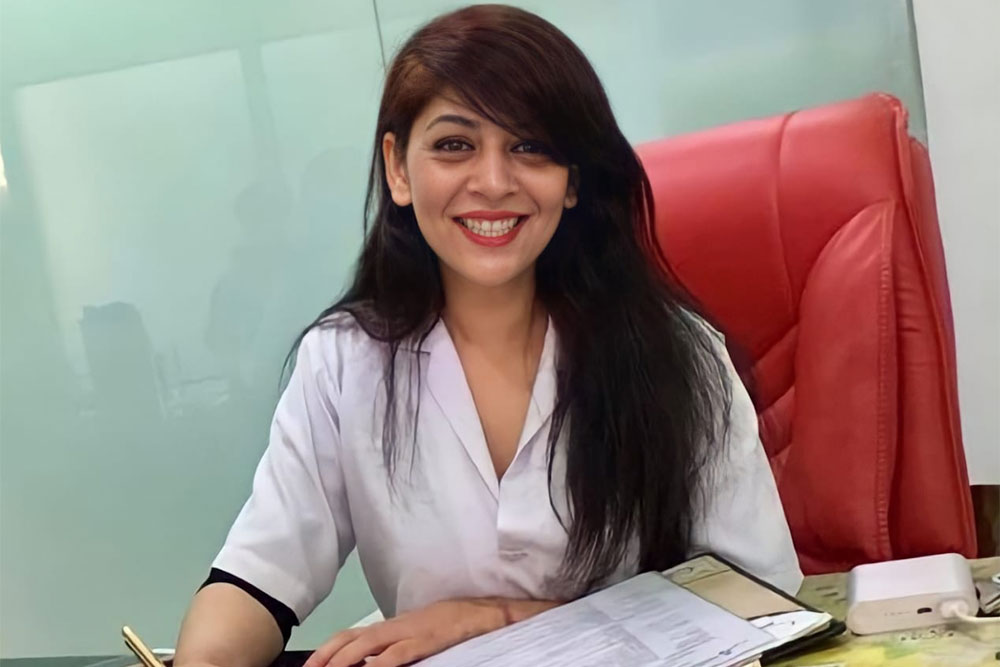 I-Red is meant to be used externally, seven to eight drops twice a day. Retailed online, it is delivered discreetly to users in well-wrapped packages. The ayurvedic practitioner says the results of its usage show within a week. Her customers, she says, are very much involved in the promotion of this brand "through word-of mouth" and by public comments on social media, especially Twitter and Instagram.
Chanana has put up numerous comments by users, some of whom were on the verge of serious relationship crises, on her website. "Covid saw couples interacting more frequently and spending a lot of time together, and as a result in many families, as is well known, problems began to surface," the Chandigarh-based doctor says. It was, of course, a case of familiarity breeding contempt. "I am glad that I-Red has helped many of them and that they are talking about it openly," Chanana says. She feels that since the product is for external application, there is less skepticism about its use as opposed to pills that most people are wary of due to the dependence or side effects that some people may develop.
"The most important aspect is that this is a product for both men and women," says the former beauty-pageant winner, who in 2007 was adjudged "Mrs. Chandigarh" in an event organised by Airtel and the Times of India. She had also won a beauty competition in Las Vegas titled Lady Vegas.
Chanana says yoga and her healthy diet help her stay youthful. "I get up at 4.30 am and do yoga for one hour. I do panchkarma (an ayurvedic treatment) once in six months to detoxify my body," she says. But the secret of the glow on her face these days, she says, is the response from the users of I-Red. The month-on-month sales since last December, she says, are growing in "high double digits".