Exclusive interview with 33-year-old Snehalata Dhal of Odisha's Simlipal National Park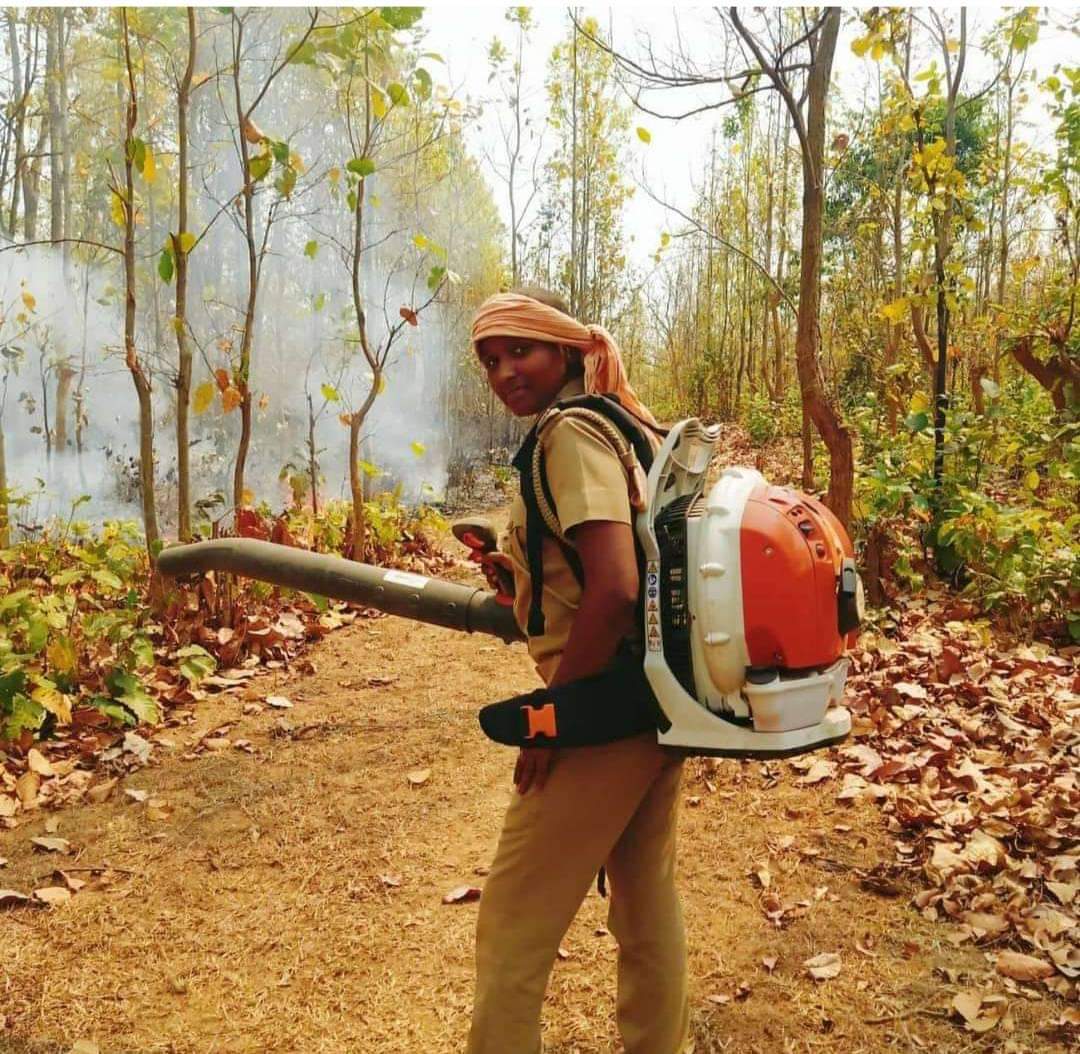 Snehalata Dhal
WHEN her assistant Lal Mohan took a 23-second video of her dancing uninhibitedly and appealing euphorically to the rain gods to not go away before dousing the forest fires, Snehalata Dhal, a young forester at Pithabata range in Simlipal National Park in Odisha, had no idea it would get widely shared and make her an instant symbol of eco-activism and a commitment to battle odds with scarce resources.
Dhal, who spoke to Open from her office, says that she learnt about her video attracting a lot of attention only much later when she got calls from her superiors and saw it being tweeted by forest officers and politicians among others. The incident happened in the northern forest range of Pithabata on March 10, where she had gone with six 'protection assistants' to fight the fire in three new places with what she calls blowers.
Blowers, people close to the matter say, are hardly enough to contain large fires, and when she was there around 3 pm in the afternoon, Dhal realised that it was going to be a long day. "I thought it would be night by the time we finished our task of putting out the fire," Dhal, 33, told Open. Fires have been ranging in the national park, which falls in Mayurbhanj district, for over two weeks, raising concerns among state authorities and environmentalists.
And then around 3.30 pm on March 10, as if by divine intervention, it started to rain. "I am so very happy to see the video of me dancing in the downpour going viral because most people here look down upon forest officials as those who do nothing and waste time. It is a misconception because we work very hard to take care of nature and it is never acknowledged except by a few," says the forester who has been with the department for the past 11 years. "I danced and prayed loudly for more rain," she explains. "Later, my deputy director, Jagyandutta Pati, who is based in Baripada (in the district) called to congratulate me," she adds.
Dhal says the fires are often set off by villagers who live alongside the forest range. Some of them are poachers and smugglers. "They do it to clear forests and to force animals into their territory and then hunt them down. The animals targeted by these miscreants include wild boar and barking deer and so on," says Dhal, who says she has covered the entire stretch of the forest in the range on foot and accompanies her staff whenever there is an incident or a mishap. She emphasises that – unlike in other places – in the northern range where she works, most fires are not wildfires, but manmade.
A day after her video went viral, Union minister Dharmendra Pradhan re-tweeted a post containing her video congratulating her on her efforts and quoting the 19th century American essayist Ralph Waldo Emerson: "Nature always wears the colours of the spirit." This was in reference to Dhal. Pradhan also said, "Sneha Dhal's unadulterated love and affection for mother nature, spirit and her dance of joy when her hard work paid off will make your day." He tweeted again, "Sneha worked day and night to douse the fire that engulfed the #Similipal biosphere reserve. A climate activist for real, her actions and commitment for the environment are worth emulating.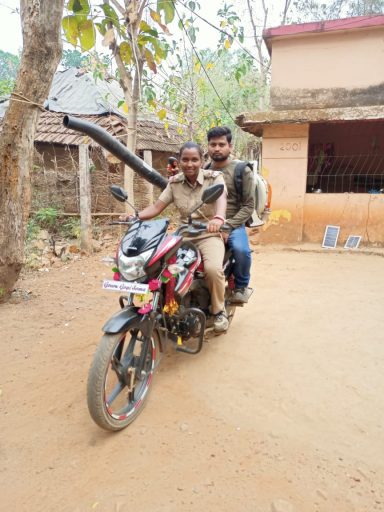 Dhal, who had joined the department as a forest guard in 2009, was promoted as a forester last year. Holding a Bachelor's in Sanskrit from a college in Baghada, where she was born, raised and schooled, she was first posted in the Pithabata South part of the national park. Five years ago, after she had a daughter, she was transferred to her current location. Her husband Tarakant Singh, is also an employee of the forest department. He is currently a forest guard at Udala range of the district. Her parents are both farmers. Dhal says her father also runs a small hotel in her village. She is the oldest among four children, two sons and two daughters. "I have always had a lot of responsibilities as the oldest child. I am the only one married so far," says the forester who drives around on motorbikes and exudes dynamism in her words. "As a leader, you have to always be around your staff and encourage them to work hard. You have to set high standards for yourself and be with the team to guide them," she adds.
Dhal has been a promising athlete, and she says being a sportsperson taught her many things about life. "Sports inspires you in ways you cannot fathom," says this young cricketer who has played at the district level and has travelled widely in India. Since joining the forest department, she has focused her energies on high jump and sprinting. In 2010, she and her team won a gold in a relay sprinting event organised by the department and later silver on another occasion. In 2013, she won medals in high jump at a national-level athletic event of the department, she says. Strong and agile, she says her physical toughness has immensely helped her in her job, and vice versa. "Walking, trekking and hopping from one rock to another in the forests for some 10 km to 12 km a day is enough practice! There is nothing more that I need to do to stay fit for any competition. Besides, there is hardly any time left for us to do any training after a full day's work," she laughs. In fact, Dhal had not wanted to take up this job and instead wanted to be a physical training instructor in a local school, but her father encouraged her to join the forest department so that she could do something to stop the destruction of nature. "My father is a simple man, but he wanted me to do good things for society and wildlife. He loves nature and although I cried and said I want to be a teacher, he said you will find out more about the pleasure of saving animal life and the forests," she explains.
Most of the trees at the Simlipal National Park are sal trees, also known as shorea robusta, which are used for multiple purposes, including construction, making boats, furniture, musical instruments, barrels, cooking utensils and so on. Miscreants enter the forests here also for cutting trees and for mohul flowers (also called mahua flowers) to make wine, which is popular among forest communities. The fast-growing tree is known by the scientific name madhuca longifolia.
Meanwhile, Dhal says she has become a 'celebrity of sorts' among her friends, family and colleagues, and wants to use the opportunity – as she speaks to the media – to spread awareness among communities that live near forests not to spark fires and destroy habitats. She rues that despite a number of programmes to reach out to residents, some people often break the law. "Which means more needs to be done to make them realise the danger of doing such activities. We do arrest people when they enter certain parts of the forest, but discipline has to come from them first," she avers.
She adds that she had heard of encroachers and outsiders dumping waste material, especially solid waste, in other forests in other parts of the country and the world that cause fire. But in her range, she insists, the fire is not due to outsiders but set by locals. "That needs to be stopped," she declares. Raj Kishore Dash, a journalist from Sambad, an Odisha media house, told Open that senior forest officials have the habit of ignoring warnings from the field. "They downplay the danger by saying these are natural forest fires. In many fires like the latest one in Simlipal National Park, things get worse because of poor response and apathy of some high-ranking officials," he says. According to India State of Forest Report 2019, around 36% of India's total forest cover of 6,58,116 sq km is prone to frequent forest fires. Of this, close to 21% is highly fire-prone. According to this report, besides direct losses from the fire, foresters like Dhal also have to deal with many side effects of fires such as increasing spread of weeds, soil erosion, loss of regeneration, landslides, habitat degradation, loss of forest produce and so on.
For her part, Dhal, who is a natural conversationalist and speaks four languages, including Sanskrit, Hindi, Odia and Bengali, says that she is upbeat that she could highlight the conditions under which people like her work, especially out of their love for nature. As is obvious, working in the forest tests your endurance levels and has mostly been a male preserve. She says she draws tremendous inspiration from Netaji Subhash Chandra Bose and his idealism. "I have read about him and soon I became very enamoured of him and his ideas about everything, including women empowerment," she beams.
"I have never been this happy in my life," she sums up with a hearty laugh.