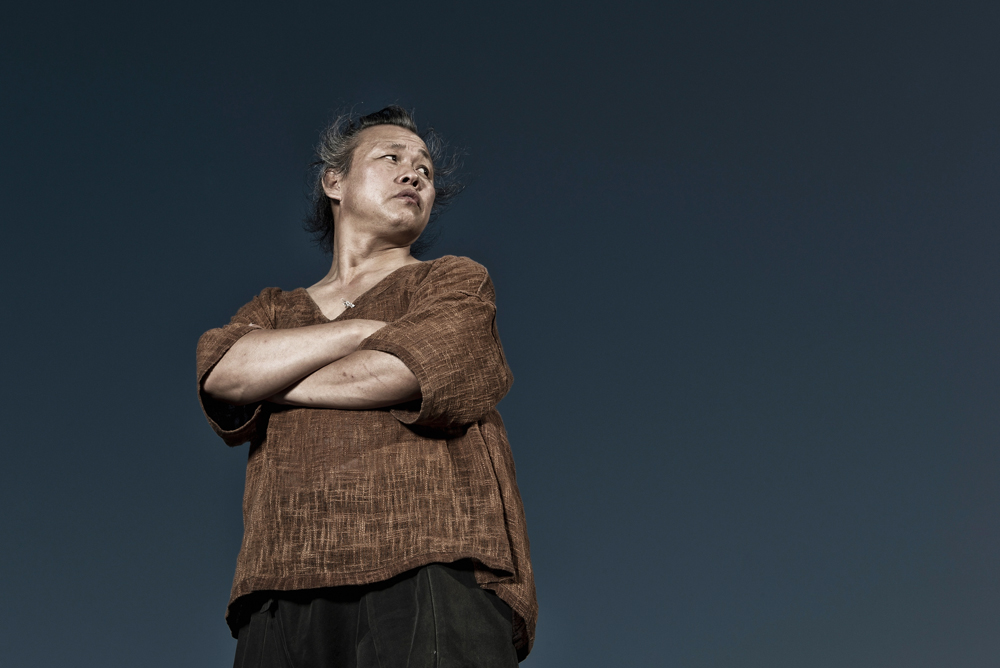 Kim Ki-duk, September 3, 2013 (Photo: Getty Images)
The celebrated director's films put the spotlight on the lives of lower classes and outcasts like never before in the country's history. They were replete with gore, violence and sex, but they also exposed our hypocrisies
I had left the Kerala film festival circuit almost a decade before Kim Ki-duk acquired a cult status, became a household name and a staple for intellectual discussions in the state. My last encounters in the art-house movie-friendly state were with polish icon Krzysztof Kieslowski in 1997, who had died less than a year earlier; Miguel Littín, whose 1984 documentary on the lives of Chileans under dictator Augusto Pinochet was immortalised by Gabriel Garcia Marquez in his book Clandestine in Chile: The Adventures of Miguel Littín; and Australian filmmaker Paul Cox, who, like Littín, was in Thiruvananthapuram to attend the event, IFFI, which that year was boycotted by commercial filmmakers over omission of some movies. There was a film starring Italian actor Marcello Mastroianni who had died a few months earlier and another by Iranian Mohsen Makhmalbaf. I also remember the screening of Deepa Mehta's Fire, its first in India, portraying Shabana Azmi and Nandita Das as lesbian partners. Mehta was later asked at a press conference a tongue-in-cheek question by a reporter who wanted to know who was the dominant player in the relationship between Azmi and Das, and the Canadian-Indian director was furious.
That was the time when Kim Ki-duk, who had returned from Paris where he was a fine-arts student in 1993, was trying his luck as a screenwriter back home in South Korea – he had already released Crocodile. Although I had watched many of his works even before he had become a sensation in many parts of the world, including Europe where he was a frequent presence at prestigious film festivals, my familiarity with Kim being feted and appropriated as their own by film lovers in my home state was largely from afar.
CDs of his viciously disturbing movie that catapulted him to global acclaim, The Isle – which, according to reports that came out around the time, forced at least a few viewers at film festivals to rush to toilets to vomit because of its ghastly content – were available in Delhi's Palika Bazar as early as 2003, three years after it was released. It had acquired notoriety by the time it landed in my laptop, and despite my best preparations to be ready for the worst, it upset me beyond comprehension. To say the movie is disturbing is a gross understatement.
A few years later, I bought a CD of 3-Iron,which was such a relief compared with his previous one. It was as if Kim wanted to show the world that there was another side to him than graphic displays of extreme violence, sexual as well as physical, and cruelty towards human beings as well as animals. It is not to say that the movie was a breeze. While I found it watchable, I didn't like the justifications he gave for raw depiction of psychopathic thoughts in his interviews.
Shortly after he became very popular in Kerala, I was lucky to see the Korean enfant terrible's 2003 drama Spring, Summer, Fall, Winter … and Spring. It is clear that I didn't watch his movies in chronology, and this time, I didn't know it was a film by Kim Ki-duk! I was slightly disappointed by the apparent assumption in the film that children are naturally inclined to being cruel towards animals, especially small beings like frogs and even fish in a mountain pond. But then, in hindsight, that movie highlighted his love for the Korean landscape, Buddhist installations, and the spiritual concept of Karma. We all know now that the Buddhist monastery shown in the movie was built on the famous, manmade and serene Jusanji Pond, which was created more than 200 years ago.
Like all the detritus, blood, flesh wounds, pain and suffering, various recurring variables in Kim's movies, more or less, include fresh water, small row boats, bright trees and gorgeous mountains and fresh air that you can breathe from this side of the screen. Yet, as he himself has conceded, he isn't averse to portrayal of cruelty that everyone knows exists in the world, especially those who consume animal products and meat.
Extreme hardship or the will to endure agonising pain is certainly a preoccupation with the celebrated director. The Buddhist monk who self-immolated in Spring, Summer, Fall, Winter… and Spring is proof of Kim's intense tackling of themes close to Buddhist practices in certain parts of the world that extol values of penitence and suffering. But then violence and bestiality are bound to exist where there are depictions of extreme pain. Meanwhile, some western critics have made it a habit to compare him with other Korean filmmakers such as Bong Joon-ho (maker of Parasite) or the much more disciplined Kim Ji-woon, besides others. I may have been tempted to believe them had I not watched his Arirang (2012), which gets its name from the eponymous Korean folk song, which is a sort of anthem in the country and has some 3600 variants. This is a self-documentary of his own life after his 2008 movie, Dream, during the making of which his lead actress almost died by hanging, throwing Kim into depression and guilt. Some of his friends left him shortly afterwards. Shattered, Kim retreated to a cold, forlorn outpost where he had to set up a tent within a cabin to be able to sleep. For almost nine minutes into the film, nobody speaks. It shows his morning routine. He eats a bit and then we are back to the dark night during which time he hears knocks on the door. When he opens the door, there is no one there. Yet the knock continues. Minutes later he starts conversing with himself, first through 'ready action' directorial dialogues and then taking videos of himself playing the sober self as well as the melancholic, drunk self, one explaining his position as a depressive man and the futility of it, yet the other is inconsolable. The discussion between his two selves touches upon friendships, human nature, bonding, human inclinations, goals, aspirations and other profound subjects. He also talks about a movie he wanted to make, with an American soldier who participated in the Korean War returning as an old man to find the dead body of the person he had killed during the war, and about having had a chat with American actor Willem Dafoe about the project.
Following the screening of this 91-minute film at Cannes in 2012, Kim told reporters, "Through Arirang I understand human beings, thank nature, and accept my life as it is now." Towards the end, we see Kim sobbing uncontrollably as the penultimate scenes from Spring, Summer, Fall, Winter … and Spring keep coming and going on the screen: that of the young adult monk scaling the mountain carrying a figure of the Buddha and dragging a heavy slab of stone (which is symbolic of the sins he had committed as a younger person in the movie). In the background is Kim Young-im's stunning and impossible rendition of Jeongseon Arirang.
Arirang explains, with all its nuances, why Kim is different from the others of his generation and why he cannot be seen merely as brash and reckless. He didn't care much about making movies to amass wealth, a stand he resolutely stood by till the very end notwithstanding his envious reputation at Cannes, Venice and Berlin film festivals. He stuck to low-budget movies and delved into subjects he wanted to pursue independently though a visual language that was unique and stellar.
My discovery and interpretation of his works have been a solitary affair. I have watched his movies in various parts of the world, including London (Moebius and Pieta) and Dhaka (Breath) among friends, and it is true that his method of deliberately and relentlessly provoking the viewers in ethnographic movies through sex, gore and anything that is the extreme of human passions was not always well-appreciated. People squirmed and complained, but they were also disturbed, which was definitely his motive. In doing so, he adopted a style that was nonconformist and uncompromising.
Towards the end, he was called names and accused of misogyny and sexual offence off the screen as well, all charges that he denied and challenged in courts. His death from Covid-related complications in Latvia, where he was seeking a residency permit and planning to buy a home, puts an abrupt end to his battle with his inner demons as well as with his alleged victims. Seoul-based Korean entrepreneur and film aficionado Noel Ham tells me, "I feel his work has been extremely raw, violent, and emotional. He portrayed a specific class of people – outcasts, lower class, et cetera – never really seen before in Korean cinema. I'll never forget the film Moebius – it's a movie that still disturbs me to this very day. Perhaps it's more than a coincidence that a lot of his recent #MeToo allegations and accusations of sexual abuse and rape also came from the making of the film. While it has definitely left a stain on his work amongst many Koreans, it is still undeniable how impactful as a filmmaker he has been."
Kim leaves behind a wealth of cinematic extravagance and boldness too tough to outdo, especially in inquiring into human emotions and brutality. What he, like the Japanese masters of ethnographic films before him, did was to hold a mirror to society to expose its hypocrisies.