Vallabh Janardhan, 46, neurologist, and Vikram Janardhan, 49, electrical engineer, are co-founders of Insera Therapeutics Inc. Their flagship device is named CLEAR, acronym for Cyclical, Luminal, Evacuation, Aspiration and Retrieval, an iPad app-operated vacuum system that sucks out blood clots in the brain, lungs and elsewhere with a success rate of around 80 per cent compared with 25-30 per cent by other devices available in the market.
THE NAMES of US-based brothers Vallabh Janardhan and Vikram Janardhan have been in the news lately over an academic paper titled 'Covid-19 as a Blood Clotting Disorder Masquerading as a Respiratory Illness', published in the peer-reviewed Journal of Neurology, which they co-authored with Croatian neuroradiologist Vladimir Kalousek. Although not as widely discussed, the mission that brought the Chennai-born, Harvard-educated siblings from diverse streams together—one is a neurologist and the other an electrical engineer and businessman—is much older: to build cost-effective medical devices that can quickly get rid of blood clots and save millions of lives.
As co-founders of Insera Therapeutics Inc, Vallabh, 46, and Vikram, 49, have invented, among other things, a flagship device called Clear, acronym for Cyclical, Luminal, Evacuation, Aspiration and Retrieval, an iPad app-operated vacuum system that sucks out blood clots in the brain, lungs and elsewhere with a success rate of around 80 per cent compared with 25-30 per cent by other devices available in the market. Long before Covid-19 wreaked havoc, Insera Therapeutics had already won 65 US patents for this device that uses the principle of pulsatile or cyclical vacuum that the medical fraternity thinks could be extremely useful in treating Covid patients, many of whom die of heart attacks, pulmonary embolism (a condition when arteries that feed blood to the lungs are clogged with clots), stroke and other blood-related complications.
Vikram, an engineer who acquired a Master's in healthcare policy from Harvard before the duo took the plunge into the healthcare business, tells Open that this is the first-of-its-kind device to treat clots personalised for the needs of each patient depending upon the nature and location of the clot, which could be either hard or soft or small or big. The device, which contains a computer and a tiny catheter, is
operated by connecting it to an iPad app where a trained physician can pick a specific pattern to give the device a specific message to pick up the clot in the most customised way. It is this quality of Clear that makes it useful in telemedicine and remote surgery, which involves inserting the steered catheter from the groin region of the patient and calibrates the strength that is required to remove a clot. Vikram claims that this device is gentle on the vessels thanks to cyclical suction and lowers internal injuries.
This clot-removing equipment that precedes Covid-19 is now acceptable for use in more than 40 countries, says Vikram, an alumnus of, besides Harvard, Rensselaer Polytechnic Institute, The Wharton School and Drexel. Explains Vallabh in an interview to Open: "We earned CE Mark approval (a certification) in Europe back in 2019. Our current focus is earning the US FDA clearance. We plan to do a global launch soon after earning the US FDA approval. Our system will be very competitively priced with other offerings while providing superior results with efficacy and safety." Doctors and scientists have widely stated that the majority of the deaths in Covid-19 cases are possibly due to blood clots. A random post-mortem examination performed on patients in the US in August showed that nine of 10 patients had blood clots in at least one major organ (heart, lung or kidney).
"Our system will be competitively priced with other offerings while providing superior results in efficacy and safety," says Vallabh Janardhan
While it is clear that Insera's key product will be useful in reducing fatality among seriously ill Covid patients, the brothers hasten to add that the purpose of their research was to give back to society although earning money goes hand-in-hand in such projects. This is more so because blood clot-induced deaths are on the rise across the world, including in developing countries, thanks to lifestyle changes and toxic environments. Vallabh, a stroke and interventional neurologist at the Medical Center of Plano, who was recently featured in Neurology Today magazine, says their research will guide clinicians in treating complications due to Covid in a far more effective way than earlier. He adds that while blood thinners may be useful in some cases, serious cases need medical intervention using devices to remove blood clots to overcome coagulopathy and stroke risks. In October last year, the Clear aspiration system was used with great success to remove blood clots from two stroke patients in Zagreb, Croatia.
Insera Therapeutics was born by sheer accident.
Sometime in 2007, Vallabh, who is currently based in Dallas, Texas, insisted that his brother, who was then the president of a software company about to be sold to a private equity firm, attend an international stroke conference held in San Francisco, two hours' drive from his home in Sacramento, California. Vikram took a day off from work to attend the summit and was blown away by the opportunity that new and ultra-tiny medical devices to treat stroke offered. "On the drive back, I knew I had to do it," Vikram tells Open about his resolve to go the whole hog and arm himself with a degree in healthcare business.
Following the stroke conference, the two brothers, who attended the Don Bosco School in Chennai, confabulated over a Starbucks coffee and two days later, Vallabh called up Vikram to say that he had an epiphany after having coconut water with a straw that cyclical vacuum was the way out. Vallabh had a tiny coconut piece stuck inside the straw and couldn't drink with ease. He blew in and out and suddenly it occurred to him that this could work in a stroke device as well. Vikram wasn't excited enough about the pulsative suction technique. He replied to his brother, "You are nuts," and hung up. A few days later, he saw his children doing the same thing with their milkshake to get rid of solid particles in their straws. Vikram remembers leaving the kids there and running to the lobby of the restaurant to call up Vallabh to confirm his subscription to his view: that vacuum aspiration is the way forward.
As it happened, the Janardhans had lost three of their grandparents and other close relatives to stroke although some of them—like their maternal grandfather Madabhushi Ananthasayanam Ayyangar, a freedom fighter and a member of the Constituent Assembly who later became the second Speaker of Lok Sabha—had died in their 80s, the brothers think that it is a disease that runs in the family, and therefore to work towards its prevention and cure is spiritually rewarding for them.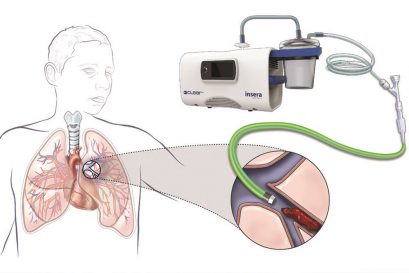 Vallabh elaborates in the context of how their device, Clear, has an edge over similar products in the time of Covid-19. So many people afflicted with Covid-19 dying while on ventilators proves beyond doubt that they did not die of respiratory complications, he says. Vallabh rues that it took thousands of deaths before physicians started connecting the dots: that SARS-CoV-2 is a smart virus that enters the bloodstream by damaging the lining between the alveoli of the lung and the lung capillary in cases where it mostly becomes fatal. Their device, already used to treat stroke patients, would ensure that—unlike in the cases of devices that use continuous suction and damage blood vessels—those with comorbidity conditions such as hypertension, diabetes and so on do not suffer further problems. "Blood clotting is a serious problem from head to toe and it is further accentuated in the time of Covid," says Vallabh, who emphasises that physicians until recently were missing the woods for the trees. "All focus was on the flu and ventilators. Respiratory disease is not what is killing most of the people, blood clots are," he avers.
The paper by the brothers quotes numerous health reports from the world over to drive home their argument about the nature of the Covid-19 virus. 'A recent report from Iran suggests that although the number of stroke admissions have reduced during the pandemic, the proportion of stroke patients with COVID-19 who had large vessel occlusions (LVOs) on neuroimaging was higher (38.7%) during this pandemic (February 15, 2020 to April 15, 2020), compared to 26.6% in stroke patients without COVID-19 during the immediate period preceding the pandemic (September 15, 2019 to February 15, 2020), and 14% during the previous year (February 15, 2019 to April 15, 2019),' it notes.
Similar results from Philadelphia have shown that although there was a 23 per cent reduction in stroke admissions during the pandemic (March 15th to April 30th), there has been a 50 per cent increase in mechanical thrombectomy procedures for LVOs during the same period (with 25 per cent of these thrombectomy procedures for LVOs being in patients with Covid-19) compared to prior years. It adds, 'In a report from Philadelphia, stroke patients with Covid-19 have been reported with blood clots in the arteries (LVOs) or the veins. Stroke-causing blood clots in Covid-19 patients have also been reported to have a higher proportion of tandem occlusions or multiple arterial occlusions (67%) on angiography compared with historical controls (15%).'
"We are proud to have invented a clot removal tool that offers personalised treatment for each patient," says Vikram Janardhan
Vallabh dwells at length on the four stages of how the Covid-19 virus affects humans. The first is where people are completely disease-free. The second is them testing positive for Covid, but pre-symptomatic, meaning they are currently asymptomatic, but may develop symptoms later. Third is mild illness when the virus is contained within the upper respiratory tract or the lower respiratory tract (alveoli). That results in mild flu in 81 per cent of the patients and a moderate to severe pneumonia in 14 per cent of Covid patients. It is this 14 per cent that may need to be hospitalised while others can be allowed to quarantine at home. Sometimes nasal oxygen therapy steroids are required to treat them, Vallabh points out. It is the rest 5 per cent that see the virus enter the lung capillary, the last stage. "The cascade of events that happens following this is the ominous part of Covid-19," says Vallabh, father of a five-year-old boy.
He says that in countries like India where lifestyle diseases are on the rise, products such as Clear will be of great use in preventing and treating clot-induced deaths. The idea, therefore, is to make the tool as affordable as possible for mass use. Vikram interjects to say, "I see our initiative as a social enterprise although this is a business effort. Both of us are lucky enough to have received world-class education from some of the best universities in the world. And this is also our way of giving back to society."
Several studies continue to indicate blood clotting as a reason for deaths of Covid-19 patients. A new study published this month says that autoimmune antibodies are seen in the blood of many Covid patients and that is what creates clots in arteries, veins and so on. Such antibodies are otherwise seen in patients with autoimmune disease antiphospholipid syndrome. The study was co-written by Yogen Kanthi, assistant professor at the Michigan Medicine Frankel Cardiovascular Center.
Notwithstanding Covid and related complications, blood clotting is increasingly the cause of millions of deaths, many of them premature and unexpected, worldwide. It is a global cause for preventable deaths and disability among a large section of humanity. As an emerging nation, India faces a big challenge with high incidence of diabetes and hypertension among other preliminary health risk factors that result in death and disability due to strokes. A study done last year compared the number of strokes in India in 1996 and 2016. In 20 years, stroke became the 5th leading cause of death in India compared with 12th earlier. And the incontestable truth is that early stroke rehabilitation is important after an acute stroke. Which is where tools such as Clear and others can play a major role.
"As for my calling, I have no doubt that I am here to leverage technology to improve human lives," Vikram famously told a group of college students some years ago in a video. He now tells Open that his brother was subconsciously drawn into the world of medicine because of an inexplicable calling to save lives as he had seen many people in his family die of stroke. Vikram, whose wife is a cardiologist with whom he has two kids, also seems to have finally veered towards a business opportunity that is expected to be a game-changing one in battling strokes and diseases caused by blood clots.
For the grandchildren of a man who left a flourishing legal career to join India's freedom movement and later played a crucial role in nation-building, investing in a new avenue with all its risks is par for the course.
At the moment, the decision seems to be paying off.