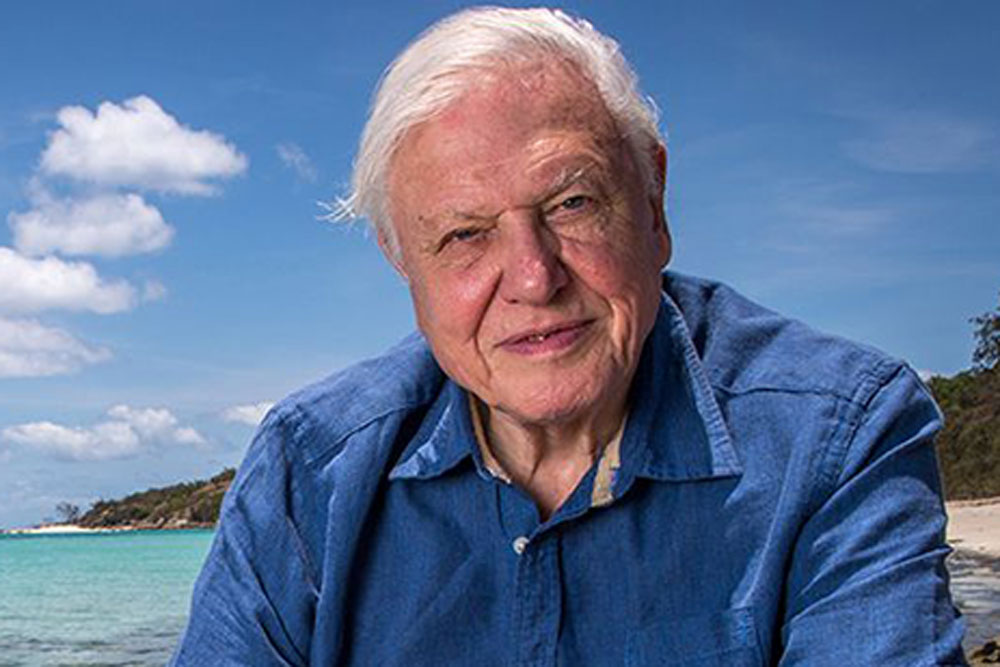 David Attenborough (Photo Courtesy: circularonline.co.uk)
The documentary, A Life on Our Planet, is the 94-year-old naturalist's witness statement and his vision for saving the human race
A day after the US officially pulled out of the 2015 Paris Agreement on Climate Change on November 4, Joe Biden, despite the tension that had built around him over the nerve-jangling Presidential poll whose outcome was still unclear, tweeted saying a "Biden administration" will rejoin the accord that committed 188 countries, including the US, will keep rising global temperatures below two degree Celsius above pre-industrial levels. President Barack Obama signed the historic pact in 2016, but Donald Trump withdrew from it, arguing that it is against American interests, much to the anguish of all those who placed science over fiction and truth over lies.
David Attenborough's A Life on Our Planet is a must-watch documentary, a touching one at that, for both camps: those who want to save the planet from global warming and those who are in denial of scientific explanations of how biodiversity is saving the earth from the sixth mass extinction. Among the previous five extinctions in the long period since life found its way on earth, the last one saw the end of dinosaurs. In each such massive apocalypse, at least 75% of life that had existed then faced extinction.
Attenborough, physically agile and mentally alert at 94, calls his 83-minute documentary a "witness statement" and his vision to save ourselves. A natural historian who has travelled to some of the remotest corners of earth and interacted with people and cultures afar besides taking in wildlife up close and personal, he has seen the change happen right before his eyes. He was often the first from the West to land in such virgin lands and tribes cocooned in their own worlds until he and his team met them. He has also spent a lifetime observing vulnerable species, many of whom have now disappeared. In this documentary, he also focuses on the resources of the sea, both flora and fauna, which are dwindling thanks to man's misplaced priorities. In the process, the Holocene period, the current geological epoch which has so far been most conducive for life due to minimal fluctuations in temperature, is headed towards another mass extinction.
Attenborough warns, however, that things are set to change rapidly if the reconciliation doesn't begin fast enough and if we pursue our assault on nature at an unprecedented scale. This scale is what he brings up occasionally in his documentary, which begins in Pripyat, a Ukrainian town close to Chernobyl, the site of the 26 April 1986 nuclear accident. When Attenborough was just 10, in 1937, the world population was 2.3 billion and the carbon in the atmosphere 280 parts per million and the remaining wilderness 66%. In 2020, the corresponding figures are 7.9 billion, 415 parts per million and 35%. The documentary also underlines scientific predictions of injudicious use of natural resources: that by 2030 Amazon rainforests will become a dry savanna and that the Arctic will be ice-free in summers. Which means much less of the sun's energy will be reflected back to space, altering the global water cycle resulting in global warming that we cannot possibly comprehend.
"By 2040s, throughout the north, frozen soils will thaw, releasing methane, a greenhouse gas many times more potent than carbon dioxide, accelerating the rate of climate change dramatically," Attenborough prophecies. Oceans will continue to heat up and become more acidic and coral reefs will die and fish populations crash besides hurtling food output into a major crisis as soils become exhausted by overuse, pollinating insects disappear and the weather becomes more and more unpredictable, he states, emphasizing that rising temperatures will make most parts of the globe uninhabitable.
The farcical act of showing one's back to the Paris Accord is clearly what Attenborough calls out in this powerful documentary that he says also comprises his vision for the future of mankind.
He expects amends to be made by policymakers and highlights examples from Costa Rica, the Netherlands and Morocco to say that the hope hasn't faded completely yet although he stresses that we have not just ruined nature, but destroyed it. For a scientific man who has a great attachment to wildlife, he regrets that we have made the wild tame and turned forests into farmlands at an industrial scale. As a person who has firsthand witnessed how biodiversity has diminished in the long time that he has stayed alive and active as a crusading environmentalist and naturalist, Attenborough's commentary on our dying planet is as haunting as it is convincing about the need to pause and start anew.
While advocating the need for innovative ways to revive our diversity and give life a new chance – such as creation of no-fishing zones, afforestation, use of renewable energies, change of diet from meat-heavy menus to vegetables-rich ones – the award-winning broadcaster devotes time to talk about how some countries have increased their forest cover, reduced dependency on fossil fuels and devised new ways of sustainable farming. Attenborough, younger brother of producer and director of Richard Attenborough (who directed the 1982 film Gandhi) and Cambridge University alumnus, is considered a 'national treasure' in the UK, an expression he dislikes. He disapproves of the fact that our eating habits are so totally flawed that the weight of the human race and the animals produced solely to feed humans account for close to 96% of the weight of animals that live on earth. The rest account for barely 4%, he rues. He recalls that as a young man when he travelled to Africa and saw for himself the great expanse of the Serengetti ecosystem in East Africa in the 1950s coinciding with the expansion of air travel, little did he know that a time would come when the squeeze of human activity would have an impact on the region, damaging habitats, disrupting migrations and eventually upsetting life on the planet.
With generous use of video footage from his earlier visits to some of the remotest parts of the world, the documentary is a visual treat although the focus is on how the species he had once seen are now gone and that rainforests are cleared. The soundtrack by Steven Price is breathtakingly beautiful and enhances each scene in the documentary produced by WWF and Silverback Films and released on Netflix on October 4.
The film ends with scenes from Pripyat in Ukraine where the forest and wild animals recapture abandoned territory, reassuring that even the sites of the worst tragedies offer scope for hope if we make smart moves.
A Life on Our Planet, intimate and majestic in equal measure, is all the more important because there is nobody more qualified than David Attenborough to tell us the story. After all, rapid human development and his work on natural wonders miraculously coincided with each other.