An interview with Madhya Pradesh Chief Minister Shivraj Singh Chouhan
Seven months since he took over the reins of Madhya Pradesh after more than a year's gap when the Congress was in power, Shivraj Singh Chouhan concedes that Covid-19 has been a traumatic experience. He had himself tested positive and had to be quarantined. But the BJP veteran, who was Chief Minister for 13 years from 2005 to 2018, says that his government is fighting the odds to put the lives of people back on track. The situation is improving and he asserts that his party will sweep the bypolls due at year-end in 27 Assembly constituencies. Excerpts:
How do you assess your government's Covid-19 response? Are you worried about the rising number of cases in the state? Are you looking at increasing the number of tests?
Shivraj Singh Chouhan: It has been a challenging time not only for our state of Madhya Pradesh but also for the whole country and the world. Right from the moment when I was sworn in (March 23rd), my complete focus has been on preventing the Covid-19 spread and safeguarding lives and livelihoods. The situation is improving. A large number of infected patients have recovered. Today, our health infrastructure is robust enough to tackle the spread of Covid-19. Tests are being conducted in about 78 laboratories. We are also using information technology and artificial intelligence for monitoring the situation.
In Madhya Pradesh, the number of coronavirus tests per million is over 21,000 and we are trying to increase it further. Here, Covid-19 patients are recovering fast. The recovery rate in the state has reached 74 per cent. The death rate has also come down to 1.8 per cent and that is a positive sign. We have to live with this virus for a long time and we have to take all precautions advised by scientists and medical practitioners.
Can you describe your personal experience with Covid-19?
I tested positive for Covid-19 on July 25th, the day the state capital went into a 10-day lockdown. I was the first Chief Minister to test Covid positive. I developed symptoms of a cough and fever. Being a Chief Minister, you know, I have to work 24×7 for the welfare of the state. I used to hold virtual cabinet meetings from the hospital, so our administrative work was not affected. I interacted with people via different social media platforms and created awareness about the disease while I was recovering.
I made tea myself and also washed my own clothes. Interestingly, all that physical work helped fix the movement of a fractured wrist of mine—something that even physiotherapy could not (laughs).
During this pandemic, you are pushing for a law to reserve state government jobs only for those from Madhya Pradesh. What are the reasons?
Covid-19 has displaced many migrant workers and many of them had to come back to their home states. The lockdown has impacted the livelihoods of many people whom the state is supporting with financial assistance, food and shelter. We must be concerned about the young people of our state at a time when job opportunities are scarce and when Covid-19 has impacted economic activity worldwide. Keeping the welfare of the state's youth in mind, we have taken an important decision that state government jobs will be reserved for youth who belong to Madhya Pradesh.
We are putting in place the necessary legal framework for this. We are creating a mechanism that will ensure employment to local youth based on their domicile and merit.
We are also working to hone the skills of the state's young people. For this, a Skill Development Park is being set up in Bhopal with the help of some Singapore-based agencies.
Could you elaborate on your government's 'Rozgar Setu'? Have you set any targets and how do you expect this programme to help those who had returned due to the lockdown?
We launched the 'Rozgar Setu' scheme to help secure employment for skilled workers who returned from cities due to the lockdown. We are the first state to devise such a work plan. We are surveying skilled workers who were employed at industries elsewhere but have now returned. We are identifying/ mapping their skill sets. We are in talks with factories, workshop owners and contractors to ascertain their job requirements. The Rozgar Setu programme provides our skilled brothers and sisters a platform to connect with potential employers. The state government will act as a setu (bridge) between workers and employers so that both stand to benefit. It is essentially a 'matching skills with requirements' programme.
Wohi bharosa dugni raftaar, Bhajpa ki Shivraj Sarkaar (same reliability at double speed, BJP's Shivraj government) is the slogan we have created for the bypolls, says Shivraj Singh Chouhan, Chief Minister, Madhya Pradesh
This will help fulfil the manpower requirement of industries as well as provide employment to workers during the pandemic. Rozgar Setu now has a database of more than 34,200 registered employers and 1,310,186 workers. So far, about 43,700 workers have secured jobs using this portal and around 46,444 workers are in the process of being initiated for jobs identified on this platform.
How confident are you of your party's prospects in the bypolls? What would be its key slogans?
We believe in the strength of togetherness of our party. Our primary focus is to serve the people and to stand by them in this time of crisis and numerous challenges.
We are very confident of winning all the 27 seats where bypolls are due on the back of the work we have done in the past six months and the 15 years we were in government from 2003-2018. People will give a befitting reply to the corrupt and inefficient regime of the Congress that was in power in between.
The people of Madhya Pradesh have always supported us and they very well know the dirty tricks of the Congress. They failed to deliver on all the promises made to farmers in the name of the loan waiver, to youth in the name of employment, to daughters of the state in the name of community marriage, and so on. The list of their lies is endless. Their tricks stand exposed now.
The BJP is an organisation that has always stood by the people when it came to serving them wholeheartedly and with selflessness. We believe every common man is part of our family. Safeguarding a better future for the deprived and poor sections of society is always our top priority. The people of Madhya Pradesh have always supported us, showing their trust in us. This was proved in the last Lok Sabha elections.
"Wohi Bharosa Dugni Raftaar, Bhajpa Ki Shivraj Sarkaar (Same reliability at double speed, BJP's Shivraj government)" is the slogan we have created for the bypolls.
Prime Minister Narendra Modi has congratulated your government on the quick success of the SVANidhi loan scheme for street vendors. However, others say it is just political posturing ahead of the bypolls. Could you share some details about the planning done to ensure proper and speedy implementation of this scheme in the state?
As many as 8.78 lakh street vendors were registered under the scheme in Madhya Pradesh, with more than 4 lakh vendors having been given identification and vendor certification. The applications of 2.5 lakh eligible beneficiaries have been presented through the portal to banks, of which acceptance has been granted to around 1.56 lakh street vendors of an amount worth Rs 156 crore. Madhya Pradesh stands first in the number of total applications accepted under the scheme, with 47 per cent of these coming from the state alone. We have also launched a similar scheme for rural street vendors. Under the scheme, 8.50 lakh rural street vendors have been registered and loans have already been disbursed to more than 20,000 of them. The rest will be disbursed soon. These loans of Rs 10,000 per vendor will be given at zero per cent interest.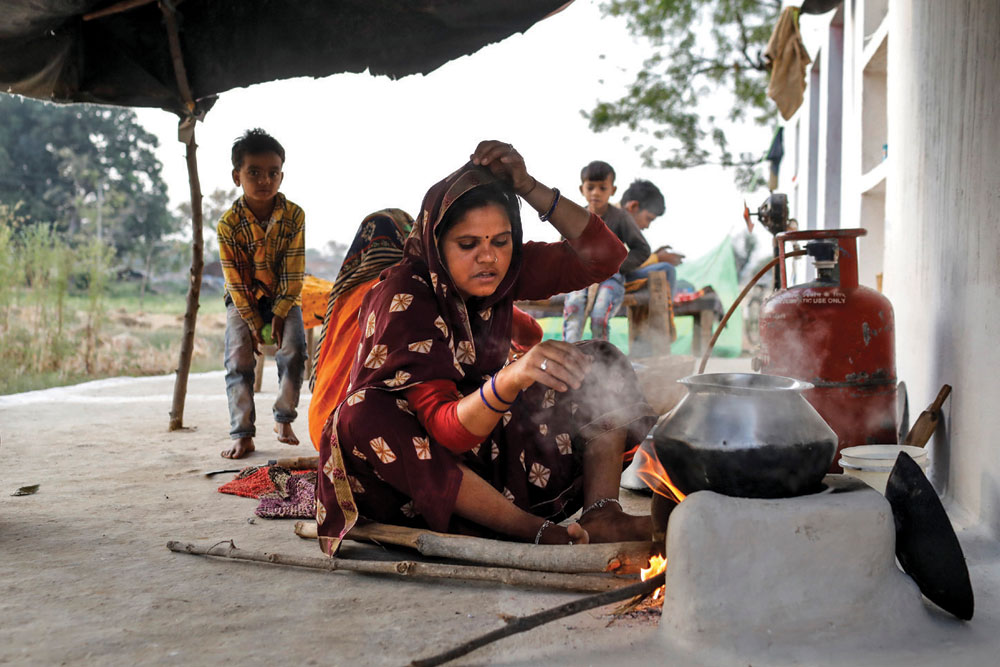 I would say we were swift in identifying the agony of the street vendors and my administration immediately designed an effective system to enrol and handhold vendors through the entire process. I feel the pain of the vendors whose businesses have been impacted by Covid-19 and we resolved to help them in whichever way we could under the guidance of Prime Minister Narendra Modi.
As I have emphasised earlier, antyoday (uplifting of the weakest section of society) is our prime objective and we will do whatever it takes to improve the lives of people at the bottom of the pyramid.
Why did your government decide to reduce the amount given under the Kanyadan Yojana?
These are all rumours. We haven't reduced the amount under Kanyadan Yojana and we will continue to pay the amount which was being offered previously by my government. We were the ones to introduce this scheme, which is very close to my heart and it has improved the lives of lakhs of girls in the state.
"We are very confident of winning all the 27 seats where bypolls are due on the back of the work we have done in the past six months and the 15 years we were in government from 2003-2018"
Kamal Nath (Congress' Chief Minister) and his party made false promises ahead of the elections in 2019 that he would upgrade financial assistance under the Kanyadan scheme without making the required budgetary provisions. Eventually, they never implemented it.
What are your thoughts on the Kamal Nath government's farm loan waiver scheme? He has challenged you to waive farm loans in 10 days, saying that it is impossible.
The Congress government's loan waiver scheme was a false promise to woo farmers of the state. The Congress promised that it would sign the file on loan waivers right after Kamal Nath's oath-taking ceremony. But it never happened the way it was promised. Kamal Nath could not waive off the loans of all the farmers even in 15 months, under the pretext of many rules and regulations added after the announcement of the waiver scheme. They issued fake waiver certificates to many farmers and turned them into defaulters. They didn't even pay the premium of Fasal Bima Yojana (a government-sponsored crop insurance scheme). I got it done after I returned to power. My government paid a total premium of Rs 2,200 crore.
We, in the BJP and state government, believe farmers are the backbone of the economy. We do not want them to be presented as victims or people with low self-esteem by giving them such false dreams and waiver lollipops. We believe in making them financially strong and efficient.
My government is for the welfare of farmers and we have taken many steps in that direction—interest-free loans, subsidised power, subsidised seeds and equipment, better irrigation infrastructure, Fasal Bima Yojana, among others. Under the Fasal Bima Yojana, my government has paid out approximately Rs 3,100 crore to farmers for the year 2018-2019 and Rs 4,488 crore for the year 2019-2020.
"we launched the 'Rozgar Setu' scheme to help secure employment for skilled workers who returned from cities due to the lockdown. We are the first state to devise such a work plan"
Recently, I announced an assistance of Rs 4,000 per annum to farmers of the state, over and above the Rs 6,000 under PM Samman Nidhi. This will benefit 80 lakh farmers in the state who are beneficiaries of Samman Nidhi. Farmers will now get assistance of Rs 10,000 per year—Rs 6,000 from the Centre and Rs 4,000 from the state. The assistance from the state will be given in two equal instalments of Rs 2,000 each.
The Prime Minister has announced a Rs 1 lakh crore Agriculture Infrastructure Fund to catalyse the creation of post-harvest management infrastructure and community farming assets. Under this, our state has been allocated Rs 12,000 crore. This will help us to modernise the supply chains in agriculture and boost farm productivity.
We also created a record of sorts for the procurement of wheat—No 1 in the country—with over 1.29 lakh metric tonnes from 16 lakh farmers.
Are there any new schemes you are planning to launch for farmers and entrepreneurs?
We have taken many decisions to improve the life of farmers and provide a conducive environment for entrepreneurs to thrive in the state. The ease of doing business rankings have been improving under my government.
Five ultra-modern clusters will be set up in the next three years to promote horticulture and food processing in the state. One of these clusters will be world-class. Like the conventional crops, horticulture crops will also be promoted in Madhya Pradesh.
All efforts will be made to double the income of farmers through the cold chain, value addition and food processing. Only the welfare of farmers can help in realising the dream of Atmanirbhar Madhya Pradesh. We have left Punjab behind in wheat procurement.
The 'Ek Zila, Ek Utpad' scheme of Madhya Pradesh will make the state's products popular abroad. Under the Centre's 'Operation Green' scheme, a 50 per cent subsidy will be given to farmers for transporting fruits and vegetables up to a distance of at least 100 km. Farmers will also get a 50 per cent subsidy in the next three months if they keep their produce in cold storage.
The Covid-19 pandemic and resultant lockdown have precipitated an economic crisis. To provide a conducive environment for industry to bounce back, boost employment and output, we have announced a slew of labour reforms. The state's new and historic labour reforms will offer multiple benefits: provide a fillip to economic activity, create opportunities for fresh investment, give a boost to job creation, protect the interests of labourers, and convert crisis into opportunity as well as increase transparency.