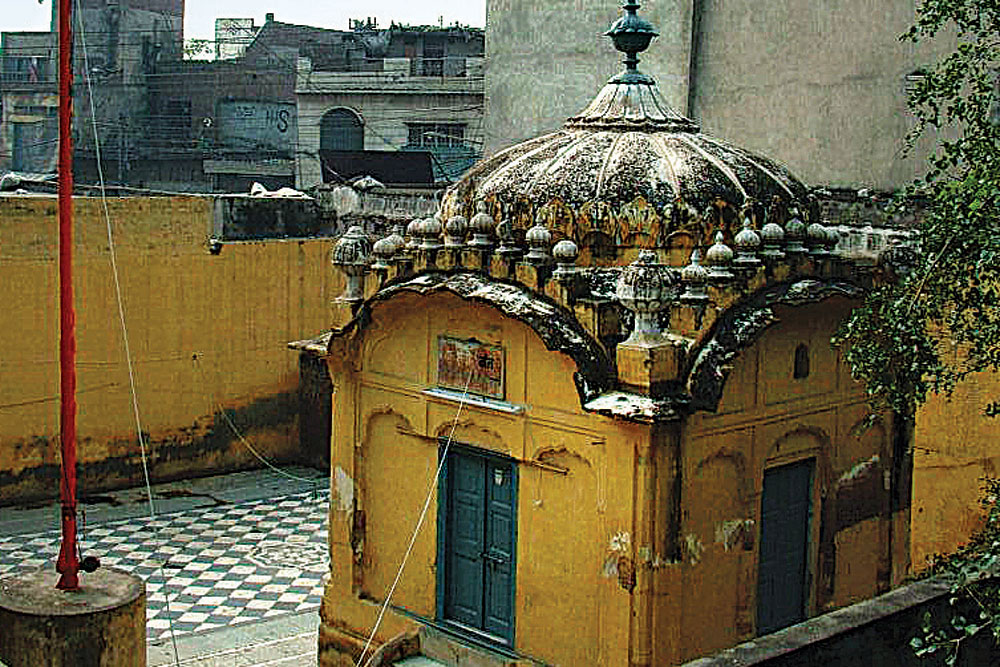 Gurdwara Shaheed Ganj Bhai Taru Singh, Naulakha Bazar, Lahore
A RECENT SOCIAL MEDIA video shared by a man in Lahore went viral and then transformed into a campaign to convert a Sikh gurdwara erected in the memory of a martyred 18th century legend, Bhai Taru Singh, into a mosque. The video claimed that the Sikh place of worship was, over two centuries ago, a mosque, which was allegedly confiscated by the Sikhs. Taru Singh was, according to some historians, a devout Sikh who chose death over being converted into Islam by the Mughals.
With the Sikh community in the subcontinent and elsewhere lambasting the attempt to turn Gurdwara Shaheed Ganj Bhai Taru Singh at Naulakha Bazar of Lahore into a mosque, what actually goes up in smoke is Pakistan founder Muhammad Ali Jinnah's dream of a 'secular' Pakistan that he envisaged in his August 11th, 1947, address to the Constituent Assembly of Pakistan. Jinnah, who would die from cancer just over a year later, had expressed hoped in his famous speech that religion would take a backseat in Pakistan. It was the secular character of this speech that BJP leader LK Advani had praised while on a tour of Pakistan in 2005, only to incur the wrath of hardline Hindutva fanatics.
What comes to the fore is not just the death of Jinnah's dream, but the monstrous religious intolerance in Pakistan towards minorities that the country's leaders have been trying to camouflage through a massive PR campaign. With the spotlight now on the Sikh temple named after Taru Singh, who was executed on the orders of the Mughal governor of Lahore on July 1st, 1745, at the age of 25, the discrepancies between the Islamic nation's clergy and the Pakistani deep state's bid to warm up to the Sikh community to appease the latter to revive the secessionist Khalistan movement in Punjab have resurfaced.
The paradox is inescapable: while members of the Sikh minority, along with others such as Hindus, Christians and Zoroastrians, are routinely kidnapped, girls of these communities either raped or married off to Muslim boys, non-Muslims forcibly converted into Islam and their temples constantly plundered and attacked, Pakistani authorities have been bending over backwards to flaunt its visa-free corridor—the Kartarpur Corridor—linking Gurdwara Darbar Sahib in Kartarpur, Pakistan, to the border with India through which Sikh devotees from India can visit the gurdwara, close to 5 km inside Pakistan from its border with India. Interestingly, the Kartarpur Corridor was not closed when India said it launched military strikes inside Pakistan, in Balakot.
Pakistan-based nuclear physicist and activist Pervez Hoodbhoy talks to Open in an interview about this contradiction. "Even if Imran Khan's government wants to show a tolerant face to the world for political reasons, the fact is that Pakistan's public—particularly that in Punjab—has been so religiously hyped up that some people will act independently. By definition, fanatics are those who have lost judgement and don't wait for instructions from elsewhere." As a result, over time, the number of religious minorities in Pakistan has dwindled and those who stuck to their faith, persecuted.
India's Ministry of External Affairs and Sikh religious bodies have expressed concern about the latest whimsical call in Pakistan, stating that Taru Singh was a historical figure and the gurdwara an iconic one.
Michael Kugelman, Deputy Director of the Asia Program and Senior Associate for South Asia at the Wilson Center, tells Open that he thinks "PR considerations explain the apparent discrepancy". Pakistan remains an often intolerant and inhospitable place for religious minorities, he avers, adding, "The decision to open Kartarpur and keep it open should be seen less as an effort to promote religious tolerance, and more as an effort to project Pakistan as the responsible, conciliatory player relative to India and its increasingly intolerant and intransigent ways. The messaging is meant to be: Look, India is doing terrible things to its Muslim population, but we're going out of our way to help and welcome Indian Sikh pilgrims. It is essentially an attempt by Pakistan to draw support and sympathy from the world."
In this particular case, the comparison with Hagia Sophia in Turkey is immediate and natural. But the levels of religious intolerance in Pakistan are apparently more noxious and the victims include not just non-Muslim minorities, but non-Sunni Muslims as well.
It looks as if centuries coexist and Taru Singh's name is hogging the headlines long after his martyrdom for all the wrong reasons.