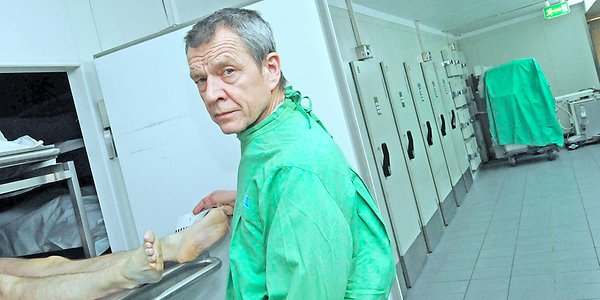 Dr Klaus Püschel (Photo Courtesy: http://www.mopo.de)
Noted German pathologist and forensic doctor Dr Klaus Püschel argues aggressively that autopsies need to be performed on COVID-19 victims in order to know more about the viral disease, especially about the causes of lethal blood clots in limbs and other parts of the body.
He rejects the views of Robert Koch Institute, the scientific body advising the German government on COVID-19, that autopsies release many virus-infected bodily fluids and pose a risk to health workers and others. And in the process, he also contests the position taken by India's apex medical research institution, Indian Council of Medical Research (ICMR).
ICMR has said in a report that invasive techniques should not be adopted for forensic autopsy in COVID-19 death cases claiming that doctors and other mortuary staff will be exposed to potentially dangerous health risks due to organ fluids and secretions. The ICMR document, titled 'Standard Guidelines for Medico-legal autopsy in COVID-19 deaths in India', says deaths in hospital and under medical care due to coronavirus infection is a non-medicolegal case and therefore doesn't require postmortem. For his part, Püschel told Open, "I cannot understand your research body (ICMR). We have already performed more than 150 full autopsies in our mortuary without any medical problems for the staff. If you ensure hygiene and use protective measures (gloves, masks) all are safe. Anxiety and panic are unreasonable."
Püschel says autopsies must be done the world over on COVID-19 victims "to explore the pathophysiology, pathogenesis and pathology of COVID-19". Pathophysiology, according to medicinenet.com, is the deranged function in an individual or an organ due to a disease. Pathogenesis is the manner of development of a disease and pathology the study of the causes and effects of a disease.
The Hamburg-based doctor states that the risk from conducting autopsies on COVID-19 patients is "very low and calculable". Through his experiments, Püschel has concluded that the causes of a large number of COVID-19 deaths are not due to severe respiratory infections, but from blood clots and pulmonary embolisms. Pulmonary embolism, according mayoclinic.org, "is a blockage in one of the pulmonary arteries in your lungs". The website adds, "In most cases, pulmonary embolism is caused by blood clots that travel to the lungs from deep veins in the legs or, rarely, from veins in other parts of the body."
A very recent study published in the peer-reviewed journal Lancet shares Püschel's views. It says, "Many patients with severe COVID-19 present with coagulation abnormalities that mimic other systemic coagulopathies associated with severe infections, such as thrombotic microangiopathy, but COVID-19 has distinct features. Coagulopathy in patients with COVID-19 is associated with an increased risk of death. Furthermore, the relevance of COVID-19-coagulation abnormalities are becoming increasingly clear as a substantial proportion of patients with severe COVID-19 develop, sometimes unrecognised, venous and arterial thromboembolic complications."
Hopkinsmedicine.org states, Thrombotic microangiopathies (TMA) are clinical syndromes defined by the presence of hemolytic anemia (destruction of red blood cells), low platelets, and organ damage due to the formation of microscopic blood clots in capillaries and small arteries. "The kidneys are commonly affected, although virtually any organ may be involved," it explains.
Another Lancet report by medical researcher Giulio Cavalli and colleagues says that when treated with high dose of intravenous anakinra, which is used to treat rheumatism, some COVID-19 patients showed improvement in their conditions. An AFP report said that doctors had to amputate the right leg of a 41-year-old COVID-19 patient in Los Angeles, Broadway actor Nick Cordero, because of blood clots in his limbs. A Dutch scientific report also said that a sizeable chunk of COVID-19 patients suffered thrombotic complications.
In India, too, several doctors have suggested that autopsy be done on COVID-19 patients to understand the cause of thrombosis.
Meanwhile, asked about how to frame an apt policy to save lives as well as livelihoods, Püschel notes, "Each society has to find its own solutions." He pointed out that the death toll in Germany – despite the easing of lockdown – is low compared with the US, Italy and others because the country has a superior "medical system, from community medicine to intensive care". After the easing of various restrictions, infections in Germany saw a marked rise over the past one week, but its health authorities say they are not worried since the virus reproduction rate is still at a viable range.